Ireland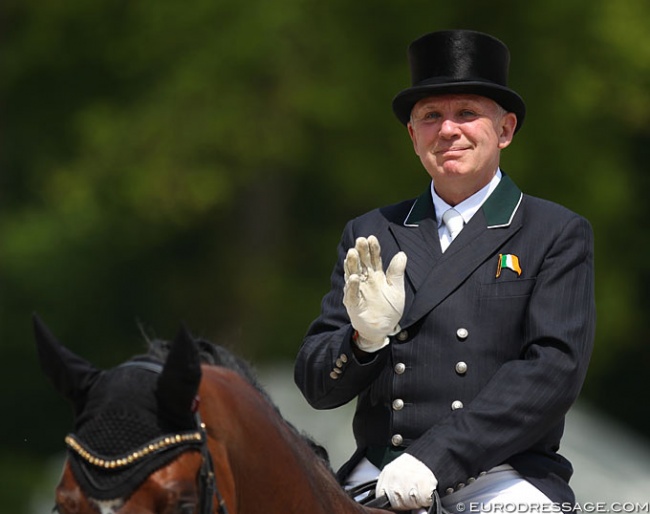 Through their legal counsel Horse Sport Ireland confirmed that they will immediately file Certificates of Capability with the FEI for Dane Rawlins and Jame Connor.
No Historic Irish Dressage Team
On the deadline of 21 June 2021 the Irish equestrian federation (HSI) decided not to send a full dressage team of three combinations to the 2021 Tokyo Olympic Games even though three riders had met the Minimum Eligibility Requirement.  Johann Hinnemann, High Performance Director for HSI, decided that the national criterium of 68% had not been met by two of them, Dane Rawlins and James Connor. 
With the team quotum released and passing on to Belgium, Horse Sport Ireland relinquished the opportunity to send a first ever historic dressage team to an Olympics. For Belgium this will be the first dressage team at the Olympics in almost 100 years. Their last team competed at the 1928 Amsterdam Olympics. 
Lodge Appeal
Rawlins and Connor immediately took legal action and HSI caved to the pressure.
"We were in the process of requesting a High Court injunction. Once they realised we were absolutely serious they gave in," Rawlins told Eurodressage. 
Rawlins' solicitor Aisling Jordan and counsel Bebhinn Murphy added that, "this u-turn is a very much welcome turn of events. It comes following a long day of legal challenges by the pair which went on until late yesterday evening. (...) The actions of HSI in undertaking that they will file the certificate have removed the necessity for an injunction."
The solicitors have now immediately requested that the Olympic Federation of Ireland exercise their selection function and nominate an Irish Dressage team.
Can Ireland Still Get a Team Slot?
As the team slot of Ireland has now been taken by Belgium, it is unclear whether Ireland will actually get to send a team to Tokyo.
One of the three team members, Heike Holstein, has already been allocated an individual slot. The quote of a total of 60 dressage riders in Tokyo cannot be broken and the question remains if there is room to accommodate Rawlins and Connor, as well as the legal ground for it. 
"There may still be hope if there are any slots left particularly in circumstances where they say that the withdrawal of the Team by HSI to the FEI  should not have been accepted as only the OFI that  can withdraw a team," said Rawlins' lawyer.  "They are humbled by the support of the nation that has been shown over the last week and really hope that the OFI decide to send a dressage team to the Olympics to ensure all of the work done to get a place does not go to waste."
Dane told Eurodressage, "I doubt we will get into Tokyo now. Maybe we can change things for others in the future."
Related Links
Silver Lining for Ireland: Heike Holstein Gets Individual Olympic Slot
Olympic Dream for Belgium after Ireland Withdraws from Tokyo and Luxembourg Has No Team
Horse Sport Ireland Decides not to Send Team to Tokyo, Three Spots Released