Ireland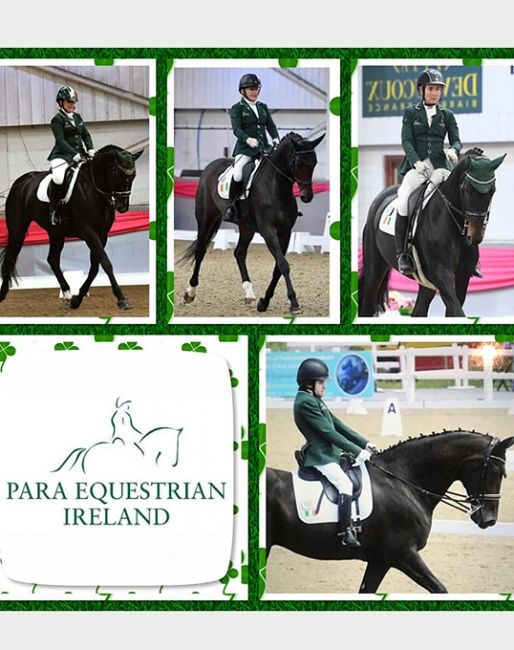 Paralympics Ireland have officially announced the Para Equestrian team that will represent Team Ireland at the Tokyo 2020 Paralympic Games  from 26th – 29th August 2021.
The four athletes will compete in Para Dressage and all four riders will compete at their first ever Paralympic Games. The four-person team and their horses representing Team Ireland will be
Michael Murphy with Cleverboy (KWPN) 2007 black gelding by Vilvaldi out of Wanny by Kennedy. Breeder: G Gijsberg. Owner: Michael Murphy
Tamsin Addison with Fahrenheit (DWB) – 2011 bay gelding by Fuerest Romancier out of Carisma Solyst. Bred by J.E. Marcussen A/S og A. Hansen. Owner: Dr Tamsin Addison
Kate Kerr Horan with Serafina T (AES) – 2011 bay mare by Rossgold Sunstar out of Leona by Lungau. Breeder: Karin Hoerner. Owner: Broomfield Farm
Rosemary Gaffney with Werona (DWB) – 2009 bay mare by Painted Black out of Weichselina out of Lauries Crusador. Breeder: Stutteri Drangsfeldt. Owner: Rosemary Jean Gaffney
Michael Murphy  will compete in the Grade I class on Cleverboy at his first Paralympic Games. Murphy will arrive in Tokyo in superb form having recently hat-trick of wins at Hartpury winning in the team test, individual test, and freestyle against top class oposition. Michael and Cleverboy will begin their Paralympic Games from the 27th – 30th August, in both the individual and team test.
Tamsin Addison is a Grade V Para Dressage rider and will compete at her first Paralympic Games with horse Fahrenheit. Tamsin's debut will come on the 26th of August in the individual test. Rosemary Gaffney is also making her Paralympic Games debut appearance and she will compete on the 26th August with horse Werona in the Grade IV class. The Clonmel woman narrowly missed out on qualification for London 2012 and Rio 2016. Completing the Irish Para Equestrian team is Kate Kerr Horan from Wicklow, the Grade III rider will compete on Serafina T from the 27th of August in the Equestrian Park.
Horse Sport Ireland Para Dressage High Performance Director Debora Pijpers said:
"I am very excited to take a team to Tokyo! All the High Performance riders have worked hard in the past two years. During the Tokyo selection process all riders showed flexibility and ability to perform and improve, also in difficult circumstances. That it is possible to go with a team now instead of with two individual riders is a great boost for Irish Para Dressage sport. I want to thank all the Irish High Performance riders, Horse Sport Ireland and Paralympic Ireland for their efforts. Without them, sending a team would not be possible. Performing at the Paralympic Games is challenging, and I expect that Tokyo 2020 might even be more challenging because of Covid. However, I believe in the potential and ability of the selected riders and I am confident that these riders will do everything that is within their reach to perform to their potential."
Speaking about the announcement of the Para Equestrian team that will represent Ireland at the Tokyo 2020 Paralympic Games, Chef de Mission, Neasa Russell said:
'We are delighted to announce the Para Equestrian team for the Paralympic Games. The four riders have shown good form in recent months. It is brilliant to see all four riders making their first appearances at a Paralympic Games. I would like to wish the athletes and support team the very best in their final preparations before they depart to Tokyo.'
Para Dressage made its Paralympic Games debut at the Atlanta 1996 Games, Joan Salmon won Ireland's first ever Para Equestrian medal winning bronze in the Mixed Kur Canter. It was London 2012 when Team Ireland had more medal success in Para Equestrian, winning bronze in the team event, while Helen Kearney won both a silver and bronze in her individual events in London 2012.
Related Links
German Team for 2021 Tokyo Paraympics Selected
Dutch Team for 2021 Tokyo Paralympics Announced
U.S. Para Dressage Team for 2021 Tokyo Paralympics Announced
Belgian Para Dressage Team for 2021 Tokyo Paralympics Named