F.O.C.U.S.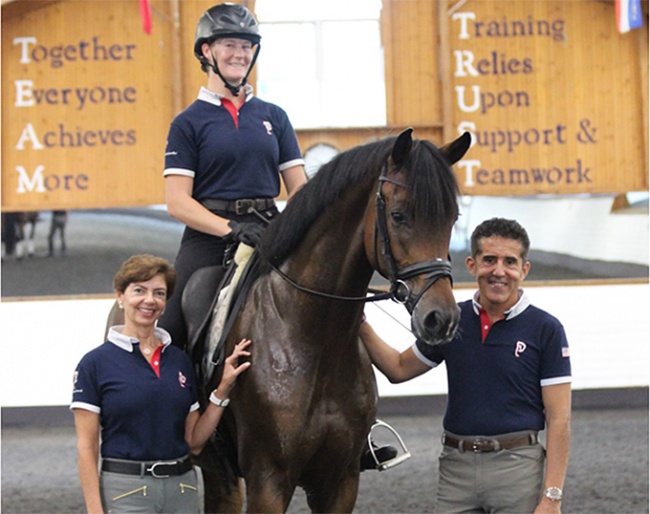 Spending the summer preparing what is often a new string of horses for the 2021 US Dressage Festival of Champions is nothing new for Dr. Cesar Parra and his team of riders. Since becoming an American citizen in 2010, twenty-three of his horses have attended the U.S. National Dressage Championships and U.S. National Young Horse Championships.
The results have been excellent, with multiple National Championships and podium finishes. "I am very proud of the work that we have done throughout the years, having taken so many different horses and riders to Nationals," says Parra. But for Parra, it is a constant and evolving process, where he gets just as much joy from the students he develops as well as the horses.
More Horses For the Future With Parra Dressage Sport
This year the team at Dr. Cesar Parra Dressage Sport has three new prospects qualified for the U.S. National Young Horse Championships. With all of them scoring consistently above 80% throughout the qualifying season, Parra has put his training skills to the test, with the help of his long-time trainer and coach, Anne Gribbons, and under the supervision of the USEF National Young Horse Trainer and coach, Christine Traurig.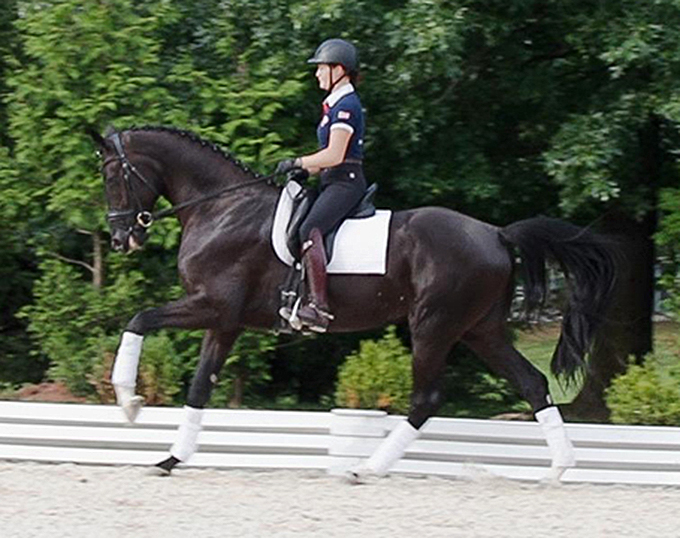 Ranked second in the nation in the 6-Year-Old Horse Division, Para and Gina Raful's Fanta 4 (by Finest x Florencio I) shows great promise as a top contender after finishing their qualifying season with a solid 87.4%.
Katryna Evans has made herself at home in Parra's team since getting there early this year and will make her debut in the U.S. Young Horse Championships with two exciting prospects ranked nationally in the top 10. In the 5-Year-Old Division, Evans will be showing Parra and his wife Marcela's Danish Warmblood Mollegardens Fashion (by Florencio I x L'Espoir).
Newly arrived in the United States is Fontenay (by Furst Jazz x Don Frederico) who Evans will also be showing in the 4-Year-Old Division.
"She is such a mentally strong rider and sits very well," said Cesar. "Katryna spent six years in Germany and got her Bereiter degree in Warendorf. She's a thoroughly schooled dressage rider and an amazing girl. She's such a great addition to Parra Dressage Sport."
Have You Noticed Most of Parra's Horses' Names Begin With F?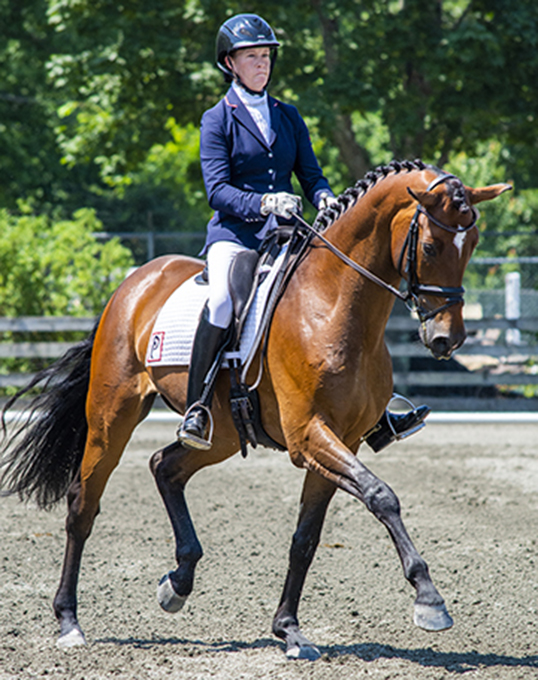 "I couldn't be happier about this great new crop of young horses we have now," says Dr. Parra with a passion.
"I have been in love with the F line ever since my first German National Champion, Furst Fabio. They are great movers with all the athletic ability, great gates, and temperament to go all the way to the international Grand Prix level. It has been the tree that keeps on giving."
Aside from the talented horses, Parra is quick to attribute his recent successes to the system and team he has put in place over the years. "Everyone who does this sport knows that you need a strong team behind you to succeed. I have been tremendously blessed with a wonderful team of horses, riders, owners, coaches, and grooms that have made all these possible. Just this year we have two of my former students, Merita Hagren from Finland and Roberto Brasil from Portugal, riding in the FEI WBFSH Dressage World Championships for Young Horses, being held in Ermelo, Netherlands, August 24-29. It is something that fills me with joy and makes me very proud, and I wish them success!"
Mentors Make the Difference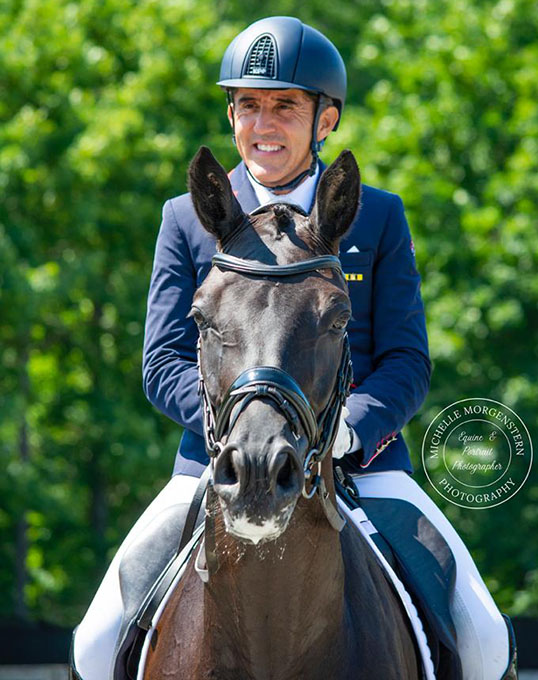 "I am beyond grateful to Anne Gribbons, Christine Traurig, and so many others for their help. Their insight and experience have been invaluable, especially with the Young Horses where it is so important to follow the training scale and have a program that nurtures the horses' abilities while protecting their bodies and minds for the future."
Even after all the horses he has trained through the years, Dr. Parra insists that the process is what drives him. "It is fun because they are all so different, with different talents and personalities. Every time we have a new crop of up-and-coming horses we have new challenges, but we enjoy helping them develop and eventually succeed at the highest levels."
Colombian Roots Run Deep
This year's youngsters carry a special place in Dr. Parra's heart as his business partner Gina Raful is his childhood friend. "The crazy thing is that we went to kindergarten together in Colombia but we lost touch for decades. Our love for horses reconnected us a few years back. Now we have an amazing partnership. I am excited about our future together."
Dr. Parra's South American Colombian roots run deep, making multiple trips a year, to his equine beginnings where he continues to make a difference for the horses in his native country.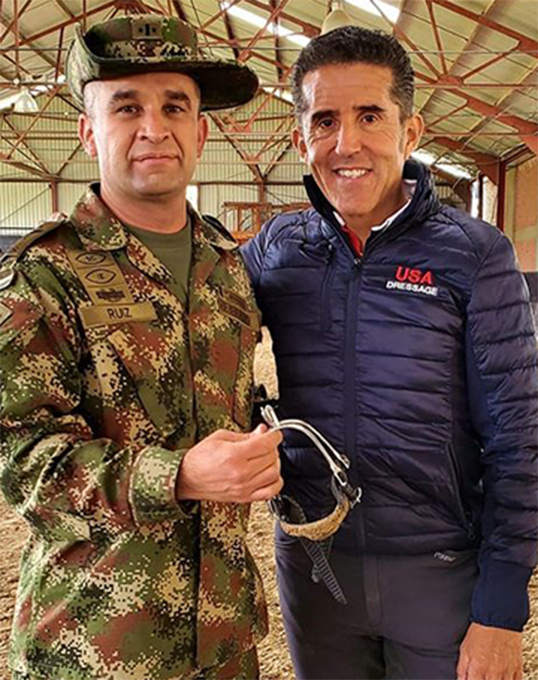 After visiting his hometown of Ibaque, to celebrate his parents' sixtieth wedding anniversary, Parra also visited the military base of Cantón Norte - Escuela De Caballería. Noted as the Head Master of Training for the Colombian, Cavalry, Parra also contributes to the education regarding the welfare of the horse in his homeland benefitting over 25,000 horses. Parra makes this trip up to five times a year, continuing his influence in his homeland.
He credits his home team at Dr. Cesar Parra Dressage Sport, in Whitehouse Station, NJ for keeping things running smoothly, and horses happy and progressing.
-- by Mary Phelps, first featured on www.horsesdaily.com
Related Links
Parra and Mr Bumblebee Continue Winning Streak with Best Score at 2021 CDI-W Wellington
Cesar Parra and Mr Bumblebee Sweep 3* Small Tour at 2020 CDI Wellington
Parra and Fashion Designer OLD Claim 2017 U.S. Developing Grand Prix Horse Championship Title
Dr. Cesar Parra Ranked 2nd In Two Divisions Heads to U.S. Dressage Championships Once More
Cesar Parra and GK Don Cesar Head to the U.S. Developing Horse Championships # 1 In the Rankings
Dr. Cesar Parra awarded San Jorge Military Medal from Colombian Army