U.S.A.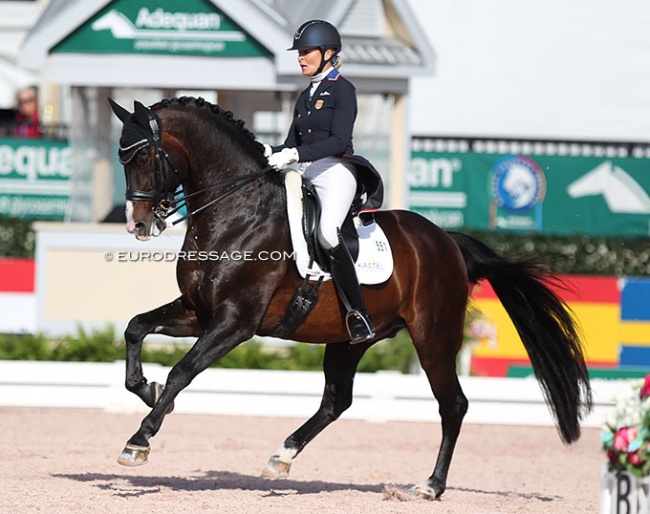 US Equestrian announced the selected athlete-and-horse combinations for the Aachen CDIO5* hosted as part of the prestigious CHIO Aachen from September 10-19, 2021, in Aachen, Germany.
The 2021 CDIO Aachen is the final leg of the FEI 
Competition will begin on Friday, September 17, with the - Grand Prix and continue through Sunday, September 19, concluding with the Grand Prix Freestyle.
The team will be led by Chef d'Equipe Debbie McDonald.
Anna Buffini (San Diego, Calif.) and her own FRH Davinia La Douce, a 14-year-old Hanoverian mare
Ben Ebeling (Moorpark, Calif.) and Illuster van de Kampert, a 13-year-old Belgian Warmblood gelding owned by Sasha Cutter for Nuvolari Holdings & Amy Ebeling
Charlotte Jorst (Reno, Nev.) and Nintendo, an 18-year-old Dutch Warmblood stallion owned by Kastel Denmark
Jennifer Schrader-Williams (Olympia, Wash.) and Millione, an 18-year-old Danish Warmblood gelding owned by Millione Partners LLC
Photo © Astrid Appels
Related Links
Team Holland Takes Homeside Victory in Nations Cup at 2021 CDIO Rotterdam
Team Germany Wins Nations Cup at 2021 CDIO Wellington
Sweden Wins Nations Cup at 2021 CDIO Compiègne, Pips Denmark after Elimination
2021 CDIO Alter do Chao Nations Cup Dropped, CDIO Rotterdam Looks to Reschedule
FEI Nations' Cup Series for 2021 Announced, New CDIO in Portugal