F.O.C.U.S.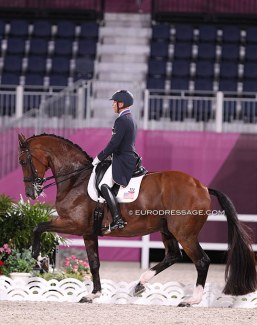 by Leslie Potter - US Equestrian press release 
For fans of dressage, the musical freestyle is a highlight of any competition. Even spectators unfamiliar with the intricacies of the sport can appreciate a good freestyle to music, as evidenced by the mainstream reach of U.S. dressage athlete Steffen Peters' ride with Suppenkasper (barn name Mopsie) at the Tokyo 2020 Olympics.
When executed well, the music behind a freestyle highlights the horse's rhythm and movement while enhancing the dance-like quality of a dressage test. Creating the right soundtrack is a fun but complex task. Peters, now a five-time Olympian known for fun musical freestyles, and Sydney Collier, a member of the 2016 U.S. Para Dressage Team at the Rio Paralympics, shared their insights about creating a musical freestyle.
"Alex, come look at this rave horse!"
Peters has brought popular music into the dressage arena for years, utilizing tunes by Pink Floyd, The Rolling Stones, and even Vanilla Ice, among others. But the freestyle he brought to the Tokyo Olympics, which included retro pop and electronic dance music, might be his most famous yet, thanks to a viral (since removed) video by TikToker @gaaydhd, who coined the "Rave Horse" moniker, declared dressage her new favorite sport, and launched countless shares across social media platforms.
Watch Steffen Peters and Mopsie react to the "Rave Horse" TikTok here.
"The way I look at it, I didn't go viral. Mopsie did," says Peters. "Honestly, I like it this way much better that my name isn't being mentioned that much, but Mopsie's name is mentioned a lot."
It may be Mopsie's moves that get the likes, but Peters gets much of the credit for the soundtrack.
"I know exactly how many beats per minute Mopsie has at trot and passage and in canter," he explains. "I thought that we needed to find a little bit better trot music for Mopsie. We had music for the canter, the walk, the passage, but the trot music was just not quite right."
Peters enjoys listening to music, and one day he came across a modified version of Haddaway's "What Is Love?"
"That's basically when it clicked," he said. "When you listen to music in headphones, everything can sound very dynamic, exciting. But when you play it in the open, in a stadium that maybe doesn't have the best audio system, sometimes that dynamic feeling gets lost. So I played it over the speakers and the people who were watching said, 'Yep, that's it.' People were reminded of the 80s, and the decision was made to have that piece and combine it with 'Destination Calabria.' It's very happy, upbeat music. It's the music that, if I walk into a club, it would probably get me on the dance floor."
Peters works with audio producers who put the music together and tweak it to fit the choreography. From there, his job is to perfect the dressage aspect.
"I don't do the full freestyle [when practicing at home]," says Peters. "But I know exactly where I need to be, where the walk music starts, where the canter music starts, where the trot is. So I do sections and then try to nail not just Mopsie's footfall matching the beat of the music, but I still want to be able to ride my corners so it doesn't look like I'm using the arena just to match the music. I still want to ride a real, proper corner, and make sure the arena is used properly."
Over the years, Peters has incorporated some of his favorite music in multiple freestyles. Longtime fans may remember that Men Without Hats' "Safety Dance" featured prominently in Peters freestyle with Ravel at the 2010 WEG. The tune makes a brief appearance in his current freestyle with Mopsie.
"Safety Dance was one of my favorite pieces of music in the 80s—my teenage years," says Peters. "It was a great time in my life. [The song] reminds me of some incredible friends that I still have in Germany, and they get a kick out of it any time they hear it. So that's a lot of good memories and a lot of gratitude."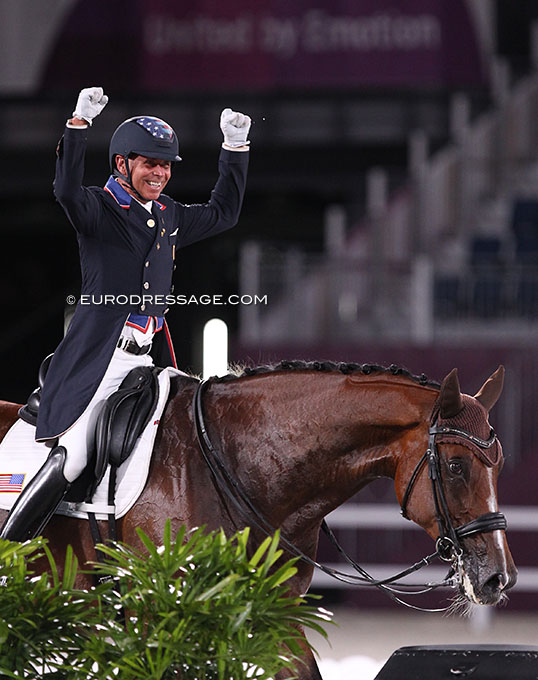 The music undoubtedly enhances the spectator experience of dressage, and as a rider, Peters can choose music that he enjoys listening to. But does the Rave Horse himself also enjoy the upbeat score?
"I tend to ride the passage too forward, and that doesn't work with Mopsie," Peters explains. "I have to keep the passage very small in a certain tempo, and when I hear the music, Mopsie seems to adjust to that shorter tempo in the freestyle a little bit easier than in the Grand Prix and the Grand Prix Special. So, do horses feel the music? I can't quite tell you that. All I know is that the passage in our freestyle is usually better."
Peters plans to keep improving on his current freestyle with the potential of performing it for a home-country crowd at the 2023 FEI Dressage World Cup™ Final, which will be held in Omaha, Nebraska.
"I've had freestyles that were a bit more dramatic; I had one written to the music of Avatar, and that worked quite well in Europe where dressage fans are a bit more reserved and like to listen to the more dramatic, emotional music," says Peters. "But for me, in the U.S., the freestyle needs to be a party. Usually the crowds are wonderful. The fans in the U.S. enjoy a good party tune."
Related Links
2021 Tokyo Olympics Wrap Up: The Homecoming
Suppenkasper, 2020 USDF Grand Prix Horse of the Year
Langehanenberg's Suppenkasper Sold to Akiko Yamazaki