Trakehner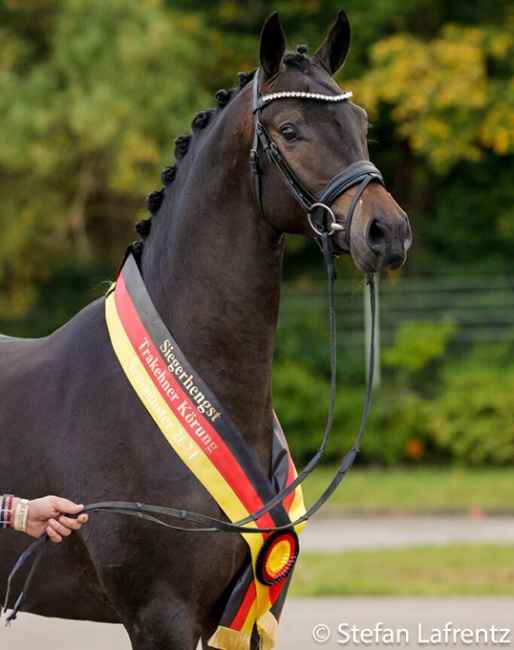 Text by Maren Engelhardt for Eurodressage
In 2021, the Trakehner Verband went back to an almost normal schedule for its yearly highlight, the International Stallion Market, on 14 - 16 October. Strictly enforcing 3G rules, the Holstenhallen in Neumünster were full and bustling with activity. The joyful atmosphere was palpable – the big Trakehner family was excited to be back together.
A New Vibe
And yet, something was different. For starters, this was the last approval taking place in October. Beginning with 2022, the event will be staged in December to adhere to new animal welfare rules. The same rules prevented 5 stallions to attend due to their late date of birth. For those, a special approval will take place 18 December 2021.
Since combining the hard surface and triangle into one appearance for each stallion, and reducing the show program around the main event, the approvals were cut short to only 3 instead of 4 full days. However, two large auctions were still planned (for foals and mares on Friday night and stallions and riding horses on Saturday night). And night it was …… the service office was still processing payments well past midnight.
Millennium Continues to Dominate
For several years now, Millennium and his sons have dominated the Trakehner approvals in NMS. 2021 was no exception to that. Three Millennium sons were selected during the summer, all three were approved, two with a premium.
Obviously, a good horse should be approved, no matter its pedigree, but there is no denying the fact that the Trakehner breed has been steering towards a saturation of this bloodline, and in a stud book with less than 1000 foals a year, that is a clear and present danger. The many sons and daughters from this line cannot be bred to each other indefinitely.
Impact Makes an Impact
And that something might already be amiss came to light with the auction prize that the 2021 Champion stallion, No. 26 Impact (by Millennium out of Impatie by Vivus – Langata Express xx – Vincent, breeder: Jörg Bustorff, owner: BG Impact) fetched.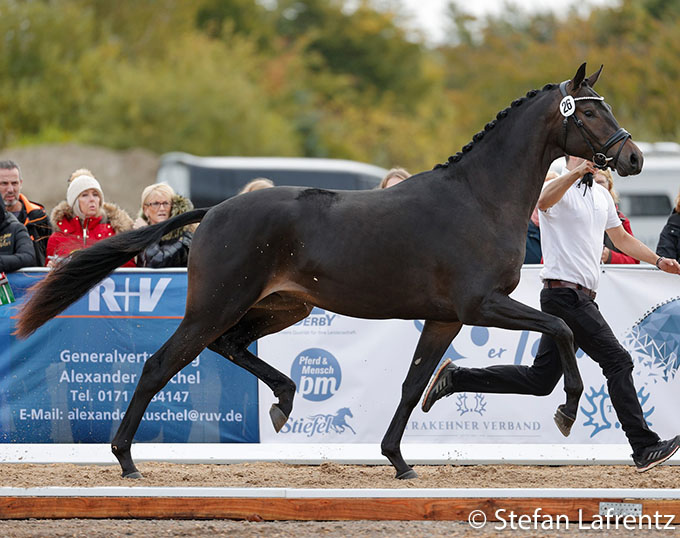 Ironically, this was probably one of the best Millennium sons to ever roamed the Holstenhallen – a refinement stallion if ever there was one. His brilliant type and harmonious body rested on a light, but fitting foundation and the stallion showed an impressive combination of energy and forwardness paired with a more than solid temperament. Even as a non-fan of this line I can only conclude that this 'Impact' was a stunner. He sold at auction for 100,000 Euro to Renate Weber in Hamburg, but given the past year's bidding wars for Champions in NMS, this number stayed much lower than anticipated.
Impact's short biography is an interesting one and riddled with coincidences. His dam was supposed to be sold at auction in NMS but shortly before her date with the auction ring, had a health issue and stayed home. Impact himself was selected for the Verband summer foal auction, and had already a big fan in Renate Stahnke, who approached others about buying the promising colt. However, with prices for Millennium offspring being where they were, the consortium fell apart before the auction even took place – nobody thought they could afford him. During auction, when Impact's price stalled at 8,000 Euro, Mrs. Stahnke spontaneously raised her hand and bough the colt. She immediately brought her old partners, the Langels family in Schäplitz back on board. Impact moved to East Germany, the Langels' son Richard prepared him for the approvals and the rest is history, as they say. Not a bad return of investment!
Most Expensive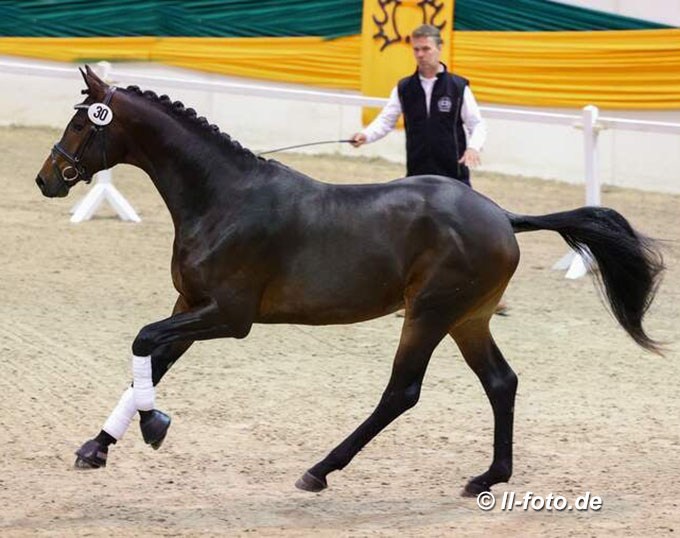 The most expensive stallion was the Danish-bred premium stallion No. 30 Imperial Valley by Preussentanz out of Inverness by Schiffon – Feingeist – Lucado (breeder: Anders Dahl, owners: Anders Dahl and Kaj Olesen, DK). A horse with a significant frame and comfortable topline, who blossomed over the days and impressed most during the at liberty phase. There were flashes of brilliance in his movement both in trot and canter, which were presented with a supple back, good engagement from behind and unfailing rhythm.
His qualities resulted in a fierce bidding battle, ultimately landing him for 210,000 Euro with the same owners who already call the 2020 Champion Rheinglanz their own.
Reserve Champion
The Reserve Champion of the crop was No. 20 Dein Erbe by Hirtentanz out of Dämmerung by Singolo – Exorbitant xx – Habicht (breeder and owner: Philipp von Schöning). The name was befitting, since the bloodlines on top and bottom of this pedigree were all tightly connected to the late Veronika von Schöning.
The strikingly beautiful stallion impressed most with his harmonious conformation, and showed versatile talent both over jumps as well as in his movement. He will begin his performance and breeding career at Gestüt Seeon of the Heise family in Bavaria.
Power Play
The most powerful mover in the group of premiums, if not the entire crop, was No. 25 Goldfieber by Le Rouge o/o Gardemaß by Shavalou – Kostolany – Karon (b+o: Bernhard Langels). He may not have satisfied everybody's sense of type and beauty, but this horse had an outstanding hind end working under his center of gravity with relentless power and rhythm. A dressage trainer's dream for sure.
Another premium was awarded to No. 27 Kenneth (by Millennium o/o Kindheartedness by Shavalou – Sir Chamberlain – Flugsand; b: Britta Stiegemeyer, o: Gestüt Sprehe), who was not for sale. This was a massive stallion with a very modern forearm and exceptional shoulder freedom. He tired a bit over the days and in the end, could have shown more strength in his haunches. Considering Sprehe's decision to not enter him in the auction but rather take him home, his career is far from over and it should be interesting to see how he develops under saddle.
Anglo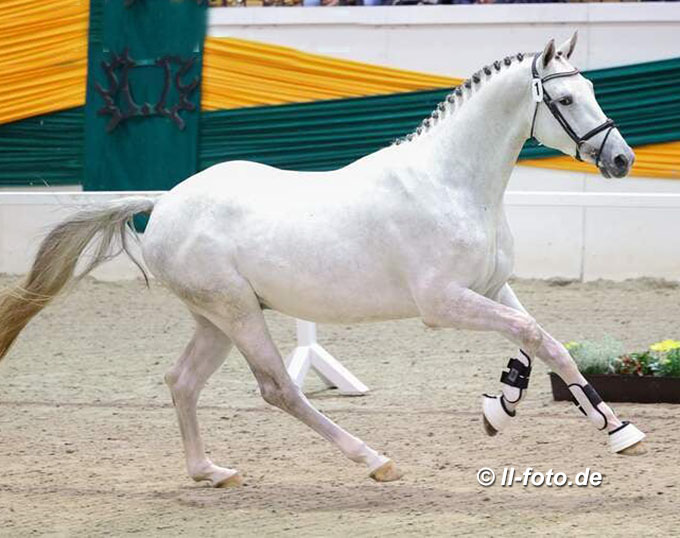 Two stallion prospects came from an Anglo background, where at least one parent is an English TB, Anglo Arabian or other Arabian TB. Even though this number of two horses out of 38 is small compared to only 10 years ago, it still sets the Trakehner Verband apart from other registries, where the 'blood component' has all but vanished.
No. 1 was the grey Kard Blanc, by the international show jumper Bonaparte AA o/o Karenina by Herzglanz – Key West – Vollkorn xx (b+o: Werner Nitz). This energetic colt ended up with the best jumper prize, was awarded the best Anglo-bred prize and sold at auction to a spontaneously formed syndicate to secure this outstanding eventing talent for one of Germany's most successful international riders, Andreas Ostholt. He is a close maternal relative to the former Champion and S-level dressage horse K2 and also to the approved No. 38 from the 2021 crop.
The second Anglo-bred colt was No 2 Elanolos (by Lossow o/o Elisa di Esteban x by Esteban xx – Bagdad ox – Numizmat ox; b+o: Simone Lindemeir-Trippel). Just like Kadre Blanc, this bay stallion showed great promise as a future eventer with skillful jumping, a large and ground-covering canter and a wonderful attitude as a performance horse.
Sleeper Agent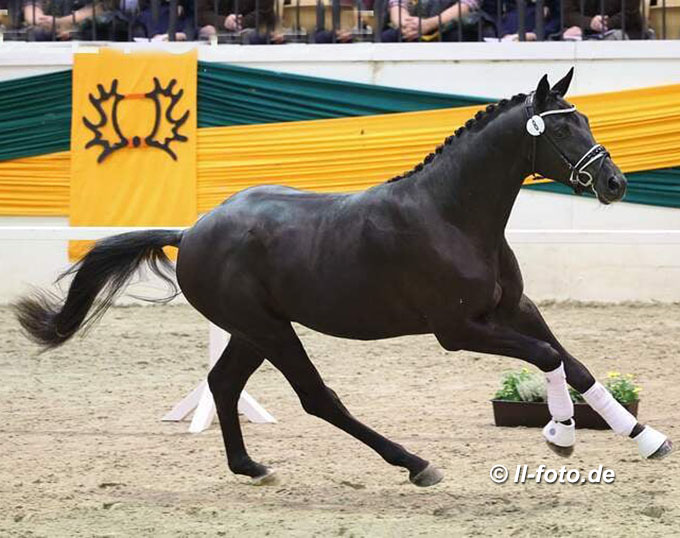 No. 6 Graf von Falkenhöh by Blanc Pain out of Grande Dame by Hirtentanz – Uckermärker – Upan la Jarthe AA (b: Karl-Friedrich Peters, o: Dr. Bernd Ciesler) is the first approved son of Kristine Möller's former international Grand Prix partner Blanc Pain. Despite the dressage career of the sire though, this colt showed a lot of talent not only as a powerful mover with a lot of push from behind, but also as a versatile sport horse with a good jump.
No. 8 El Presidente (by Bourani o/o Emma Peel by Kentucky – Summertime – Caprimond. B: Gabriele Pothen, b+o: BG Pothen – Preising) was one of only two colts born in the sire's 2019 crop in Germany. Bourani himself is a horse of versatile talents, was fourth at the Bundeschampionate in 2019 and sent a son to NMS who resembled his sire in terms of athleticism and a positive attitude in many ways. El Presidente was sort of a 'sleeper' in this collection but turned out to be highly consistent in all phases. Still with a good deal of maturation ahead of him, his talent as a sport horse was spotted by an American buyer. The stallion will begin his performance and breeding career in Germany.
Just One Freiherr von Stein
No 12 Rauhreif by Freiherr von Stein out of Rauschen by Perechelst – Markzauber – Karneol (b: Hans-Ernst Wezel, o: Gestüt Murtal, AT) was one of five Freiherr von Stein sons presented this year, and the only approved one.
His lovely liver chestnut coat, the captivating type and his elegant appearance made him stand out form the get go. He could not deny the close line-breeding to Ulla Salzgeber's former international Grand Prix partner Perechlest in type and conformation. Raureif was not for sale, as the owners have plans of their own. Knowing the Murtal stud, this will undoubtedly include a performance career and should be rewarding to watch.
Bred to Perform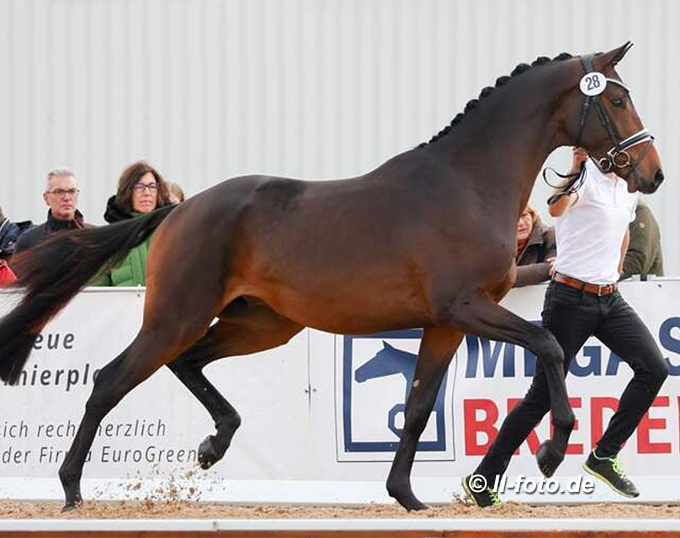 No 18 Sacre Diamant (by High Motion out of Sacre d'Elysée by Exclusiv – Kostolany – Upan la Jarthe AA, b: Bernhard Langels, o: Nicole Derlin) was a formidable dressage type, with the best walk of the crop and substantial thrust from his hind quarters in both trot and canter. The stallion was a great example of the variability in type that the modern Trakehner breed can produce. In terms of depth of his body, size, foundation and frame, he was at a polar opposite to e.g. the Champion, but nonetheless a talented performance type.
A full brother to Gestüt Marbach's New Hope is No 23 New Boy (by Ivanhoe o/o New Dawn by Monteverdi – Acatenango xx – Arraton xx, b: Dr. Sabine Kliesch, o: BG New Boy), who calls one of the best Anglo-bred Trakehner mares of the present his dam. The stallion is not quite as refined as his brother, thus offering a different frame with the same genetics. He was not entirely supple and a bit too excited during the at liberty phase, but impressed with his well-balanced conformation, a light poll and well-set neck as a future riding horse.
The third approved Millennium son was No. 28 Augenblick (o/o Ashley IV by Cadeau – Lonley Boy xx – Symbol; b+o: Bernhard Eisenmenger). An interesting horse in that he combined some of the modern attributes of Millennium with a very successful line of eventers and dressage horses on the bottom. This colt had real highlights during the at liberty phase, and was most impressive in his body dimensions and the way he was able to move all his parts. Definitely one to watch for the future.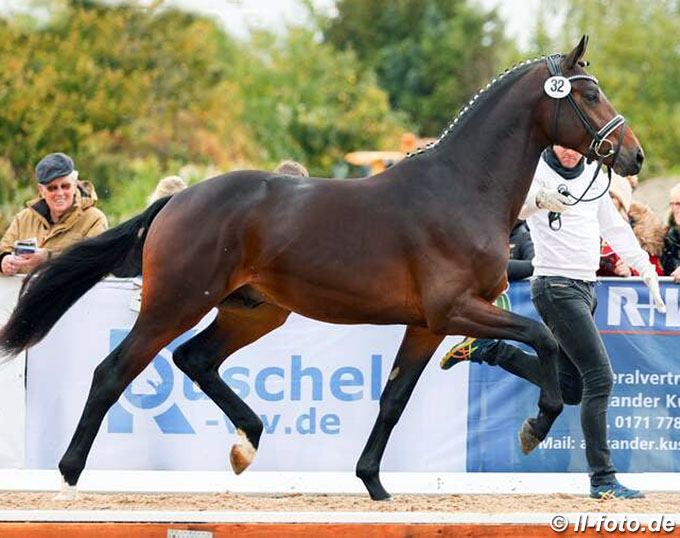 The Poll family from Gestüt Hörem presented the home-bred and owned No. 32 Eichengold, by Schwarzgold o/o Elba by Gribaldi – Schwadroneur – Cannon Row xx. If that dam's pedigree sounds familiar – this is a full sister to Easy Game, the Trakehner Stallion of the Year and sire of top international Grand Prix horses TSF Dalera BB and Hermes. Eichengold is a substantial horse with a solid foundation, good bones and a formidable silhouette. He didn't take a wrong step during the days and came across as a major dressage talent, who will most likely blossom more under saddle. Eichengold was not in the auction and will begin his career at Hörem stud.
No. 34 Sky Prince (by Speedway o/o Symphonie XII by Sixtus – Highnoon – Magnet; b: Silke Wagner, o: Gestüt Hörstein) was the first approved son of his young sire Speedway, who had a successful season at S-level dressage with Kim Pfeiffer and is Schwarzgold's most successful offspring to date. Sky Prince resembled his sire in his light frame, his uphill build and the focused approach to all tasks he was presented with. The dam line is a highly proven sport horse line with a number of international performance horses in eventing and show jumping in the mix. An interesting alternative with some really old bloodlines for today's modern market. Sky Prince will begin his breeding career at his home stud Hörstein, mostly to give his sire more time to concentrate on his performance career.
Crowd Favourite
Last but not least, the absolute crowd's favourite was the charming No. 38 Kind of Magic by Zauberreigen o/o Kiss me Kate by Perechlest – Stradivari – Vollkorn xx (b+o: ZG Kurt & Michael Weippert). The dam already produced the NMS Champion Kattenau. Kind of Magic had somewhat 'ponyesk' features, but showed a tremendous ability to 'be worked', had a very active hind end and plenty of reach with his forearm. He also jumped very well, which is not such a big surprise considering that his sire qualified for the Bundeschampionat in show jumping a few years ago.
Kind of Magic will begin his riding and breeding career in the care of Heinrich Brähler in Hessia.
50% Approval Rate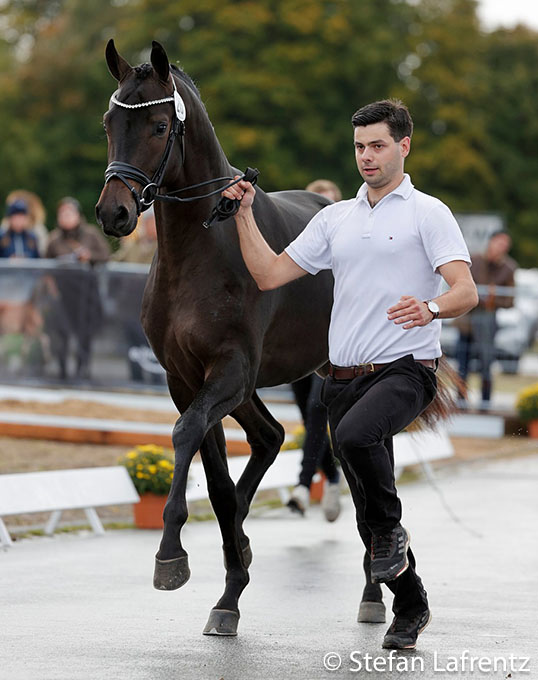 The 2021 crop consisted of 38 colts originally, of which 32 appeared in front of the commission. Considering that exactly 50% were approved, one had to wonder if the small Trakehner stud book could absorb that many new stallions - a question we ask every year. However, nowadays many stallions never make it into the breeding shed, but rather turn towards a riding horse career so that this influx of approved youngsters may not necessarily be a bad thing.  Obviously in retrospect, decisions and development can be commented on with a bit more depth. Personally, I think that a more stringent selection never hurts.
It is admirable that this small stud book preserves a wide range of riding horse types and doesn't select for dressage or show jumping only, but it does beg the question whether or not the breed can handle this many approved stallions, year after year. The original group of stallion prospects that the commission can choose from in the summer is getting smaller and smaller. It may be time to reflect that in the number of approved stallions at the end.
Those that are bound for a dressage career need to meet the highest standards possible, especially when it comes to suppleness in all three gaits and sufficient activity and impulsion carried from a strong hind end. We all have different tastes, but some things should be considered as a bare minimum to adhere to, and we can't ignore for example that some of the newly approved stallions are lacking in the quality and purity of their walk and trot. A fancy forearm is one thing, but it needs a motor too and that the breed is able to produce such 'motors' is no question – we saw several excellent examples of such movement in this crop. And certainly, in order to maintain the athletic diversity of the breed, movement alone cannot be the only or ultimate selection criterium. But if the goal is to consistently produce horses for the immediate market of 5-7yr old dressage horses, selection needs to be an actual selection again.
by Maren Engelhardt - Photos © Stefan Lafrentz - LL-photo
Related Links
Rheinglanz, Champion of the 2020 Trakehner Stallion Licensing
Ferrari Forever Named Champion of the 2019 Trakehner Stallion Licensing
Kattenau Named 2018 Trakehner Stallion Licensing Champion
Kaiser Milton, Champion of the 2017 Trakehner Stallion Licensing
His Moment Proclaimed Champion of the 2016 Trakehner Stallion Licensing
Perpignan Noir, Champion of the 2015 Trakehner Stallion Licensing
Generous Approval at Reformatted 2014 Trakehner Stallion Licensing
Kissinger, Star Champion in an Average Field at 2013 Trakehner Stallion Licensing
Strong Selection at 2012 Trakehner Stallion Licensing
Hawelmann Named Champion of the 2011 Trakehner Stallion Licensing
Imhotep Champion of the 2010 Trakehner Stallion Licensing
Kentucky, Champion of the 2009 Trakehner Stallion Licensing
Iskander, Champion of the 2008 Trakehner Stallion Licensing 
Grand Passion 2007 Trakehner Licensing Champion
Songline, 2006 Trakehner Licensing Champion 
Herzensdieb, 2005 Trakehner Licensing Champion, Sold to the U.S.A.
Le Rouge, 2004 Trakehner Licensing Champion 
In Flagranti, 2003 Trakehner Licensing Champion