Oldenburg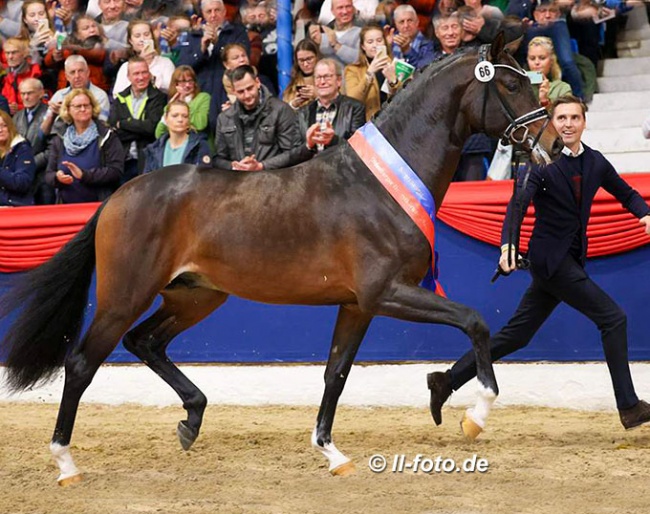 The tall, dark bay Incredible (by Indian Rock x For Romance x K2) became the champion of the 2021 Oldenburg Stallion Licensing, which took place in Vechta on 18 - 20 November 2021. 
Forty-eight dressage bred colts passed the pre-selection and were invited to participate in the Licensing. Six of them dropped out, 24 of the remaining 42 were licensed, meaning more than 50% of the colts received a positive verdict. 
Ten stallions were named premium!
Incredible, Licensing Champion
Incredible (by Indian Rock out of Herbstromanze (by For Romance I x K2 x Schwadroneur) was named the champion stallion. He is bred by Andrea Beckheim at Gestut Reichshof and was bought as a foal by Kerstin Klieber and Stefan Sandbink. They presented him at the pre-selection, after which he sold to Andreas Helgstrand and Stutteri EVO.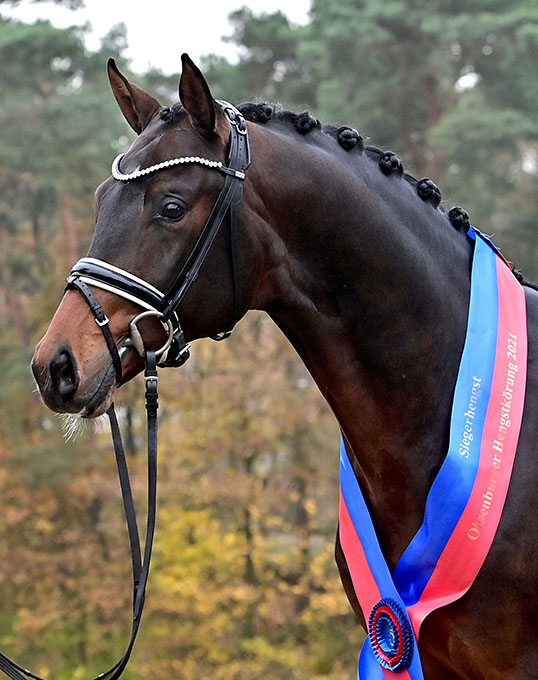 With a lof of social media hype and claqueurs at the licensing, Incredible became the crowd's and judges' favourite. 
Oldenburg's breeding director Bernhard Thoben said about the champion: "When we were just standing here together the phrase 'the king enters the track' came up. That is certainly a bit like that. A stallion endowed with great grandeur and an incredible amount of charisma, highly modern. Also endowed with great overview and much blood and with three evenly outstanding basic gaits. A stallion with rarely seen totality and a good alternative over the fine pedigree.
Incredible's pedigree does not present the tradition Sandro Hit blood often seen in Oldenburg and has a good dose of Trakehner in the lineage.
"It's a pedigree that was cultivated for a long time by Manfred Rüter from Dorsten, a long-time Oldenburg breeder," said Thoben. "It is nice that this is the case and that such horses come along for us.'
This is Helgstrand's third Oldenburg Licensing Champion in four years time. Last year he presented champion Fortunate and in 2018 he co-presented Global Player. 
Reserve Champion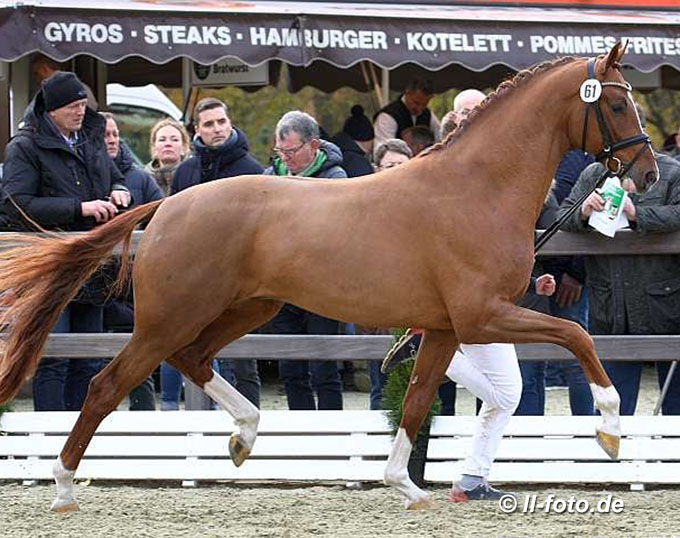 The reserve champion was the colt Fifty-Fifty (by Fürst Toto out of Royal Princess (by Royal Classic x Fürst Piccolo x Wolkenstein II)), bred and presented by Arndt Schwierking.  The liver chestnut is from the damline which has produced  Sephora S (by Sir Donnerhall II - Patrick van der Meer), premium stallion Bowmore (by Bordeaux - Lisa Müller), and Grand Prix horse Andretti (Laura Bechtolsheimer). He sold at auction for 250,000 euro to Helgstrand Dressage.
The third ranked stallion was the Swedish bred Oldenburg colt by Suarez out of Tia Romina II (by Dante Weltino x Rubinstein I x Traumdeuter). He is bred Nina Sixtensson in Sweden, and sold as a foal to Maurice and René Tebbel. The dam line of this colt is the famous Rulli-Rudilore line, which produced Rubin Royal and Romanov.  He sold at auction for 530,000 euro to Klosterhof Medingen.
Top Five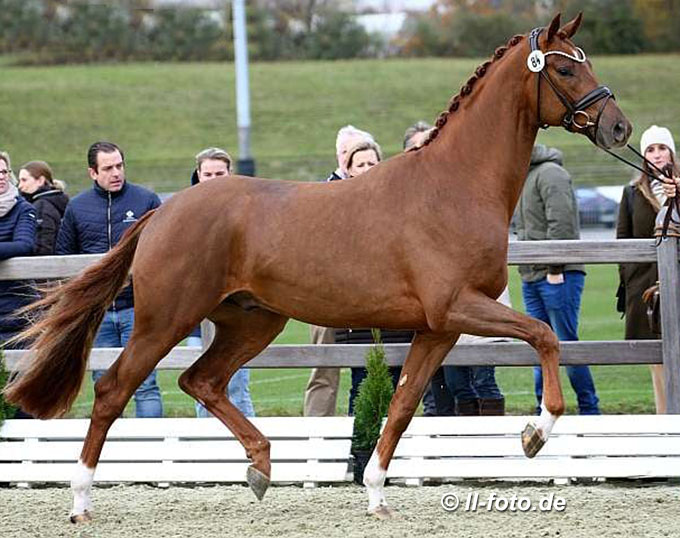 The fourth ranked premium stallion is Value (by Valverde x Floriscount x Lauries Crusador xx), bred by Clemens von Merveldt and owned by Helgstrand Dressage. 
The fifth ranked premium stallion was Feivel (by Foundation x Bretton Woods x Dormello), bred by Ulrich Brinkhurst and owned by Antonius Schulze Averdiek. Gestut Schönweide bought him for 360,000 euro. 
Premium Lot
The sixth ranked stallion was a colt by Top Gear x Sandro Hit x Hill Hawkx xx, bred by Margarete Strohm and owned by Ib Berger. German dressage rider Yara Reichert bought him for 215,000 euro. 
The other four premium stallions were unranked. A colt by Secret x Stedinger x Placido, bred by Felix Poelmann and owned by Dutch horse investor Jan Pieter Dalsem. He found a new owner in Ukraine for 304,500 euro.
A colt by Blue Hors Farrell x Bon' A Parte x Landsieger, bred by Lars Wenke and owned by Blue Hors stud in Denmark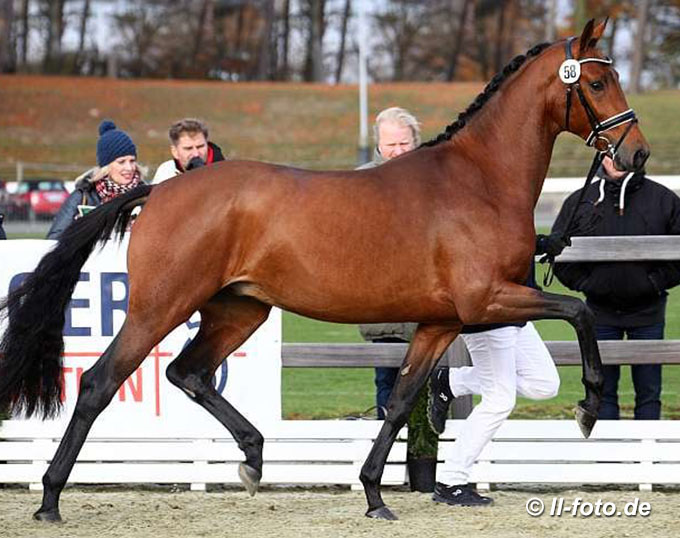 A colt by Floricello x Ampere x Stedinger, bred by Rainer Lechl and owned by Detlef Ruddat. He sold at auction for 350,000 euro to Helgstrand in Denmark.
The last premium stallion was a Sezuan x De Niro x Sandro Hit, bred by Alfons Kramer and owned by the Klausing family in partnership with Gut Rethorn. He sold for 153,000 euro to Ukraine.
Big Prices for Oldenburg Stallions
Seven of the 10 premium stallions were offered for sale and prices over 100,000 euro were paid each one of them.
The third ranked premium stallion by Suarez x Dante Weltino became the auction price highlight following the licensing on Saturday afternoon. He sold for 530,000 euro to Klosterhof Medingen. Christopher Wahler is spending the big bucks as he had already bought the premium licensed colt by Totilas x Danciano at the Hanoverian licensing for 370,000 euro at the Hanoverian licensing a few weeks ago.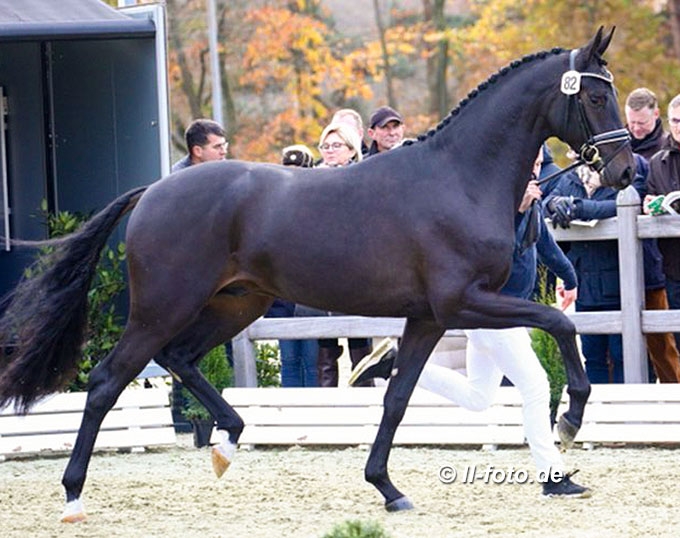 The second most expensive horse at auction was the (non premium) licensed Jovian x Benaggio which sold for 370,000 euro to Antonia Ax:son Johnson of Lovsta Stuteri in Sweden.   Gestut Schönweide paid 360,000 euro for the premium Foundation x Bretton Woods x Dormello. 
The second most expensive, non premium licensed stallion was the Erdinger x Fidertanz, who fetched 170,000 euro. 
The non-licensed Furst Toto x Furst Romancier fetched 43,000 euro, the Marc Cain x Donnerhall sold for 30,500 euro to Great Britain. The Ibiza x Florencio I sold for 24,000 euro to Haras de Malleret in France, the Don Martillo x San Amour sold for 21,000 euro, and the Benicio x Quattro B moves to the U.K. for 20,000 euro.  
The average price of the licensed stallions settled at 186,147 euro. For the non-licensed stallions it was about 27,700 euro.
Photos © LL-foto
Overview Licensed Stallions
The premium stallions
1. Incredible (by Indian Rock x For Romance x K2) - owned by Helgstrand/EVO - not for sale
2. Fifty Fifty (by Furst Toto x Royal Classic x Furst Piccolo) - owned by Arnd Schwierking - 250,000 euro to Helgstrand
3. nn (by Suarez x Dante Weltino x Rubinstein) - owned by M&R Tebbel - 530,000 euro to Klosterhof Medingen
4. Value (by Valverde x Floriscount x Lauries Crusador xx) owned by Helgstrand Dressage - not for sale
5. Feivel (by Foundation x Bretton Woods x Dormello) - owned by Antonius Schulze Averdiek- 360,000 euro to Gestut Schönweide
6. nn (by Top Gear x Sandro Hit x Hill Hawkx xx) -  owned by Ib Berge - 215,000 euro to Yara Reichert
nn (by Farrell x Bon'A Parte x Landsieger) - owned by Blue Hors - not for sale
nn. (by Floricello x Ampere x Stedinger) - owned by Detlef Ruddat - 350,000 euro to Helgstrand
nn. (by Secret x Stedinger x Placido) - owned by JP Dalsem - 304,500 euro to Ukraine
nn (by Sezuan x De Niro x Sandro Hit) - owned by the Klausing & Gut Rethorn - 153,000 euro to Ukraine
Other licensed stallions
nn (by Ballantines Finest x Landos x Estaban xx) - owned by Heinrich Giesselmann - 50,000 euro  to Germany
nn (by Dancier Gold x Detroit x Laomedan) - owned by Sprehe
Diamantenglanz (by Diamond First x Bon Coeur x For Compliment) - owned by Wieghaus-Vorwerk - moves to LG Warendorf
Don Sarkozy (by Don Allegro x Sarkozy x De Niro) - owned by Helgstrand & Kandziora
nn (by Erdinger x Fidertanz x Sir Donnerhall) - owned by Pferdezucht FE - 170,000 euro to Helgstrand
Enterprise (by Escamillo x Flrorencio x Relevant) - owned by Sandbrink - 79,000 euro to Ukraine
nn (by Fidertanz x Sir Donnerhall x Wolkentanz II) - owned by KS Horses - 51,000 euro to Ukraine
nn (by Fürstenball x Diamond Hit x Belissimo M) - owned by Lewitz - 75,000 euro to Haras de Malleret
nn (by Kaiman x Grand Galaxy Win x Fidertanz) - owned by JP Dalsem
nn (by Mykonos x Furst Romancier x Sir Donnerhall) - owned by M&R Tebbel - 35,000 euro to Germany
nn (by Jovian x Benaggio x De Niro) - owned by Johan Ifverson - 370,000 euro to Lovsta Stuteri
nn (by Rubin Royal x Furst Wilhelms x Don Gregory) - owned by Andreas Wempe - 55,000 euro to Haras de Malleret
nn (by Secret x Furstenball x Florestan) - owned by H. Ramsbrock - 65,000 euro to The Netherlands
HP Vincello (by Vitalis x Apache x Furst Romancier) - owned by HP Horses - 52,000 euro to Ib Berger
Related Links
Fortunate, Champion of the 2020 Oldenburg Stallion Licensing
Bellany Named Champion of the 2019 Oldenburg Stallion Licensing
Global Player, Champion of the 2018 Oldenburg Stallion Licensing
Benefit, Champion of the 2017 Oldenburg Stallion Licensing
Furst Fabrice, Champion of the 2016 Oldenburg Stallion Licensing 
Bonds, Champion of the 2015 Oldenburg Stallion Licensing
Morricone, Champion of the 2014 Oldenburg Stallion Licensing
Don Deluxe, Champion of the 2013 Oldenburg Stallion
Follow Me, Champion of the 2012 Oldenburg Stallion Licensing
For Romance 2011 Oldenburg Licensing Champion, Tight Junction Steals the Show
De Martino Captures Champion's Title at 2010 Oldenburg Stallion Licensing
Fairbanks, Champion of the 2009 Oldenburg Licensing
Furstenball, Champion of the 2008 Oldenburg Stallion Licensing
Sieger Hit, Champion of the 2007 Oldenburg Stallion Licensing
Sandro Hit Euphoria At 2006 Oldenburg Stallion Licensing
Marketing Above Quality at the 2005 Oldenburg Stallion Licensing
Furst Heinrich Fledglings Fly High at 2004 Oldenburg Stallion Licensing
Don Kennedy, Champion of the 2003 Oldenburg Stallion Licensing