Oldenburg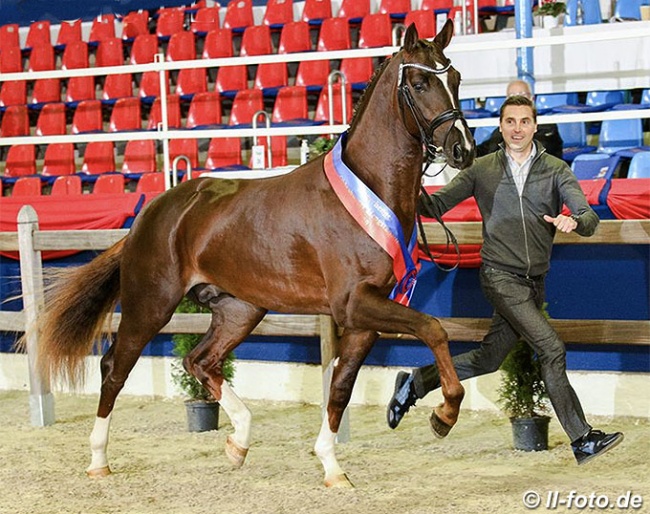 The tall and handsome Fortunate (by Foundation x Quaterback) was named champion of the 2020 Oldenburg Stallion Licensing in Vechta, Germany, on 21 November 2020. 
Thirty one dressage colts were presented, 17 of them were licensed and 6 were named premium stallion. 
Corona Edition
The 2020 Oldenburg licensing took place in a lacklustre yet corona proof environment with no audience present. Small tables were set up spread out over the entire seating area where only the stallion owners were able to sit, keeping social distancing in mind. The absent crowd reduced the glamour of this annual event, but for the stallions the less electric atmosphere was better to cope with. 
The annual auction following the licensing took place online and the bidding concluded on Sunday 22 November 2020. Several of the most attractive stallions were not for sale though, including the licensing champion.
Fortunate Champion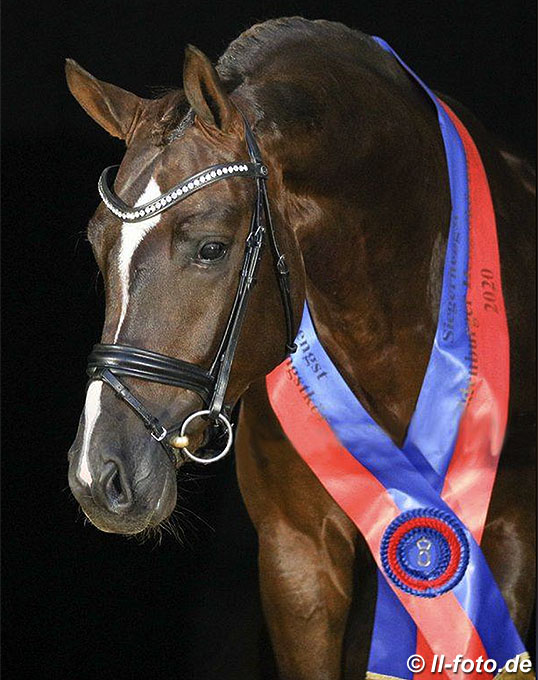 The premium lot included six stallions of which four of them were of outstanding quality and two of the rather old-fashioned type.
While fortune would have favoured Florida TN (by For Dance x Zack), in the end the stallion licensing committee chose Andreas Helgstrand's Fortunate (by Foundation x Quaterback x Weltmeyer x Brentano II), who is a full brother to the Hanoverian For Magic. 
Bred at Zuchthof Vogel and owned by Helgstrand, the XL-sized tall stallion moved with much power, always uphill oriented and wonderful freedom in the shoulder. 
Florida, Reserve Champion
The more pocket size yet modern looking Florida TN (by For Dance x Zack x Diamond Hit) was a strong contender for the title with his very athletic way of moving, freedom in the shoulder and great beauty in his head and neck. The committee named him reserve champion.
Bred by Jörg Bös and owned by Kerstin Klieber and Stefan Sandbrink, the dark bay colt was the most "Oldenburg" of the premium lot. Dam Gwendolina is from the same line as the U.S. Grand Prix horse Doctor (Shelly Francis). 
The dark bay dressage talent sold in the online auction on Sunday for 281,000 euro to Team Nijhoff and Kees van den Oetelaar in The Netherlands. 
Premium Lot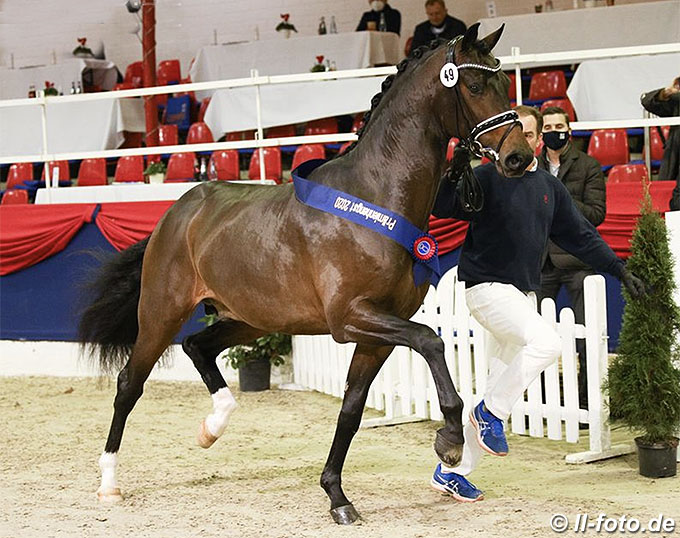 The third placed stallion was the slightly less typey chestnut stallion by Bordeaux x Furst Piccolo, bred by Arnd Schwierking. The tall chestnut did offer the complete package with a nice neck and good quality gaits.  He sold at auction for 95,000 euro and it is rumoured he will move to Grand Prix rider Lisa Müller in the south of Germany.
Three colts were ranked in fourth place in the premium ring; one of the most interesting and high quality colts at this year's licensing was amongst them.  The chestnut Venido (by Veneziano x Sir Donnerhall x Don Davidoff x Figaro) was an absolute eye-catcher. He appeared still quite youthful, which is normal and natural for his age at 2.5 years old, but had outstanding gaits with a very active and engaged hindleg. He is bred by Felix Tiemann and was presented at the licensing by Blue Hors stud in Denmark. During the licensing he sold privately to the Celle State Stud and Ingo Pape. 
Another smashing colt was the Danish bred Oldenburg Veyron Hena (by Vitalis x L'Espoir x De Noir). Bred by Alexandra and Sören Buchreitz in Denmark, the strapping chestnut has a gorgeous, sporty conformation and strong, uphill gaits. He is a clear dressage prospect for the future and was certainly one of the more interesting colts in the lot. He was not for sale. 
Heinrich Ramsbrock's Champagner x Wolkentanz I x Askan x Sarastro xx colt had more the looks of a show jumper - not as streamlined in the topline - but moved in a strong way and his pedigree offers new and different blood for Oldenburg breeders. The bay colt sold for 52,000 euro at auction.
Online Auction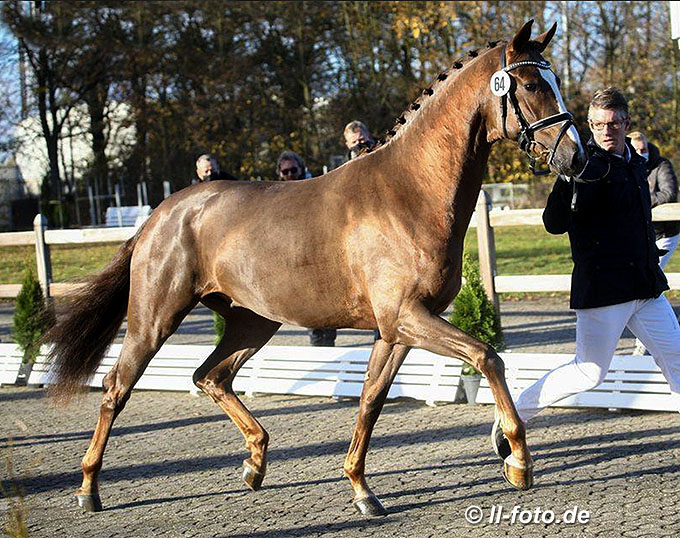 The most expensive licensed colt that was not named premium was the very interesting and super moving Vivaldi x De Niro x Sandro Hit. He appeared a bit ponyesque, but was loved amongst bidders. He found a new home in Austria for 180,000 euro. 
A licensed colt by Fahrenheit x De Niro  sold for 58,000 euro, the For Dance x Sungold 50,000 euro, the Baron x De Niro fetched 30,000 euro. They will all stay in Germany
The licensed Furst Fabrice x Irdenkreis x Ragazzo found a new owner in The Netherlands for 27,500 euro. 
The average price for a licensed stallion was 84,786 euro.
The best selling, non-licensed stallion was the compact, black Sezuan x Sandro Hit x Lanciano, which sold for 36,000 euro. 
Licensing Results
Premium
1. Fortunate (by Foundation x Quaterback x Weltmeyer) - Breeder: Zuchthof Vogel - Owner: Helgstrand Dressage
2. Florida TN (by For Dance x Zack x Diamond Hit) - Breeder: Jörg Bös - Owner: Dressurstall Sandbrink GmbH
3. Bowmore (by Bordeaux x Fürst Piccolo x Wolkenstein II) - Breeder & Owner: Arndt Schwierking
4. Valenzo (by Veneziano x Sir Donnerhall I x Don Davidoff) - Breeder & Owner: Felix Tiemann (in catalog listed as presented by Blue Hors stud)
4. Veyron Hena (by Vitalis x L'Espoir x De Noir) - Breeder: Alexandra & Sören Buchreitz - Owner: Sören Buchreitz
4. Champagner Fizz (by Champagner x Wolkentanz x Askan) - Breeder & Owner: Heinrich Ramsbrock
Licensed
Bachelor (by Baron x De Niro x Sergeant Pepper) - Breeder: Elisabeth Wegert - Owner: Gestüt Westfalenhof
n.n. (by Bernay x Desperados x Sandro Hit) - Breeder: Elke Lubahn - Owner: Gestüt Sprehe
Ferdinand (by Fahrenheit x De Niro x Lord Liberty) - Breeder: Dieter Scherwitzki - Owner: Kiri Tippens
n.n. (by For Dance x Sungold x Royal Diamond) - Breeder: Uwe Schröder - Owner: Gerd Sosath
n.n. (by Fahrenheit x Sir Donnerhall I  x Lafontaine) - Breeder: Bernd Broghammer - Owner: Christina Mertl
Floyd TN (by Fürstenball x Sandro Hit x Donnerhall) - Breeder: Rolf-Peter Schulze - Owner: Reesink Pferde & Stoeterij Turfhorst
n.n. (by Fürst Fabrice x  Irdenkreis/T.  x Ragazzo) - Breeder: Henrike Folkens - Owner: Eric Stevens
For Kingdom/Woodlander Fort Worth (For Emotion x Dimaggio x Caprimond/T) - Breeder & Owner: Lynne Crowden/ Woodlander Stud
Infantino (by Ibiza x Sandro Hit x Weltmeyer) - Breeder & Owner: Friederike Rehkamp 
n.n. (by Vivaldi x De Niro x Sandro Hit) - Breeder: Alfons Kramer - Owner: Sylvia & Wilhelm Klausing GbR & Gut Rethorn
Complete Licensing results here
Photos © LL-foto
Related Links
Vitalis, Best Represented Sire at 2020 Oldenburg Stallion Licensing
2020 Oldenburg Stallion Licensing Without an Audience
2020 Oldenburg Stallion Auction – Bid Now on your Future Star
2020 Oldenburg Stallion Licensing: Secure Your Future Sire!
Previous Champions
Bellany Named Champion of the 2019 Oldenburg Stallion Licensing
Global Player, Champion of the 2018 Oldenburg Stallion Licensing
Benefit, Champion of the 2017 Oldenburg Stallion Licensing
Furst Fabrice, Champion of the 2016 Oldenburg Stallion Licensing 
Bonds, Champion of the 2015 Oldenburg Stallion Licensing
Morricone, Champion of the 2014 Oldenburg Stallion Licensing
Don Deluxe, Champion of the 2013 Oldenburg Stallion
Follow Me, Champion of the 2012 Oldenburg Stallion Licensing
For Romance 2011 Oldenburg Licensing Champion, Tight Junction Steals the Show
De Martino Captures Champion's Title at 2010 Oldenburg Stallion Licensing
Fairbanks, Champion of the 2009 Oldenburg Licensing
Furstenball, Champion of the 2008 Oldenburg Stallion Licensing
Sieger Hit, Champion of the 2007 Oldenburg Stallion Licensing
Sandro Hit Euphoria At 2006 Oldenburg Stallion Licensing
Marketing Above Quality at the 2005 Oldenburg Stallion Licensing
Furst Heinrich Fledglings Fly High at 2004 Oldenburg Stallion Licensing
Don Kennedy, Champion of the 2003 Oldenburg Stallion Licensing