France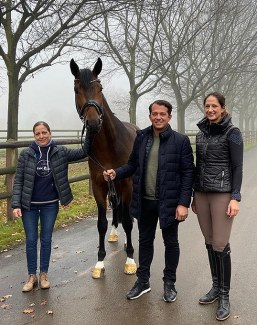 Haras de Malleret in Le Pian Medoc, France has strengthened its stallion roster and sport barn with six new acquisitions from the Hanoverian, Oldenburg and Westfalian stallion licensing in Germany in November.
Gérald Martinez, managing director of this prestigious French stallion station and brood farm, invested in six young dressage stallions, of which three will join the breeding stable and the other three its sport programme with high performance sport as ultimate goal. 
"At each licensing you make a list of your preferred stallions and go for them," Martinez told Eurodressage. "This year I focused my choices not just on breeding, but also on sport. For the breeding stallions all the boxes need to be ticked. In the end only the offspring can confirm whether a stallion passes on the qualities you see in him. It's a long-term project. Buying them so young and unproven at the licensing is always a risk and you need a bit of luck. Sometimes there are certain opportunities you have to seize and that's what I did in Germany this month."
Strike I: Faszination de Malleret
Martinez began his investment project at the 2021 Hanoverian Licensing in Verden, where he secured the highly promising breeding colt, Faszination de Malleret (by Furst Belissaro x San Remo), for the Malleret stallion roster.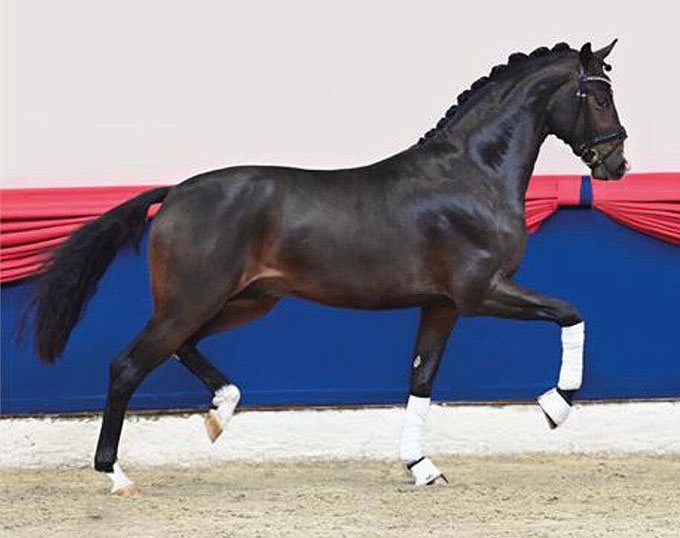 This dark bay stunner was named premium stallion and sold at auction for 210,000 euro. Faszination offered the complete package of gaits, looks and character.
He has already moved to Johann Hinnemann's Krusterhof in Voerde, Germany, where he will stand at stud in 2022, while top young horse trainer Stefanie Wolf will carefully prepare him for the mandatory stallion suitability test. 
Strike II: Vechta
At the 2021 Oldenburg stallion licensing in Vechta, Martinez secured two further licensed stallions, the eye catching Furstenball x Diamond Hit colt and the very interestingly bred Rubin Royal x Fürst Wilhelm. 
"The genetics of the Furstenball x Diamond Hit are fantastic, as well as his great conformation and character. For a horse like this, I first want him to successfully pass the 14-day suitability test and then take his first steps in sport to confirm whether he deserves to be collected or not," said Gérald.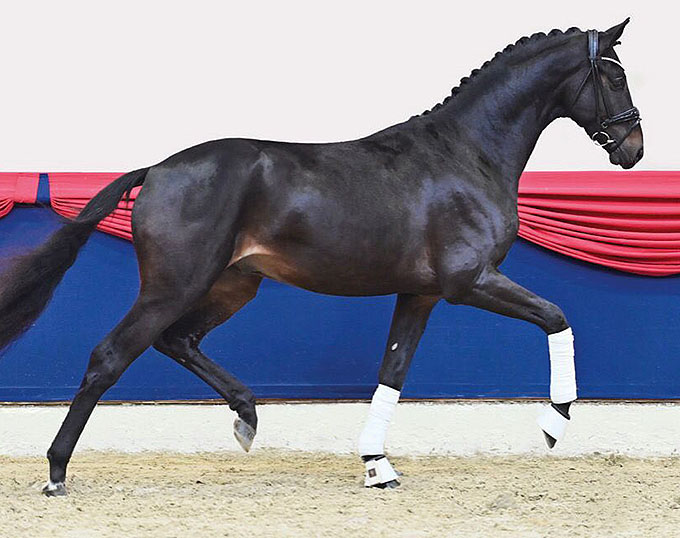 "The bloodlines of the Rubin Royal x Fürst Wilhelm make him very interesting from a breeding perspective and I already had several requests for him, but we'll apply the same strategy and have him performance tested first," he added.
Gérald made a third buy in Vechta, the non-licensed Ibiza x Florencio, which will join the Malleret sport programme in France, led by in-house trainers Pauline Guillem and Alfonso de la Chica Parras.
Strike III: Münster-Handorf
From Vechta Martinez went straight to the Westfalian Stallion Licensing in Münster-Handorf, where Haras de Malleret secured a further two colts.
The pitch black, licensed Fair Game x Hochstern x Weltmeyer is a handsome stallion which will mainly be focused on sport and only offered to the breeders via frozen semen.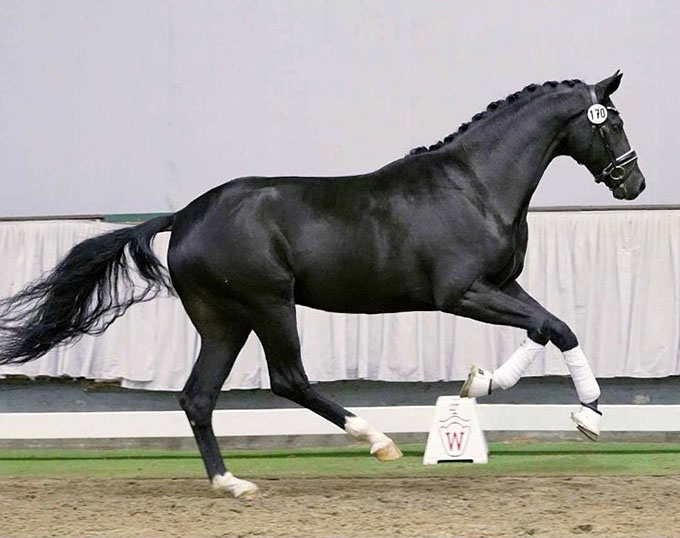 "The Fair Game needs to do the performance test first, but as he's WFFS positive we'll only offer him with frozen semen to those breeders who are particularly interested in his unique genes and will choose him for their WFFS negative mares."
The sixth purchase was the non-licensed stallion by Franklin x Belissimo M x De Niro, who just like the Ibiza, will be gelded and prepared for sport and sales. 
Sport and Commerce
Haras de Malleret has made headlines this year, selling and allocating some of its top horses to the best dressage riders in the world. Olympic champion Jessica von Bredow-Werndl purchased Forsazza de Malleret (by For Romance x Sarkozy), while German Olympic team reserve rider Helen Langehanenberg has Zaeta de Malleret (by Zonik x Sir Donnerhall) in training.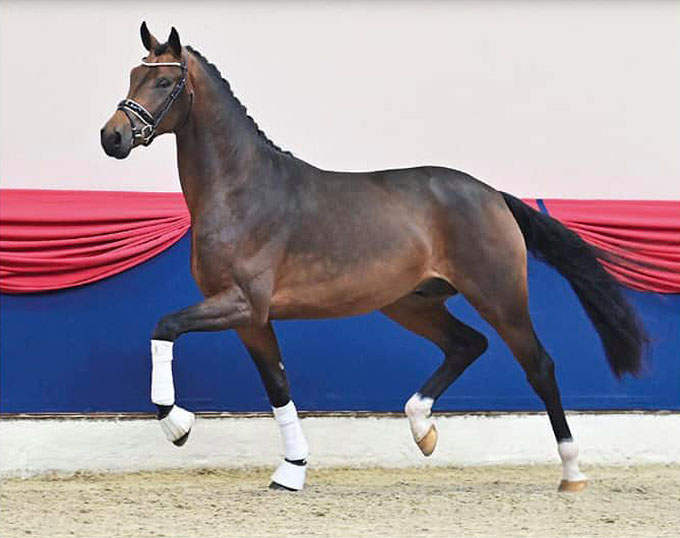 Most recently, the French yard sold its World Young Horse Championship participant and French reserve 7-year old champion Barcelona de Malleret (by Bretton Woods x Diamond Hit) to Irish FEI rider Fenella Quinn, who dreams of competing her at the 2024 Paris Olympic Games. 
Malleret's flagship stallion Danciano de Malleret continues to be in the news with offspring successful in the biggest dressage competitions. Danny Cool finished 12th in the 6-year old finals at the 2021 World Young Horse Championships in Verden, while Dancielle de Malleret was fourth at the 2021 French 7-year old Championship. 
"Apart from our stallions Danciano and Flinstone and our broodmares, all horses at Malleret are for sale to clients who share the same animal welfare and training philosophy as Malleret," said Martinez frankly. "Our new young stallions will all get a holiday in the field first, before they are brought in for their initial training. Alfonso, who is a genius in giving young horses confidence under saddle, will do the breaking in. He'll get the Furstenball and Ibiza to ride, while Pauline will probably ride the Rubin Royal and Franklin."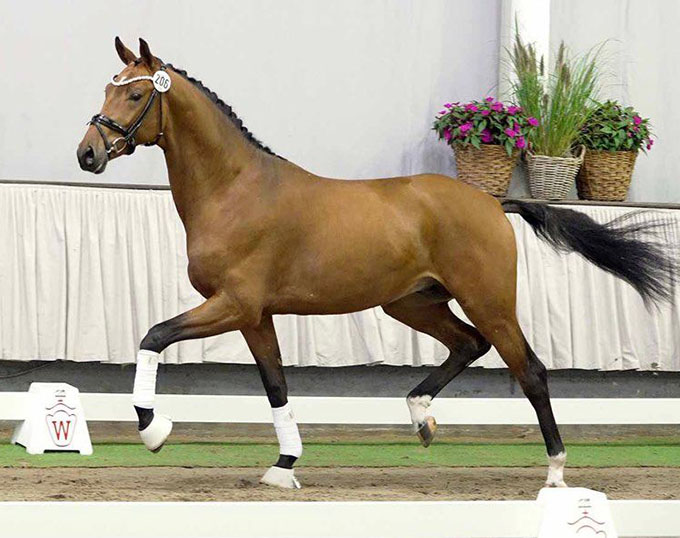 Martinez then added with a smile, "when it comes to the Fair Game, it's possible that I'll ride him myself. I should have a good time too."
Photos © Feldhaus - Guido Recki
Related Links
Helen Langehanenberg to Develop Zaeta de Malleret
Jessica von Bredow-Werndl Acquires Forsazza de Malleret
Barcelona de Malleret Secured as Grand Prix Hopeful for Irish Fenella Quinn