Australia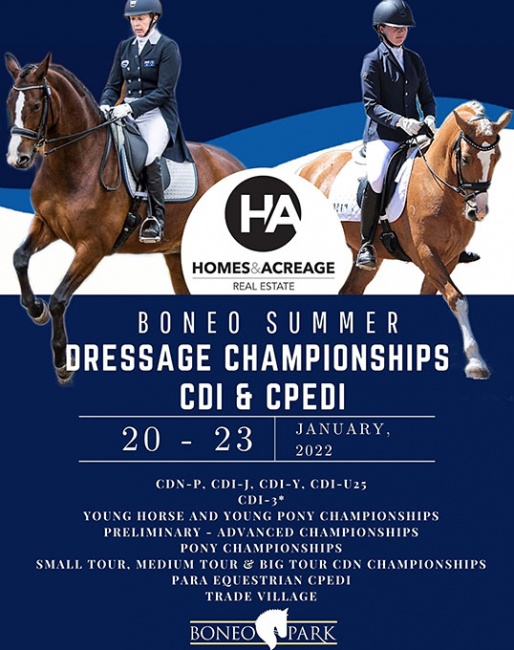 The 2022 CDI Boneo on 20 - 23 January 2022 will be the first international dressage competition to be staged on the continent of Oceania since the outbreak of the corona pandemic in March 2020.
All CDI's in Australia and New Zealand have been cancelled since then and for two years Oceanic riders were left in a vacuum of qualification options for the Tokyo Olympic Games, which resulted in New Zealand losing its Olympic individual slot and Australia having numerous riders pulling out of team consideration. 
WEG Herning Qualification Event
The FEI has confirmed that the CDI Boneo has been granted an exemption under recent FEI Board Resolutions, allowing the event to count as a qualification for the 2022 World Championships in Herning.
This means that riders vying for team selection will now be able to obtain their Minimum Eligibility Requirements (MER) on home soil.
Remote International Judging Supervision
Given the ongoing global pandemic and related restrictions on Australian borders, the CDI will be run with an all Australian Ground Jury, but under new FEI guidelines will utilise remote international judges to oversee qualification scores in real time. 
The FEI will appoint two members of the FEI Judges Supervisory Panel (JSP) to observe the competition remotely and upon their approval the results of the combinations that meet the MER requirements for the 2022 World Championships will be confirmed.     
Equestrian Australia High Performance management has been collaborating with the FEI to ensure that riders based in Australia have every opportunity to acquire their 2022 World Championship MERs, and are not disadvantaged as a result of the continued restrictions imposed by Covid-19.
EA High Performance Director, Chris Webb, attributes securing the exemption to working closely with the FEI in order to identify a solution that is beneficial for the riders, organising committees and equestrian sport worldwide.     
"Following the Board Resolutions enacted in October, which allow for online supervision of competitions affected by travel restrictions, we worked with the FEI to seek an exemption. Our athletes work tirelessly in their pursuit of team selection and the EA High Performance Program is committed to ensuring they are supported on their journey, regardless of their geographical location. We are currently awaiting confirmation on exemptions for additional Australian CDIs, as well as the CPEDI competition at Boneo, which we anticipate will be successful." 
Related Links
Olympic Slots Reshuffled after Wave of Withdrawals, Riders Declining to Go to Tokyo
Canada and Australia Put Pressure on IOC, Will Not Send Athletes to Tokyo
2020 CDI Sydney, Last Opportunity for Australian Based Riders to get Olympic MER
Kristy Oatley Withdraws from Australian Olympic Team Consideration for Tokyo