NRPS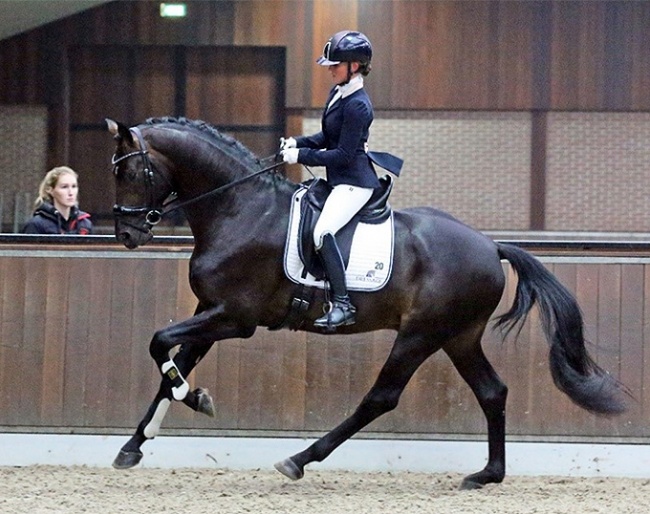 This is Naqueen became the convincing winner of the 2022 NRPS Stallion performance testing, which concluded on 7 January 2022.  The final exam took place behind closed doors due to covid restrictions. 
Fourteen dressage bred warmblood stallions and two ponies passed. Two were owned by Gert-Jan van Olst and Stable Hexagon, three colts were owned by J. van der Meijden. 
The absolute stand-out colt by far was the 4-year old This is Naqueen (by Trafalgar out of Aqueeni (by Samba Hit x Norway). Bred and owned by J. van der Meijden, this dark bay stallion  scored 9 for walk, 10 for trot, 9.5 for canter, 10 for rideability, 0.5 for self carriage, athleticism, ability to collect, and 10 for dressage potential, willingness to work and obedience.  He totalled 97 points and stayed miles ahead of the second place horse. 
The runner-up was S'Next Generation (by Secret x Vitalis), bred by Frank Moorman in Germany and owned by Wilma Wernsen and Deejay Horses. The liver chestnut totalled 85.3 points. He was the champion of the 2021 NRPS Stallion Licensing. 
Photo © NRPS/Sandra Nieuwendijk
Results - 2022 NRPS Stallion Performance Test
This is Naqueen (v. Trafalgar x Samba Hit) - 97
S'Next Generation (v. Secret x Vitalis) - 85.3
Everest (v. Especial x Negro) - 84.7
Elton Sollenburg (v. Electron x Metall) - 83,7
Pinot Noir D'Or (v. Painted Black x Chippendale) - 83.3
Hexagon's Trademark (v. Trafalgar x Spielberg) - 82.7
Don Maddock (v. Dettori x Krack C) - 80.7 
Den Hout (v. Diamond Hit x Tolando) - 80
Fürst Napoleon (v. Feinrich x Negro) - 79
Happy Nirvana BMH (v. Hennesy x Davino VOD) - 77.7 
All the Way (v. Apache x Gribaldi) - 77.7
Hexagon's Dutch Newman (v. Diamond Hit x Rubiquil) - 76.6
Try Noqueen (v. Trafalgar x Apache) - 76
Mac Madison (v. Ferdinand x Jazz) - 74 
Related Links
S'Next Generation, Champion of the 2021 NRPS Stallion Licensing
Gorgeous Latino, High Scorer of the 2020-2021 NRPS Stallion Performance Test
Licor, Champion of the 2020 NRPS Stallion Licensing
Gregory, High Scorer in the 2020 NRPS Stallion Performance Testing
Glamourboy, Champion of the 2019 NRPS Stallion Licensing
D'Joep, High Scorer of the 2019 NRPS Stallion Performance Test
D'Joep Named Champion of the 2017 NRPS Stallion Licensing
Nagano, High Scorer at the 2017 NRPS Stallion Performance Testing
Fideniro, Crowd Favourite of the 2014 NRPS Stallion Licensing
Guidam's Willow the Second, Champion of the 2013 NRPS Stallion Licensing
Thirteen Stallions Approved at 2012 NRPS Stallion Licensing
Twenty Colts Accepted at 2011 NRPS Stallion Licensing
Twenty-Five Colts Approved at 2010 NRPS Stallion Licensing
Fifteen Stallions Approved for the NRPS Studbook
Sunliner, Champion of the 2009 NRPS Stallion Licensing
Ferrero Wins 2006 NRPS Stallion Licensing