2021 Mexican Dressage Championships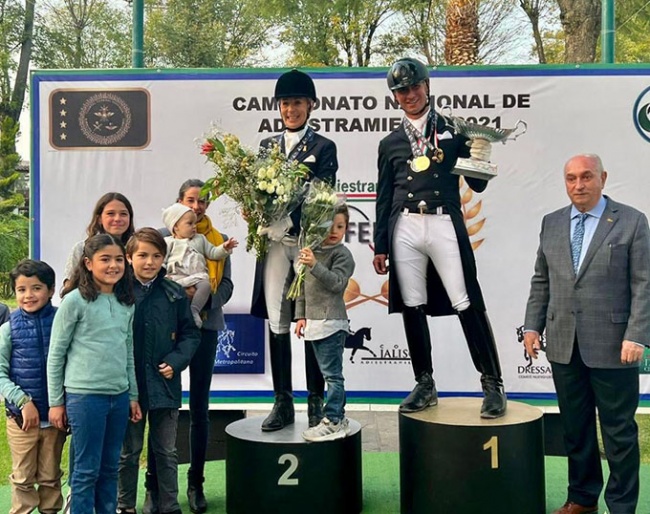 Santiago Ortiz Diez became the winner of the Grand Prix division held at the 2021 Mexican Dressage Championships held in Mexico City.
While the Grand Prix division only featured two riders, the field in the Prix St Georges was bigger. The Nationals also hosted a medium tour division. 
Ortiz, 2021 Mexican Grand Prix Champion
Although for years Mexican Dressage has been trying to build a bigger group of Grand Prix riders, the Nationals this year were only able to bring afoot two pairs.  Mexico has only a handful of Grand Prix riders lost a big strength when Bernadette Pujals returned to   Spain and declared for her birth country again. Furthermore, Martha Fernanda del Valle moved to Portugal where she is building a new life and business. Grand Prix rider  Antonio Rivera did not show at the Nationals this year and Jaoa Fialho was absent two.
The two riders that did show up were Santiago Ortiz Diez and his student Lourdes Ariza Alducin. The big tour podium was decided by the combined results of the Grand Prix and Freestyle. Ortiz Diez won the title aboard Gentil SS (nu Altivo SQT x Pagode) a Lusitano stallion from Sociedade das Silveiras, which Santiago began riding just. 1.5 months before the Championship. The horse was owned and produced by Lusitanos La Fortaleza and recently purchased by BV Group. He scored 65.956% in the Grand Prix and 70.235% in the Freestyle. 
Lourdes Ariza Alducin took the silver and reserve title aboard the 16-year old Oldenburg gelding Sir Cedrik H (Sir Donnerhall I x Waldsee), who was recommended to her by Steffen Peters and once shown internationally in the U.S.A by Sabine Schut-Kery. Lourdes was assisted by personal friend, Olympian José Antonio García Mena, for her warm-up. She scored 63.891% in the Grand Prix and 68.360% in the Kur. 
Other Championship Classes
Judges officiating at the event were Claudia Mesquita, Agnieska Majewska, Maja Stukelj, Christine Schmidt and Mary Robins.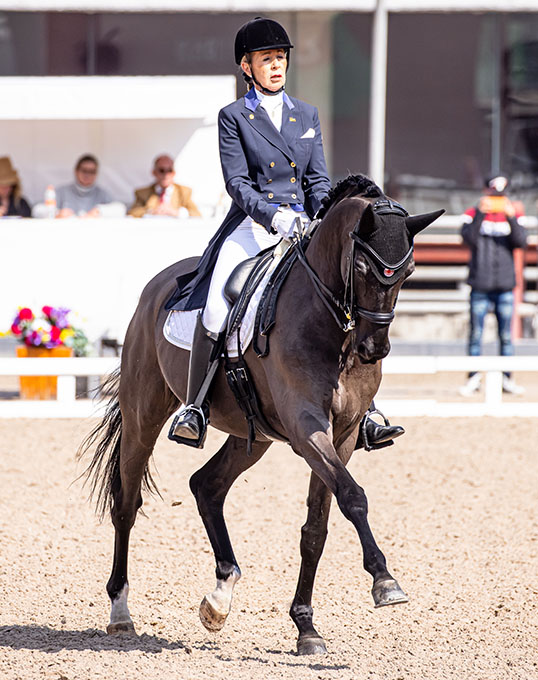 There was one Under 25 rider making a valiant effort at the Nationals: Carolina Cordoba on the 19-year old KWPN bred Baikal. She posted 61.384% and 64.085% over the two days. 
Two pairs competed in the Medium Tour division, which was won by Santiago Ortiz aboard  the 13-year old Danish warmblood Bogha. He posted 65.677% and 64.544%. The runner-up was Carolina Cordoba on the 17-year old PRE Kabbal with 61.323% and 59.681%
Two Small Tour Divisions
At small tour level, there were two divisions: a Prix St Georges division and a small tour division that included the Intermediaire I level test.  
Raul Marti Perez and the 13-year old Oldenburg bred TS Balio became the winners of the small tour division with an overall of 70.389% after scoring 68.353% and 72.425%. Santiago Ortiz was second aboard the 12-year old KWPN bred Dagasus with an overall of 67.909%, while the bronze went to Enrique Palacios on the 9-year old KWPN bred Tinto (by ) with 64.483%.
The Prix St Georges division had four pairs with Radma Mohamud Morena and the 10-year old Hanoverian TS Scarto (by ) dominating with 64.676 and 62.904. Fernanda Gomez Vivanco and the 21-year old KWPN gelding Thanos (by ) got silver with 62.824% and 63.787%, and the bronze was for long-time small tour rider Enrique Palacios on the 8-year old Friesian Michel I.T. (by ) with 60.412% and 65.588%
Photos © Pedro Gutierrez
Related Links
Mexican Martha Fernanda del Valle Quirarte en Route to Tokyo with Stop-Off in Portugal
Mexican Team Selected for 2019 Pan American Games
Mexican Team for 2018 Central American and Caribbean Games Selected
De Larrea, Lavista, Pujals Win 2017 Mexican Dressage Championship