KWPN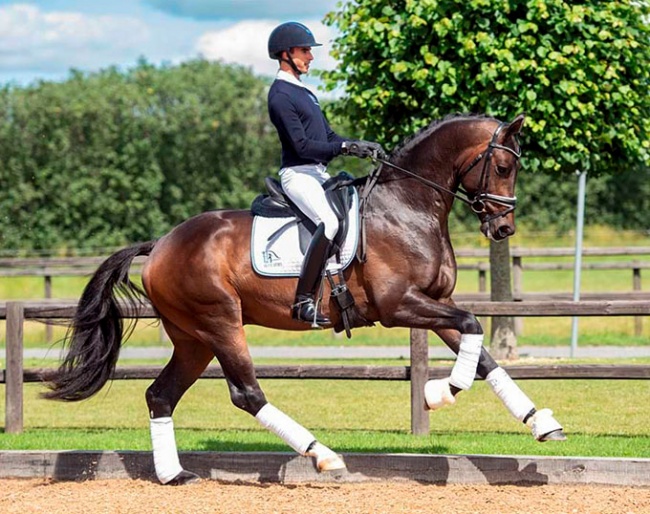 Blue Hors stud's 6-year old licensed Dutch warmblood stallion Livius has been gelded. 
Livius is a 2016 born KWPN gelding by Gotcha-Utopia out of Winoa (by Jazz x Flemmingh).  He is bred by H. Meijer and was originally named Leopard M. 
KWPN, Danish and Oldenburg
Livius was presented and licensed by the Van Norel family at the 2019 KWPN Stallion Licensing, where Blue Hors' scout at the time, Esben Möller, caught eye of him and acquired the stallion for Blue Hors. 
Livius was from the second crop of foals by Gotcha Utopia, who in total had produced 33 colts by 2016. By 2019 nine of them have been presented at the licensing and no less than 3 have been accepted for the performance test.  
A month later Livius was also accepted at the 2019 Danish Warmblood Stallion Licensing in Herning. He passed his 35-day performance test in Denmark in the autumn of 2019, but his 763 points scored meant that he required an invitation from the Danish warmblood breeding committee for a re-assessment at the 2020 Licensing for full licensing. He was not licensed for life in Herning in March 2020.
Blue Hors had planned on re-sending him to the Danish performance test at the end of 2020, but this did not happen. In 2020 Livius did get approved for Oldenburg breeding.
Gelded
Livius stood up for stud at Blue Hors until 2021 and has produced a small but quality crop of foals, which sold for high prices at the auctions in Denmark. 
He is not included in the 2022 roster as he has been gelded. 
"We think he has a really big talent for sport. We like him a lot and he is now being educated for the big sport in our sport department," Martin Klavsen, breeding director at Blue Hors, told Eurodressage. 
Blue Hors Livius should not be mistaken with the Dutch based KWPN licensed Livius (by Bordeaux x Vivaldi).
Photo © Blue Hors
Related Links
Las Vegas and Kjento, High Scorers in 2021 KWPN Stallion Competition Finals Alternative
Meet Blue Hors Stud's Young Stars on the 2021 Stallion Roster
All Stallions Pass 10-Day Observation Test after 2019 Danish Warmblood Licensing
Seven Premium Stallions at 2019 Danish Warmblood Stallion Licensing
Blue Hors Acquires KWPN Licensing Candidate Leopard M