DSP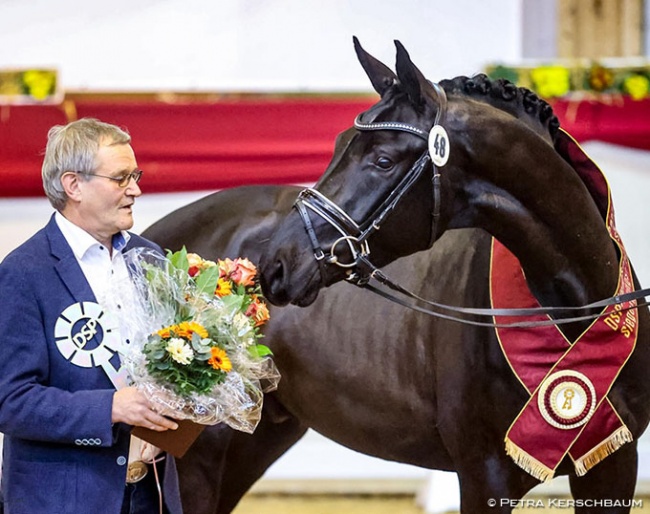 A black Don Royal x Quadroneur was named champion of the 2022 DSP Stallion Licensing which took place in Munich-Riem on 21 - 22 January 2022. 
A collection of 47 colts was presented over two days, starting with the in-hand presentation on hard surface, followed by lunging, on Friday 21 January. On Saturday the phase in freedom and in-hand in walk followed after which the results were announced.  Twenty-three colts were licensed and eight named premium stallion.
The licensing took place with corona hygiene measures in place and there was no real audience although the entourage of each individual stallion made it appear as if there was plenty of people in the stands and at (VIP) tables. 
Don Royal Son Champion
The champion of the licensing was the DSP registered colt by Don Royal (by Don Juan de Hus x Rubin Royal) out of Queen Rubin II (by Quadroneur x Rubin Royal x Kolibri).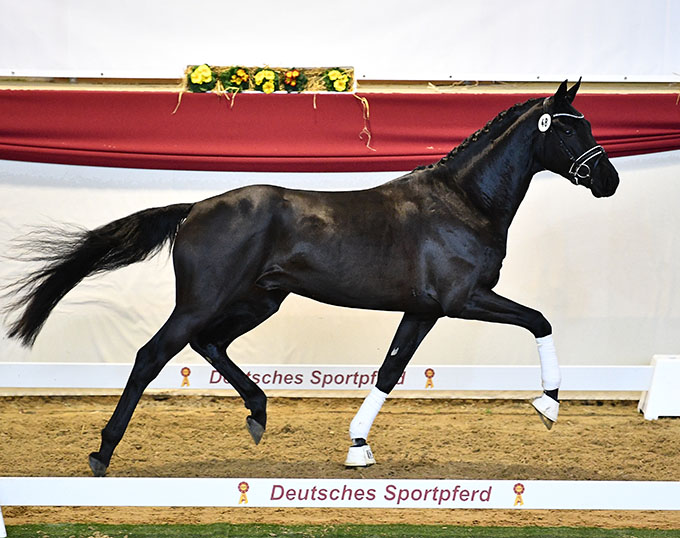 "This stallion is second to none. He presented himself with an outstanding temperament, always balanced, yet present to show what he had when it mattered," said Jörg Schrödter, the dressage sport committee member of the DSP. "His trot is dynamic with enormous ground cover, the canter very well balanced in which the hindleg jumps under really well. The walk is very good and relaxed. One can see a big career and a future in sport and breeding."
The black is bred and owned by Dr. Frank Klakow from Osterburg. The veterinarian runs an insemination center together with the Brandenburg state stud in Neustadt/Dusse. The colt was reared by Klakow himself and only sent into training with handler Jan Crome-Sperling mid December.
The dam, Queen Rubin II, already produced the licensed colt Big Bang (by Bon Coeur) who competed under Kristine Moller at the 2021 World Young Horse Championships in Verden for Luxembourg. 
Eight Premium Stallions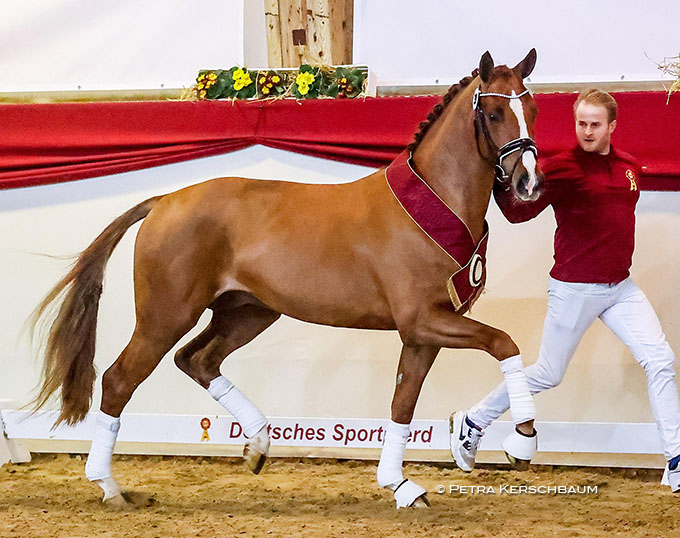 The Don Royal was one of eight premium stallions at this licensing. 
The other seven were sired by Benicio, Fair Game, Furst Samarant, Maracana, Top Gear, Vitalis and Zackerey. 
The Westfalian stallion keeper Mathieu Beckmann presented two premium stallions. His Benicio x Belantis x Quaterback is bred by ZG Bernau and has the highly coveted, typical Neutadt/Dosse DSP bloodline. Beckmann's Furst Samarant x Lissaro van de Helle is bred by the renowned Westfalian breeder Reiner Bockholt. 
Sönke Rothenberger also had double reason to celebrate with two premium stallions. He presented the premium licensed Fair Game x Sandro Hit x Don Gregory, bred by Ernst Rus, as well as the Top Gear x Don Schufro x Sandro Hit, bred by Fromecs AG in Switzerland.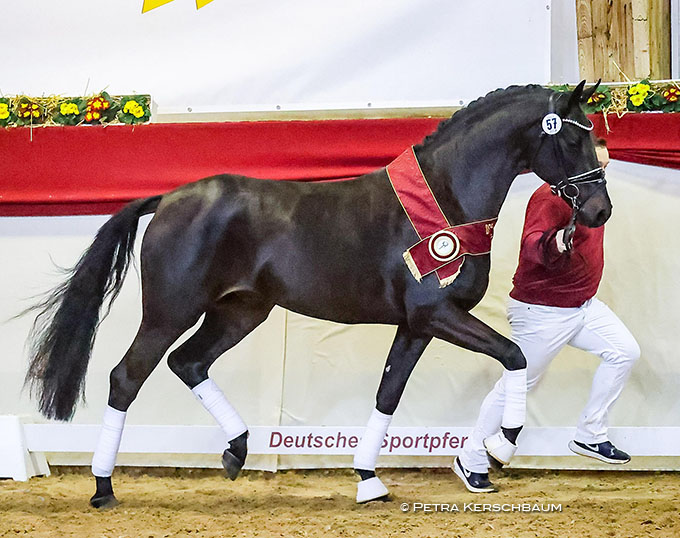 And there were more double whammies: Antonius Schulze-Averdiek is listed as the owner of the premium Maracana x Biasini x Ehrentanz and he also presented the show jumping licensing champion in Munnich. 
German international dressage judge Dieter Schüle bred and owns the premium olt by Vitalis out of Fidora (by Foundation x Dean Martin). The eighth premium stallion was the Zackerey x Ehrenwort x Weltmeyer, bred by Jürgen Bornhorst and owned by stallion keeper Heinrich Ramsbrock.
The online auction of the colts begins on 23 January and bidding concludes on 29 January. 
Photos © Petra Kerschbaum - Bjorn Schroeder
Results - 2022 DSP Licensing
The licensed premium colts are:
1. Don Royal x Quadroneur - presented by Dr. Frank Klakow
Benicio x Belantis I - presented by Sportpferde Beckmann
Fair Game x Sandro Hit - presented by Sönke Rothenberger
Fürst Samarant x Lissaro - presented by Mathieu Beckmann
Maracaná x Biasini - presented by Schulze‐Averdiek 
Top Gear x Don Schufro - presented by Sönke Rothenberger 
Vitalis x Foundation - presented by Dr. Dieter Schüle
Zackerey x Ehrenwort - presented by Heinrich Ramsbrock
Further licensed are:
Ibiza x For Romance - presented by Jan Pieter Dalsem
Baron x Diamond Hit - presented by Gestüt Greim, Ludwig Fischer
Bel Amour x Ampere - presented by Hauptgestüt Graditz 
Benicio x Don Diamond - presented by Galneder Zuchthof 
Durello x Sir Oldenburg - presented by Hella Kuntz
Escamillo x Quaterback - presented by Anne Klakow 
Einmaleins (by Escolar x Sir Donnerhall) - presented by Thomas Müller
Jovian x Fürst Romancier - presented by Gestüt Greim
Millennium x Donnerhall - presented by Rueben Equestrian
Secret x Bordeaux - presented by Dr. Rainer and Heidi Heuschmann
Secret x Hochmeister - presented by Zuchtbetrieb Diana Schmidt
Top Gear x Fürst Romancier - presented by Gestüt Pramwaldhof
 Totilas x Bordeaux - presented by Eugène Reesink Reesink
Toto Jr. x San Amour I - presented by Heinrich Gießelmann
Zackerey x Dancing World - presented by Johannes Gaab
Related Links
Benicio x Don Diamond, Price Highlight of 2021 DSP Stallion Licensing Online Auction
Inverness S, Champion of the 2020 DSP Stallion Licensing
Lord Loxley x Sir Donnerhall Son, Champion of the 2019 DSP Stallion Licensing
Quinoa, Champion of 2018 German Sport Horse Stallion Licensing
Antango Son Champion of the 2017 German Sport Horse Stallion Licensing
Don Royal, Champion of the 2016 German Sport Horse Stallion Licensing
Destano x Avec Coeur Colt, Sole Dressage Premium at 2013 Neustadt/Dosse Stallion Licensing 
Three Premium Dressage Stallions at 2015 Brandenburg Stallion Licensing 
Quaterstern, Champion of the 2012 Brandenburg Stallion Licensing
Benetton Dream Produces 2011 Brandenburg Stallion Licensing Champion
Quaterback Extravaganza at 2010 Brandenburg Stallion Licensing