DSP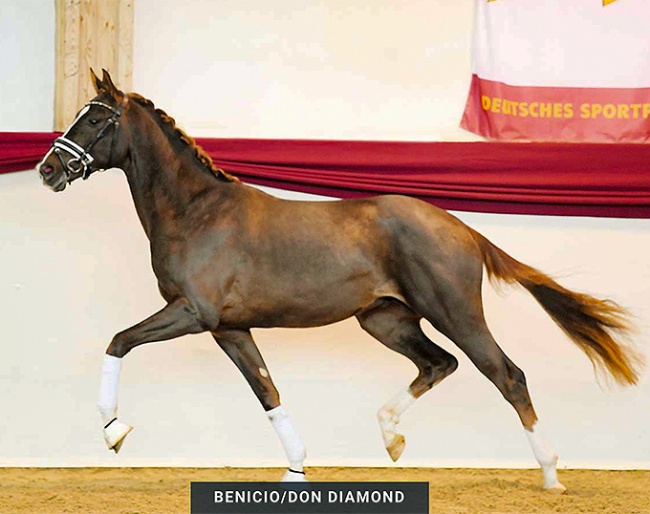 The liver chestnut Benicio x Don Diamond became the price highlight of the online stallion auction, which closed on 29 January 2022, a week after the 2022 DSP Stallion Licensing took place in Munich.
The Benicio x Don Diamond, bred and owned by Franz Galneder, sold for 326,000 euro to a client of German dressage rider Anne Catherine Schöffner. "I was close to a heart attack," Schöffner joked about the gruelling bidding process, which led to them securing the licensed premium  stallion for a client of hers. The newly licensed 2.5 year old DSP registered colt is a full brother to Best Future, the champion of the 2021 DSP Stallion Licensing. 
The second most expensive colt was the chestnut Westfalian registered Furst Samarant x Lissaro van de Helle, bred by Reiner Bockholt and presented by Mathieu Beckmann. The premium licensed colt had an auction hammer price of 245,000 euro after a bidding duel between Germans, Austrians and Dutch clients. The auction results sheet says the colt sold to Belgium.
The third best selling colt was the non-premium but licensed KWPN registered colt  Oakley L (by Totilas x Bordeaux). Bred by J. Lemmers in The Netherlands and owned by Eugene Reesink, he sold for 181,000 euro to a German. 
The premium licensed Oldenburg colt Zenit (by Zackerey x Ehrenwort), bred by Jürgen Bornhorst and owned by Heinrich Ramsbrock, sold for 105,000 euro and will remain in Germany. He will stand at stud at Sissy Max-Theurer's Gestut Vorwerk in Cappeln.
The premium licensed Benicio x Belantis also stays in Germany. The chestnut DSP stallion is bred by ZG Bernau and owned by Mathieu Beckmann. He sold for 96,000 euro.
Remarkably the stallion which the licensing committee considered the best and named champion of the 2022 licensing, was only the sixth most expensive colt in the auction. The black DSP registered Don Royal x Quadroneur, bred and owned by veterinarian Frank Klakow, stays in Germany for 94,000 euro. He will move to Gestut Sprehe.
German Olympian Sönke Rothenberger had two premium stallions up for sale in the auction. Both of them stay in Germany. The dark bay  Westfalian bred Top Gear x Don Schufro, bred by Fromecs in Switzerland, sold for 93,000 euro to the state stud Celle, the DSP registered Fair Game x Sandro Hit, bred by Ernst Rus, for 82,000 euro. The auction results sheet says the Fair Game goes to the U.S.A.
The premium DSP bred Vitalis x Foundation, bred and owned by international dressage judge Dieter Schüle, will also stay in Germany and fetched 84,000 euro.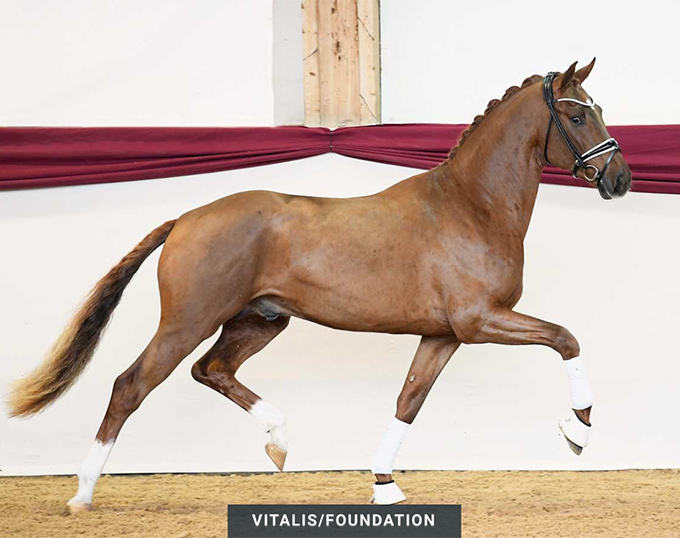 Anne Klakow's Escamillo x Quaterback stays in Germany for 81,000 euro and will go to Gestüt Birkhof in Donzdorf. Also Rainer and Heidi Heuschmann's Secret x Bordeaux will stay in Germany  for 78,000 euro.
British customers locked in several stallions. The licensed Hanoverian bred by Millennium x Donnerhall for 76,000 euro, the non-licensed Hanoverian bred Sezuan x De Niro for 54,000 euro, the licensed DSP bred Secret x Hochmeister for 43,000 euro.
Americans bought Heinrich Giesselmann's Hanoverian bred Toto Jr x San Amour for 62,500 euro. German based American professional dressage rider Brandi Roenick secured the non-licensed  Westfalian chestnut by Diamond Deluxe x Furstenball for 25,500 euro.
Swedes purchased Fritz Fleischmann's DSP bred, non-licensed Da Costa x Weltano for 39,000 euro. The Hanoverian bred Top Gear x Furst Romancier, which Austrian Grand Prix rider Astrid Neumayer presented, moves to Ukraine for 37,000 euro.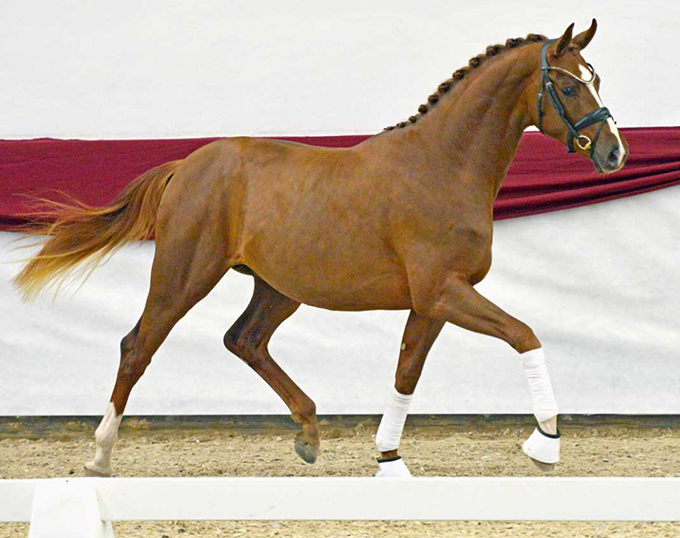 The Dutch owned Oldenburger by Ibiza x For Romance (bred by Ortmann Agrar, owned by Jan Pieter Dalsem) will return to Holland for 33,000 euro. Danish dressage family Bonefeldt secured Gestut Greim's non-licensed Falihandro x L'Espoir for 26,000 euro.
The non-licensed Baron x Diamond Hit, bred by Ludwig Fischer's Gestüt Greim, moves to Korea for 30,000 euro. The Furst Toto x Contender moves to Thomas Wagner at Kronenhof for 29,000 euro.  Fischer's non-licensed Decurio x Rivero II moves to Spain for 19,500 euro.
The average price for a licensed stallion was 92,952 euro, for a non-licensed one 28,562 euro.
Complete results here. 
Related Links
Don Royal x Quadroneur Son, Champion of the 2022 DSP Stallion Licensing
Benicio x Don Diamond, Price Highlight of 2021 DSP Stallion Licensing Online Auction
2021 DSP Stallion Licensing Online Auction Interrupted due to Server Crash