Portugal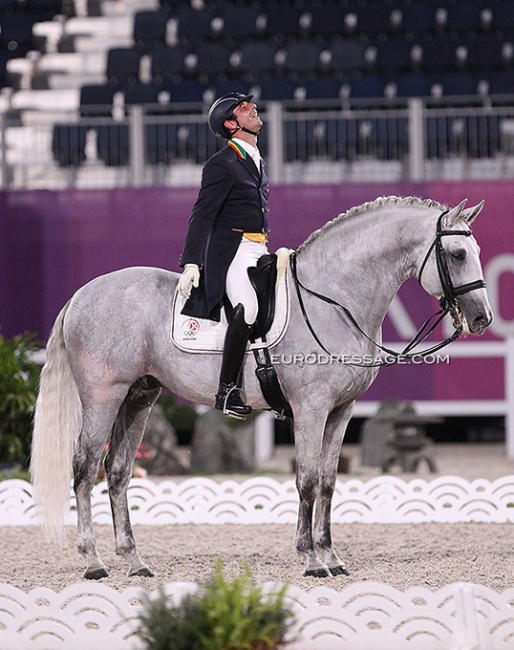 The Portuguese Equestrian Federation (FEP) has announced the re-organisation of its High Performance Program for dressage with new committee members and new targets that aim at record breaking performances at the 2024 Olympic Games. 
In November 2020 a new board of directors was appointed at FEP and this gave traction to a serious restructuring of the plans and programs to promote the sport. 
"The new board is really committed to pull everyone up (riders, owners, judges, stewards, organising committees, etc.), because we believe that this is the only way to improve the national level," Portuguese dressage committee member and 4* international judge Frederico Pinteus told Eurodressage. "We don't believe in "every man for himself attitude". We strongly advocate that any rider who shows a real commitment and competence should have a chance.  In addition, we would like to see our riders succeeding without losing track of the classical principles that are part of our history and tradition."
High Performance Program 2021
In 2021 the Portuguese Equestrian Federation launched their High Performance Program (HPP) for dressage to create a solid structure for Portuguese riders to develop to their full potential, and, consequently, ensure that Portugal is able to progress on the FEI World Dressage Ranking.
The HPP was managed by a multidisciplinary team, including national selector, national coaches, a physician, a veterinary consultant from the University of Lisbon, and a treating veterinarian.
"The Portuguese High-Performance Program aims is to create a solid structure that allows riders to develop their full potential," Pinteus explained. "Like many other countries, we want to create a radar/pipeline that give us the chance to quickly identify and prepare the combinations with talent and capacity to compete internationally, representing the country at the highest-level events and obtaining the best possible results."
Due to Covid19 and EHV-1 outbreak the HPP faces challenges, but the team trainers  – Kyra Kyrklund, Raphaël Saleh and Filipe Canelas -found alternative ways to support the riders and the results, especially at senior level, were visible. The Portuguese Grand Prix team captured a place on the podium at the CDIO Nations Cup in Compiegne and at the Olympics in Tokyo two of the three team members produced personal best scores with Rodrigo Torres achieving the best score ever for Portugal.
Dressage Committee with New Drive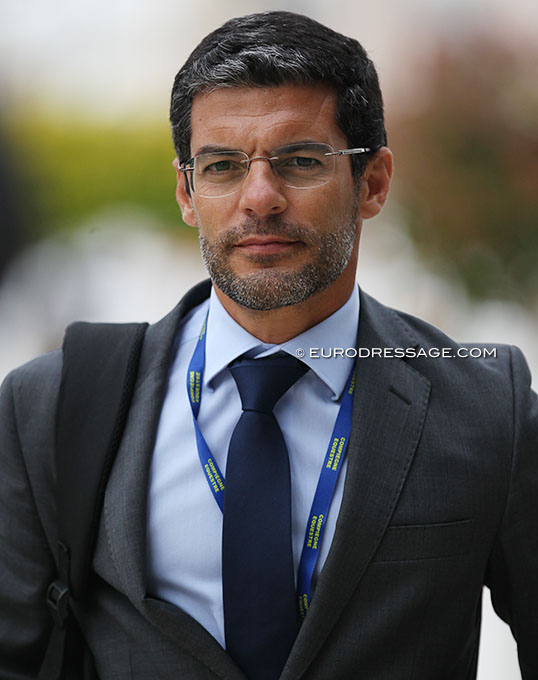 The appointment of a new Technical Dressage Committee has enabled the HPP to take shape and boost more structural changes to dressage sport in Portugal
The Dressage Committee is chaired by Frederico Pinteus and has three further members: Manuel Neves Veloso (a retired cavalry colonel, who was international rider in the 3 disciplines,  as well as an international eventing judge and national dressage judge), Mário Galiza Mendes (an experienced vet, and father of two sons who competed internationally at a high level), as well as the German based Nuno Palma Santos (an international Grand Prix rider). 
The committee implemented many other projects alongside the HPP. They redrafted all national tests to provide a more consistent preparation for the FEI tests. They hosted six judges seminars in hybrid, on-line and live form; two of them with Katrina Wüst and one with Raphaël Saleh. Furthermore 10 new judges passed the national exam to Level 1, eight judges to level 2 and five judges to level 3. One judge moved up from 3* to 4* FEI level and three stewards were promoted to level 2, one to level 1.
Pinteus added that they also changed the definition of "obedience" and "submission" in the Portuguese Dressage Rules (art. 401.º to 418.º)
"We replaced them with by "Acceptance and Cooperation"," he said. "Some people may say that this is just a matter of semantics or that we are playing with the words, but if want our sport to grow we cannot ignore how the society is developing, we should be always looking for ways to stay ahead of the curve and, at the end of the day, these definitions are closer to want we really want to see."
HPP for 2022, First Observation Session in February
For 2022 the Dressage Committee has made some changes to the High Performance Program with the Paris Olympics in 2024 as long-term goal.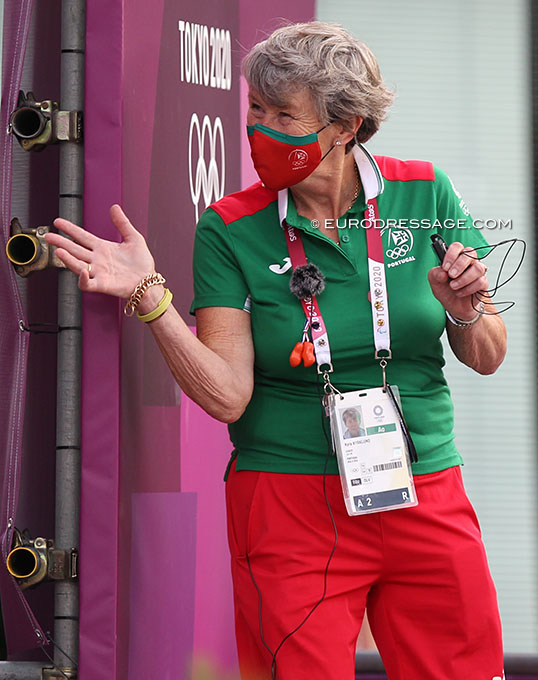 Kyra Kyrklund will remain team trainer for the seniors and U25s, while Filipe Canelas has taken the youth riders from ponies to young riders under his wings. 
The program starts with a senior and Under 25 training session on 2 - 3 February 2022 and an observation session for aspiring Grand Prix riders on 4 February. A similar session for the youth takes place mid February.  After the sessions the long lists of riders will be announced which will make part of the HPP and work regularly with the team trainers. 
"During these days a Q&A session will be dedicated to the horse owners, parents and sponsors," Pinteus added.  "The national teams (for the Summer Championships) will be announced by 20 June 2022." 
Pinteus proudly reports that "27 riders are registered for the Observation day. I know that for the big countries this does not represent much, but for us this is evidence of the solid and structured work that we have been developing.  Never before in Portugal so many GP riders agreed /were available to work together under the same "baton/guidance". We are putting our faith in Mr. Henry Ford words: "Coming together is a beginning (...) ." We hope to be on the right path to achieve better and more consistent results."
The combinations entered for the Grand Prix sessions in February are:
Training session
João Castelão-  El Romana Plus
Daniel Pinto - Fürst Fritz
Filipe Canelas Pinto - Fortuna
Mariana Assis Silva - Serano

Jaoa Castelao on El Romana Plus
(Photo © Rui Pedro Godinho)

João Torrão - Equador MVL
Martim Meneres - Equador
Francisco Vila Nova - Sir Saburo
Vasco Mira Godinho - Garrett 
Rodrigo Torres - Fogoso Campline
Observation session
Georgina Rogers - Guiso
Daniel Pinto - Garlie IGE
Patricia Palmeiro - Goez
Jeannette Jenny - Damasco 
Gonçalo Diabinho - Devoto - 
André Brás - Coronel
Mariana Assis Silva - Hipparion
Maria Lascasas - Guhapo
João Oliveira Sá - Diego
Mafalda Galiza Mendes - Isco
Rita Ralão Duarte - Irao
Luciana Inácio - Iraque
João Embaixador - Furacão
David Olsanky - Feijao Frade
Manuel Borba Veiga - Embaixador da Broa
Roberto Brasil - Hércules D`Atela
Martim Menéres - Gucci Plus
Filipe Canelas Pinto - Sanchero
Miguel Duarte Rico -  Imperador DR
Maria Pais do Amaral - Legolas 
Vasco Mira Godinho - Jeropiga
Boaventura Freire - Jasmim Plus
Duarte Nogueira - Joba II
Nuno Miranda da Silva  - Jairo d`Além
Frederico Alegria - Ihare
Maria Pais do Amaral - Highlander 
Ricardo Ramalho - Kut N`Move
Gustavo Mendes - Feiticeiro
Photos © Astrid Appels - Rui Pedro Godinho
Related Links
Portuguese High Performance Program Starts with First Observations and Squad Nominations
Eighteen Horses Selected for 2018 ASPL High Performance Lusitano Young Horses Division
Filipe Canelas and Der Clou, Something Special On the Rise for Portugal
Phenomenal Success for Campline Horses in First Year of Operation: Brazilian and Portuguese Olympic Records