FEI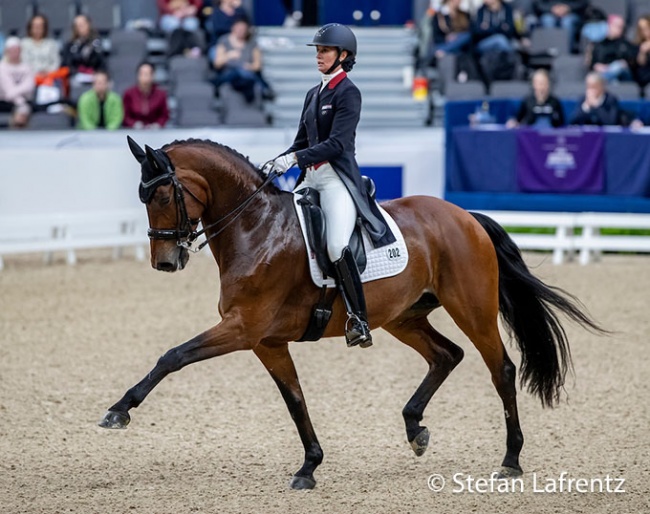 Yvonne Losos de Muniz, Yessin Rahmouni, Carina Cassoe Kruth, and Rodrigo Torres are the recipients of the four final slots that make up the entry list for the 2022 World Cup Finals in Leipzig. 
Race for Tickets Concludes
The FEI Dressage World Cup™ 2021/2022 qualifying season came to an exciting conclusion at Motesice in Slovakia last Sunday where Freestyle victory secured a place at next month's Final for former champion, Helen Langehanenberg, while Moldova's Alisa Glinka was confirmed winner of the Central European League.
Just two slots are available to athletes from the Central European League which kicked off in Minsk (BLR) in April 2021 with victory for the eventual league winner, Glinka. The 35-year-old athlete then went on to win three more rounds of the 19-leg series, at Zhashkiv (UKR) and Kunkiai (LTU) in May 2021 and in Kharkiv (UKR) in June partnering Aachen, and the impressive pair also posted two runner-up finishes during the season. 
Katarzyna Milczarek finished eight points behind on the final leaderboard but showed just how competitive she is when putting former champion, Langehanenberg, under plenty of pressure over the weekend at Motesice. The veteran Polish athlete posted a win with Guapo at this season's fifth qualifier in Samorin (SVK), and last weekend's second-place result with the 11-year-old stallion bought her ticket to the 2022 Final. 
Rule Change in February Opens Doors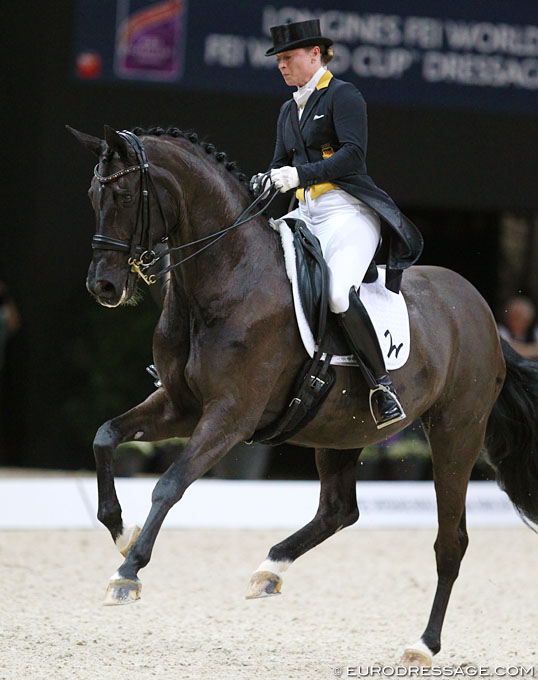 The FEI Dressage Committee - consisting of Maribel Alonso (chair), Monica Theodorescyu (GER), Patrik Kittel (SWE), Beatriz Ferrer-Salat (ESP) and Peter Storr (GBR) - made several changes to the 2021-2022 World Cup qualification rules after its board meeting on 17 February 2022. 
Points of only three qualifiers instead of four counted towards the final ranking. They reason for the change was the cancellation of five (Western European League!) qualifiers this season due to Covid-19. Six still took place between October 2021 and March 2022: Herning, Lyon, Madrid, London, Neumunster, and 's Hertogenbosch.
Riders can compete two different horses on the World Cup circuit, but it was mandatory for the horse to compete in at least TWO qualifiers. This rule was also changed to one mandatory CDI-W start. The change  was a particular benefit  to title defender Isabell Werth, who had only shown Weihegold once (Lyon), while she rode Quantaz in Neumunster and Den Bosch. Also Patrik Kittel took advantage of this rule change as he can now pick between Blue Hors Zepter and Forever Young, which were both  shown just once at a qualifier. 
Western European League riders could also earn points at qualifiers outside of their league (not a new rule) and especially Juan Matute Guimon and Helen Langehanenberg worked this system to obtain their slot in Leipzig.
Extra Starting Places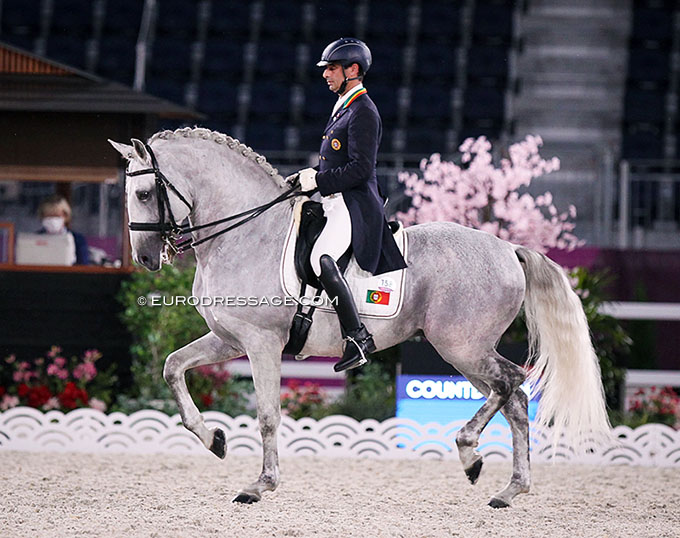 With the Western European, Central European and North American League decided, four starting places still need to be allocated.
Dominican Republic's Yvonne Losos de Muniz received the ticket as "non-league" rider for the third time. 
With no Pacific League final having taken place due to Covid, this slot became an "extra starting place" and the three spots have been allocated to  Carina Cassoe Kruth (DEN), Yessin Rahmouni (MOR), and Rodrigo Torres (POR). 
The FEI rule says: If more starting places are available, these will be allocated to the athlete/horse combination(s) with the highest ranking (as a combination) on the February of the current year FEI Dressage World Ranking List, and who have participated in at least one CDI-W.
The highest ranked rider in Western Europe, not yet qualifier was Beatriz Ferrer-Salat (ESP) but she declined the spot, passing it down to the next ranked rider Carina Cassoe Kruth (DEN).  Dutch based Moroccan Yessin Rahmouni is from a non-league and rode at the CDI-W's in Lyon and Den Bosch.
Western European League rider Rodrigo Torres (POR) is ranked 52nd in the WEL ranking and 30th on the World Ranking. He is the last lucky one to have received a starting place from the FEI. He also benefit from the one-start-per horse rule; he competed in one CDI-W, in Madrid, and scored 75.840% in the freestyle.
Full List of 2022 World Cup Finalists
Western European League (9 Slots) (Maximum Three (3) Athletes Per Nf).
1 Von Bredow-werndl, Jessica - Tsf Dalera Ger
2 Langehanenberg, Helen - Annabelle 110 Ger
3 Dufour, Cathrine - Vamos Amigos Den
4 Kittel, Patrik - Blue Hors Zepter Swe
5 Merrald, Nanna Skodborg - Atterupgaards Orthilia Den
6 Matute Guimon, Juan - Quantico Esp
7 Barbançon, Morgan - Sir Donnerhall Ii Old Fra
8 Zweistra, Thamar - Hexagon's Ich Weiss Ned
9 Fry, Charlotte - Dark Legend Gbr
Central European League (2 Slots) (Maximum One (1) Athlete Per Nf).
1 Glinka, Alisa - Aachen Mda
2 Milczarek, Katarzyna - Guapo Pol
Pacific League (1 Slot)
North American League (2 Slots)
1 Holzer, Ashley - Havanna 145 Usa
2 Buffini, Anna - Frh Davinia La Douce Usa
Non-league Nfs (1 Slot)
1 Losos De Muñiz, Yvonne - Aquamarijn Dom
Title Defender (1 Slot)
1 Werth, Isabell - Weihegold Old Ger
Fei Extra Starting Places (2 Slots + Additional 1 Slot to Replace Pal Slot)
1 Ramouni, Yessin - All at Once Mar
2 Krüth, Carina Cassøe - Heiline's Danciera Den
3 Torres, Rodrigo - Fogoso Horsecampline Por
Photos © Stefan Lafrentz - Astrid Appels
Related Links
Langehanenberg Secures 2022 World Cup Final Ticket at CDI-W Motesice
Jessica von Bredow-Werndl and Dalera Invincible at 2022 CDI-W 's Hertogenbosch