The Netherlands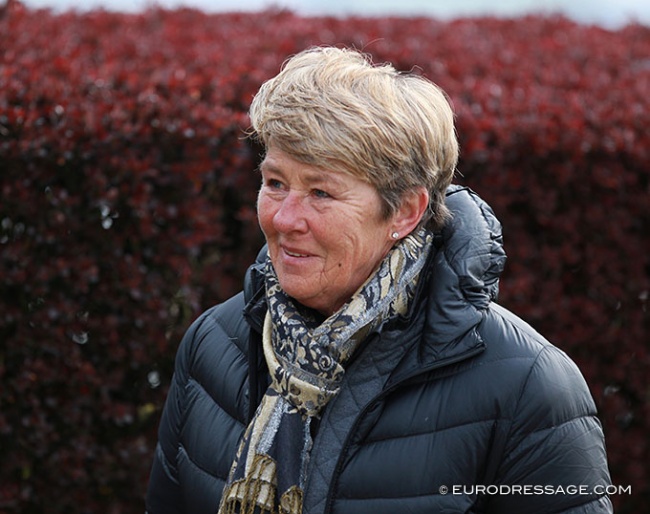 The Dutch Grand Prix squad riders were invited to a squad training session with Kyra Kyrklund. The training camp was organized by the Dutch Equestrian Federation as part of their preparation for the 2022 World Championships Dressage 
The camp took place at a private yard in Voorthuizen, The Netherlands, on 13 April 2022.
Fresh Eyes
Dutch team trainer Alex van Silfhout shouldered the initiative to bring in a new pair of fresh eyes to train his Dutch riders towards Herning. 
"We wanted this for a very long time. We discussed it with all the riders beforehand and sparred about it during a squad meeting. Everybody had to agree to it as we wanted someone everyone could get along with," Van Silfhout explained.
Normally judges are invited to these training camps so they can advise on where to gain more points in tests. This time a foreign trainer was called in to help.
"We often train with judges, but wanted a new pair of eyes on the training this time," Alex stated. "The training with Kyra was super fun and very interesting and motivating. She has a new look on things and  gave some riders real practical tips to improve things."
Squad Meeting
Finnish Grand Prix rider Kyra Kyrklund is based in the U.K. and considered a legend amongst colleagues for her training and expertise. 
All Dutch A- and B-squad riders attended the training camp, including Hans Peter Minderhoud, Edward Gal, Denise Nekeman, Dinja van Liere, Adelinde Cornelissen, Marlies van Baalen, Marieke van der Putten, Thamar Zweistra and Emmelie Scholtens. 
"It was very inspiring for everyone," Marlies van Baalen told Eurodressage. "Kyra has her own unique style. She gave very useful tops and it was nice that everyone was watching each other's training, which is very good for team building." 
A New Approach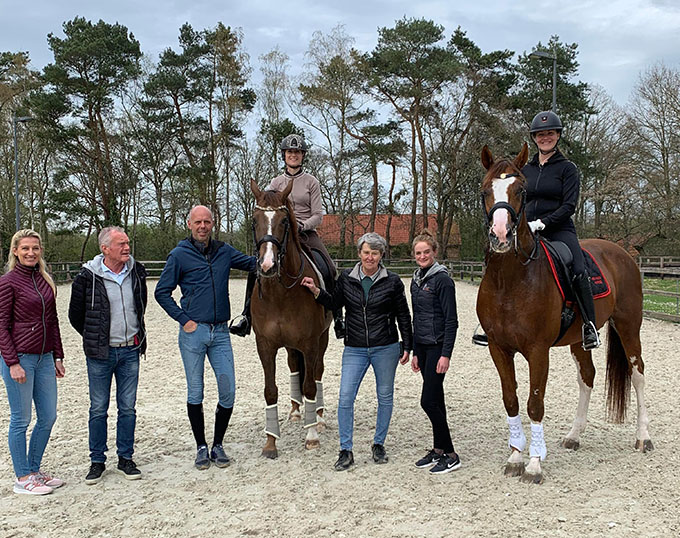 Kyra enjoyed her one-day training session in The Netherlands with the Dutch senior squad riders. 
"I thought it was very very interesting to work with all of them and the riders were very straight forward with me of what they found difficult and they were prepared to work on the basics that (I thought) were actually causing their problems," she told Eurodressage. "They were really open and happy to try maybe a new "approach" to things."
Kyra Kyrklund is the official team trainer of Portugal and recently declined an invitation from the Danish Equestrian Federation for a Danish squad training, citing a conflict of interest. Denmark held its first squad meeting with Danish 5* judge Susanne Baarup, who is also the president of the ground jury at the 2022 World Championships in Herning this summer. 
"I discussed the invitation with the Portuguese federation and they were fully supportive of me doing a one day, one time training with the Dutch," Kyra told Eurodressage. "I never even discussed the possibility to work with the Danish team with the Portuguese federation as I felt it would have interfered in my role as the National Trainer of Portugal. (In Denmark) It was to be a 2-day training, not just an "inspirational" day.  As it turned out, they were looking for somebody who could advice them at big shows and that I could not have done."
Leading up to Herning, he Dutch team riders will have another training camp.
"This is to dot the i's and cross the t's," said Van Silfhout. "In the future we will host these training days, like we did with Kyra, more often."
Photos © Astrid Appels - Van Baalen
Related Links
Danish Squad Training Kicks Off at Blue Hors in 2022 World Championship Year
2022 Portuguese High Performance Program with New Drive and Ambition Towards Paris