2022 CDI Alter do Chao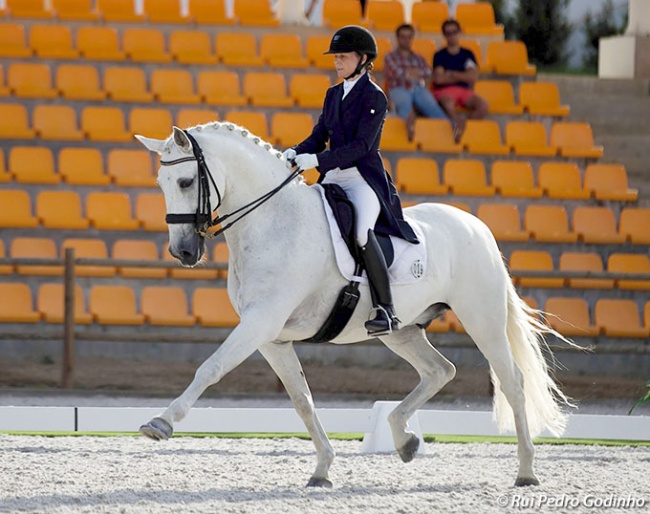 After a 12-year break from international competition, the Austrian born Portuguese Grand Prix rider Jeannette Jenny has returned to the CDI arena at the 2022 CDI Alter do Chao with the very interestingly bred Lusitano, Damasco. 
Jenny and Damasco placed 6th in the Grand Prix (65.131%) and second in the Special (70.000%).
From Austria to Portugal
The 46-year old Jenny is originally from Bregenz, Austria, and started riding at the age of 11 at a local riding school in Dornbirn (AUT).
She was a student of German based Portuguese Nuno Palma e Santos in her young adulthood before moving to Portugal in 2002. She ended up joining the Morgado Lusitano Equestrian Center and now runs her own training business with her husband in Golega. 
She has her husband Jorge Vicente de Sousa as her eyes on the ground at home and rode in clinics with Hartwig Burfeind, Martina Hannöver, Rafael Soto, Heike Kemmer, Kyra Kyrklund, and Mariette Withages.
Her first claim to international fame came in 2003 when she represented Portugal at the World Young Horse Championships in Verden aboard Lusitano Rodopio (by Inca x Rabi). The pair finished 8th in the consolation finals.  A year later Jenny rode in a display of Lusitano horses at the Global Dressage Forum in Hooge Mierde (NED)
Spartacus
Jenny's big break through at FEI level came aboard Luis Pidwell's Lusitano licensed stallion Spartacus (by Xaquiro x Universo), bred by Coudelaria Santa Margarida. Jeannette took the small bay from young horse level as a 4-year old up to Grand Prix.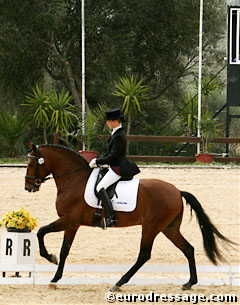 Jenny rode the bay at the 2004 World Championships for young dressage horses in Verden and also finished 8th in the consolation finals with him. A year later, they rode in the 6-year old classes at the 2005 Sunshine Tour in Vejer de la Frontera and 2005 World Young Horse Championships in Verden (12th in the consolation). At the 2006 Sunshine Tour they did the M-level Owners' class. In 2008 Spartacus appeared in a demo at an FEI Freestyle Forum  in Ankum.
Their international small tour debut was at the 2008 CDI Ponte de Lima and they did one CDI at international Grand Prix level in 2010 at Arruda Dos Vinhos. This was also Jenny's last international show until 2022. 
Spartacus was retired in 2012 at the early age of 13. "he was retired from sport due to health issue," Jenny told Eurodressage. "He has been a breeding stallion ever since."
He sired Escorial Horsecampline, one of Portugal's most decorated breeding stallions and international Grand Prix horses, having competed at the 2021 Olympics under Brazilian Joao Victor Oliva. He also sired Portuguese junior riders' team horse Iartacus (Justino Lopes Alves).
12-Year Break Due to Health Issues
Jenny briefly continued at Grand Prix level with José and João Veiga Maltez's Ufano (by Mistral x Zapata), whom she has ridden at small tour level at the CDI's in Comporta and Arruda dos Vinhos in 2010, but not at international GP level. Ufano was sold to the U.S.A.
"In 2010-2011 I developed severe asthma," Jenny explained. "It took a few years to be correctly diagnosed and treated. One of the doctors even told me I should think about a different profession. I had to work and even ride with a mask on." She jokingly added, "at least when covid came I was used to the mask. I never stopped working throughout the process but I lost clients. It were a few few difficult years, but thankfully I'm fine now since a few years."
Return with Working Equitation Horse
Jenny returned to the international arena at the 2022 CDI Alter do Chao with the interestingly bred Damasco, Jorge Vicente Sousa's 14-year old Lusitano by Quo Vadis out of Jiboia, bred by Coudelaria Santa Barbara.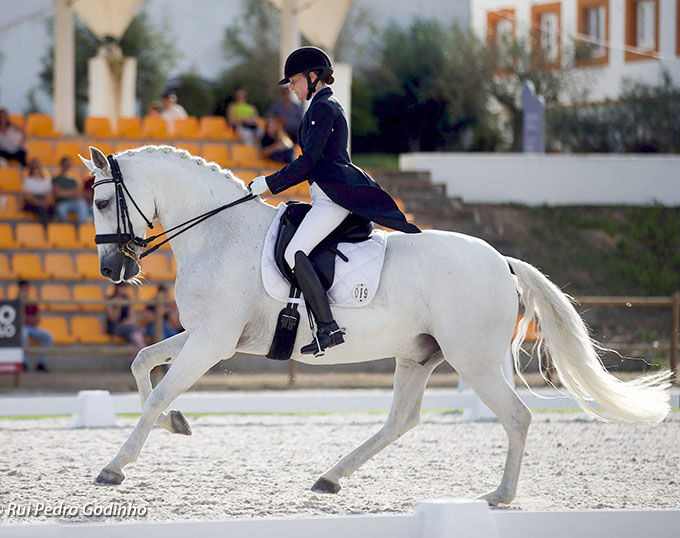 Sire Quo Vadis also produced the late Portuguese Olympic team horse Equador MVL and dam Jiboia produced Olympic ride Escorial Horsecampline (by Jenny's Spartacus and bred by Coudelaria Santa Barbara). Damasco is bred by Joao Manuel André, a young shooting star coming from the agricultural sector who sent a shock wave through the Portuguese breeding scene by sudddenly buying a series of decorated broodmares from all the old established breeders to start a new breeding programme at his Coudelaria Santa Barbara. André surfaced on the scene with the same shocking speed as that he disappeared. All his mares and foals were sold. 
The grey Damasco arrived in Jenny's barn "more or less from birth".  He was first trained with a focal point on working equitation and in 2018 Jeannette's student and former employee, João André Gonçalves, rode him to team silver and individual bronze at the 2018 World Championship in Working equitation in Germany. 
As of 2019 Damasco has been doing dressage with Jeannette. "The plan is to continue to compete with him and take him to the highest possible level," she stated.
Photos © Rui Pedro Godinho - Astrid Appels
Related Links
Portuguese Equestrian Federation Reacts to Controversial Team Selection
FEI Young Horse Classes at 2005 Sunshine Tour, Easy Prey for the Portuguese
Portuguese Horses Selected for W.C. Verden
Participants List of the 2004 World Championships for Young Dressage Horses