Spain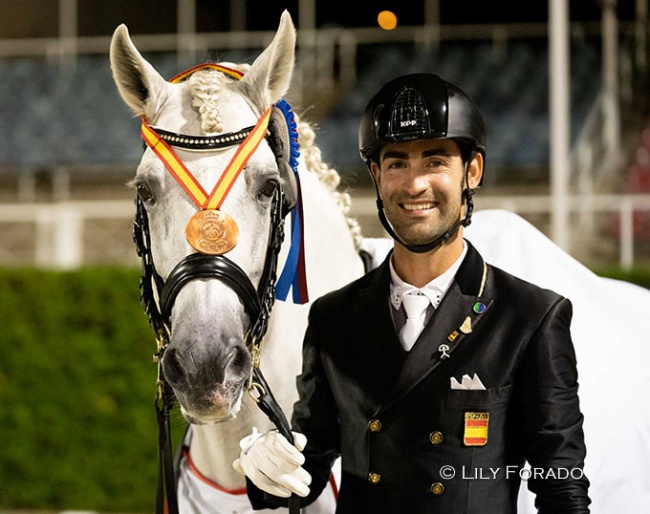 The Spanish Equestrian Federation has announced the names of the riders who are in the running for the final Spanish team selection trials in Aachen and Fritzens in the lead-up to the 2022 World Championships Dressage in Herning. 
The first team observation and selection trial took place at the 2022 Spanish Dressage Championships in Barcelona last weekend, where Jose Antonio Garcia Mena piloted his Olympic mount Divina Royal to an easy victory in the absence of Beatriz Ferrer-Salat whose Tokyo ride Elegane is sidelined with an injury. The silver went to Jose Daniel Martin Dockx, whose Malagueno was a promise in 2021 but not ready yet for the big time. The PRE seems to have come of age. The bronze went to a brand new shooting start who outclassed several seasoned competitors in Barcelona: Alejandro Sanchez Del Barco on the grey PRE stallion Quincallo de Indalo. 
Brand new Technical Advisor Francis Verbeek, a Dutch 5* dressage judge, selected the FEI Nations Cup competitions in Rotterdam and Aachen as final team selection trials, only to find out that Spain was not even invited to Rotterdam. Fritzens has been chosen as alternate competition. 
Selected for the CDIO Aachen are 
Jose Daniel Martin Dockx - Malagueño Lxxxiii
Jose Antonio García Mena - Divina Royal
Alejandro Sánchez Del Barco - Quincallo De Indalo
Juan Antonio Jiménez Cobo - Euclides MOR
Two individual riders are selected for the 4* tour at the CDIO Aachen:
Jose Antonio García Mena - Sorento 
Juan Matute Guimón -  Quantico
Selected to compete at the CDI Fritzens are:
Agusti Elías Lara - Altaneiro 
teia Hernández - Romero De Trujillo 
Jordi Domingo Coll -  Esprit Don D 
Borja Carrascosa -  Laponia
Claudio Castilla Ruiz - Lario 
Claudio Castilla Ruiz - Hi-rico Do Sobral
Photo © Lily Forado
Related Links
Eurodressage Coverage of the 2022 World Championships Dressage
Francis Verbeek and Bernadette Pujals Join Technical Staff at Spanish Equestrian Federation
Beatriz Ferrer-Salat's Elegance Injured - Out of Spanish Team Contention