Spain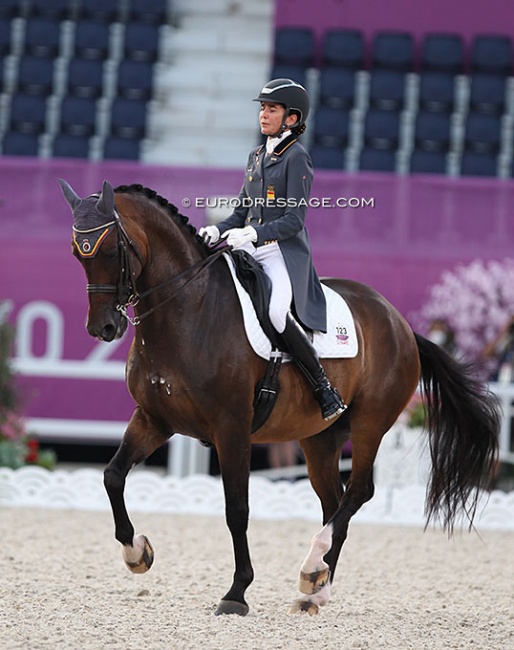 The 2022 World Championships in Herning will be missing quite a few familiar faces. More top dressage riders are dropping out of the race with Jessica von Bredow-Werndl (pregnant), Edward Gal (sabbatical), Sabine Schut-Kery (injury) and Carl Hester probably running out of time to get En Vogue fit. Another Olympic medal winner has called off the race today, Beatriz Ferrer-Salat.
Ferrer-Salat, the 2004 Olympic individual bronze medal winner and fixture on the Spanish team, has withdrawn her number one Elegance from team contention.
Tendon Injury
Ahead of the 2022 CDI Camarma de Esteruelas at Las Cadenas in Madrid this weekend, Bea announced that her 13-year old KWPN gelding Elegance (by Negro x Monaco) sustained an injury and will be out for the season. The FEI passport of her 2021 Tokyo Olympic and European Championship ride has not been renewed for the 2022 competition season, which suggests that the injury likely happened a while ago. 
Beat stated, "I am sorry to announce that my dear Elegance has suffered a tendon injury that will keep him from the competition arena for an entire season. We are going to work hard on his recovery to come back stronger."
Spanish Team Qualifier in Barcelona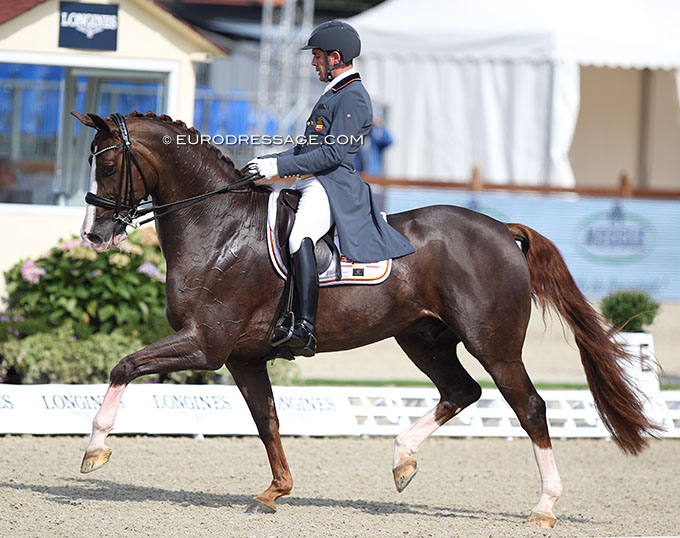 The Spanish team selection process kicks off in three weeks with the 2022 Spanish Dressage Championships in Barcelona, which are mandatory for all team candidates, also those living abroad. 
This means that Spanish riders such as Borja Carrascosa (Germany), Cristian Tudela Ruiz (Denmark), and Severo Jurado Lopez (Denmark) will have to travel to Spain with their horses in order to be considered. 
Severo Jurado Lopez is yet to make his show return this year with his 2021 Olympic and European Championship team horse Fendi T, who just like Elegance, has not been competed since the European Championships in September 2021. Fendi's FEI passport has also not been activated for 2022. Owner Van Olst confirmed to Eurodressage that Fendi had returned home to The Netherlands to be sold. 
Spain's brand new team trainer/technical advisor, Dutch 5* judge Francis Verbeek, will be forced to pick a team of new riders or seasoned competitors on younger horses. 
Photo © Astrid Appels
Related Links
Francis Verbeek and Bernadette Pujals Join Technical Staff at Spanish Equestrian Federation
Beatriz Ferrer-Salat on the Road to Recovery, Elegance Future Hope for Tokyo 2021