2022 French Dressage Championships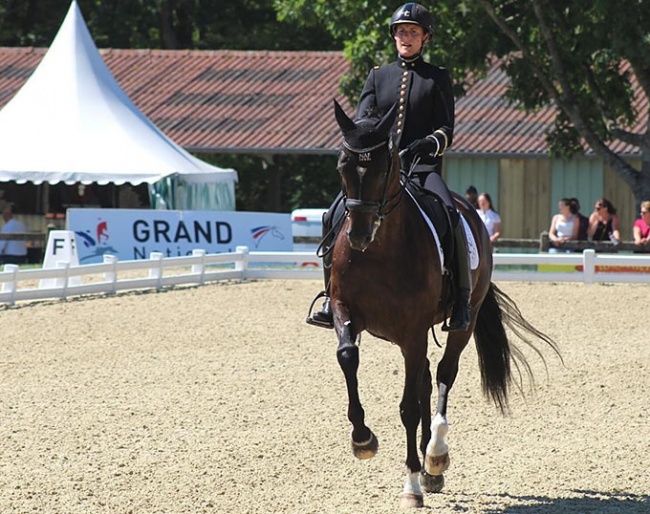 Junior rider Mathilde Juglaret, young rider Mado Pinto, Under 25 rider Sarah Lopez and senior Grand Prix rider Pauline Basquin became the winners of the 2022 French Dressage Championships held in Vierzon on 7 - 10 July 2022. 
Hosted at the equestrian facility of the Cambourieu family in the Picardière, the Nationals have found a solid base in Vierzon.
Junior Riders: Mathilde Juglaret
Mathilde Juglaret and the 10-year old Lusitano bred Caporal de Massa dominated in the Juniors category for the third consecutive year. With top scores of 73.649% in the team test, 75.026% in the individual, and 81.125% in the freestyle they claimed the title for the third year in a row (266.625 total points) and proved readiness for the European Junior Championships in Hartpury at the end of the month.  
"I'm happy to end my last season as Junior with a great performance and before the European Championships. The three days went very well, we encountered some problems on the first day which we then fixed," said Mathilde. "Caporal was great, I hope to continue this momentum at the European championships. We are staying in Vierzon following the championship for a team camp and are leaving in 10 days for Compiègne before going to England."
Anne-Louise Bertagne and Vivaldi de Mazière were a consistent second and claimed the silver with 249.875 points. She scored 70.054%, 70.684%, and 74.110%. Anna Dupuy Pelardy landed bronze with 244.095 points. She rode Hilario Saint H to three third places with 69.054%,  70.474%, and    70.040%.
Young Riders: Mado Pinto
Mado Pinto renewed her title of 2021 with Hot Bit de la Gesse, freewheeling to the gold medal with 253.732 points after winning all three rounds. They posted 69.588 in the team test, 72.500% in the individual and 76.850% in the Kur. 
"These championships went well. Our first round was a little below what we are used to presenting, but we well made up for it afterwards by beating our personal bests in the Individual and in the Freestyle, I'm very happy with the marks," said Pinto.  "We now have fifteen calmer days to prepare for the European Championships in Hartpury (GBR), where I hope to obtain the same results, except for the first day," she joked. 
Alexandre Chéret and his second horse Doruto finished with silver on 249.137 points. They were second in the team test and kur (69.529%, 73.725%) and third in the individual (71.118%). Lea Bonifay and Livetime took bronze with 247,568 points after posting 69.029%, 71.324% and 72.700%.
Under 25: Sarah Lopez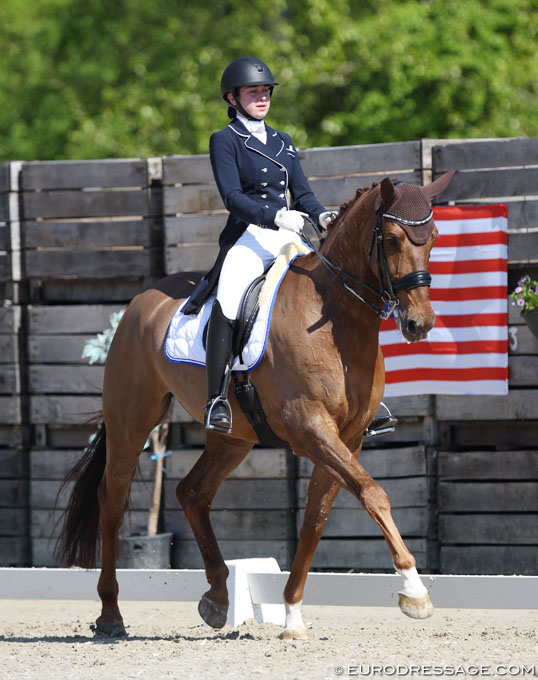 Sarah Lopez and her 14-year old KWPN bred Diablo de Saint Val captured the title in the Under 25 division. With three solid rounds that earned her a total of 246.844 points, she got the gold medal. Trained by Remy Issartel and a combination for four years, Lopez and Diabolo earned 68.853% on the first day, 68.974% the next day and then 74.590% in the Kur.
"I felt the pressure in the three rounds, but Diablo was great and with me," said Lopez. "As usual, I was able to trust him. Being champion of France is a realization of all the work with Diablo and my team. It is exceptional for me and incredible."
Alexandre Chéret captured his second silver of the weekend, this time in the Under 25 division riding the Pruede couple's 16-year old Dutch mare Bamona. He posted 68.970%, 64.231%, and 72.120% for a total of 239.806 points. Ella Lostria got bronze. 
Seniors: Pauline Basquin
At senior Grand Prix level 29 pairs were in contention for the title and 18 completed both rounds, the Grand Prix and the Special. 
The 2022 French Grand Prix Championships were ridden in absence of long-time France's number one, Morgan Barbançon (on Sir Donnerhall II), who opted to compete her two other GP horses (Bolero, Habana Libre A) at the CDI Meerle the same weekend. French Olympian Maxime Collard was absent due to an injured Cupido PB, and also up and coming Antoine Nowakowski (Quater Girl) preferred Meerle over Vierzon. Corintin Pottier was not entered either.
This turned the 2022 edition of the Nationals into a party for Carlos Pinto's students. Pauline Basquin won gold, her coach Guillaume Lundy got silver, and Isabelle Pinto landed bronze. 
Basquin and the Hanoverian Sertorius de Rima Z (by Sandro Hit) topped the board twice with 72.326% in the Grand Prix and  71.170% in the Special to win with a total of 143.496 points.
"I am delighted Sertorius has progressed from Young Horse classes to Pro Elite level," said Basquin, who rides for the Cadre Noir at the National Equestrian Centre in Saumur. " I am very proud of his development. I felt he was a little tired today (Special day), but he was still there for me. He was off for an injury almost two years between 2019 and 2021 and came back even stronger, as if nothing had happened. It's his little warrior side that takes over, he shows us that he wants it. He is fantastic ! I allow myself to dream of the World Championships, but not at any price. We are working with my trainer Carlos Pinto and Guillaume Lundy to improve him, especially on the collected work. We know that Sertorius is transforming his way of doing things, so we'll respect that and give him the necessary time."
Cadre Noir captain Guillaume Lundy and his 15-year old Hanoverian Tempo scored the silver. The "Écuyer" of the Cadre Noir earned 70.522% in the Grand Prix, and 70.660% in the Special, twice finishing second to total 141.182 points. Carlos Pinto has been training the Cadre Noir riders on a more regular basis as of 2022. 
Carlos' wife Isabelle Pinto got the bronze aboard the Belgian bred Hot Chocolat vd Kwaplas. She was third in the Grand Prix with 69.348% and fourth in the Special with 68.340%. Her total of137.688 points placed her third overall, ahead of Charlotte Chalvignac on the Lusitano Icaro das Figueiras. 
Jean Morel, team selector and captain and now also referred to by the French Equestrian Federation as the "national coach", stated: "Thirty (sic, 29) combinations started in ththe Grand Prix yesterday, which is a good thing and allows us to discover new riders. We will see Antoine Nowakowski, Corentin Pottier, and potentially Isabelle Pinto in Deauville, the last competition before the announcement of the selection for Herning.
Results - 2022 French Dressage Championships
Junior Riders
1. Mathilde Juglaret - Caporal De Massa 73.649    75.026    81.125     ---- 266.625
2. Anne Louise Bertagne - Vivaldi De Maziere 70.054    70.684    74.110     ---- 249.875
3. Anna Dupuy Pelardy - Hilario Saint H 69.054    70.474    70.040     ---- 244.095
4. Ines De Koninck - Fidertanz 68.189    69.316    67.365     ---- 238.965
5. Maud Hebras-  Senorita Rosa 65.405    68.132    70.815     ---- 237.055
6. Lily Marmonier - Dubbusch 64.622    68.263    70.485   ----  235.681
7. Eglantine Faussat - Johnny Walker 66.054    67.395    67.450     ---- 233.926
8. Hector Milochevitch - Bernardo R 65.351    64.684    65.580   ---- 228.291
9. Isabella Lola - Fazeli Donne 63.081    63.737    61.575     ---- 219.934
10. Tristan Le Minoux - Salitos 60.595    62.105    63.940     ---- 216.938
Anna Galissie - Dariska Du Loup Pendu ---- Wd
Young Riders
1. Mado Pinto - Hot Bit De La Gesse 69.588    72.500    76.850   ---- 253.732
2. Alexandre Cheret - Doruto 69.529    71.118    73.725    ---- 249.137
3. Lea Bonifay - Livetime 69.029    71.324    72.700    ---- 247.568
4. Arthur Barthel - Bambino De Massa 68.324    66.412    71.400   ----  240.298
Cloe Jawurek - Gayento Vh Bloemenhof ---- Wd
Under 25 
1. Sarah Lopez - Diablo De Saint Val - 68.853    68.974    74.590    --- 246.844
2. Alexandre Cheret - Bamona - 68.970    64.231    72.120    --- 239.806
3. Ella Lostria - Crymlyn - 65.647    66.590    69.000    --- 234.061
4. Loic Devedu - Saphir De Hus -  65.294    65.256    68.885    --- 232.082
5. Mado Pinto - Sirano De Luxe-  61.941    68.513    66.110    ---- 227.535
Capucine - Noel Soleil Noir Vom Rosenhof - Wd
Senior Grand Prix
1. Pauline Basquin Sertorius De Rima Z*ifce 72.326    71.170        143.496
2. Guillaume Lundy Cne Tempo*ifce 70.522    70.660        141.182
3. Isabelle Pinto Hot Chocolat Vd Kwaplas*de La Gesse 69.348    68.340        137.688
4. Charlotte Chalvignac Icaro Das Figueiras 68.870    67.106        135.976
5. Jean Philippe Siat Lovesong 68.109    66.277        134.386
6. Bernard Bosseaux Rilkadora Z 64.500    69.255        133.755
7. Sophia Moreau Enigmatic W 65.739    65.532        131.271
8. Lea Grange Socrate Coste Rousse 62.913    66.553        129.466
9. Caroline Brun Freedom Coolhorses 62.826    66.128        128.954
10. Alexandre Ayache Holmevangs Jolene 67.739            67.739
11. Livia Gallego Calypso De Massa 62.087            62.087
12. Marie Charlotte Blaire Sweet Dream Lh 54.978            54.978
Camille Dolle Dartagnan De Hus Wd
Maxime Collard Cupido Pb Wd