World Championships Dressage - A Look Back in History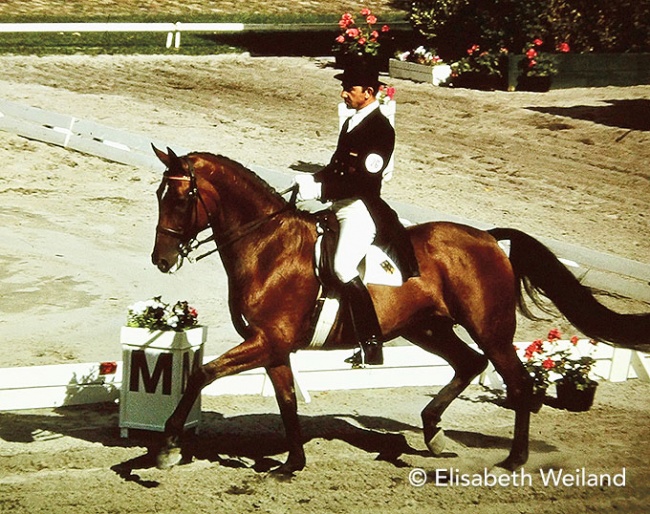 This article is a continuation of 1974 World Championships in Copenhagen: The Most Picturesque World Championships
Ruth Klimke Reminisces 
Before the 1974 World championships in Copenhagen Liselott Linsenhoff and Piaff were more the favourites to win than Mehmed and Reiner, even though they had won the European title the year before.
I well remember the stables in which the horses lived at Christiansborg Castle. They were those of the castle's royal stables, truly beautiful and very spacious for the horses. The surface of the arenas had, for the first time, been taken care of the late Hermann Duckeck. As the arena was directly in front of the castle he had to built it above the cobblestones.
Willi Schultheis was the German national coach at that time, but his way of training did not suit Mehmed perfectly. As Käthe Franke was also privately present, Reiner preferred to prepare Mehmed with her during the days in Copenhagen. He had already trained with her from 1960 to 1964 and she was a very strict teacher. Albert Stecken was still chef d'equipe then and he always wrote everything down in a small booklet and Reiner then had to come for a rapport to evaluate the rides.
I also remember Copenhagen clearly because many friends came with us and simultaneously to the World championships for seniors also the European junior championships were hold where our student Heinz-Jürgen Meyer took part on Privatier, a horse of us whom I competed at S-level myself.
Mehmed won the Grand Prix a bit surprising to us and in the Special I remember he spooked once a bit in the passage, so we were first a bit skeptical if it would be enough as Liselott Linsenhoff was the Olympic champion. Of course we were very happy when in the end Mehmed became the new World champion. He was a very dear horse to us.
Ruth Klimke interviewed by Silke Rottermann on 17 June 2022 - Photo © Elisabeth Weiland
Related Links
1974 World Championships in Copenhagen: The Most Picturesque World Championships
Greatest Oldie: Mehmed, Triumph of Training
Scores: 1974 World Championships
The Good Old Times?