2022 European Junior and Young Riders Championships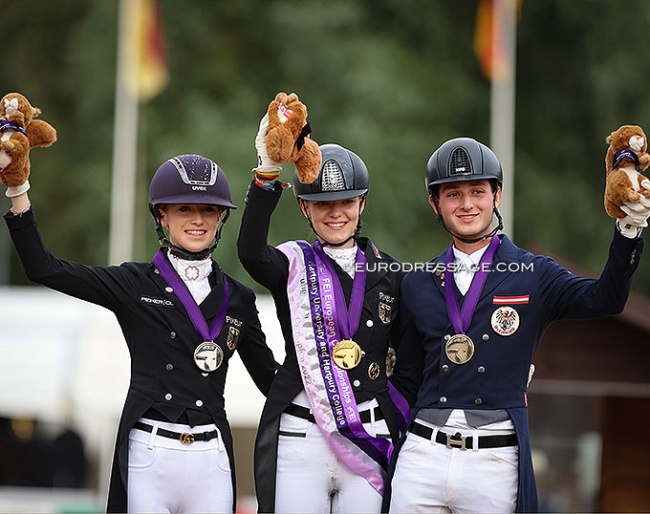 Helena Schmitz-Morkramer and DSP Lifestyle became the winners of the individual test gold medal at the 2022 European Young Riders Championships in Hartpury (GBR) on Friday 29 July 2022.  The silver went to German team mate Lucie-Anouk Baumgurtel and the bronze was for Austrian Paul Jöbstl.
The individual test came to a conclusion on Friday afternoon with the second group of riders competing in the class. With mild temperatures of 23 C° and the sun breaking through the heavily overcast sky, the competition got a summer feel for the first time this week.
The class was judged by an unusual panel of just four instead of the mandatory five judges. American judge Jane Weatherwax fell ill at the show and it was the decision not to replace her with the (non-travelling) reserve judge Olivier Smeets (BEL). So it were Evi Eisenhardt (GER),  Stephen Clarke (GBR), Maarten Van Der Heijden (NED), and Alice Schwab (AUT) deciding the ranking of the riders. 
Gold for Schmitz-Morkramer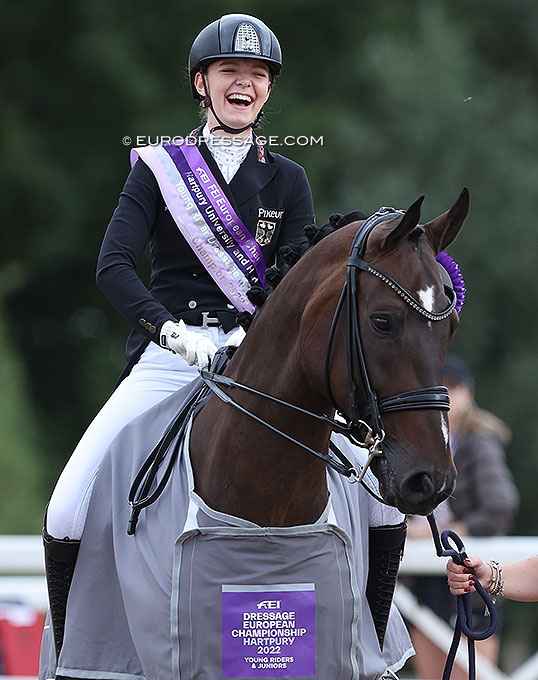 Overnight leader Helena Schmitz-Morkramer could not be knocked off her number one spot by the second group of riders on Friday. The day before she posted a personal best score of 76.949%, with the long side judges rewarding the ride with a 75is score and the short side judges with 77.9 and 78.9%.
For the 20-year old Schmitz-Morkramer, who is trained by Sonja Ellerbrock, it was a total triumph. Although a long-time German competition rider, Helena only began competing internationally as a junior on 2018 with Doraya (by Don Frederico x Prince Thatch xx). They did just one show together. In 2019 one CDI followed as a junior with Florentine (by Floriscount x Alabaster).
It wasn't until June 2021 that Schmitz-Morkramer made her real break through as a young rider on DSP Lifestyle (by Lord Fantastic x Samba Hit), a horse which the family bought in March 2021 from Franz Otto Damm, who decided to call his riding career quits. In May of that year they won the 2021 Preis der Besten and went on to represent Germany at the 2021 European Young Riders Championships in Oliva Nova, where they won team silver and placed 7th and 6th individually. This year they were second in the 2022 Preis der Besten and second at the German team selection trial in Hagen (74.657% in the team test).
Here in Hartpury, the pair produced an outstanding test for the gold medal, title, and victory.
Silver for Lucie-Anouk Baumgurtel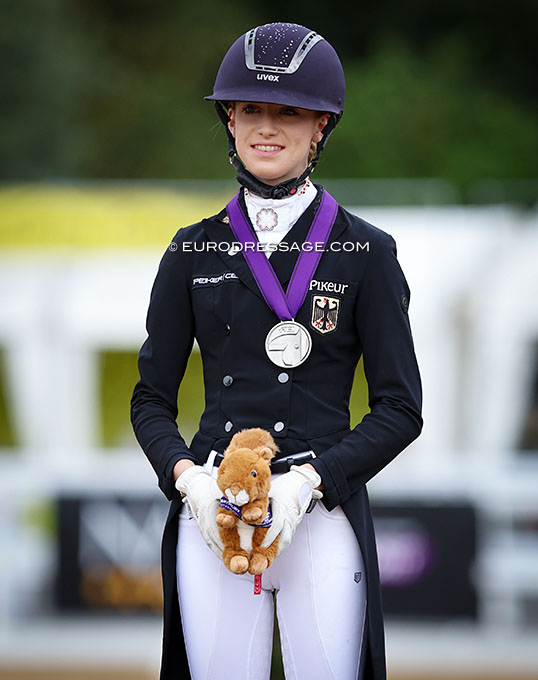 Morkramer's biggest rival turned out to be Lucie-Anouk Baumgurtel aboard the 10-year old KWPN gelding Hugo (by Spielberg x Krack C).
The pair also competed on Thursday and were on a mission, riding an individual test with much determination. They placed second with 75.368% and were not moved from that position on Friday, so they ended up with silver.
Baumgurtel that after winning the 2021 European Junior Riders Championships she can also stand her ground as a young rider with Hugo. Trained by former German pony team trainer Connie Endres, Lucie took over the ride on Hugo in the winter of 2020. The Baumgurtel family's then assistant rider Marcus Hermes had qualified the horse for the 2020 Nurnberger Burgpokal finals, but he was pulled from showing in Frankfurt. Lucie took over the ride then.
Bronze for Paul Jöbstl
Austrian Paul Jöbstl also made a smooth transition into the young rider's ranks with Josef Wilbers' 13-year old Hanoverian stallion Bodyguard (by Burlington W x Pik L).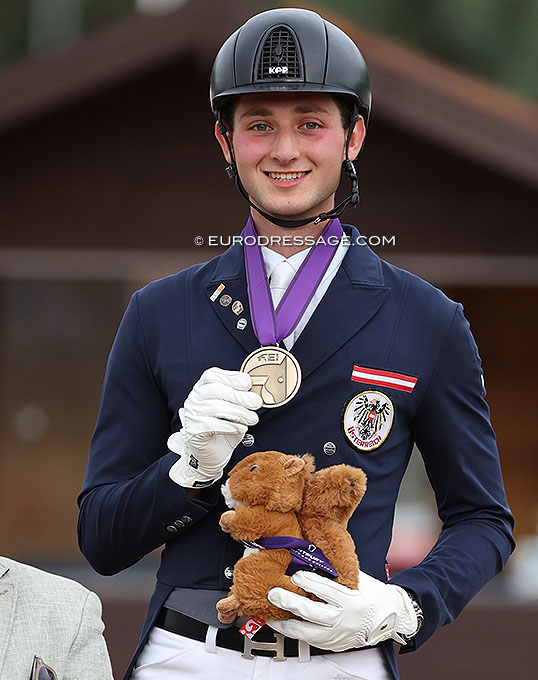 Jöbstl took on the ride on Bodyguard in February 2021 and immediately gelled with the picture perfect liver chestnut stallion. They successfully competed at international shows in Sint-Truiden (BEL) and Ornago (ITA) to win double individual bronze at the 2021 European Junior Riders Championships in Oliva Nova, Spain. After a winter training session with Jonny Hilberath in Germany, Jöbstl has been on an impressive winning streak at the international shows in Ornago, Gössendorf, Compiegne, and Achleiten. He rode in 10 CDI tests this spring and has won every single one of them. 
Arriving in Hartpury at the 2022 Europeans, the 19-year old Jöbstl was certainly one of the big favourites for an individual medal, but he is facing the most competition he ever experienced this year with a group of no less than 11 riders potentially able to score at the same level as he does. On Friday the stars were aligned in his favour and the judges rewarded his test with a 74.706% which placed him third and earned him the bronze.  The panel was quite in unison with 74.265% being the low score (5th) and 75.441% the high score (1st).
As first to go on Friday, Jöbstl rode with nerves of steel and presented his stallion with much power and forward-g. In the left voltes and the half passes the self carriage can still improve, but the extensions were ground covering. The extended walk was a highlight. In canter the stallion showed good half passes, secure lines of tempi changes and a good ability to collect in the half pirouettes. At times one heard the horse grind its teeth, but they finished with a polished final halt. Bronze was theirs.
British Surprise: Jessica McConkey
Organizing a European Championship on own soil always does magic for the domestic riders. Home advantage, patriotism, a better preparation, a pinch of luck, who knows, but it certainly did its work for British Jessie McConkey who landed a fourth place, much to her own surprise and expectation.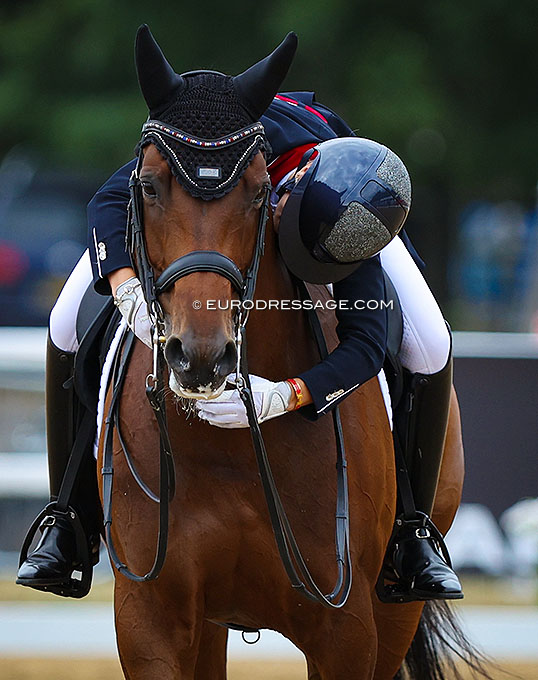 The 20-year old McConkey, who is based in Watlington, Oxfordshire, saddler her long-time ride, 13-year old Danish warmblood mare Lady Gaga (by Quaterback x Solos Landwind). The tall bay mare made its international break through in 2014 when she finished 15th in the consolation finals for 5-year olds under Nana Berg Christensen (DEN) at the 2014 World Young Horse Championships in Verden. McConkey has been competing "Millie" since 2018 and represented GBR at the 2018 and 2019 European Junior Riders Championships (with 37th place being her best ranking in the individual test). At the 2021 European Young Riders Championships in Oliva Nova they were 25th in the individual test with 67.853%.
McConkey's scores in Hartpury reached a totally different level after they already cracked the 70% barrier this year and achieved a personal best high score (in a technical test) at the CDI Keysoe with 72.500%. In the team test at the Europeans they were 9th with 72.235%, but in the individual test they landed on a personal best of 74.044% for 4th place. The British judge Stephen Clarke was the high score with a whopping 75.294% (3rd). The other three judges were are at 74.1% and 74.5% with the the low score being 72.206% from the judge at C (13th).
Jessica rode her tall bay mare with much conviction. She was flying through the trot tour with much ground cover in the extensions. The collected trot at times became too passagey and in the shoulder-in right they went off the track. The walk part earned them solid 7 and 8 scores. The strongest part of the test came in canter with especially the line of four tempi changes being huge and filling the entire diagonal.
Heiden Completes Top Five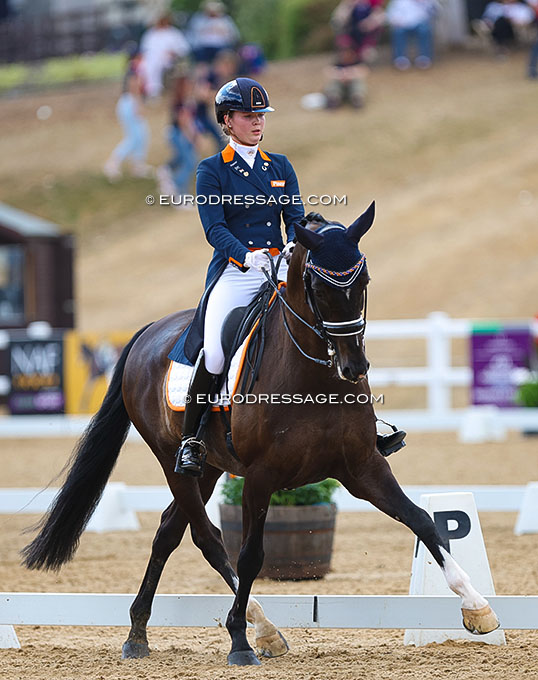 Dutch duo Robin Heiden and the 11-year old KWPN bred gelding Gasmonkey (by Tuschinski x Ferro) completed the top five with a 73.713% earning test. 
Heiden is quite the routinier to European Championships, having represented The Netherlands at the 2019 European Pony Championships on Colourfull (sic) Cannonball (6th place), at the 2020 European Junior Riders Championships on Gasmonkey (4th), and at the 2021 European Junior Riders Championships on Jivando S (18th). This is her first year at Young Riders' level, returning to the arena with the home bred Gasmonkey which she showed at CDi's in Compiegne, Exloo, and Aachen before team qualification.
Heiden is certainly Holland's stand out young rider presenting her horses in a frame of lightness and consistency, apparently no longer relying on the country's old method of training which brought the country much international success in the 2000s and early 2010s. Gasmonkey goes in a very light, harmonious frame, always keeps the poll as the highest point. Heiden sits focused in the saddle, is light with her aids and makes it look effortless. She rode a very consistent test with a good rhythm and balance. The canter half pirouettes were lovely. The judges were on the same wavelength and placed her fifth with scores between 73.088 and 74.412%.
Medal Contention
The level of riding at this year's European Young Riders Championships is exceptionally high and for the freestyle finals on Saturday, the podium places are certainly not decided beforehand. Many riders are rivals for a podium sport and the dice can fall totally differently in the Kur to Music.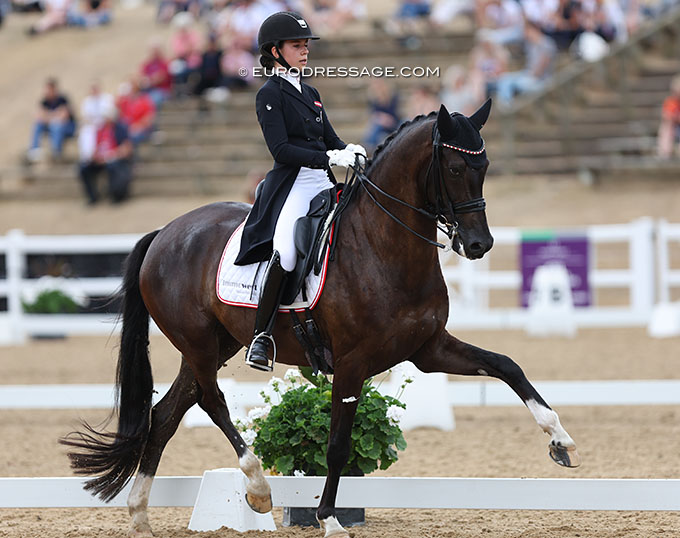 Austria has a very strong new combination in Felicita Simoncic on the 9-year old KWPN gelding Ivar D.E. (by Ampere x Olivi) who placed 7th with 73.640%.
Denmark has three very strong players in the field. In the individual test Frederikke Gram Jacobsen and Ryvangs Zafina (by Zack x Come Back II) were Denmark's best scoring pair with an 8th place on 73.604%, but Sophia Ludvigsen has a top horse in the 8-year old Blue Hors Elliott (by Erlando x Romanov), who has a superb trot but at times can be short in the neck. Also Alexander Yde Helgstrand put in a more than valiant effort aboard Isabell Werth's former Grand Prix horse Belantis, a 13-year old Brandenburger gelding by Benetton Dream x Expose. Helgstrand rode a wonderful test that was light and steady in the contact, accurate and precise. The bending and flexion in the half voltes could have been a bit better and in the collected walk the grey could have marched more actively. They were 10th with 73.419%. 
In our opinion, the best ride from a Brit was Caitlin Burgess' on the 15-year old Chocotof (by Lord Leatherdale x Negro). The rather old-fashioned looking gelding might not have the flashy gaits of the higher ranked horses, but when it comes to actual dressage riding and proper training, this pair was a league of its own.
Text and Photos © Astrid Appels  - NO REPRODUCTION ALLOWED (NO SCREEN SHOTS!)
Eurodressage photographed all riders competing at the 2022 European JR / YR Championships. If you are want to use our photos for social media or prints, email us first.
Related Links
Scores: 2022 European Junior and Young Riders Championships
Eurodressage Coverage of the 2022 European Junior/Young Riders Championships