Germany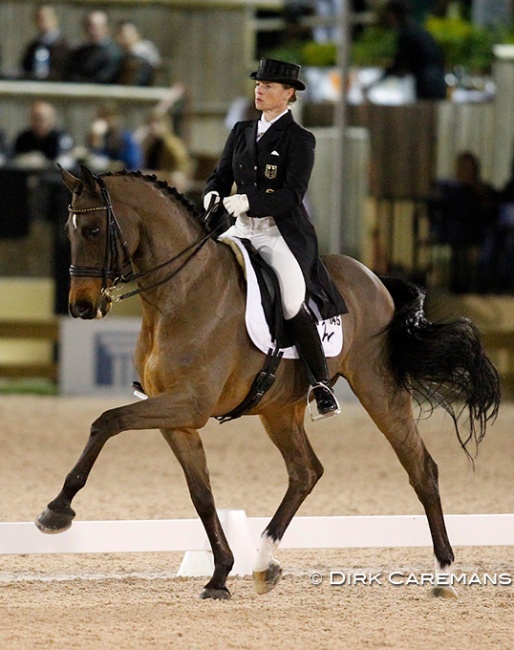 Isabell Werth had to say goodbye to her one of the key horses in her career, Satchmo, on 30 July 2022. The Hanoverian gelding was 28 years old.
Satchmo was by Sao Paulo out of Legata (by Legat x ). He was born in 1994 and bred by Albert Kampert. 
Gigolo's Successor
The bay Satchmo was sourced as a young horse by legendary trainer Uwe Schulten-Baumer, who discovered Isabell Werth and coached her to her first major successes on Fabienne and Gigolo. 
Schulten-Baumer bought Satchmo as a 2,5 year old at the Hanoverian Stallion Market in Verden for 42,500 euro.
Satchmo followed in the footsteps of Gigolo as his successor, but it wasn't a smooth transition into that number one spot. The naughty bay gave Isabell plenty of head aches, but also unprecedented glory.
They made their show debut at small tour level in 2001 and competed at the CDI Berlin that year. 
In the winter of 2001-2002 Werth left Schulten-Baumer for new sponsor Madeleine Winter-Schulze, who purchased Satchmo in the transition.
Major victories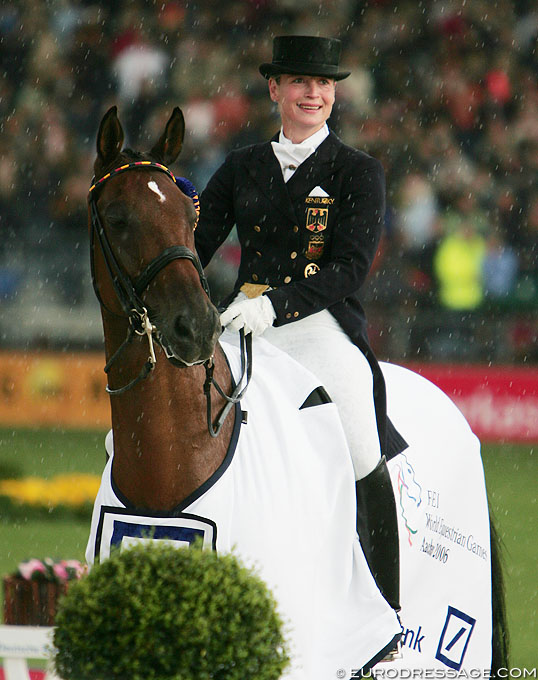 The pair was first selected on the German team for the 2003 European Championships in Hickstead, where they were 17th. They were also second in the 2003 German Dressage Championships behind Ulla Salzgeber on Rusty and 7th in 2004.
Satchmo needed more time in the oven to cook to perfection and the cause of Satchmo's sometimes unreliable behaviour was found in 2005 when they noticed that he had floaters in the eye which required surgery.
That year Werth rode a Grand Prix world record score of  79,958% at the 2005 CDI Stuttgart with him.
In 2006 they won team gold, Grand Prix Special gold and Kur bronze at the World Equestrian Games in Aachen, an achievement which Werth called her most important one in her career with the Hanoverian gelding. Initially Werth was supposed to ride Warum Nicht FRH at the WEG, but he got injured and was replaced by Satchmo.  At the 2006 German Championships they were second behind Heike Kemmer on Bonaparte. 
They went on to win team silver, Grand Prix Special gold and Kur silver at the 2007 European Championships in Turin, Italy. They were the 2007 and 2008 Aachen CDIO Grand Champions.
Hong Kong Buck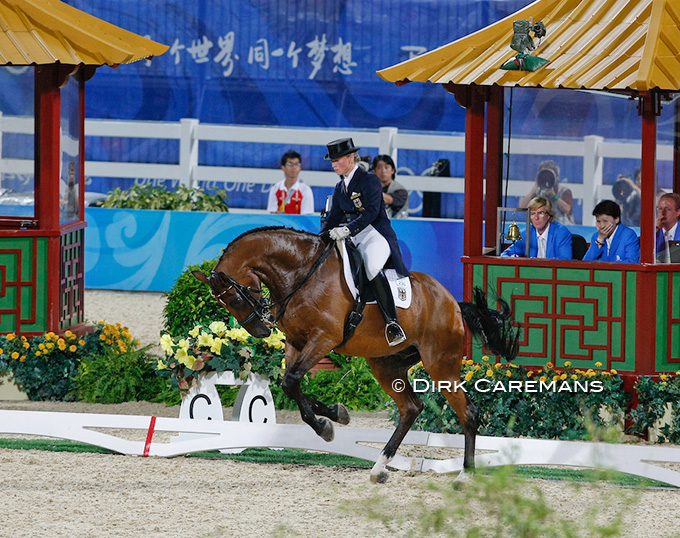 At the 2008 Olympic Games in Hong Kong they won team gold and were the favourites for individual gold, but ended up with silver, giving Werth's long-time rival Anky van Grunsven her second gold medal in her career. 
Satchmo's little piaffe tantrum in the Olympic arena became part of the history books. The event already started with an issue when Satchmo spooked from the big jumbotron on the training day before the competition started.
In the Grand Prix Special Satchmo resisted in the piaffe but still was the high scorer in the class. However in the Kur to Music, Satchmo refused to do the piaffe pirouette in their ""Hymn of Emotion" freestyle. Resisting the aids, he did a rein back and then jumped forward with a buck. They scored 78.100% for the kur and this score added to her Special results made the German duo end up with silver on an average of 76.650 %. 
Nine Year Grand Prix Career
Satchmo competed at international Grand Prix level for nine years.
After the Olympics they were second in the 2009 World Cup Finals in Las Vegas and competed at CDI's through 2011. Their last major competition was the 2011 World Cup Final in Leipzig, where they were fifth in the freestyle. 
In the summer of 2011 he competed at the national show in Munster, followed by an October start in Hanover. 
Retirement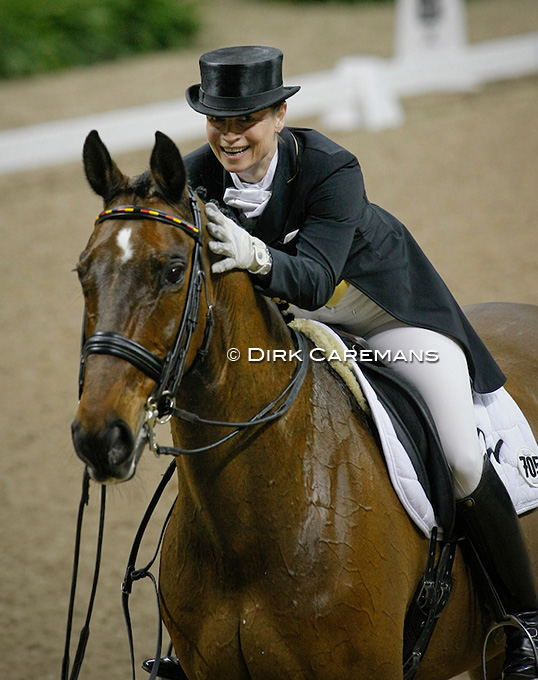 Satchmo was retired from sport in a special ceremony at the CDI Stuttgart on Saturday 19 November 2011. Isabell rode his kur to music one last time in front of a crowd of 9,000. Owner and sponsor Madeleine Winter-Schulze, trainer Wolfram Wittig, three grooms and German team coach Holger Schmezer attended the ceremony.
Satchmo was slowly retired to the field at Werth's yard in Rheinberg. In 2013 she posted a highly liked video of her riding him bareback with a halter. In 2019 a video was made of Werth showing Satchmo living the good life in the field.
On 30 July 2022 Satchmo passed away. Isabell often said that "this horse thought me humility."
On Dressursport Deutschland, Werth stated, "yes a day ago you were happy in the field with your beloved Kelly when I was on the road to the World Championship training camp in Herning. It was so nice to see you. The WEG 2006 came back to mind. I had such a unique experience there. Such emotions. We had plenty of those, looking back. That I could be with you in this decisive moment, is hard for me after 25 years shared together. Have a good journey, you extraordinary, genius fighter and thanks for everything."
Photos © Astrid Appels - Dirk Caremans - Cealy Tetley
Related Links
Eurodressage Photodatabase: Satchmo
Catching Up with Satchmo
Isabell Werth Having Fun on Retired Satchmo
Satchmo Retired from Competition
Disappointing silver for Isabell Werth at 2008 Olympic Games
Isabell Werth Leads Germany to Team Gold at 2008 Olympics
Werth Marches to Freestyle Victory at the 2008 CDIO Aachen
Grand Prix Special Gold for Isabell Werth at 2007 European Championships
Isabell Werth Wins CDIO Kur and Becomes 2007 Aachen Dressage Champion
Satchmo Worth the Wait! GP Special Gold at the 2006 World Equestrian Games
Satchmo Worth the Wait!
German Team for 2003 European Championships Named