Canada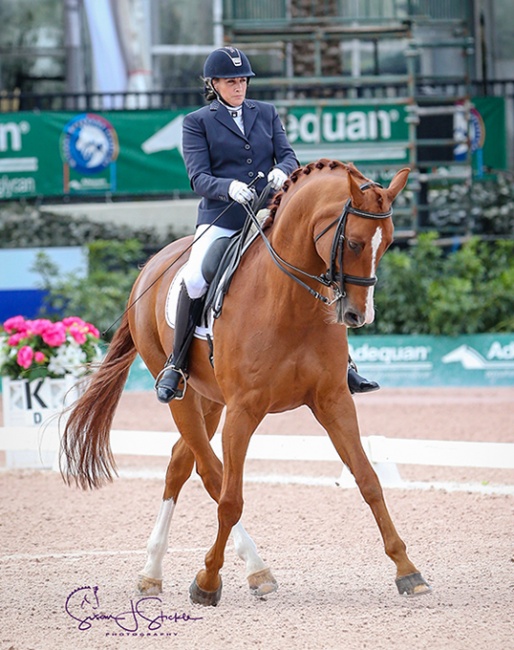 Canadian para dressage rider, horse owner and veterinarian Dr. Lee Garrod DVM has passed away on 11 August 2022. She was 58 years old
Dr. Garrod graduated from the University of Guelph, Ontario in 1989 and completed her residency at Tufts University in Massachusetts in 1993 before becoming a board-certified Emergency and Critical Care Specialist. The incredible success of her many veterinary clinics and hospitals in New England over the past 29 years was due to her tenacity, vision, and love of all animals. She will be fondly remembered as a well-respected and admired member of the veterinarian community.
Her passion was her horses. She was training in Collingwood, Ontario with hopes of becoming part of the Canadian Paralympic Dressage team competing in Paris in 2024. She made her international para dressage show debut in March 2019 in Wellington aboard Question, a 14-year old Oldenburg gelding by Quaterback x Le Figaro). Throughout 2019 and 2020 she competed Question at Grade V at CPEDI's in Wellington, Caledon, and Tryon. Her last international start was in January 2020.
Garrod had a passion for para dressage sport and sponsored Canadian paralympian Lauren Barwick by providing her the horse Sandrino (by Spirit of Westfalia), which took her to the 2021 Tokyo Olympics. 
Lee will be forever and lovingly remembered by her husband of 23 years, Lars Larsen, sons Elias, Nicklas, daughter Natashia (Christian), grandchildren Elin and Lea, parents Peter and Christine, recently deceased mother Barbara Reid, brother Mark, sister in-law Laurie, niece and nephew Larissa (Peter) and Christopher, great niece's Skyla and Callie, in-laws Bent and Inge Larsen and Jan (Mette) Larsen, Victor and Emil, Uncle Paul and Aunt Bev, cousins Wendy and Linda, friends and colleagues.
A drop-in visitation and reception to honour the life of Dr. Lee Garrod will take place on Sunday, August 28, 2022, at Jones Funeral Home, 11582 Trafalgar Rd, Georgetown, Ontario, 2-5 p.m.
In lieu of flowers, donations can be made to the Oakville & Milton Humane Society and Ontario SPCA.
Photos © Sue Stickle
Related Links
No Time? No Problem for Lauren Barwick and Sandrino
Team U.S.A Secures Victory with Near World Record Scores at 2020 CPEDI Wellington
Team USA Remains #1 after Second 2020 CPEDI Wellington
Scores: 2020 CPEDI Wellington