2022 European Children/Under 25 Championships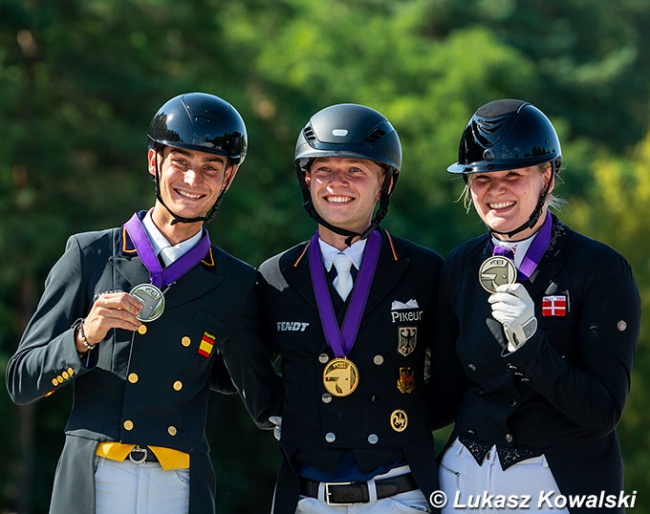 Text © Astrid Appels (this article expresses Appels' view on the competition).
German Raphael Netz reclaimed his title as individual European Under 25 Champion with a safe and secure ride on a new horse, Ferdinand BB, at the 2022 European Under 25 Championships in Pilisjaszfalu, Hungary, on Saturday 27 August 2022. 
The 2022 European Under 25 Championships is proven to be a more exciting by being the less predictable competition than any other age category which had its (inter)continental Championships this summer. While Netz' victory was not a bombshell, the silver for Spaniard Alejandro and the bronze for Danish outsider Thea Bech were a riveting surprise.
Raphael Netz Confirms
Professional dressage rider Raphael Netz navigated Beatrice Burchler-Keller's 13-year old Hanoverian gelding Ferdinand BB (by Florencio x Lanciano) to the high score of the day, 73.462%, and the gold medal.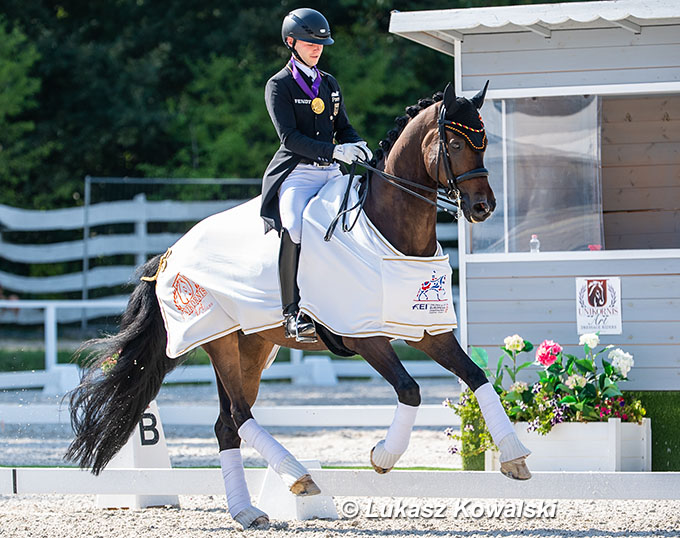 Trained and previously competed at international Grand Prix level by his boss, Olympic champion Jessica von Bredow-Werndl, Ferdinand BB gave Netz plenty of experience and confidence to manage in the arena. The sympathetic bay gelding was obedient and willing and always supple in the contact and steady in the head-neck position. In trot the lengthening of stride and frame could have been more pronounced but the trot half passes were soft-footed and the passage had nice bounce and suspension. The first piaffe was rather small and in the second the horse travelled forward while leaning on the forehand, even though he was secure in the rhythm. It showed the horse was not truly collected in the piaffe. The walk part was well ridden and the majority of the canter work was smooth sailing even though both pirouettes were just too big (still scored 7.4). A mistake in the one tempi changes (4.9) followed and also in the piaffe at X the horse ran out of steam, but overall it was a very nice, friendly looking ride. 
The judges had him between 70.385% (Umbach) and 74.744% (Lang). His total of 73.462% sufficed for Raphael to reclaim his individual European Under 25 Champion's title, which he first won last year aboard Akane Kuroki's Elastico. In 2020 he also captured individual bronze on a third horse, Lacoste.
Spanish Silver Sensation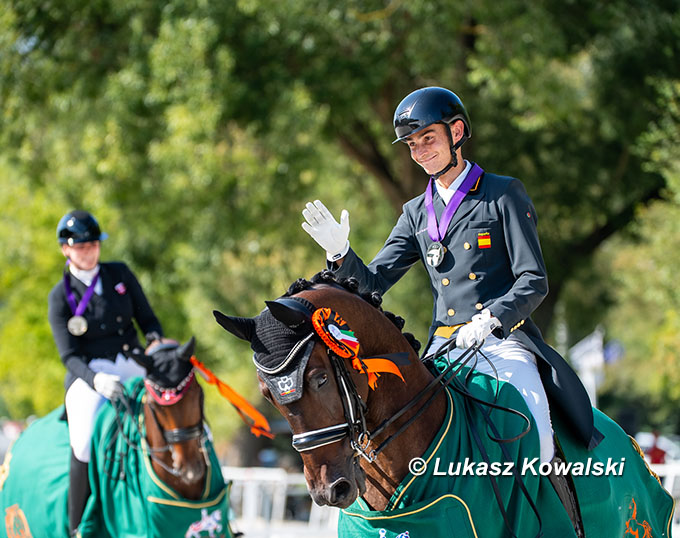 Those who weren't sleeping this year and had their eyes on ALL international show results, knew that Spaniard Alejandro Oliva Lazaro could become the sensation of the show in Budapest!
The young professional works as an assistant rider for long-time Spanish team rider Juan Antonio Jimenez. He first found the spotlight at national level in Spain, placing seventh at the 2016 Spanish Junior Riders Championships and then winning bronze at the 2017 Spanish Young Riders Championships on Jimenez' Elevado. He also rode schoolmaster Fisherman's Friends to a fifth place in the 2019 Spanish Young Riders Championships while finding his niche training and showing young horses that year. In 2019 he made his CDI debut in the young horses classes and went on to win silver and bronze at the 2020 Spanish National Young Horse Championships.
However, his big FEI level break through came this year when he partnered with Décor, an 11-year old Hanoverian gelding by Detroit x Herzensdieb, in late January. The pair competed at five CDI's before the Europeans - twice in Jerez, then Le Mans, followed by Las Cadenas and Segovia. He rode in 11 CDI classes and won them all !! 
Alejandro's Decor was discovered at horse dealers Kerstin Klieber and Stefan Sandbrink in Germany and previously competed by Joseph Robert Hunt. Spaniard Carlos Bayo Calvo took the bay to Grand Prix level before Alejandro began riding him this year. Decor is owned by Sylvia Fort Brescia De Mulder in partnership with Juan Antonio Jimenez.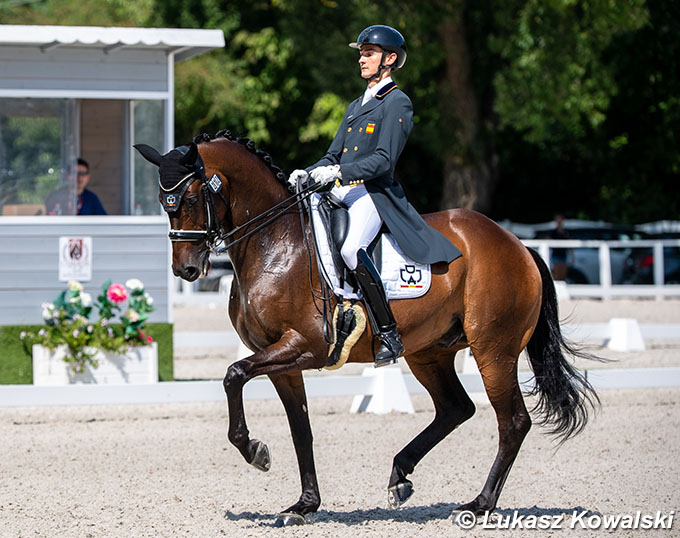 In the Intermediaire II at the European U25 Championships he placed 8th with 71.794% but there was much more in the tank as a mistake in the one tempi changes pushed the score down. In the short Grand Prix test today he stayed faultfree. There was active trot work with good ground cover in the half passes, and a nice elastic passage with a smooth transition in and out of the piaffe, probably some of the best piaffe-passage work of the class. The trot lengthenings have good overtrack, but overall the horse's nose needs to come out more. The silhouette and topline would improve if the horse were to be ridden a bit less on the curb, so the he can come up in the poll. In the extended walk there was plenty of overtrack and the horse looked relieved to stretch its neck. The collected walk was very clear in the rhythm, maybe a fraction short, but it had good activity. In the left canter pirouette there could have a bit more sit and flexion of those hocks, and right hind leg got a second stuck in the right pirouette, but overall they were well ridden. Decor showed lovely uphill and ground covering tempi changes, and there was a strong finish on the final centerline.
They scored 72.615% to place second with 70.513% as the low score (Hillier) and 74.487% (Umbach) as the high score. By achieving individual silver, Oliva bested Juan Matute Guimon's achievement of individual bronze, although Juan won bronze twice: in 2016 on Don Diego and in 2017 on Quantico.
Bronze for Bech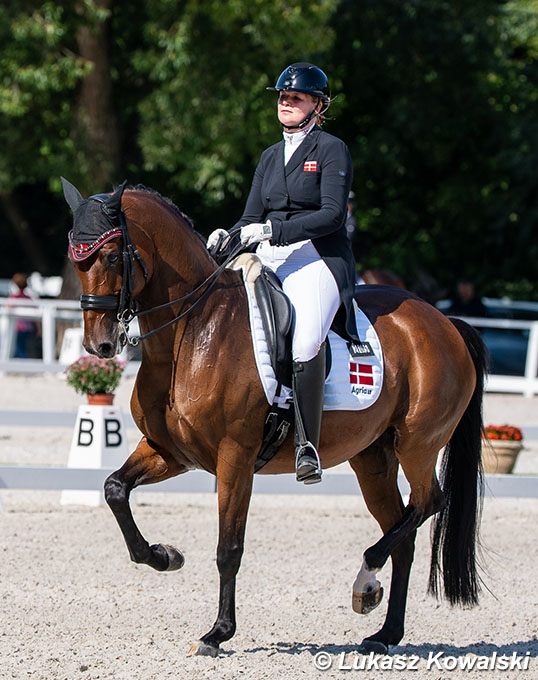 Another well deserved and exhilarating podium place was for Dutch based Danish rider Thea Bech, who came to the European U25 Championships as a Danish team outsider. Bech seemingly surprised herself and all spectators by becoming Denmark's highest scoring team rider in the Intermediaire II, placing third with 72.971% and guiding Denmark to team silver. 
Aboard her 12-year old KWPN gelding Dionisos (by Spielberg x Sir Sinclair) Thea went on repeat in the Short Grand Prix test for the individual medals and produced an equally convincing ride. As on of the last riders to go in the class, she kept everyone on the edge of their seat. Her bay gelding had good ground cover and crossing in the trot zig zag, even though the rider could sit more quiet in the saddle to lighten the back. The passage was energetic with good suspension, and there was a tiny bit of back-stepping in the first piaffe, but she rode a very nice piaffe-passage combination after the second trot extension. The extended walk was clear, but there was a bobble in the canter strike-off which the horse misinterpreted for passage. The pirouettes were very nice with good sit behind and lift in front while maintaining stride. The two's were correct, but could be more forward as they were slightly hand-held, the ones were straight. Bech and Dionisos had a nice finish on the final centerline with good rhythm and transitions in and out of piaffe at X.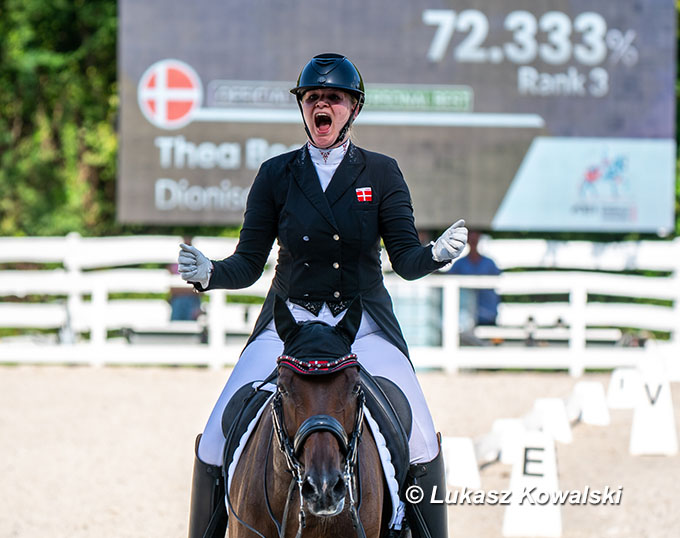 They scored 72.333% for the bronze medal and without the hiccup in the canter strike off, they could easily have challenged Netz for gold!
The Danish born Bech moved with her parents to The Netherlands when she was 6. Initially it was supposed to be for three years, but she stayed there. Although she comes from a non-horsey family, she had a love for horses from a young age. She first trained with Marrigje and Coby van Baalen, where she discovered "Dio", before turning to Kirsten Beckers, and then briefly - Bennet Conn, followed by Julia Groenhart for coaching. In 2021 she began training with Mathie Boomaars and Joyce Heuitink and also attends training sessions with Danish youth team trainer Dennis Fisker. Bech is pursuing a professional career as rider and in May 2022 she joined Arie Yom Tov's Dutch sales and training facility Sport Pro Horses in Uden (NED).
Hot on their Tail
The 2022 European Children and Under 25 Championships come to a conclusion on Sunday 28 August with the individual test for children and the Kur to Music for the Under 25 riders. A new set of medals is up for grabs and nothing is decided. Never before has such a large group been hot on each other's tails and able to capture a podium spot.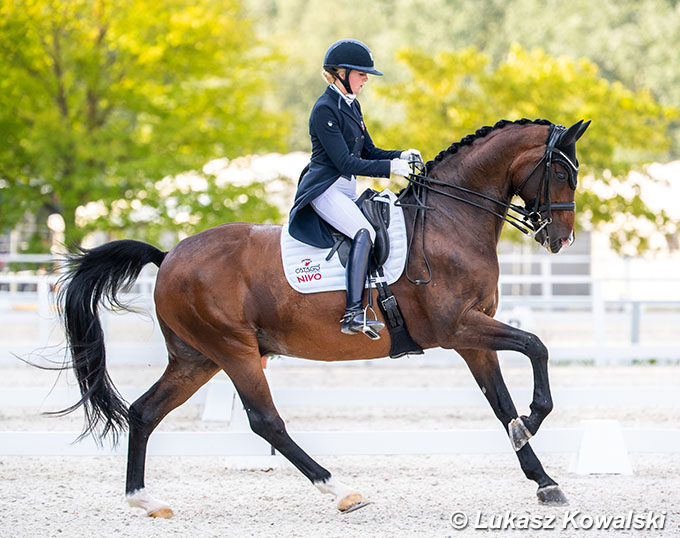 Thea Bech bumped German Alina Schrader off the podium, who finished fourth with 71.718% on her 13-year old Oldenburg mare Paola (by Lord Loxley x Friedensfurst/T.
The fifth place went to Danish Karoline Rohmann on her own and American Kyle Kuvalanka's 13-year old Jakas Don Louvre (by Don Romantic x Lauries Crusador xx) with 71.077%.
Belgium's Nico Nyssen was in hot pursuit of a podium place aboard American Michael Pineo's 12-year old KWPN gelding Farrington (by Jazz x Samba Hit). He was standing in second place almost till the end of the test but dropped to seventh place after a mistake in the one tempi changes. They worked themselves back up to 6th place with 71.000%
All these riders have a chance tomorrow for medal glory but staying faultfree is the motto. 
Text by Astrid Appels - Photos © Lukasz Kowalski
Related Links
Scores: 2022 European Children and Under 25 Championships
Eurodressage Coverage of the 2022 European Children/Under 25 Championships