2022 Swiss Dressage Championships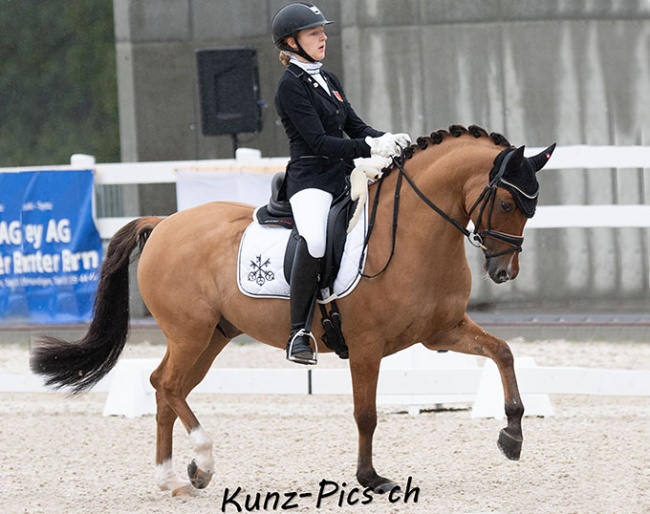 - Text and Photos © Lona Kunz
Pony rider Sarah Demmler, junior rider Tallulah Nater, young rider Milena Sulzer, and senior grand prix rider Carla Aeberhard became the winners at the 2022 Swiss Dressage Championship held in Roggwil on 30 September - 2 October 2022.
Youth Stars
Sarah Demmler, last year's bronze medalist, won all three classes in the pony division and was the clear overall winner in a field of 8 riders. She took the lead on day one on her 8-year-old German chestnut gelding Dear Principal (by Dimension AT x Principal Boy) with 72,385% in the team test. She maintained a comfortable lead to second placed Mia Sanna Walser on Coolman, a 13-year old German bay gelding pony (by Constantin x Prince Thatch xx) in all three tests. The bronze medal went to Liah Hefty on Suntory, a Swedish-bred 11-year old bay pony (by Nabucco RP x Vermont RP).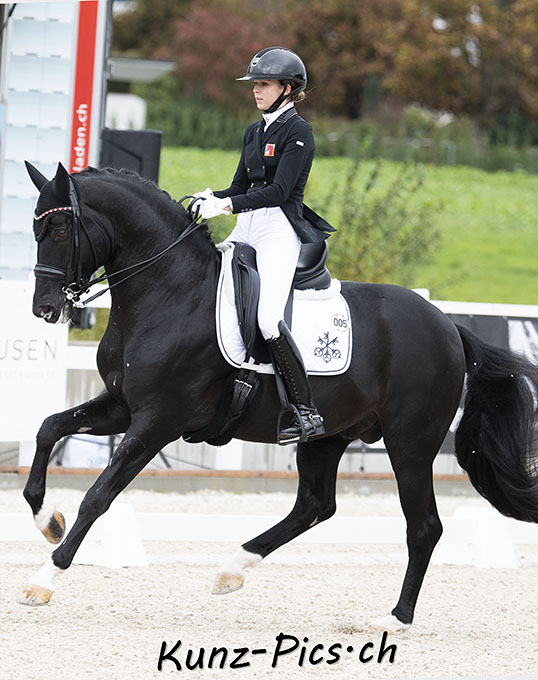 Tallulah Lynn Nater and the only 8-year-old black Hanovarian stallion Quando Unico FRH (by Quantensprung x Fidertanz) took the gold medal in the junior division by also winning all three classes in a field of 7 riders. She nailed the freestyle with the highest score of the championships, 76,425%. Quando seemed to be in a league of his own with scores of 73,513%, 73,921% and 76, 425%. The gold medal was never in any danger although Robynne Graf's freestyle on Domino, a 12-year-old Hanovarian chestnut gelding (by Don Frederico x Weltmeyer), earned her a high score of 74,075% which meant silver in front of Layla Schmid on 11-year-old Freek D'Arx, an Olderburger chestnut gelding (by Floriscount  x Don Federico).
Young rider Milena Sulzer defended her title from last year and won the gold medal on 11-year-old Fantasimo, a bay Westfalian gelding by Fiorano x Fidermark. She took a comfortable lead in the team test with a score of 70,947% and also won her second class but bronze medallist, Renee Stadler, won the freestyle with 72,325% on her 11-year-old Danzador, a bay Hanovarian gelding by Diamond Hit x Lauries Crusador xx. It was very tight between silver and bronze, but silver went to Meilin Ngovan on 12-year-old Dreamdancer III, an Oldenburger chestnut gelding by Desparado x Quaterback.
Aeberhard is the New Swiss Grand Prix Champion
In the senior division with 12 entered pairs, gold went to Carla Aeberhard on 14-year-old Swiss bred Delioh von Buchmatt (by Danone x Wolkenstein) after a brilliant kür on Sunday, which earned her 75,525% and gave her the title of Swiss Dressage Champion 2022.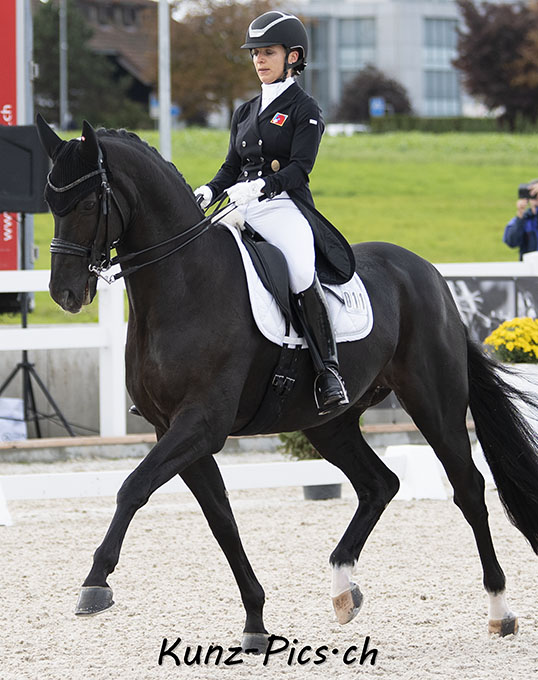 It was a tough battle beginning with the Grand Prix  on Saturday which silver medalist Delia Eggenberger won with 72,02% aboard the 12-year-old German gelding Fairtrade (by Fiderstep x  Santino). Carla was close behind with 71,12%, but Estelle Wettstein placed herself between the two with 71,98% on the 12-year-old Oldenburger Quarterboy (by Quaterback x Rubinstein Noir). Wettstein brought two horses to Roggwil and in the end it was her number one in the barn, Great Escape Camelot, that took her onto the podium.
After a whole weekend of rain, the sun finally came out for the decisive freestyle on Sunday afternoon. It was exciting until the end. Carla Aeberhard was rewarded for her risk-taking freestyle with the highest technical scores of the day. Eggenberger captured silver with a 73.100% earning freestyle. Bronze went to Estelle Wettstein on Great Escape Camelot, an 11-year-old KWPN bay gelding (by Johnson x Turbo Magic) with 69,58% and 72,90%.
"My horse felt fantastic today, I knew it already when I took him out of the stable," said a thrilled Carla Aeberhard. "Plan A was to ride the tempis on a circle, plan B was to do them on a straight line. He felt so good, I went for the riskier circle, and it paid off! I could not be happier with him." The silver medal  winner Delia Eggenberger was thrilled with her second place. "Fairtrade was not easy in the Grand Prix, he got tense in the corner, so we lost valuable points in both the piaffe and the extended walk," said Delia. "I am so pleased with him though, everything is coming together, and I have only had him for a year."
Results - Swiss Dressage Championships
Pony Riders
1. Sarah Demmler -  Dear Principal - 72.385 72.561 74.475 = 219.421
2. Mia Sanna Walser - Coolman - 70.846 69.756 69.150 = 209.752
3. Liah Hefti - Suntory - 66.974 66.683 68.725 = 202.382
4. Valentine Bineau - Brouwershaven Uthopia II - 65.461 66.732 67.600 = 199.793
5. Julia Briner - Da Vinci XVIII  - 65.795 65.951 67.025 = 198.771
6. Léanne Lynn de Weck - Fs Mr. Magic II - 62.667 65.464 61.075 = 189.206
7. Maya Hildebrant - Lema Dame Blanche CH - 62.000 62.854 58.725 = 183.579
8. Lou Puch  - Ashen Dew Drop - 64.872 61.146 = 126.018
Junior Riders
1. Tallulah Lynn Nater - Quando Unico - 73.513 73.921 76.425 = 223.859
2. Robynne Graf  - Domino Li - 70.919 68.842 74.075 = 213.836
3. Layla Schmid - Freek D'arx - 69.379 70.474 72.775 = 212.628
4. Valentina Bona - Dragonheart - 67.811 65.553 69.275 = 202.639
5. Sabrina Rietiker - Drama Queen II - 67.378 65.289 69.850 = 202.517
6. Emma Grandits - Merlin LXIX - 65.216 67.473 67.175 = 199.864
7. Emily Weseloh - Goliath De Jeu - 63.784 64.658 66.550 = 194.992
8. Anne-Sophie Schneider - Flashdance Rr - 58.541 57.553 63.975 = 180.069
9. Marie-Michelle Mühlemann  - Filomena - 58.189 56.684 57.400 = 172.273
Young Riders
1. Milena Sulzer - Fantasimo - 70.947 70.290 72.000 = 213.237
2. Meilin Ngovan - Dreamdancer - 67.868 68.263 70.350 = 206.481
3. Renée Stadler - Danzador - 65.368 68.289 72.325 = 205.982
4. Noemi Zindel - Delphino - 67.000 66.552 70.775 = 204.327
5. Layla Schmid - Dujardin D'arx - 65.368 65.000 70.950 = 201.318
6. Amélie Wagner - Cariba II - 63.816 66.105 66.725 = 196.646
7. Tallulah Lynn Nater - De Vito W - 65.921 63.974 66.125 = 196.020
Senior Riders
1. Carla Aeberhand - Delioh Von Buchmatt - 71.120 75.525 = 146.645
2. Delia Eggenberger - Fairtrade - 72.020 73.100 = 145.120
3. Estelle Wettstein - Great Escape Camelot - 69.580 72.900 = 142.480
4. Gilles Ngovan - Zigzag - 68.180 73.725 = 141.905
5. Andrina Suter - Unikat II - 67.400 71.950 = 139.350
6. Elena Fernandez - Sueno II - 67.260 71.425 = 138.685
7. Markus Graf - Stravinsky - 66.140 70.925 = 137.065
8. Philine Brunner - Straight Horse Don Tamino - 67.060 69.875 = 136.935
9. Simona Aeberhand - Fadora - 67.080 69.575 = 136.655
10. Charlotta Rogerson - Famora - 67.780 65.375 = 133.155
11. Carl-Lennart Korsch  - San Ravallo - 63.000 68.375 = 131.375
12. Patricia Schärli - Bailando II -  63.280 67.850 = 131.130
Related Links
Schmid, Ngovan, Sulzer, and Lenherr Win 2021 Swiss Dressage Championships
Party of Three - Graf, Ngovan, and Wettstein - Rule the 2020 Swiss Dressage Championships
Graf, Nater, Ngovan, Wientzek-Pläge Win 2019 Swiss Dressage Championships
Graf, Guerra, Schmid, Aerne-Caliezi Win 2018 Swiss Dressage Championships
Scheufele, Guerra, Rogerson, Suter, Krinke Susmelj Win 2017 Swiss Dressage Championships
Scheufele, Guerra, Winnewisser, Suter, Krinke Win 2016 Swiss Dressage Championships
Neuhauser, 2015 Swiss U25 Champion, Wettstein Stripped Of Title After Positive Doping Test
Korsch, Winnewisser, Wettstein, Aerne-Caliezi Win 2015 Swiss Dressage Championships
Winnewisser, Wettstein, Neuhauser, Aerne-Caliezi Win 2014 Swiss Dressage Championships
Huet, Winnewisser, Wettstein and Krinke-Susmelj Win at 2013 Swiss Dressage Championships
Wettstein, Lehmann, Krinke-Susmelj Win 2012 Swiss Dressage Championships
Surprise, Surprise: Markus Graf is the 2011 Swiss Dressage Champion
Corinth Did It Again at the 2010 Swiss Dressage Championships
Veronika Marthaler, 2007 Swiss Dressage Champion
Widmer, Reutimann and Wettstein, 2006 Swiss Dressage Championships