Denmark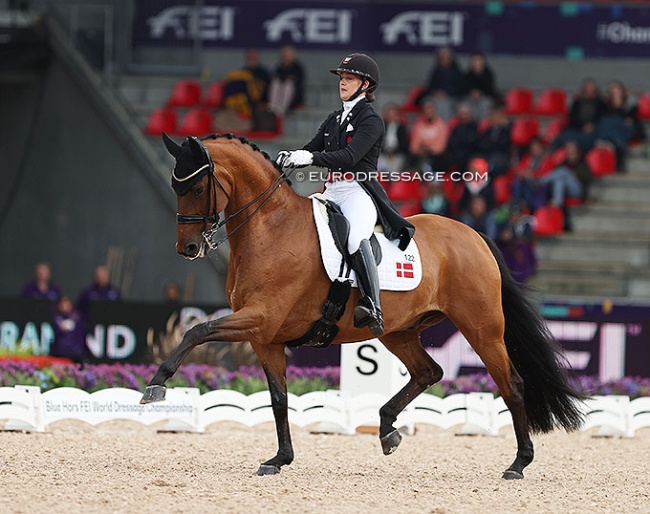 The World Championship team gold and individual silver medal partnership between Cathrine Dufour and Vamos Amigos has come to an end. The horse will continue its sport career under owner Annabella Pidgley in the U.K.
Dufour and Pidgley issued a joint statement three weeks ago in which they announced this news. 
From Holland to Denmark
The 10-year old Westfalian Vamos Amigos is by Vitalis out of Hot Shot (by Hotline x Sandro Hit). He is bred in The Netherlands by Eugene Reesink. 
Reesink bought dam Hot Shot from a friend and paired her to the legendary Vitalis, which he owned at the time before selling it to Charlotte Jorst in the summer of 2012.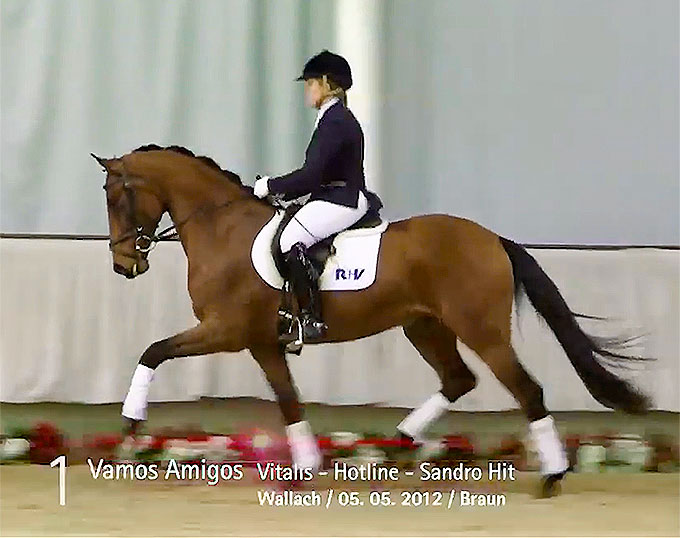 Vamos Amigos was born on 5 May 2012 and as a 3-year old was sold at the 2015 Westfalian Spring Elite Auction. According to the auction report at the time, a buyer from "Rhineland" purchased him for 78,000 euro, but in fact he ended up in Denmark with Andreas Helgstrand. 
Danish Development
Vamos Amigos was first competed in June 2016 under Marianne Helgstrand. She rode him in the semi finals for the 2016 Danish Young Horse Championship, but did not ride him at the Nationals. A year later she finished 11th in the 2017 Danish Young Horse Championships for 5-year olds. 
Vamos Amigos sold to the Pidgley family and Cathrine Dufour took over the ride. She first showed him at MB1-A level in 2019.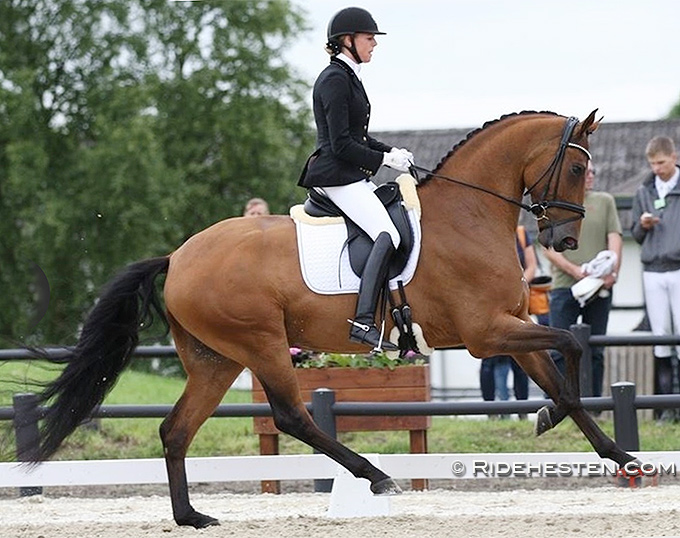 At age 8, Vamos Amigos made a stellar surge on the training scale in 2020. In January of that year he was shown at MB2 level, in August he did his first Intermediaire II and Grand Prix test at national level. Their international Grand Prix debut was in Aarhus in October 2020.
In 2021 Dufour's Bohemian was playing first fiddle while the 9-year old Vamos Amigos gained experience at CDI's in Hagen and Compiegne. In the winter of 2021-2022 he competed on the World Cup circuit. At the 2022 World Cup Finals in Leipzig he showed how hot a cracker he really is but the judges showed only love for the pair and placed them second despite all the tension. 
Dufour worked on managing that tension and succeeded at the CDIO Aachen, where she kept the lid on the cooker and became the Aachen Grand Champion. Bohemian became second choice for the 2022 World Championships in Herning, where Dufour rode Vamos Amigos to team gold and double individual silver. 
Move to the U.K.
Three weeks ago, Dufour announced that Vamos Amigos has moved to the U.K. to continue under British junior rider Annabella Pidgley.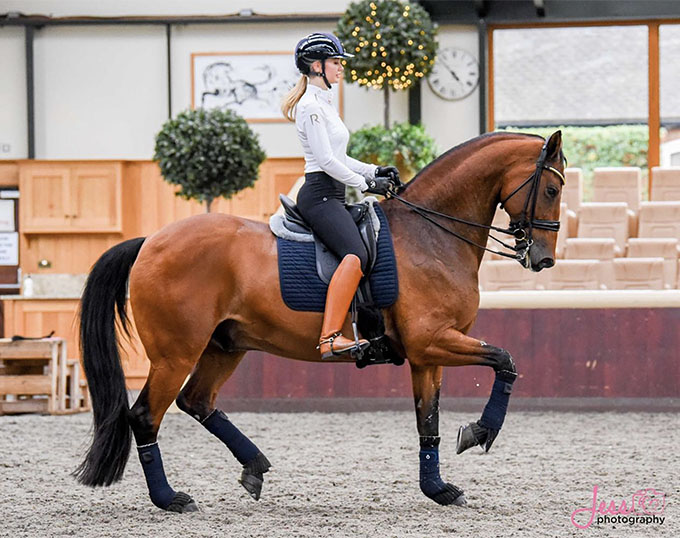 "The time has come for our one in a million Vamos Amigos to head to England to start a new chapter with owner Annabella Pidgley," Dufour stated.  "Vamos had been an absolute pleasure to train, taking us all the way to becoming World Team Champions in Herning. While he will be very much missed in our stable, I am really looking forward to training them both, as they begin this new journey."
Pidgley is based at Kilbees Farm in Windsor, Great Britain, and trains with Charlotte Dujardin (live coaching) and Cathrine Dufour (mostly via Facetime). British junior team member Annabella now has two Grand Prix horses to ride, Dujardin's Olympic medal winning Gio and reserve world champion Vamos Amigos, alongside FEI horses Espe, Sultans des Paluds, and Hilus MHB. 
Photos © Jess Tog - Astrid Appels - Ridehesten
Related Links
Charlotte Fry and Glamourdale Gallop to Freestyle Gold at 2022 World Championships Dressage
Charlotte Fry and Glamourdale Go for Gold in Thriller Grand Prix Special at 2022 World Championships Dressage
Dufour Chooses Vamos Amigos for 2022 World Championships Dressage
Cathrine Dufour Plays First Fiddle at the 2022 CDIO Aachen, Puts Denmark in the Lead of Nations' Cup
Hoffmann and Dufour Win 2022 Danish Dressage Championships
Von Bredow-Werndl and Dalera Triumph in 2022 World Cup Finals
Quick Notes from the 2022 World Cup Final Short Grand Prix
Charlotte Fry in Peak Condition, Wins 3* Grand Prix at 2021 CDIO Compiègne
Bonamour, Price Highlight of the 2015 Westfalian Spring Elite Auction