2022 Danish Young Horse Championships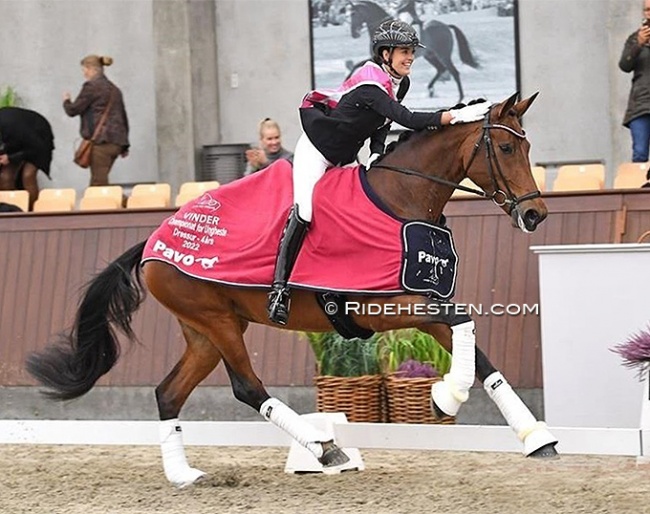 The 4-year old Valerie B, the 5-year old Lyngbjergs St. Paris, and the 6-year old Danciero, and the 7-year old Everian L became the winners of the 2022 Danish Young Horse Championships held at Blue Hors stud in Randbol on 13 - 16 October 2022. 
The National Young Horse Championships worked according to the FEI format of a preliminary round, a consolation final, and an actual medal deciding finals round.
Photos © Ridehesten
4-YO: Valerie B
2020 European Under 25 Kur champion Anne Mette Strandby rode the bay Danish mare Valerie B (by Revolution x Blue Hors Zack) to victory in the 4-year old Championship with a total of 91.60 points. The bright bay mare scored 9 for walk, 9.8 for trot, 8.8 for canter, 9 for rideability and 9.2 for perspective.  Valerie B is bred Karin & Peer Gudbrandsen and she was the Danish Warmblood Dressage Mare of the Year in 2021. Andreas Helgstrand bought her after the mare performance in the summer of 2021.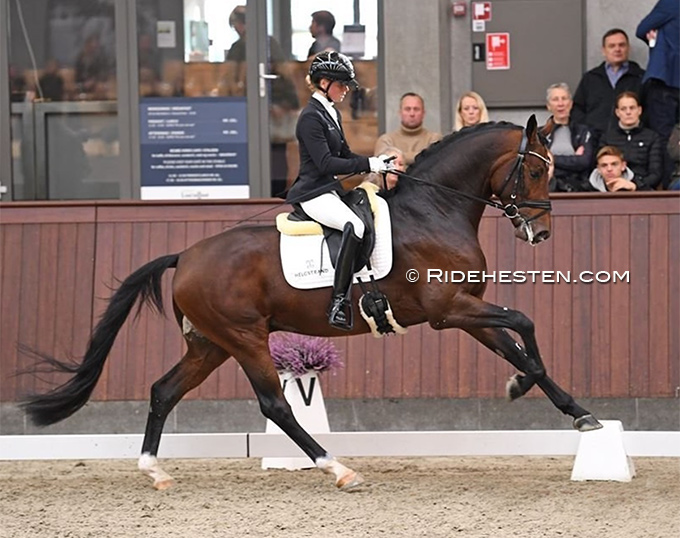 Helgstrand team rider Mette Sejbjerg Jensen finished second aboard the Hanoverian licensed stallion Be Sure (by Benicio x Scuderia) on a total of 90.80 points. The dark bay stallion, who is bred by Ludwig Fuchs, scored 8.7 for walk, 9 for trot and canter, 9.4 for rideability and 9.3 for perspective. Helgstrand had the highest bid on this stallion at the 2020 Hanoverian Licensing auction with 380,000 euro.
Anders Sjobeck Hoeck of Hesselhoj stud rode Helene Geervliet's chestnut mare Quinn G (by Quaterhit x Fassbinder) to bronze with the same score as the runner-up, 90.800 points. The athletic Quinn G scored 9 for walk and trot, 8.9 for canter, 9.3 for rideability and 9.2 for general impression. The mare is owned by Geervliet's Stutteri G. 
5-YO: Lyngbjergs St. Paris
World young horse champion Lyngbjergs St. Paris was unrivalled in the 5-year old division and under Victoria Vallentin easily grabbed the Danish title with a winning score of 92.60 points. The black mare, bred by Bente Børjesson and owned by the rider, her life partner Jesper Rasmussen and Ingrid and Poul Thøgersen, scored 8.6 for walk, 10 for trot, 9 for canter, 9.2 for rideability and 9.5 for perspective. St Paris is by Blue Hors St. Schufro x Blue Hor Rockefeller.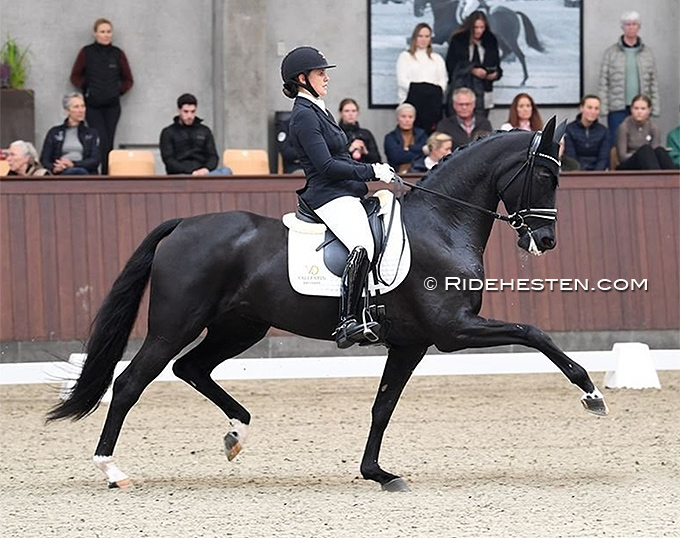 Following in second place in the distance was Spaniard Moises Azuar aboard the Westfalian licensed stallion Sir Floresco (by Sir Heinrich x Floresco). The chestnut stallion, who is bred by Gisela and Jan Wilms-Ruck. and became the third ranked premium stallion at the 2019 Westfalian Licensing, scored 8.8 for walk and canter, 9 for trot, 8.5 for rideability and 9 for general impression. He totalled 88.20 points for silver. Rider Moises Azuar comes from the Real Maestranza de Caballería de Ronda before working as an assistant rider, first for Coby van Baalen, then with Daniel Ramseier, followed by Helgstrand, where he's been since January 2021.
Spaniard Eric Guardia Martinez captured bronze aboard the Westfalian mare Feine Bella (by Furstenball x Bordeaux) with 87.80 points. The bay mare got 9.4 for walk, 9 for trot, 8.3 for canter, 8.5 for rideability and 8.7 for perspective. Feine Bella is bred in Germany by breeders' group Artmeier, Becker, Delling, and Wibbecke, and was bought by Helgstrand for 305,000 euro in an online auction. Guardia has been working in Denmark as a professional since 2016.
6-YO: Danciero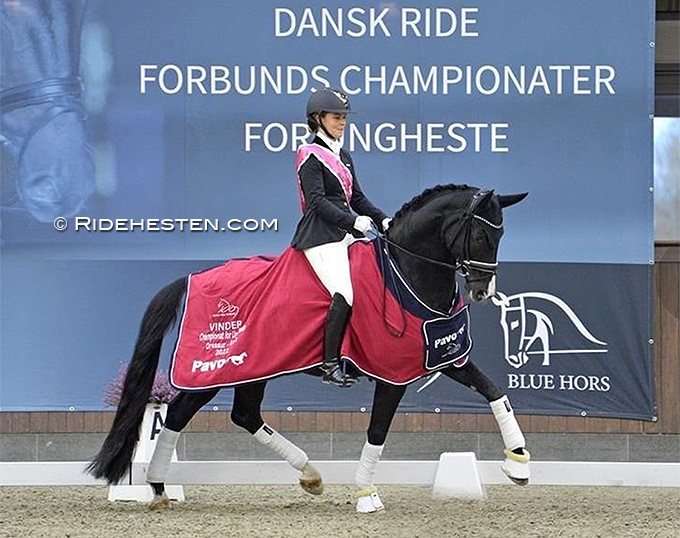 Fifteen horses competed in the 6-year old finals and Anna Kasprzak bested the field on the Hanoverian stallion Danciero (by Dancier x Floriscount) with 92.60 points. The fairly new pair scored 9.8 for walk, 8.9 for trot, 8.7 for canter, 10 for rideability and 8.9 for perspective. Danciero is bred by ZG Broers & Weber and was the licensing champion of the 2018 Westfalian Stallion Licensing, where he was presented by Matthieu Beckmann and Pascal Kandziora. At the auction following the licensing the bidding for Danciero went up to 700,000 euro. After the licensing, Andreas Helgstrand and Paul Schockemohle revealed themselves as the owners of the horse.  First trained and competed by Eva Möller in Germany, Danciero finished fourth at the 2019 and 2020 Bundeschampionate and won silver at the 2021 World Young Horse Championships and Bundeschampionate. He moved/sold to Anna Kasprzak in May 2022.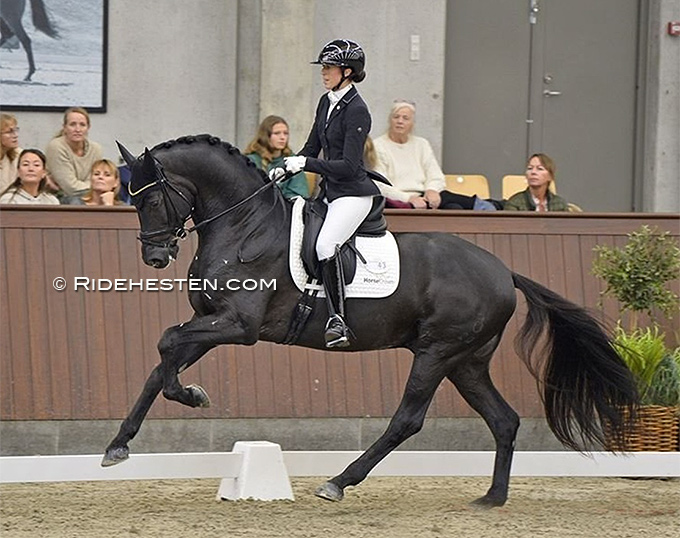 Danish Grand Prix team rider Carina Cassoe Kruth finished second aboard the Oldenburg stallion Movie Star (by Morricone x Blue Hors Bentley) with 88.00 points. The black stallion scored 8.4 for walk, 9.5 for trot, 8.8 for canter, 8.2 for rideability and 9.1 for perspective. bred by Ines Lohmann, Movie Star sold for 250,000 euro in the 2020 Oldenburg Spring Elite Auction to the British based Siri Evjemo Sysveen, who is the vice chair of the Board of Directors of MBaer Merchant Bank. The stallion was first allocated to Severo Jurado Lopez, who finished fourth with him at the 2021 Danish Young Horse Championships. 
The bronze was won by Susanne Barnow aboard Åtoftens Dancing Memory (by ERA Dancing Hit x Benetton Dream) with 86.80 points. The pair scored 8.8 for walk, 8.4 for trot, 8.7 for canter, 8.8 for rideability and 8.7 for perspective. The black Åtoftens Dancing Memory is bred by Annette Bugge and Claus Hansen and owned by the rider and breeder in partnership with Steffen Kristensen.
7-YO: Everian L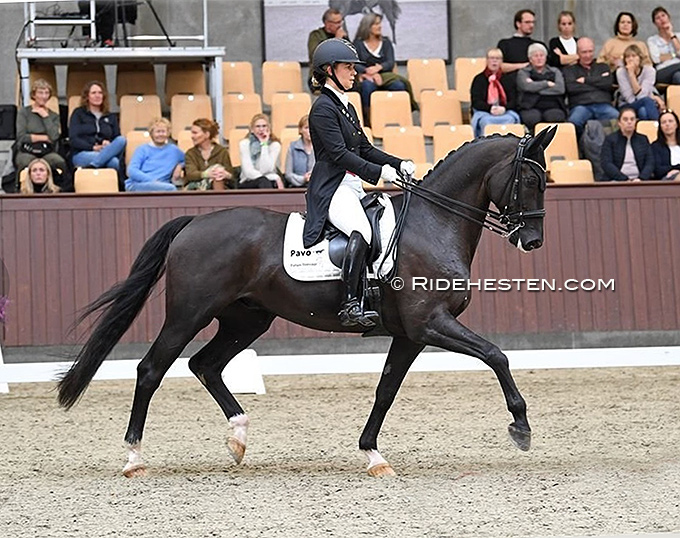 Anna Kasprzak made it a double whammy at Blue Hors also winning the 7-year old title aboard her 2022 World YH Championship ride Everian L, a Danish bred Everdale x Hochadel offspring. The pair scored a total of 88.823 points after posting 9.3 for walk, 8.5 for trot, 8.8 for canter, 9 for rideability, 8.8 for perspective and 78.846% as a technical mark. Everian L is bred by Karsten Bundgaard and owned by the rider. 
Danish Young Rider Anders Sjøbeck Hoeck collected his second medal of the weekend, this time a silver, with the Darhlseng family's grey licensed stallion Highfive Fuglsang (by Grand Galaxy Win x De Niro). The young pair totalled 83.082 for second place and the grey stallion got 8.5 for walk, 9 for trot and canter, 8.8 for rideability and 9 for perspective. They also got a technical score of 77.564%. Highfive is bred by Anne Dorte Riis Meyland and made his show debut with Hoeck three years ago in June 2019.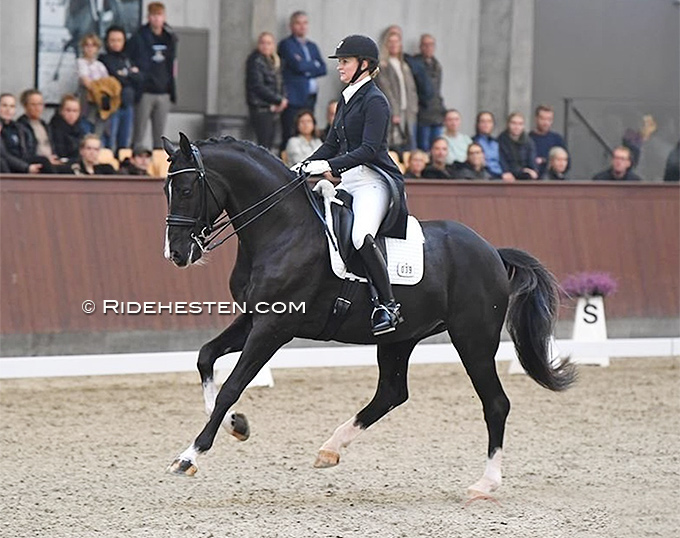 After 1.5 year break from competition Signe Kirk Kristiansen returned to the national competition arena in November 2021 with Blue Hors Zee me Blue (small tour) and began campaigning the 7-year old Suarez (by Sezuan x Desperados) in April of this year. At the National Championship, Signe picked up a bronze medal with Suarez after posting 78.149% in the Finals. The formerly licensed stallion bred by Judith and Sönke Schmidt in Germany, received 8.7 for walk, 8.4 for trot, 8.5 for canter and rideability and 8.6 for perspective from the judges. As a technical score they got 70.897%. Kirk Kristiansen bought Suarez from Helgstrand Dressage in September 2021. 
Results - Danish Young Horse Championships - Randbøl
4-year olds
Rider - Horse - Trot walk canter rideability potential --- total
1. Anne-mette Strandby Hansen -  Valerie B (by Revolution X Blue Hors Zack) - 9.8    9    8.8    9    9.2 --- 91.600
2. Mette Sejbjerg Jensen  - Be Sure (by Benicio X Scuderia) - 9    8.7    9    9.4    9.3 --- 90.800
3. Anders Uve Sjøbeck Hoeck - Quinn G (by Quaterhit X Fassbinder) - 9    9    8.9    9.3    9.2 --- 90.800
4. Maria Anita Andersen  - Rosée De Fontaine (by Revolution X Desperados) -9    8    9    9    9 --- 88.000
5. Silje Bakken - Lille Kærgårds Sisco Dwb (by Blue Hors Don Olymbrio X Stedinger) -  8.4    9    8.6    9.3    8.7 --- 88.000
6. Merita Hagren  - Zanetti (by Zoom X Fürst Romancier ) -8.3    8.5    8.8    8.7    8.6 --- 85.800
7. Anne-marie Hosbond  - Fabulosa (by for Romance I X Depardieu) -8.8    8.2    8.3    8.8    8.5 --- 85.200
8. Pia Thomsen  - Broadmoars Fernando (by Foundation X Lancer Ii) -8.5    8.5    8.2    8.4    8.4 --- 84.000
9. Michael Grønne Christensen  - Nicaragua (by Blue Hors St. Schufro X Westpoint) -1000    8.1    9.5    8.1    8    8.3 --- 84.000
10. Anna Zibrandtsen - Remember Me Dwb (by Blue Hors Don Olymbrio X Sezuan) -  8.3    8.2    8.4    8.5    8.4 --- 83.600
11. Silje Bakken  - Grevens Sirius (by Secret X Johnson) -8.2    8.3    8.5    8    8.4 --- 82.800
12. Mette Sejbjerg Jensen  - Straight Horse Floriana (by Franklin X Blue Hors Zack) -8.1    7.4    8.5    8.8    8.3 --- 82.200
13. Moisés Azuar  - Forever Love (by Fair Game X Destano) -8    8.4    8.5    7.9    8.3 --- 82.200
14. Eric Guardia Martinez  - For Real (by Blue Hors Farrell X Lord Loxley) - 8.3    8    8.2    8.4    8.2 --- 82.200
15. Anne Troensegaard - Kastaniegårdens Philina (by Revolution X Prince Thatch Xx) - 8    9    8    7.8    8.2 --- 82.000
16. Josefine Dahl Hoffmann  - Nordentoft's Ibi-alabast (by Ibiza X Alabaster) - 7.8    8.5    8.3    8    8.1 --- 81.400
17. Cristian Tudela Ruiz  - Blue Hors Bonsai (by Blue Hors Baron X Royal Classic) - 8.3    7.5    8.3    8.2    8.2 --- 81.000
18. Betina Jæger Jensen  - Zaunkönig (by Blue Hors Zack X De Niro) - 8.2    7.8    8.4    7.9    8.2 --- 81.000
19. Josefine Dahl Hoffmann  - Vaiana (by for Emotion X San Amour) - 7.9    8    8    8.2    8 --- 80.200
20. Michaela Navrsted  - Freddie (by Franklin X Florencio) - 7.7    8    8.2    8    8 --- 79.800
21. Anders Uve Sjøbeck Hoeck  - Jj Spencer (by Secret X Deemster) - 7.8    8    8.1    7.8    8 --- 79.400
22. Morten Kappel  - Kamar's Electric Noir Hit (by Escolar X De Noir) - 8    7    8.7    7.8    8 --- 79.000 
5-year olds
Rider - Horse - Trot walk canter rideability potential --- total
1. Victoria Vallentin - Lyngbjergs St. Paris (by Blue Hors St. Schufro X Blue Hors Rockefeller) - 10    8.6    9    9.2    9.5 --- 92.600
2. Moisés Azuar  - Sir Floresco (by Sir Heinrich X Floresco) -   9    8.8    8.8    8.5    9 --- 88.200
3. Eric Guardia Martinez  -  Feine Bella (by Fürstenball X Bordeaux ) -  9    9.4    8.3    8.5    8.7 --- 87.800
4. Anne-marie Hosbond  - Danésa Nord H (by Hesselhøj Donkey Boy X Belissimo M) - 8.7    8.4    8.8    9    8.7 --- 87.200
5. Frederikke Gram Jacobsen  - Zanderry Danheat (by Blue Hors Zack X Londonderry) - 8.4    9.2    8.1    8.8    8.6 --- 86.200
6. Anne-marie Hosbond  - Roxette (by Revolution X Quite Easy) - 8.5    8.2    8.9    8.5    8.7 --- 85.600
7. Betina Jæger Jensen  - So Perfect (by Sezuan X Sir Donnerhall) - 9    6.8    9.3    8.8    8.3 --- 84.400
8. Nanna Skodborg Merrald  -  Blue Hors Monte Carlo (by Dream Boy X United) - 8.5    8.5    8.5    7.9    8.6 --- 84.000
9. Anne-marie Hosbond - St. Tropez (by Santo Domingo X Rock Forever) - 8.7    8.1    8.3    8    8.5 --- 83.200
10. Michael Søgaard - Søbakkehus Duffy (by Sezuan X Uno Don Diego) -  8.7    8.1    8.3    8    8.4 --- 83.000
11. Lovisa Wessblad  - Francisca-d (by Franklin X Blue Hors Romanov) - 8.6    8    8    8.2    8.2 --- 82.000 
12. Tania M. Joensen - Blue Hors Vento (by Blue Hors Veneziano X Blue Hors Zack) -  8    9    8    7.8    8.2 --- 82.000
13. Michael Grønne Christensen  - Vestermarkens Shakira (by Sezuan X Tailormade Temptation) -  8.4    7.8    8.4    7.9    8.2 --- 81.400
14. Josefine Dahl Hoffmann  - Rosie K (by Revolution X Blue Hors Romanov) - 8.3    8    7.8    7.7    8 --- 79.600
15. Cristian Tudela Ruiz  - Højgaardens Zacksmir (by Blue Hors Zack X Sir Donnerhall) - 8.2    8    7.8    7    8 --- 78.000
6-year olds
Rider - Horse - Trot walk canter rideability potential --- total
1. Anna Kasprzak  - Danciero (by Dancier X Floriscount) -  8.9    9.8    8.7    10    8.9 --- 92.600 
2. Carina Cassøe Krüth  - Movie Star (by Morricone I X Blue Hors Bentley) -  9.5    8.4    8.8    8.2    9.1 --- 88.000
3. Susanne Barnow  - Åtoftens Dancing Memory (by Era Dancing Hit X Benetton Dream) - 8.4    8.8    8.7    8.8    8.7 --- 86.800 
4. Nadja Aaboe Sloth  - Satchmo (by Hesselhøj Donkey Boy X Blue Hors Future Cup) -  8.4    8.2    8.7    8.5    8.5 --- 84.600 
5. Majken Faaborg Glerup  - Midt-west Franceska (by Franklin X Blue Hors Don Schufro) -  9.5    8    8.1    8.2    8.5 --- 84.600 
6. Jan Møller Christensen  -  Hesselhøj Dream (by Hesselhøj Donkey Boy X Tailormade Lancelot) -  8.4    8.7    8.3    8    8.5 --- 83.800 
7. Sissel Bille Jakobsen  - Dúné Nec (by Hesselhøj Donkey Boy X De Noir) -  8.2    9    8.2    8    8.4 --- 83.600 
8. Mette Svare Ehlers  - De St. Malou E (by Blue Hors St. Schufro X De Noir) - 8.6    8.5    8    8.2    8.3 --- 83.200
9. Susanne Barnow  -  Skovdals Dexter (by Hesselhøj Donkey Boy X Blue Hors Romanov) -  9.5    8.2    8.2    6.8    8.8 --- 83.000
10. Henriette Pedersen -  Toftegårdens Madison (by Hesselhøj Donkey Boy X Come Back Ii ) - 8    8.6    8.4    8.2    8.2 --- 82.800
11. Michelle Hvid  - Højgaardens La Negro (by Blue Hors First Choice X Don Frederico) - 8.3    7.9    8.5    8    8.3 --- 82.000 
12. Belinda Elmholt Jeppesen  - Ladavion B (by Apache X San Remo) - 8    8.4    8.2    8    8.2 --- 81.600 
13. Cristian Tudela Ruiz  - Blue Hors Visconti (by Vivaldi X Just Perfect ) - 8.2    8.2    8    7.8    8.1 --- 80.600 
14. Michala Damm - Frydenberg  - Heslegård's Fürst Louis (by Fürstenball X Heslegård's Louis) - 7.5    7.8    8.4    8    8 --- 79.400
15. Severo Jurado López - Krones Kingston (by Franziskus X Heslegård's Louis) - 8.6    6.5    8.2    8.1    7.9 --- 78.600
7-year old
Rider - Horse - Trot walk canter rideability potential --- total --- Technicall --- Overall
1. Anna Kasprzak  - Everian L (by Everdale X Hochadel) - 8.5    9.3    8.8    9    8.8 --- 88.800 --- 78.846 --- 83.823
2. Anders Sjøbeck Hoeck - Highfive Fuglsang (by Grand Galaxy Win X De Niro) -  9    8.5    9    8.8    9 --- 88.600 --- 77.564 --- 83.082
3. Signe Kirk Kristiansen  - Suarez (by Sezuan X Desperados) - 8.4    8.7    8.5    8.5    8.6 --- 85.400 --- 70.897 --- 78.149
4. Anne-marie Hosbond  - Evo Schubidoo (by St. Schufro X Hotline) -   8.2    7.8    8.4    8.2    8.4 --- 82.000 --- 73.974 --- 77.987
5. Emma Ahlberg  - Logo's Gaya (by Grand Galaxy Win X Don Romantic) - 8.5    8.2    8.4    8.5    8.4 --- 84.000 --- 71.795 --- 77.898
6. Carina Cassøe Krüth  - Koblenz-st (by Vincent Maranello X Uphill) - 8.6    7.5    8.4    8.5    8.5 --- 83.000 --- 5 68.205 --- 75.603
7. Lone Bang Larsen-  Poseidon Majlund (by Tailormade Temptation X Solos Landtinus) - 8.4    8.3    8.6    7.6    8.5 --- 82.800 --- 67.821 --- 75.311
8. Maria Nørheden Johansen  - Nørhedens Diva Deluxe (by Don Deluxe X Solos Landtinus) -  8    7    8.1    7.9    8.2 --- 78.400 --- 68.846 --- 73.623
9. Karin Nissen  - Scaglietti V. (by Sezuan X Lauries Crusador Xx) - 8.6    7.5    7.9    6.8    7.8 --- 77.200 --- 64.359 --- 70.780
10. Cecilie Lyndrup  - Stenagers Faramir (by Franziskus X Wilkens) -  8    7    7.5    6.5    7.5 --- 73.000 --- 64.103 --- 68.552 
Related Links
My Vitality, Hesselhoj Down Town, Sweetnes, Elverhojs Raccolto Win 2021 Danish Young Horse Championships
2020 Danish Young Horse Championships Cancelled due to Corona
Kardieno, Queenparks Wendy, Revolution, Hesselhoj's Donkey Boy Win 2019 Danish Young Horse Championships
Springbank II, Revolution, Hesselhoj's Donkey Boy, Heiline's Danciera Win 2018 Danish Young Horse Championships
Revolution, Hesselhojs Donkey Boy, Heiline's Danciera, Fiontini Win 2017 Danish Young Horse Championships
Hesselhoj Donkey Boy, Victoria's Secret, Fiontini Win 2016 Danish Young Horse Championships
Rockson, Fiontina, Esperance Win 2015 Danish Young Horse Championships
Fiontina, Litvinenko Sjaelstofte, Rossetti Win 2014 Danish Young Horse Championships
Sezuan, Svalegards Hottie, South West Rocazino Win 2013 Danish Young Horse Championships
Zonik, Holballes Deeba, Samba King Win 2012 Danish Young Horse Championships
Sobakkehus Mia Bella, Dafne, Torveslettens Stamina Win 2011 Danish Young Horse Championships
Scores: 2009 Danish Young Dressage Horse Championships
Atterupgårds Cassidy, Polka Hit Nexen and Horsebo Smarties Win 2007 Danish Young Horse Championships
Tardi, Schianto and Clearwater, 2004 Danish Young Horse Champions