The Netherlands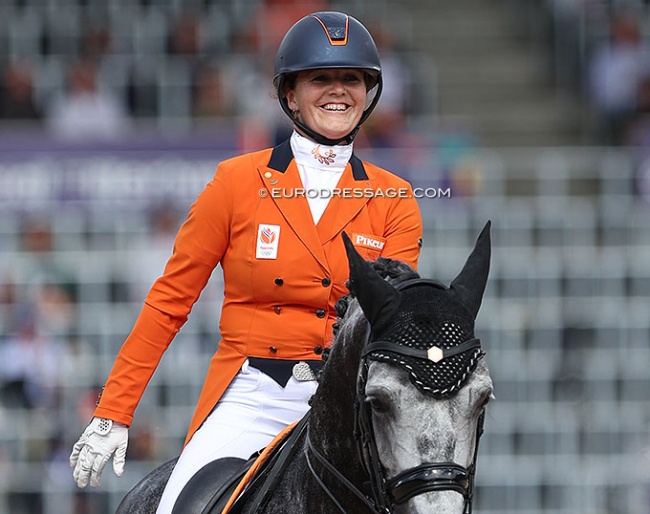 Thamar Zweista, a Dutch team rider at the 2022 World Championships in Herning, will be sidelined for a while after a non-horse related accident. 
The 40-year old injured herself two weeks ago at the CDI-W Basel and even though she continued competing in the World Cup qualifier, the injury has now caught up on her and forces out of the saddle for a while. 
"Just before Thamar rode her freestyle with Double in Basel, she unfortunately fell off a stool and broke her tailbone," her stable management posted. "And then they say that horse riding is sometimes dangerous. She still rode the freestyle, but for now she really needs her rest to recover."
Zweistra has two Grand Prix horses to compete, her number one Ich Weiss (by  Rubiquil x Negro) and Double Dutch (by Johnson x Rubiquil). She was entered for this weekend's World Cup qualifier in Amsterdam.
"It's very sad, because now she will not start during Jumping Amsterdam," the statement added. 
Thamar came up through the system with career starting horse, Hexagons Kyrain. She first represented Holland with him at the 2000 European Junior Riders Championships and in 2003 became European Young Riders Champion. He also took her to Grand Prix level. In 2003 she became a member of the Rabo Talent Team. Her first major championship as a senior GP rider were the 2022 World Cup Finals (11th) followed by the 2022 World Championships in Herning, both on Hexagon's Ich Weiss.
Photo © Astrid Appels
Related Links
Dinja van Liere Puts Holland in the Race for Gold at 2022 World Championships Dressage
Van Baalen Withdraws for 2022 CDIO Aachen, Zweistra Steps In
All-Female Squad leads The Netherlands to Victory in 2022 CDIO Rotterdam Nations Cup
Thamar Zweistra Wins 2006 Pikeur Trophy Finals
Hexagon's Conquest Sold to Japan
Thamar Zweistra's Small Tour Winner Erina Sold to Korea