2023 CDI Temecula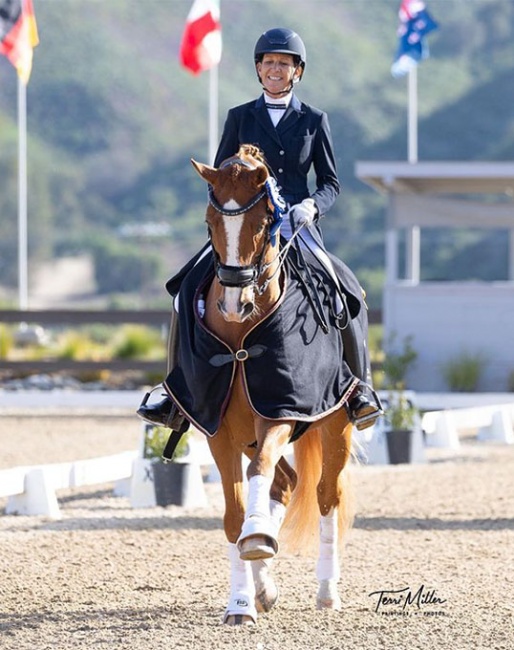 -- press release by Kim Miller, edited by Eurodressage
The Pacific Coast CDI at Galway Downs Equestrian returned to its rightful place on the increasingly solid West Coast international dressage circuit. The 2023 CDI spring edition came to a close on Sunday 12 March 2023 with Tina Caldwell and Michelle Mills collecting the FEI level trophies. 
Tina Caldwell Caps the 3* Grand Prix Special
San Diego professional Tina Caldwell and Marcia Sutherland's Lagerfeld K topped the 3* Grand Prix Special with a 66.277% from ground jury members William Warren, Sarah Geikie, Cesar Torrente, Sandra Smith and Clive Halsall.
The 15-year-old Hanoverian by Londontime (out of Donna Pia, by Don Crusador) put in a "very clean ride and was listening to me the entire time," Tina said. "He just floated through the test and I couldn't be happier with how everything clicked between us throughout the test."
Tina was one of the brave souls to contest Friday afternoon's Grand Prix in heavy rain. She and Karl finished second and earned the win of increased confidence after competing in adverse conditions. "Karl can usually have some nerves in the arena, but he was real confident and we felt like a real team today. I think the trust we built up in each other during Friday's ride has a lot to do with today's ride."
Lagerfeld K was previously owned by former German World champion Nadine Capellmann and sold to the U.S.A. in 2021 through Jochen Arl. The gelding was competed at international Grand prix level in Europe by Borja Carrascosa.
Amy Miller and her own 14-year-old Dutch Warmblood, Encore (by Jazz x Sir Sinclair), were second on a 65.723%, and Shannon Warner and Patti Blackmore's 18-year old Hanoverian Rubico (by Rotspon x Wanderbusch)  were a close third on a 65.660%.
Mills Excels in 1* Intermediate I Freestyle
Michelle Mills and Facendo were the lone contenders in the 1* Intermediate I Freestyle, but their 72.075% score would likely have been hard to beat even if there were other pairs. The 13-year-old Dutch Warmblood is by Fidertanz x Don Schufro. It was a super comeback after a tough day in the Intermediate I test yesterday.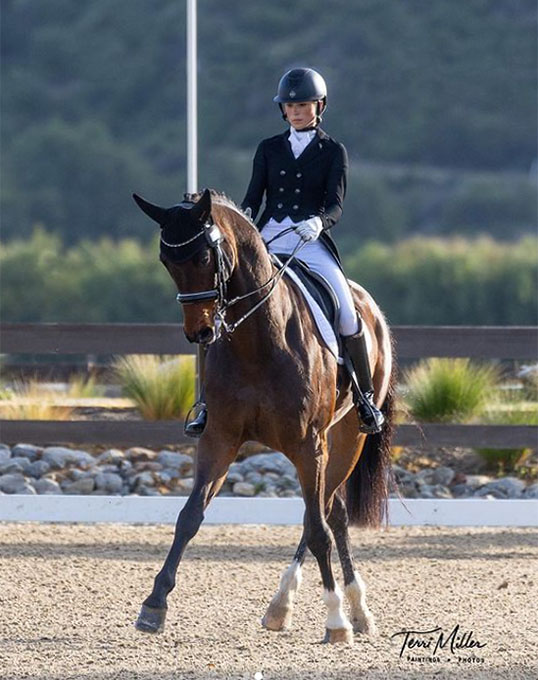 "This was a pretty good day and it's nice to end this way," Michelle said. "He can be quite nervous in the arena, even when he's super relaxed in the warm-up – which makes it hard to mimic what's going to happen. I was super impressed with him today. He stayed relaxed and I felt that he listened to the music and knew that it was his."
The Canadian pair are based in nearby San Diego and Facendo was purchased as a 2024 Olympic candidate. He was previously competed internationally in Europe by Israeli junior rider Liri Armon. Facendo is bred by Dutch Johan Rockx, husband of former Canadian team rider Penny Zavitz. 
Dressage in California 
Crazy rain on Friday's opening day couldn't dampen enthusiasm for the return of this competition first staged in 2020 to help revive the West Coast circuit and provide more opportunities for the region's vast community of existing and future international stars.
"The International division was not staged in 2021 and it was cancelled in 2022 because of an EHV-1 outbreak that shut down equestrian activity in the state. It's back with the full support of the community," says organizer Robert Kellerhouse. "What strikes me is how the community has come out to support this show in every way. From entries and sponsorships to renting Galway Downs' little on-site 'Pony Houses.'"
Dressage has a "huge footprint," at Galway Downs and in California in general. "Half of Team USA comes from here and I think it's almost criminal to make them always go to Florida to compete."
The Desert Dressage series in Thermal and the Pacific Coast and Spring Benefit CDIs are highest quality competitions and a strong foundation for balancing out the event calendar. Hopes that the return of the Del Mar Fairgrounds as a show venue will set the stage for another CDI amp up the positive vibes for the dressage scene in the west
3* Grand Prix and Grand Prix Freestyle winner Rebecca Rigdon is one of many top professionals happily supporting the growing West Coast circuit.
"Florida is great, but the expense of leaving your business if you have to do it is a lot," Rigdon explained. "We really need to have more (geographic) balance in our shows, so what's happening is great!"
Photos © Terri Miller 
Related Links
Scores: 2023 CDI Temecula
Rigdon, Wagman and Yang Lead the Victory Gallops at 2023 CDI Temecula
Rebecca Rigdon and Steffen Peters Reign in the Rain at 2023 CDI Temecula