2023 World Cup Finals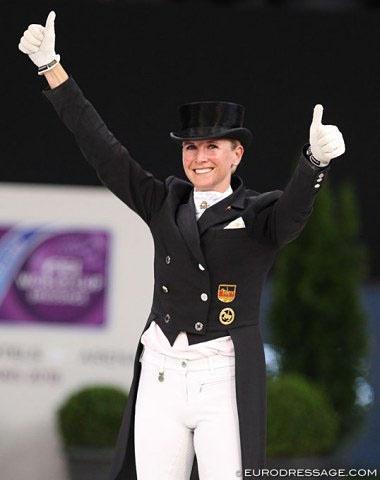 The complete list of invited riders for the 2023 World Cup Finals in Omaha (USA) is known. The list of entries paints quite a different picture from what the Western European League ranking produced at the close of the season in 's Hertogenbosch last weekend. 
Some pairs are remarkably absent from the entry list and some riders, who are ranked further down the FEI World Ranking list, will make a surprising appearance in Omaha, Nebraska, on 7 - 9 April 2023. 
World Cup League System
In order to qualify for the FEI Dressage World Cup™ Final a rider/horse combination must have started and completed at least two times in the Grand Prix Freestyle to Music at a CDI-W qualifier with scores of at least 68%. An Athlete may not start in more than six (6) CDI-W Grand Prix Freestyle to Music competition.
Different rules apply from different regions in the world. There are four leagues, i.e. the Western European League, the Central European League, the North American League, and the Pacific League (Australia and New Zealand). All the other riders are grouped into the "non-league" category. 
With the heart of all the dressage action based in Western Europe, riders from other leagues may also attempt to qualify through the Western European League. The NF concerned will have to inform the FEI HQ, in writing before the start of the season, which athletes wish to qualify in Western Europe. In that case they will be treated like the Western European competitors. However, athletes from non-Western European Leagues qualifying in Western Europe cannot take away places in the Final from Western European athletes and will compete in the Final as additional athletes.
But the rules are more complex than that. You can read them here.
Who Gets to Go to a World Cup Finals?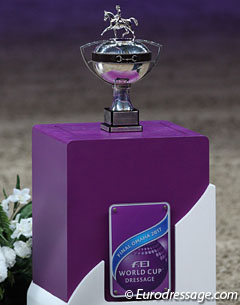 Eighteen riders qualify and get to compete at the annual World Cup Finals.  A maximum of three combinations per nation (including the titleholder) will be allowed to participate in the Final.
Nine come from the Western European League, 2 from from Central European League, 1 from the Pacific League, 3 from the North American League, 1 from a non-league, 1 title defender and then there is 1 extra starting place. 
In case league slots do not get filled, extra starting places are created (max 3) to reach 18 finalists. The allocation of extra starting place will be decided as follows: 
 - One athlete from the host NF, if no host NF athlete is already qualified
- If the FEI extra starting place is not allocated as per 9.5.2.1, the place goes to a permanently domiciled non-League athlete who qualifies in the League where they are domiciled
- If starting places are still available, these will be allocated to the  combination(s) with the highest ranking (as a combination) on the February of the current year FEI Dressage World Ranking List, and who have participated in at least two (2) CDI-W qualifiers.
So Who is on the List for Omaha?
The entry list for the 2023 World Cup Finals contains quite a few surprises. 
For of all, only 7 WEL league riders instead of 9 have accepted to go to Omaha, so 2 extra starting places have been created.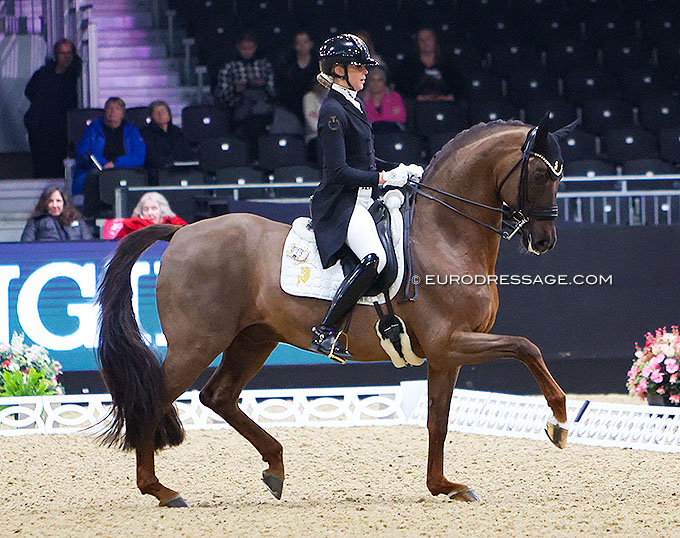 The biggest absentee from the WEL list is Swedish Patrik Kittel, who qualified Touchdown but is not going. Emmelie Scholtens qualified but can't make it due to an injury, which means that Marieke van der Putten gets her spot.
Then a huge list of World Ranked top riders, who competed in the Western European League, follows who seemingly all have declined the invitation to go or were they even asked (Kruth, Kanerva, Bachmann,, Larsson, Hogberg)?Belgian Marc Peter Spahn, for instance, was higher placed on the WEL ranking, but lower on the World Ranking than the three invited riders for the extra starting place. He was withheld from competing at the final qualifier in Den Bosch, even though he was already higher positioned on the ranking and could rake in more points.   
The Pacific League spot was not filled due to a vaccination issue down in Australia and that spot remains empty. Therefore, only 17 pairs are currently entered to go to Omaha. 
Western European League
Isabell Werth - Quantaz
Ingrid Klimke - Franziskus
Dinja van Liere - Hermes
Nanna Skoborg Merrald - Blue Hors Zepter
Thamar Zweistra - Hexagon's Ich Weiss
Morgan Barbancon - Sir Donnerhall II (although Morgan claimed to have entered Bolero)
Mariek van der Putten - Torveslettens Titanium
Central European League
Justina Vanagaite - Nabab
Alisa Glinka - Aachen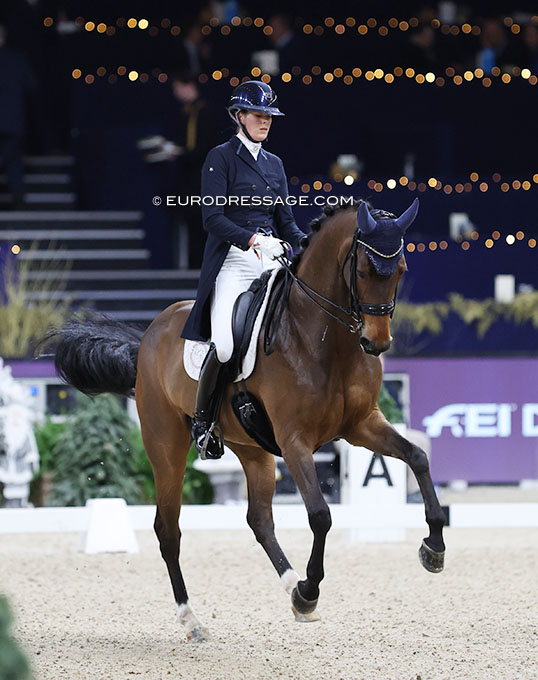 Pacific League
North American League
Steffen Peters - Suppenkasper
Alice Tarjan - Serenade MF
Anna Buffini - Davinia la Douce
Non-League
TItle Defender
Jessica von Bredow Werndl - Dalera BB
FEI Extra Starting Places
Simone Pearce - Fiderdance
Johanna Due Boje - Mazy Klovenhoj
Jorinde Verwimp - Charmer
Blood Rushed to Germany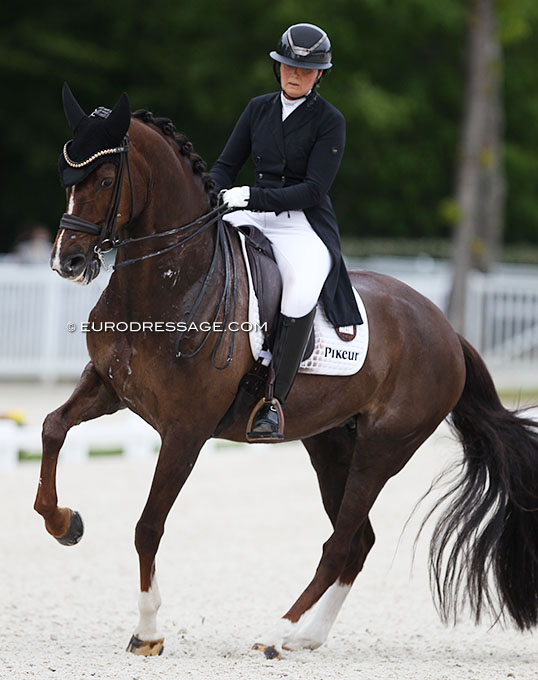 The three "extra starting places" have now been allocated to Swedish Johanna Due Boje, who is ranked 47th on the FEI World Dressage Riders Ranking, and Belgian Jorinde Verwimp, who is ranked 49th. 
There is a small silver lining for Australia as German based Simone Pearce has received an extra starting place. She is ranked 24th. 
Due Boje wrote about the surprise invite she got and how she has to rush her horse's bloodwork for the flight and importation into the U.S. to Germany. 
"I got a place in the World Cup Finals and that was something I really didn't expect," Johanna explained. "Quick we had to get everything organised with blood sampled etc. The blood was sent express post to Germany yesterday to the lab (we thought). Today I got a call that the blood was back at the vets clinic here in Sweden after it got stuck at customs. Time is short and to have any chance getting them there on time my fancié decided to drive the samples there by himself (8-9 hour one way drive). Tomorrow they will test the blood and hopefully also get it sent to the US in time. it's a 50/50% chance it will work out but we took the chance. Now keep your fingers (crossed) we will make it all the way to Omaha."
Photos © Astrid Appels
Related Links
Eurodressage Coverage of the 2023 World Cup Qualifiers and Finals
Fry and Glamourdale Will Not Go to 2023 World Cup Finals
Fry Wins WEL World Cup Season-closer at 2023 CDI-W Den Bosch, Glamourdale's Start in Omaha Unsure