Singapore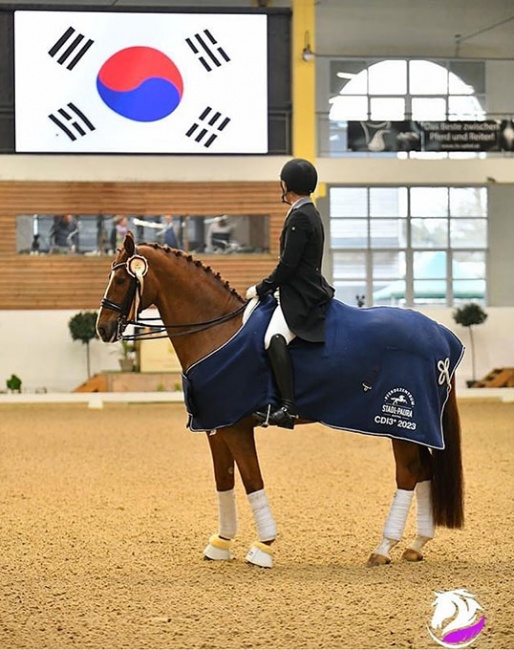 After a busy season at the Global Dressage Festival in Wellington, Florida, Singapore's Caroline Chew is topping the FEI Olympic Group G Ranking list and putting herself in a strong position at the beginning of the race towards the Paris Olympics. 
FEI Group G
Group G  includes South East Asia and Oceania with countries Australia, Brunei, Cambodia, China, Taiwan, Hong Kong, India, Indonesia, Japan, Korea, Malaysia, Myanmar, New Zealand, Philippines, Singapore, Sri Lanka, and Thailand.
Riders from Group G are contesting two individual places at the Paris 2024 Games. However, countries can only earn one place each.
Performances at CDI 3* and above count with the best score from each of four events to count based on %. The Grand Prix, the Special and the Freestyle are all eligible, albeit the Freestyle points allocated are slightly lower.
Florida Riders Collect Points
Caroline Chew iand her 19-year old Norwegian warmblood Tribiani (by Solos Landtinus) stand first with validated results from 1 January to 31 March 2023 counting. Her campaign in Florida paid off. She leads with 842 points. 
The second placed rider, Korean Dong Seon Kim, applied the same strategy as Chew and collected points early in the season by competing the newly acquired Westfalian gelding Bohemian (by Bordeaux x Samarant) in Wellington. He picked up 621 points so far.
Thai Suphakamol Vuntanadit also shipped her horse KWPN bred Dreamboat (by Voice x Metall) to Florida and showed him in four CDI's. This put her third in the Group G ranking with 603 points
Japan in Pursuit, Australia Has Team Qualified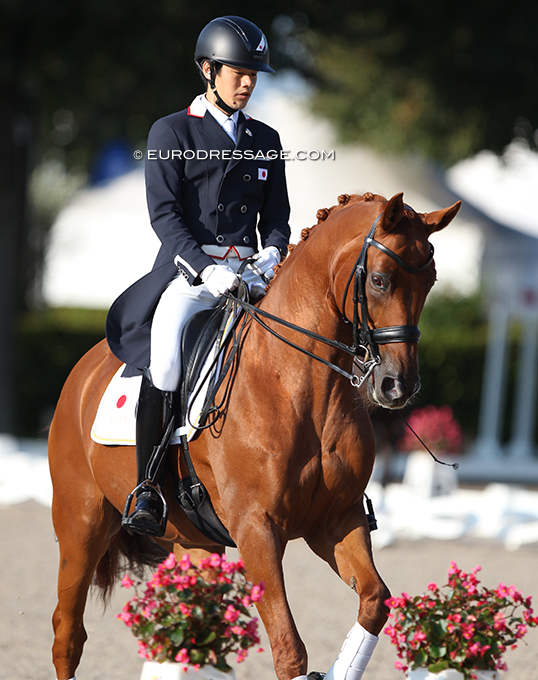 Only one Japanese rider is currently ranked in Group G which features 17 riders at the start of 2023. 
The Dutch based Kazuki Sado and the 17-year old Hanoverian Barolo (by Breitling x Hitchcock) are in fourth place with 569 points.
No Australians are listed in Group G as the country obtained a team qualification as Group G's highest ranked team at the 2022 World Championships in Herning.  Simone Pearce is the Australian who has been most actively competing in the first three months of 2023 with horses Fiderdance and Cadeau Noir. Team regulars, Lyndal and Kristy Oatley, are yet to ride their first CDI of 2023. 
Melissa Galloway is the highest ranked New Zealand rider in sixth place with 471 points. 
Many Changes in Store
The latest available Group G ranking only reflects the start of the race towards Paris. The month of April will bring about several changes with new results coming in at the start of the outdoor show season.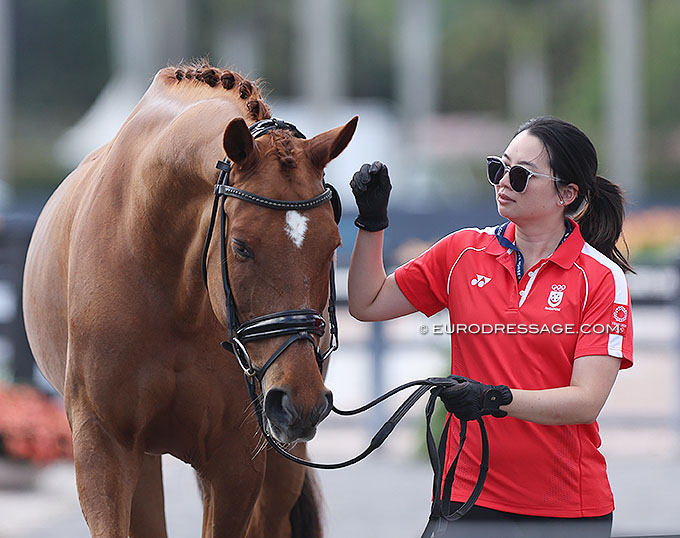 Chew will solidify her good ranking score after having competed at the 2023 World Cup Finals in Omaha.
Korean Dong Seon Kim will be getting competition from German based Korean Young Shik Hwang, who was second with 70.130% in the Grand Prix and won the Special with  71.447% at the CDI Stadl Paura (AUT) on 6 - 9 April. 
View the FEI Olympic Group G Ranking
Photo © Team Myrtill/Hof Kasselmann - Astrid Appels
Related Links
Australia Qualifies Team for 2024 Paris Olympics
2024 Paris Olympic Format to be Approved at 2021 FEI General Assembly. Teams of Three Retained
The End of the Long Chase for Tokyo Places: Team and Individual Spots Known
Middle East and North African Riders Unite to Develop Dressage in FEI Regional Group 7
Oceania Equestrian Federation Unveils Logo