Japan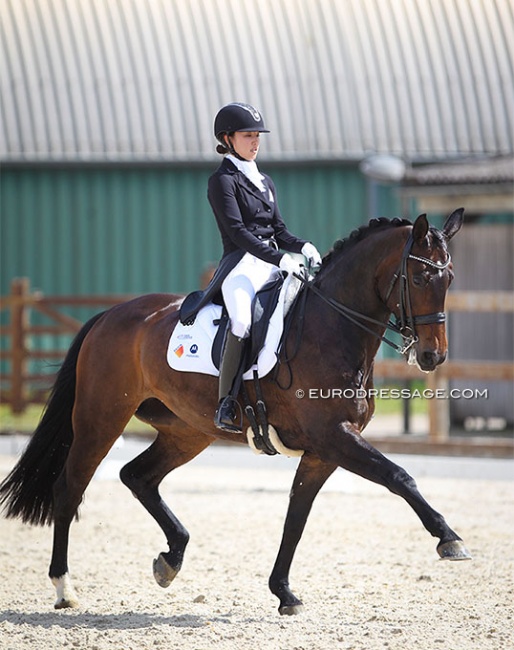 Maria Takada became the high scoring rider of the Japanese team selection trial the 2023 Asian Games for domestically based riders. The selection trial took place at  Miki Horseland Park in Hyogo (JPN) on 20 - 21 May 2023.
 Two Japanese team selection trials for the Asian Games were held: one in Belgium last week for the European based Japanese riders; and one in Japan itself.
Japan Restages Team Selection Trials
Japan already staged a team selection trial in 2022, but as the Asian Games were postponed by a year due to Covid.
Logically the selections had to be ridden over again as the one-year old results from 2022 are no longer representative for a team selection. Horses have improved in a year team, new combinations formed, or some combinations ceasing to be. In a very clear cut selection process, the Japan equestrian federation selects the four highest scoring riders of the trials. 
The same panel of international judges, consisting of Gotthilf Riexinger, Hans Voser and Sandy Philips - judged the trial in Belgium and Japan.
Takada Wins Trials at Miki Horseland Park
The 29-year old Maria Takada won the trials aboard her long-time partner Britania, a 15-year old Westfalian by Baluga x Radjah Z. She scored a winning 67.106% in the Prix St Georges and placed second with 67.451% in the Intermediaire I.
Close on her heels was Fumiyasu Nishiwaki on the recently acquired 12-year old Hanoverian Dodge Raider (by Desperados x Westerhagen). The pair placed second in the Prix St Georges with 65.735% and won the Intermediaire I with 67.794% 
These two riders earned a spot on the team for the 2023 Asian Games alongside the winner of the European trial, Ryunosuke Kuroda (Belattre DES) and Akane Kuroki (L'Esperado). 
Results - Japanese Team Selection Trial Asian Games - Hyogo
Prix St Georges
1. Maria Takada - Britania - 67.106%
2. Fumiyasu Nishiwaki - Dodge Raider - 65.735
3. Ai Kawakami - Winnetou D - 64.069%
4. Kazuya Tsuge - Royal Fox - 63.235
5.  Kazuya Tsuge - Bonjour - 61.961%
6. Maiho Kondo - Centaure de Massa - 59.716
7. Lesil Yadusa - Bernardau - 59.020
Intermediaire I
1. Fumiyasu Nishiwaki - Dodge Raider - 67.794
2. Maria Takada - Britania - 67.451
3. Kazuya Tsuge - Bonjour - 64.265
4. Maiho Kondo - Centaure de Massa - 63.088
5. Kazuya Tsuge - Royal Fox - 61.667
6. Lesil Yasuda - Bernardau - 59.804
7. Ai Kawakami - Winnetou D - 58.627
Final Ranking - Japanese team Trials for 2023 Asian Games
1. Ryunosuke Kuroda - Belattre DES - 69.387
2. Maria Takada - Britania - 67.280
3. Akane Kuroki - L'Esperado - 67.255
4. Fumiyasu Nishiwaki - Dodge Raider - 66.765
5. Akiko Yonemoto - Aaron - 65.834
6. Mako Franz -  Jewel W - 64.583
7. Kazuya Tsuge - Bonjour - 63.113
8. Kazuya Tsuge - Royal Fox - 62.451
9. Maiho Kondo - Centaure de Massa - 61.402
10. Ai Kawikami - Winnetou D - 61.348
11. Lesil Yasuda - Bernardau - 59.412
Related Links
Ryunosuke Kuroda, High Scorer at European Japanese Team Selection Trial for 2023 Asian Games
2022 Asian Games Postponed to 2023 Due to Rising COVID cases in China
Akane Kuroki, High Scorer at Japanese Team Selection Trial for 2022 Asian Games