Japan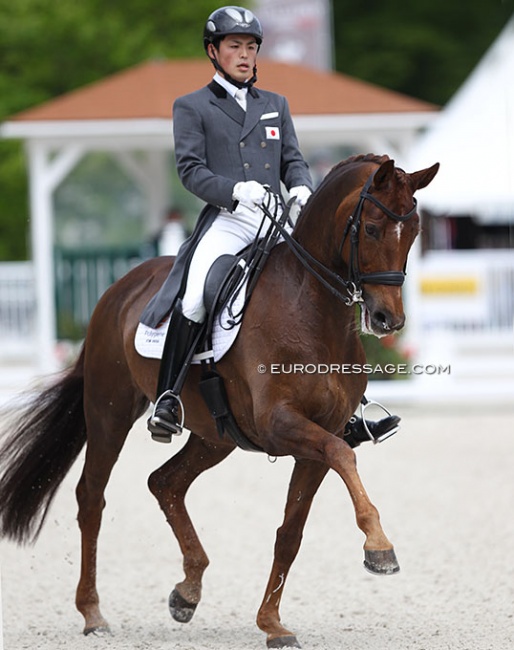 Ryunosuke Kuroda became the high scoring rider in the first Japanese team selection trial for the 2023 Asian Games, held in Belgium on 10 - 11 May 2023 for the European based Japanese riders. 
The 2023 Asian Games will take place in Hangzhou, China, on 23 September to 8 October 2023 after being postponed by a year due to China's zero-tolerance in countering the Covid pandemic. 
Trial at La Sandry in Belgium
Last year Akane Kuroki on Elastico won the Japanese selection trial for 2022 Asia Games, but due to the Games' postponement, the trials had to be restaged.
Five pairs were entered for the trial at La Sandry equestrian centre in Courriere, Belgium, on 10 - 11 May 2023. Next week, the same trial will be held in Japan for the domestically based team candidates. 
To be eligible to participate in the trials, a combination must have achieved and proven at least one appropriate result in the CDN or CDI between April 2022 and the closing date for trial entries (PSG 67% , Inter1 67% , GP 65%)?
The national team member in 2022, 2023 and riders who competed in last year's Asian Games trials, do not need to prove this on any horse. Previous competition results are not taken into account for team selection, which is entirely determined by the results of this trial.
Kuroda, High Scorer
In the end four pairs competed in Courriere and the high scorer at the event was the Dutch based Ryunosuke Kuroda, who trains with Tineke and Imke Bartels in The Netherlands. 
Aboard the 17-year old KWPN mare Bellatre DES (by Serano Gold x Rubinstein), he aced the Prix St Georges with 70.539% and the Intermediaire I with 68.235%.
In the Prix St Georges the runner-up was Akane Kuroki on the newly acquired L'Esperado (by L'Espoir x Lauries Crusasor xx) with 68.039%. She recently began training with Jonny Hilberath in Germany. The runner-up in the Intermediaire I was Akiko Yonemoto aboard the 18-year old Rhinelander stallion Aaron (by Florencio x Record) with 66.814%. She trains with Heiner Schiergen and Isabell Werth.
The trial was judged by Gotthilf Riexinger, Hans Voser and Sandy Philips.
Results - Japanese Asian Games team selection trial
Prix St Georges
1. Ryunosuka Kuroda - Belattra DES - 70.539%
2. Akane Kuroki - L'Esperado - 68.0°39
3. Mako Franz - Jewel W - 65.784
4. Akiko Yonemoto - Aaron - 64.853
Yukiko Komori - Montevideo - DNS
Intermediaire I
1. Ryunosuke Kuroda - Belattre DES - 68.235
2. Akiko Yonemoto - Aaron - 66.814
3. Akane Kuroki - L'Esperado - 66.471
4. Mako Franz - Jewel W - 63.382
Related Links
2022 Asian Games Postponed to 2023 Due to Rising COVID cases in China
New Dates Announced for Postponed Asian Games 2022
Tonglu Equestrian Center, Venue for 2022 Asian Games in Hangzhou
L'Esperado, a New Asian Games' Hopeful for Akane Kuroki
Akane Kuroki, High Scorer at Japanese Team Selection Trial for 2022-2023 Asian Games
Isabell Werth's New Ride Deneuve Sold to Japan