2023 Danish Dressage Championships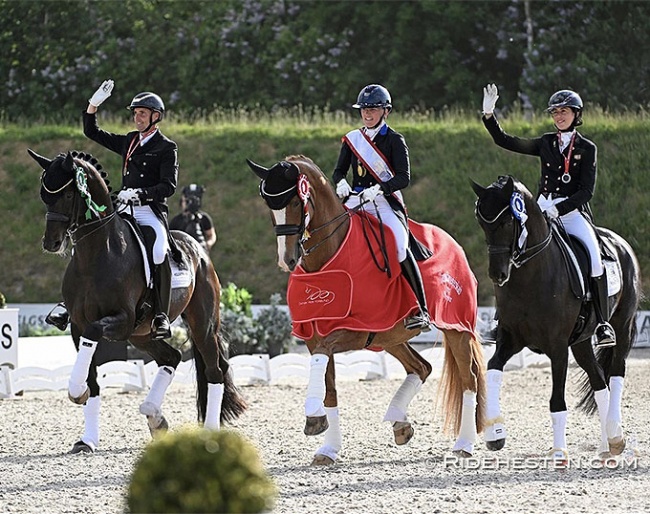 Under 25 rider Sophia Ludvigsen and senior Nanna Skodborg Merrald became the winners of the 2023 Danish Dressage Championships for Grand Prix level riders on 2 - 4 June 2023. 
Since 2019 the Danish Dressage Championships are held at Andreas Helgstrand's riding club in Uggerhalne, just across the road from his flagship stable in the town of Vodskov (pronounce Voss-cow), Denmark.  
At this Grand Prix level competition it was Team Blue Hors that ruled the show with no less than three of their claiming the title and champion's sash at the end of the weekend: Ludvigsen and Merrald as well as para rider Tobias Thorning on Blue Hors Zackorado in the para championships
Under 25: Sophia Ludvigsen
Young professional Sophia Ludvigsen has had a stellar year so far since she has been picked up by the Blue Hors talent team three years ago and joined the team of riders at the breeding station in central Jutland. With Blue Hors Elliot she's one of Denmark's strongest young riders and aboard 9-year Blue Hors Quintana (by Quantensprung x Desperados) she is now making her mark in the Under 25 division.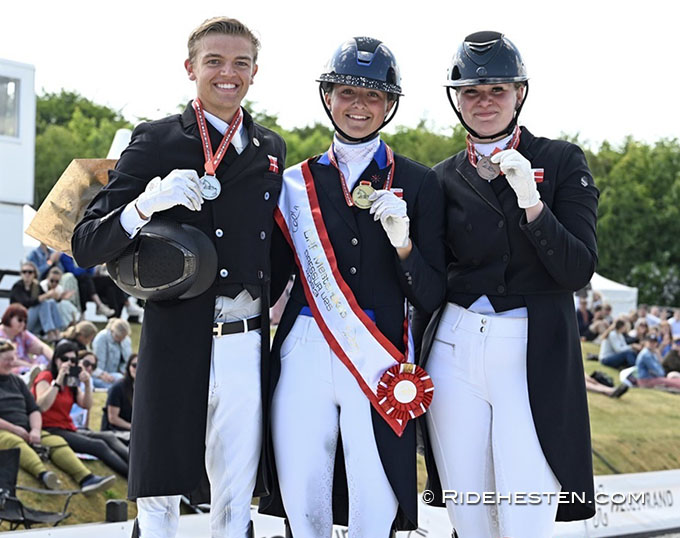 Eighteen pairs competed in the first round of the Under 25 Championship and fifteen moved to the freestyle final.  Ludvigsen set the standard winning the first round with a two percentage advantage to the second placed pair. She scored 74.651% and overnight became the title favourite. As last to go in the freestyle, she had to keep her nerves in check and did so with brilliance. Their winning kur score of 78.3000% but them comfortably in the lead and on the highest step of the podium. 
"I'm speechless," said an overjoyed Sophia. "I'm just mega happy and so proud of my 9-year-old star! I'm really looking forward to the future with him."
The silver medal went to Alexander Yde Helgstrand, who skipped last week's Danish Young Riders Championships and chose to ride in the U25 champion aboard his mother Marianne's Grand Prix horse, the 14-year old Super Mario (by For Compliment x Royal Dance). The pair was second in the first round with 72.581% and third in the freestyle (76.300%) which placed them second overall. The Dutch based Thea Bech and her 15-year old KWPN bred Dionisos (by Spielberg x Sir Sinclair) got bronze with 71.326% and 77.325%/
Seniors: Nanna Skodborg Merrald
The senior championship brought afoot no less than 24 combinations with two of Denmark's long-time team riders absent. In agreement with team staff members Anne-Mette Binder and Wolfram Wittig, Daniel Bachmann Andersen will be competing Zippo in next week's CDI Aachen Dressage Days in Hagen, while the younger Grand Prix horse Vayron is on a break. Cathrine Dufour saw her two championship horses leave her barn last autumn, but is now preparing Vividus QRE for his Grand Prix debut. She is expected to be back at Grand Prix level soon.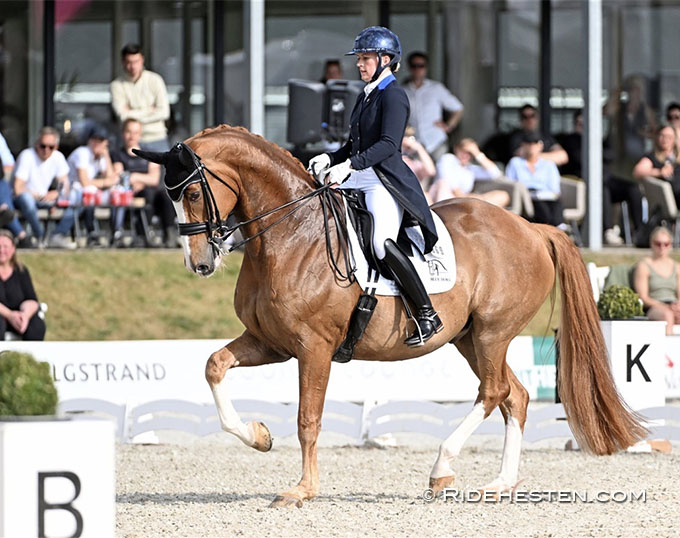 This meant that even before the show had started the gamblers were betting on a duel between 2023 World Cup Finals runner-up Nanna Skodborg Merrald and her 2022 World Championship team gold medal winning mate Carina Cassoe Kruth. Nanna brought two horses to Uggerhalne: Blue Hors Zepter (by Zack x Wolkentanz II) and Blue Hors Don Olymbrio (by Jazz x Ferro). The former became the highest scoring one in the Grand Prix and moved to the Freestyle final round. Rival Andreas Helgstrand also saddled two horses for his home show: Jovian (by Apache x Tango) and Queenparks Wendy (by Sezuan x Blue Hors Soprano). The gigantic Jovian bested Wendy. 
Already in the Grand Prix Nanna Skodborg Merrald showed that she was all business with Zepter and won the class with 80.120%, the only rider to crack the 80 mark in the class, judged by Leif Törnblad, Lone Dichmann, Christine Winther Prip, Charlotte Brostrøm, and Grethe Keller. Four judges had Zepter over 80%, Brostrøm kept it at a 76.600 (3rd).  Carina Cassoe Kruth and Poul Thogensen's 12-year old Danish mare Heiline's Danciera (by Furstenball x De Niro) were second with 78.800% with her scores going from 77% (Tornblad) to 81.10 (Dichmann). Andreas Helgstrand and Jovian were third on 77.720% but his marks fluctuated even more with three judges at 76%; Tornblad at 78.30% and Dichmann up to 81.60%
Although Merrald had taken a comfortable overnight lead it was all to come down to the freestyle on Sunday. Merrald and Zepter posted the high score of the day with 86.850% and won the class as well as the title. Four judged had her first in the freestyle, but Dichmann saw a third place in it.  Carina Cassoe Kruth and Danciera followed in second place with 84.850% with four seeing her second and one third, while Helgstrand and Jovian finished third in the freestyle with 83.750% and got the bronze medal. He ranked third with three judges, second with Tornblad and again Dichmann favouring them and put them first. 
Photos © Ridehesten
Results - 2023 Danish Dressage Championships - Uggerhalne
Under 25
1 Sophia Ludvigsen  - Blue Hors Quintana  - 74.651 78.300 --- 152.951
2 Alexander Yde Helgstrand  -  Super Mario  -  72.581 76.300 --- 148.881
3 Thea Bech  -  Dionisos  -  71.326 77.325 --- 148.651
4 Sara Aagaard Hyrm  -  Atterupgaards Cooper  - 71.000 75.275 --- 146.275
5 Karoline Rohmann  - Aagaardens Lianne  - 72.372 72.550 --- 144.922
6 Caroline T. Elsner  -  Alskenz Firfod  - 68.814 74.325 --- 143.139
7 Sandra Aagaard Hyrm  - Heslegård's Rismon  - 70.186 70.200 --- 140.386
8 Amalie Aasted Albæk -  Gørklintgårds Quantico  -  67.046 71.875 --- 138.921
9 Victoria Cecilie Bonefeld Dahl  -  Bolero  -  67.326 70.125 --- 137.451
10 Laura J. Rasmussen  -  Hjorths Rapsody in Blue  - 64.558 68.600 --- 133.158
11 Sofie Amalie Kjærgaard Wettendorff  - Hacker  - 63.209 69.625 --- 132.834
12 Nadja Therkildsen  - H.l. Fürsini  - 64.256 65.800 --- 130.056
13 Anne-mette Lyager  - Grøntang Montoya  -  65.512 64.250 --- 129.762
14 Sophie Nyholm Kristensen  -  Jonstrupgårdens Dirty Harry - 61.139 64.700 --- 125.839
15 Kristine Krogsgaard  -  Denzo Julianelyst - 60.581 62.950 --- 123.531
Grand Prix
1 Nanna Skodborg Merrald - Blue Hors Zepter  - 80.120 86.850 --- 166.970
2 Carina Cassøe Krüth  - Heiline's Danciera  - 78.800 84.850 --- 163.650
3 Andreas Helgstrand  - Jovian  - 77.720 83.725 --- 161.445
4 Anna Kasprzak  -  Addict De Massa  - 72.880 79.100 --- 151.980
5 Lone Bang Zindorff  - Thranegaardens Rostov  - 73.380 77.900 --- 151.280
6 Anna Zibrandtsen -  Quel Filou  -  74.520 76.550 --- 151.070
7 Nadja Aaboe Sloth - Favour Gersdorf  - 72.160 75.875 --- 148.035
8 Anne Sofie Aaen  - Fürsten-flame  -  69.200 73.675 --- 142.875
9 Anne-marie Hosbond - Scarlett  - 68.960 72.750 --- 141.710
10 Karoline Louise Skøt  - Midtgaards Zamir  - 68.100 69.400 --- 137.500
11 Andreas Larsen  -  Lillesø's Sezoo  -  66.720 69.725 --- 136.445
12 Maja Petersen  - Højgårds Rolex  - 66.560 69.325 --- 135.885
13 Michala Damm - Frydenberg  - Laissez-faire E  - 68.940 66.625 --- 135.565
14 Ditte Himmelstrup Madsen  - Romance  - 66.540 68.925 --- 135.465
15 Julie Gasbjerg Kaløvig  - Red Rose - 66.360 66.775 --- 133.135
Complete results: Under 25 - Seniors
Related Links
Hoffmann and Dufour Win 2022 Danish Dressage Championships
Vallentin and Dufour Win 2021 Danish Dressage Championships
Strandby Hansen and Dufour Win 2020 Danish Dressage Championships
Vallentin and Bachmann Win the 2019 Danish Dressage Championships
Engermann and Dufour Win 2018 Danish Dressage Championships
Engermann and Dufour Go for Gold at 2017 Danish Dressage Championships
Kasprzak Withdraws Donnperignon from 2017 Danish Championships
Cathrine Dufour Wins 2016 Danish Dressage Championships
Anna Kasprzak Wins 2015 Danish Grand Prix Championships
Lone Bang Larsen Wins 2014 Danish Dressage Championships
Anna Kasprzak Toasts Triple Victory and Wins 2013 Danish Dressage Championships
Scores: 2012 Danish Dressage Championships 
Scores: 2011 Danish Dressage Championships
Scores: 2010 Danish Dressage Championships
Scores: 2008 Danish Dressage Championships
Andreas Helgstrand, 2007 Danish Dressage Champion
Andreas Helgstrand and Matine, 2006 Danish Dressage Champions
Scores: 2004 Danish Dressage Championships