2023 CDIO Pilisjaszfalu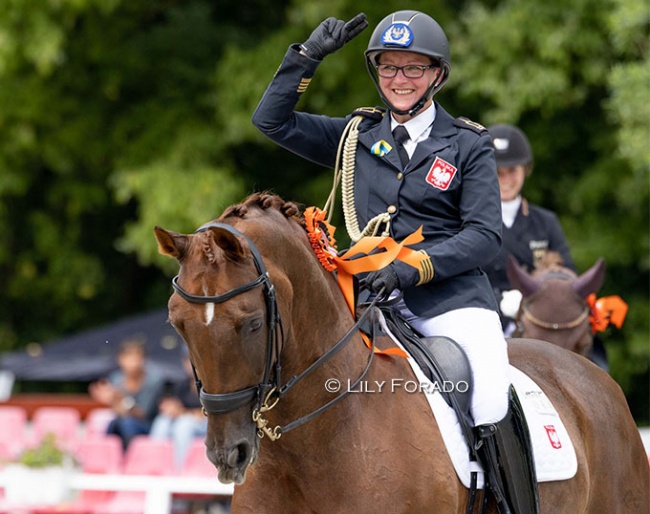 - Text © Eurodressage (this article expresses Eurodressage's' eye-witness account and opinion about the competition). 
- Photos © Lily Forado - More photos on Lilyforado.com
Poland became the winner of the Group C Olympic Team qualifier held at the 2023 CDIO 3* Pilisjaszfalu in Hungary on Thursday 8 June 2023. 
Group C countries Hungary, Poland and Israel went head-to-head in this high stakes competition with one team slot for the 2024 Paris Olympics up for grabs.  Poland persevered.
From Rain to Sunshine
While north Europe has been going into its third week of a summer dry spell, rain was streaming from the sky in Hungary today for this Olympic team qualifier and CDIO Nations Cup competition. The first half of the class rode in the pouring rain while the last riders to go were lucky to pilot their horses through sunshine.
Four countries were entered for the CDIO 3* Grand Prix: Poland, Hungary, Israel, and Germany. The latter dominant dressage nation sent three professional riders to this Central European 3* leg to compete against riders from developing dressage nations. It not only filled the field to a nice proportion, but it was interesting to compare riders.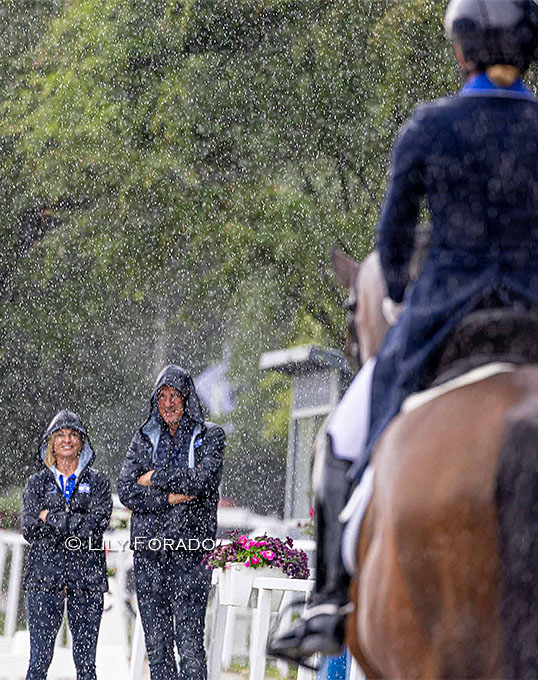 FEI Group C covers Central and Eastern Europe as well as Central Asia. The majority of those countries don't even have a team of three international Grand Prix riders and most rely individuals to fly their flag at top level; for instance, Justina Vanagaite from Lithuania, Grete Puvi from Estonia (as Olympian Dina Ellermann is absent from this show), Alisa Glinka frol Moldova, just to name a few.... Russia is excluded from Group C at the moment as their president Putin continues to wage war in Ukraine and cause global destabilization and atrocity.
Placing the Pawns on the Board
Israel has made a few random appearances at major (inter)continental championships in the past few decades and it last had a team of three competing at the 2019 European Championships in Rotterdam. Since then it has been scraping to produce riders at Grand Prix level and many newbies are just starting to find the ground below their feet.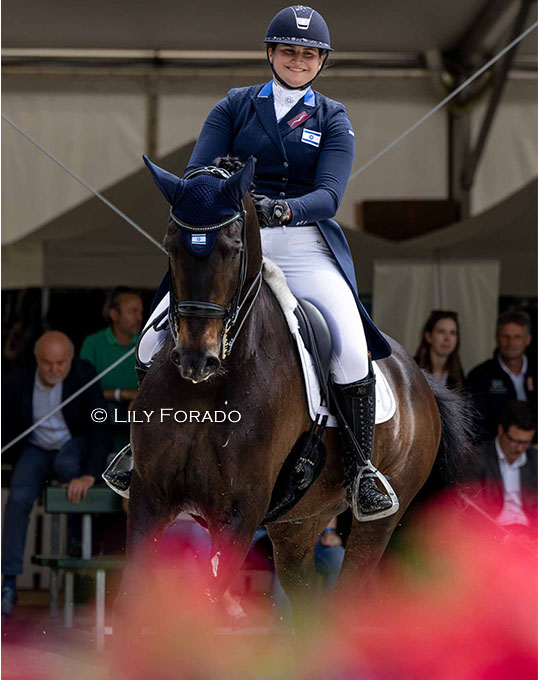 Nicole Ahorner switched from Austria to Israel and seemed to spearhead the Israeli effort in Pilisjaszfalu. She even gave German based Eyal Zlatin a Grand Prix horse to ride (Facilone), but they never ended up competing. Micah Deligdish bought a young GP horse at the start of the year, Gon Solt rode her first ever international Grand Prix two months ago in April, just like newcomer Amit Kovos. 
This meant that the more experienced riders from Hungary and Poland had their pawns in a better position for the Olympic Team qualifier in Pilisjaszfalu. Surprisingly the expected key riders on the Hungarian and Israeli team (Yom Tov and Ahorner) decided to bring their youngest, least experience Grand Prix horse to this show. Instead of fulfilling the role of team anchor to pull up the average up, they scored below par as their green horses did not prove up for the challenging task, yet. 
German Wins CDIO Nations Cup
While the Nations' cup competition was won by Germany (210.043 points), it was Poland that finished second and placed the highest of the three Group C countries, clinching that highly coveted team slot for Paris.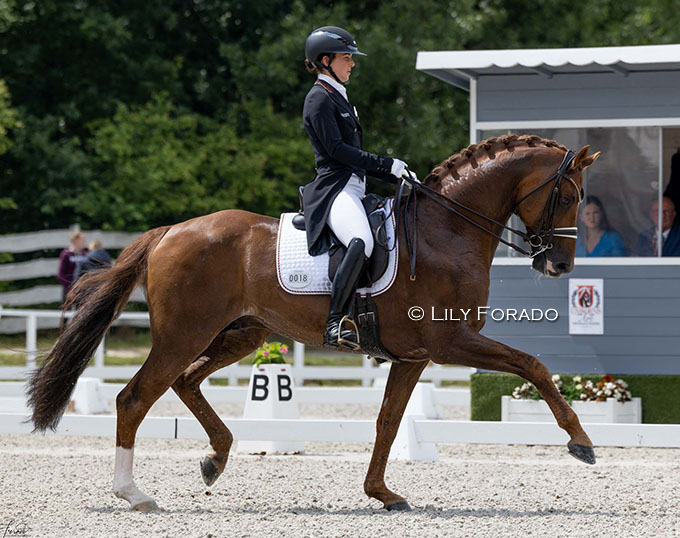 The Grand Prix class was won by German Lisa Müller aboard the 11-year old Hanoverian stallion D'Avie (by Don Juan de Hus x Londonderry), who is a former double World Young Horse Championship. Relying on the exceptional quality of this gorgeous stallion's three basic gaits, Müller was able to drive the score over seventy percent, especially with the outstanding extended walk. The chestnut is a real eye catcher in beauty and looks and has a lovely way of moving, but as a Grand Prix horse he is still green and overall lacked collection in most  movements. In the piaffe he leans on the shoulders and crosses behind, but the passage was elegant and floaty. The two tempi changes were huge in ground cover, but could have been more on the hindleg as with several of the exercises; certainly something that can improve with time. Today judges Thomas Lang, Elke Ebert, Mariette Sanders - Van Gansewinkel, Elisabeth Max-Theurer, and Kurt Christensen rewarded her with a winning 72.543%. 
Former Piaff Forderpreis winner Franziska Stieglmaier was third on the 12-year old Hanoverian Samurai (by St. Moritz Junior x Laureano) on 69.522%. This pair stood out with its sweeping half passes and good halt for rein back. In the beginning the passage had the hindlegs a bit out but it improved during the test: in piaffe Samurai could round the back more and slide the hindlegs under. Stieglmaier excelled in making the test look quite easy despite some work in progress.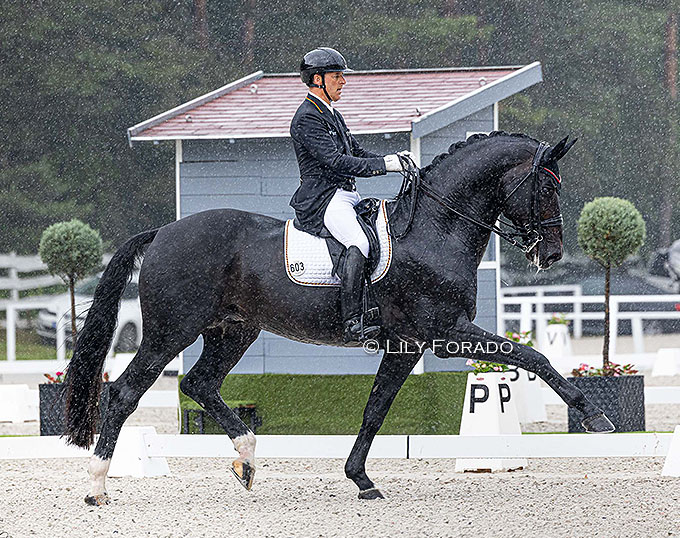 Rudolf Widmann presented another former WCYH medal winner, Ferrari, an 11-year old Oldenburg by Foundation x Hotline with massive gaits. His long back does not play to his advantage, especially in the passage in which he rather seems to skip behind instead of move the hindlegs towards the point of gravity, revealing a lack of engagement and self carriage. The stallion, owned by Gestut Ammerland, has plenty of quality, showed the best halt before rein back, and a good extended walk (collected walk had a loss of rhythm), but the rider was swinging his  body like a pendulum and flapping his legs in the canter work, tarnishing the tempi changes, zig zag, and pirouettes. They scored 67.978% but 65.7% was the low score and 70.5% the high score.
Poland Perseveres
But all eyes were in fact on the three Group C countries and Poland persevered The Polish federation decided to send three seasoned competitors, supported by a new kid on the block and they reliance on miles paid off. With a total of 204.892 points it stayed two percentage points ahead of of Hungary.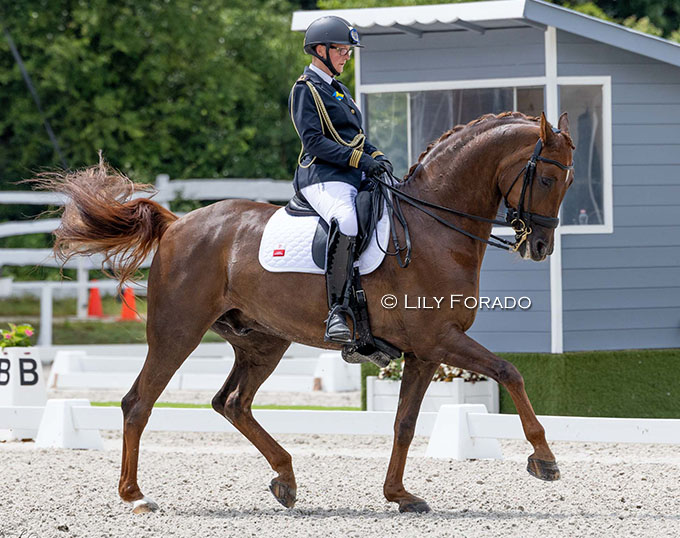 The Polish campaign was spearheaded by Zaneta Skowronska-Kozubik on the 14-year old Romantic P (by Rosenstein x Furst Heinrich). They are in their sixth year as an international Grand Prix duo and competed at the 2021 Europeans and 2022 World Championships. Today Romantic P began his test looking sour in the trot extensions, but then appeared more willing. There was nice airtime in the passage, but in the piaffe the gelding went wide behind (also in the passage and extended trot) and in piaffe he often got crooked to the right.  The extended walk had good overtrack but there could have been more V-moment in the rhythm.  The canter work looked established. They scored a personal best of 69.696% to place second in the Grand Prix and secure that Olympic slot for Poland. 
Zaneta's team mates in Hungary were Mateusz Cichon on the 16-year old Hanoverian Herzregent (by Hotline x Alabaster), who placed 6th with 67.913%. The dark bay Herzregent is a typical Hotline offspring with plenty of quality for the Grand Prix workd. The trot half passes were not polished and the horse often showed the tongue throughout the test, but the piaffe-passage had a good rhythm and there was plenty of overtrack in the extended walk, despite a not so clear rhythm.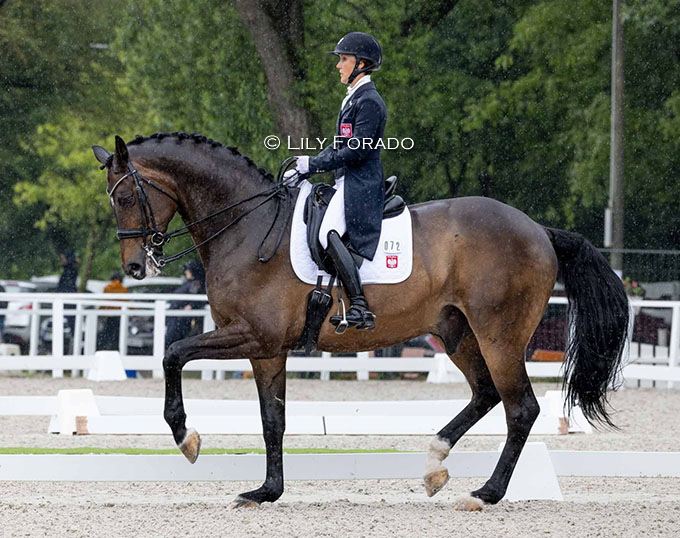 Magdalena Jura saddled the 16-year old Polish bred Ron (by Ron William x Rabus) and placed 8th. The tall bay gelding also has a tendency to go wide behind and often moved the left hind out from under the body. The horse could have marched a bit more in the extended walk and was a bit unsteady with the head. While he can achieve a good rhythm in piaffe and passage, the horse could take more weight on the hindlegs for an improved self carriage. They scored 67.283%
The Polish team rookie was the 35-year old Marta Sobierajska who made her international show debut two months ago aboard Arnaud Serre's former French team horse Ultrablue de Massa (by Rubin Royal x Almonda MAC). Today she produced a safe round and never asked much from the 15-year old Lusitano cross bred. This led to a lack of ground cover in the walk and trot extension. The piaffe had a lot of backstepping, despite the horse's natural ability for the movement. Overall you wanted to see more suppleness and flexion in this horse. They scored 65.565% to finish 10th. 
Hungary Second
Host nation Hungary placed second in Group C and third in the CDIO nations' cup, their second cold showed of the day as the ambition to make it to Paris was very high.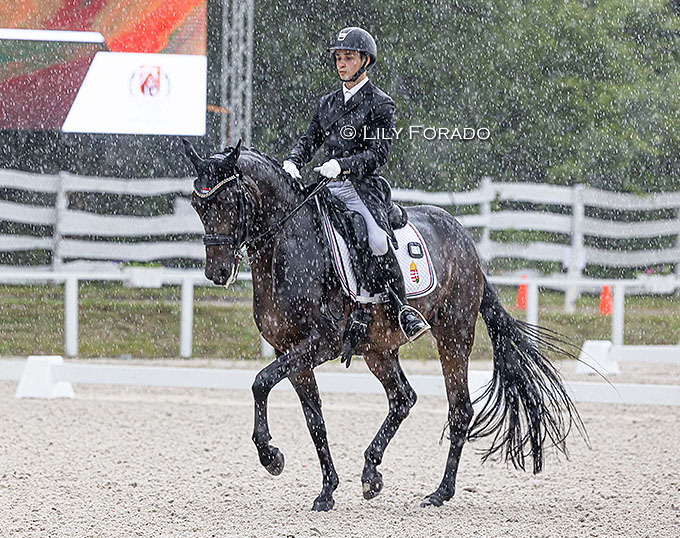 Best scoring Hungarian was 23-year old Dutch based Benedek "Beni" Pachl, who is a "product of the system," having started on ponies and moving onto horses from junior level to young rider and Under 25 before making it into the senior ranks. With his own heart horse Donna Friderika, a 15-year old Don Frederico x Don Rico mare, he scored 68.804% for fourth place. In passage the hindlegs were out at times, but the dark bay mare showed good relaxation in the extended walk, but ambled in the collected walk. She showed a good willingness to sit in piaffe, but could lift even more in the forehand. A nice pair. Hopefully in time the bridle contact also gets a bit lighter. 
A very pleasant ride to watch was Aniko Losonczy-Komjathy's ride on the 15-year old KWPN bred Dior S (by Spielberg x Florestan). The grey gentle giant and his petite rider are very much 'n sync and despite the break into canter in the first extended trot, they had a good flow going. The piaffe - passage was soft footed, the walk well ridden. The rider lost control over the hindquarters a bit in the zig zag. They scored 67.696% for 7th place.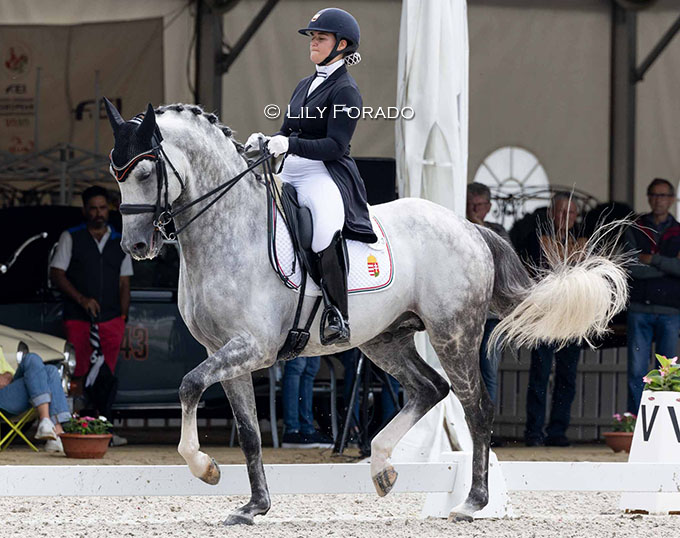 Instead of relying on her U25 team horses Hexagon's Grandville or For Joy, Jazmin Yom Tov brought the 8-year old KWPN stallion Konfucius (by Charmeur x Flemmingh) who did his first international Grand Prix last week. The muscled grey stallion is a budding talent, but seemed not ready for the task of an Olympic qualifier with a piaffe that is not established yet (crossing behind, searching in the rhythm). The horse certainly has its highlights with his lovely masculine "see me now" expression in the trot extensions, ground covering extended walk and good two tempi changes, but the ones were crooked and there was a mistake and a loss of stride in the left pirouette also affected the score. They landed 65.652%. 
Hungary's fourth, scratch score was a fraction less, 65.435%, ridden by 2021 European Championship team rider Csaba Szokola on the jumping bred 15-year old Enying (by Balou de Rouet x Acorn). 
Israel Third
Team Israel made a brave effort to qualify for Paris but looking at the facts objectively, they started their push for Paris was too late with inexperienced riders and horses. They needed a 77% Grand Prix score from their first rider in order to beat the team total of Poland. Luxembourgh 5* judge Christof Umbach served as chef d'equipe and supervisor.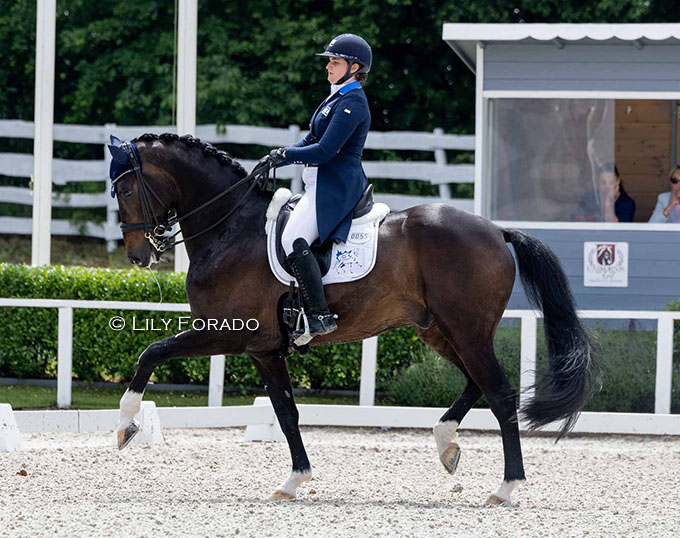 Austrian based Nicola Ahorner is a very experienced rider when it comes to the youth classes from ponies to young riders, but the 23-year old medical student is only at the start of her career as a Grand Prix rider and that's a different ball game. Nicola has amazing horse power in the barn - 2018 WEG team horse Belstaff, 2020 European Under 25 Champion Foco Loco W, and 2022 World Championship team gold medal winner Marshall Bell - but for the Group C qualifier she decided to take her newest acquisition, the 11-year old KWPN gelding Henderson (by Johnson x Roh Magic) who had never done a CDI Grand Prix test before. The horse is certainly brimming with talent and potential but it was expected that professor Foco Loco W would have been more a guarantee for a consistent round instead of raw talent Henderson. 
Nicole did her best and showed plenty of promise for the future: ground covering trot extensions, nice shoulder freedom in the half passes. There was lots of expression in the piaffe and passage, but the transitions are unstable and in piaffe the horse leans on the forehand, despite the massive lift in the forearm. Mistakes in the two tempi line affected the score considerably and Nicola ended up with 65.109% for 12th place.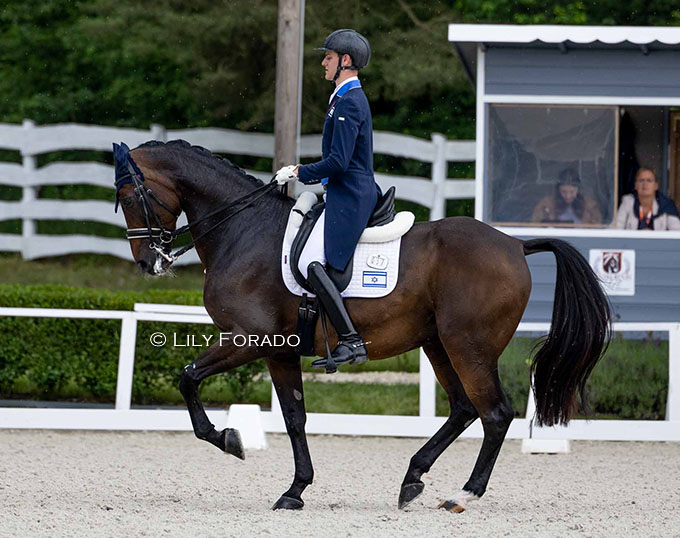 The 20-year old Amit Kovos was the youngest rider in the field and only made his international show debut (at any level) at the end of April. With Dror Ben Shaul's 16-year old KWPN gelding Cupido (by Daddy Cool x OO Seven) he literally had his hands full. The bay was tense and tight in the neck with excessive "white" foam coming from his mouth as the horse stuck its tongue out regularly. Albeit, it wasn't any task for Amit, but he did show some interesting moves with promising piaffe-passage moments. They scored 64.239%
The 32-year old Micah Deligdish, who flew over from the U.S.A. to compete in this event, also had a lot of horse to muster in the 11-year old KWPN bred Handsome C (by Don Tango B x UB 40). She was often see-sawing with the bit to keep the ball of energy with her. Handsome showed plenty of talent for piaffe-passage but travelled too much forward in piaffe. The two tempi changes were big and the pirouettes can become great. They scored 63.174% for 14th place. 
The 23-year old Gon Solt and her 12-year old Hanoverian Bonnaquiqui (by Bonifatius x Rotspon) closed the ranks in 15th place with 63.043%. She kept it safe in the trot extensions, but rode a nice extended walk and regular half passes. The changes were a big issues today and affected the score much. 
 - Text © Eurodressage (this article expresses Eurodressage's' eye-witness account and opinion about the competition).
Photos © Lily Forado - More photos on Lilyforado.com
Related Links
Scores: 2023 CDIO Pilisjaszfalu
Hungary, Poland and Israel Go Head-to-Head in Group C Olympic Team Qualifier at 2023 CDIO Pilisjaszfalu
Stable Unikornis Stages All Comprehensive Competition: CDI-W, FEI Nations Cup, Group C Olympic Team Qualifier, and CPEDI
EEF Resuscitates "Dressage Working Group" with New Board, Strong Interest in Central Europe