Interview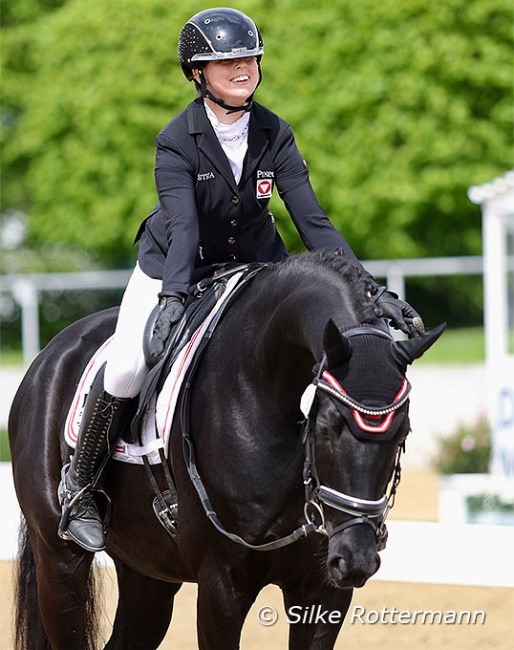 The 2023 CPEDI Mannheim at the beginning of May is always a good opportunity to meet para riders and dig a bit deeper into their personal story, equestrian views, and goals for the upcoming season.
After my interview with Canadian Grade 3 Roberta Sheffield in 2022, this year I met up with Austrian Grade 1 rider Julia Sciancalepore on the first day of competition.
Julia, who is still in her twenties and has cerebral palsy with ataxia since birth, has not (yet) won an international medal, but she expresses something very valuable in competition sport: The joy of doing what she does and the absolute love for the horse. The cheerful Austrian is a professional sportswoman in her country's army and wears her heart on her sleeve when it comes to her beloved sport, dressage.
ED: Julia, I guess it was the young girl's typical love of horses which made you a rider?
JS: Well, when I was three and a half my parents brought me to therapeutical riding  and with six I started vaulting. I was 11 when I started getting real riding lessons from Austrian Brigitte Grieser who is a very good trainer and very selective about her students. Later I was allowed to ride her retired Grand Prix horse and when I rode a flying change at age 12 I had figuratively tasted blood and began getting keen on dressage.
One day Mrs. Grieser suggested me to compete in a para competition around the corner and when I phoned the office I found out it was the national championships of Austria! I rode there as my first para show on a 28-year-old former Grand Prix horse who was in a super state.
ED: Looks like it sparked your interest for para-dressage there?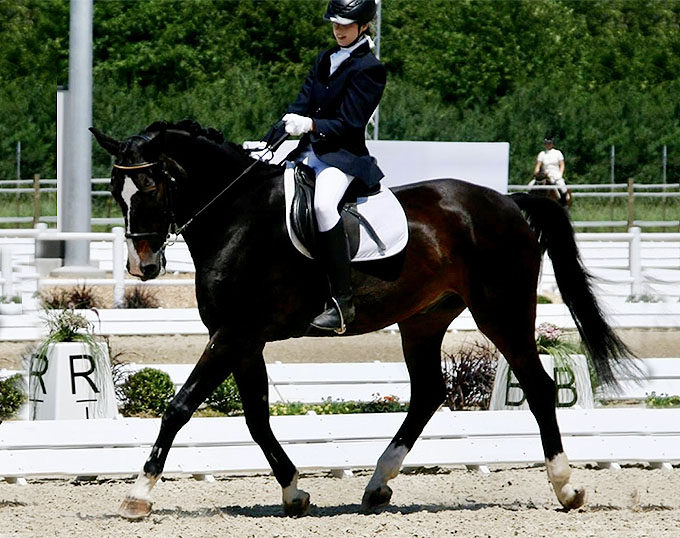 JS: Yes, afterwards I came to Sara Wahl (the daughter-in-law of the late Georg Wahl, former chief rider of the Spanish Riding School) who already trained another para rider, Michael Martin Knauder, at that time. He was classified Grade 1 and had competed in the WEG 2014 in Caen. Well, and then during the first show of the 2015 season I was classified Grade 1 and should only be allowed to ride walk. I cried my eyes out of disappointment, so that the chief judge allowed me one last time to compete the higher grade, but after the show I wanted to stop competing and just be a pleasure rider because I did not want to only compete in walk. But Sara Wahl encouraged me to continue and to target the Olympic Games in Rio. I got her daughter's former 20-year-old Grand Prix horse and we really made it to my first Paralympics.
ED: How did you get the first horse of your own, Heinrich, who is your partner in crime for some years now?
JS: It was obvious after Rio that I would need a younger horse to continue.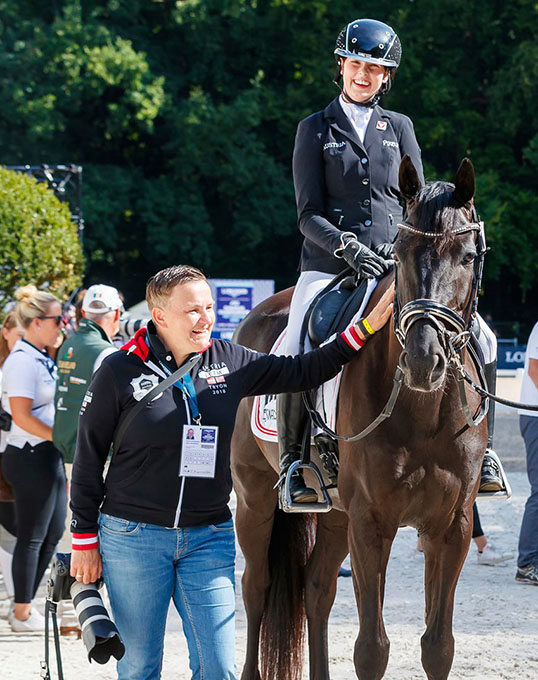 During the Paralympics 2016 Petra Kerschbaum contacted me to tell me she had a horse for me. So Sara Wahl, Petra and I drove to the North of Germany to look at Heinrich, a horse Petra has bred, right after Rio. He was 4, just broken in and in the field. When I took him in from the field to try him out he immediately pulled off one of my sneakers, but after a few meters he realized he had to be more careful with me. A few minutes later when I groomed him he immediately rested his hind-leg so that the croup came deeper and I could groom him more easily.
A Grade 1 rider and a just broken in horse might not sound the ideal combination, but it worked out very well for us. We took Heinrich, whom we all call "Heini" home and incredibly enough, Petra donated him to me. Today we are a super team. He looks after me, follows me like a dog. At home I do classical dressage with him, we jump, we hack and I can lunge him without lunge-line.
That's how life goes: At least mine never goes according to my plans. I had planned after the Rio Paralympics to study, I get myself a good job and then a horse. But then Petra came round the corner with Heinrich, the Austrian Army offered me a job as professional sportswoman, and only finally I studied, thanks to the great program "Top sport and studies" at the University of Klagenfurt, where I was allowed to take more time. Last March I graduated with a bachelor in business economics.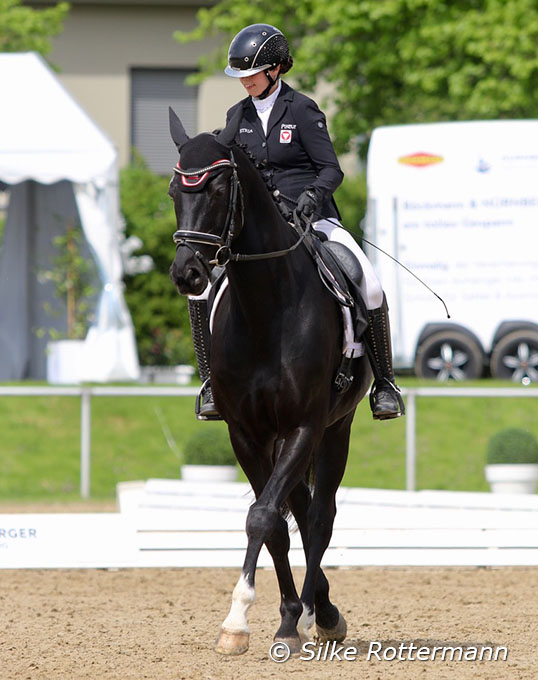 ED: You do a lot with your horse and you do it all by yourself, but you are still classified a Grade I rider. May I ask what you think about the rule that riders get classified into a Grade and need to stay there, instead of deciding for themselves if they want to start in a higher one than they are classified?
JS: Well, if you compare my freestyle with what is asked in the team test…In the freestyle I show trot sequences, on good days even collected and medium trot, I ride zig-zag half-passes in walk. And in the other classes I am only allowed to ride medium walk. Honestly, for me this is not a "Grand Prix" considering the training required.
Of course you also need to ride precisely in medium walk, one has to work out the gait of the horse, ride the lines correctly, prepare half halts and have the horse in a steady contact and working over the back, but one could also ask collected or extended walk, perhaps even a rein-back. Or quarter walk pirouettes, but at least leg yielding or shoulder-in. A rider who can keep his horse straight on the centre-line, compensates the natural crookedness of the horse which means he can also ride leg-yielding and shoulder-fore, if not shoulder-in. These movements could be well included in the Grade I Grand Prix. We speak of "Grand Prix," not intermediate or novice.
ED: What do you think of these different levels which the FEI has now introduced to para-dressage? Novice, Intermediate and Grand Prix
JS: I think it is a very good idea because my very first para-show was immediately the national championships and I as a 15-year old rookie had to compete against somebody like Pepo Puch because we have all grades in one ranking. This was hard to handle.
ED: Do I notice that you regret being in Grade I and not able to showcase what you and your horse are able to do?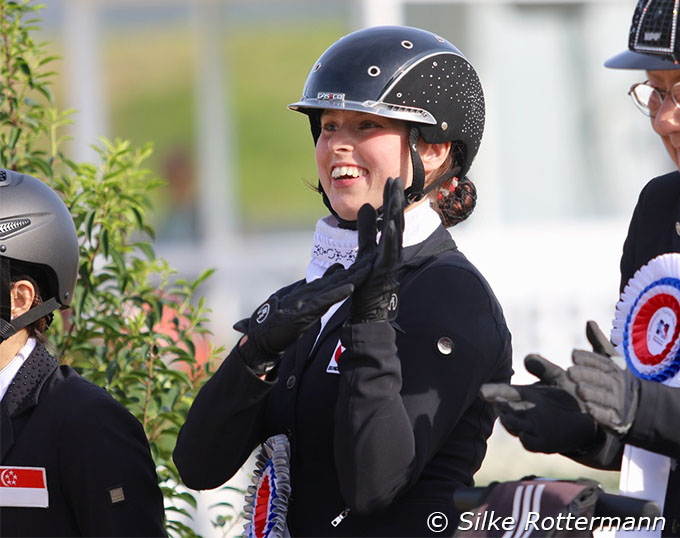 JS: I find it a bit annoying that sometimes people ask me why I ride in Grade I while other riders in higher grades sit less well on horseback. Then I have to explain that the classification for a Grade follows medical viewpoints. To para "outsiders" all this seems illogical.
I think para-dressage needs to become more transparent to people who know able-bodied dressage, but have not yet access to para-dressage. Of course I have my aid tools, but they are only for compensation. At home I train little para-dressage, but ride novice and elementary dressage, I ride half-passes and play with flying changes.
I needed many mental training lessons to come over the fact that I am only allowed to ride walk in competitions. Only one year after I had become a professional through the Austrian army I was far enough to say: It is my job to represent Austria in para-dressage and it has to be irrelevant for me if I show-case myself or ride what is required. I believe there is no job in the world which is perfect.
My attitude is now that I ride the movements we are able to do to warm Heini up, to loosen and activate him. He needs about 15 minutes to warm up, physically and mentally and then he's completely focused and I can ask all of him: For example canter-walk-canter-transitions. In January at home we did the first complete canter-pirouette.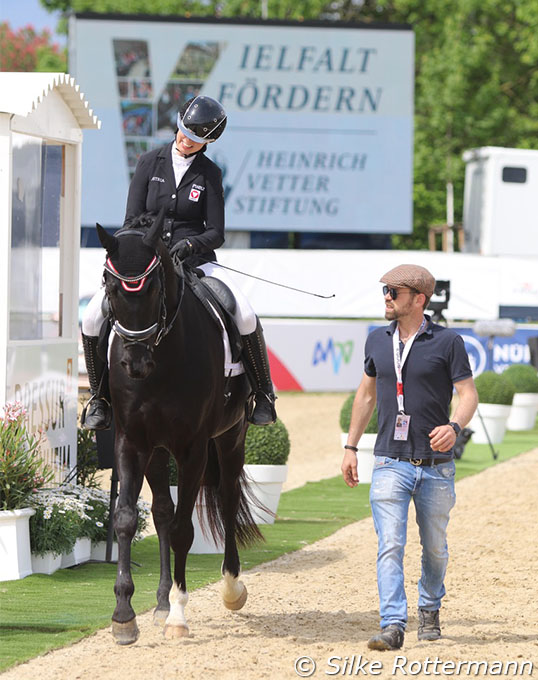 ED: I guess for many readers who are not para experts it is a big question mark how you train a Grade I horse and certainly not every horse is suitable for this task?
There are several aspects: I need a horse with an exceptional walk, one of which an able-bodied dressage rider says: You will never get this walk collected. And the horse has to be really fearless and wanting to please, then it also works well for us.
These are the ideal preconditions, but of course such a horse also needs a lot of normal training, you cannot ride a sport horse only walk or it would explode in no time. Grade I horses need dressage training like any other dressage horse and they need mental compensation: Lots of time in the field, anti-spook training like walking over plastic tarpaulins, look at big posters, flags and go for walks in spooky places. The main thing is that my horse realizes that it can always trust me and that nothing will ever happen to him in the arena. It doesn't matter what happens outside, the horse needs to walk and walk where I point it at.
Of course there are some challenges at the beginning: For example I cannot let the reins slip through my fingers if the horse should stretch, I need to lean forward for this. And my horse had to learn that because at the beginning Heini thought he would loose me and stopped each time I leaned forward. I had to show him that to lean forward means he is allowed to stretch, but these things do not take such a long time.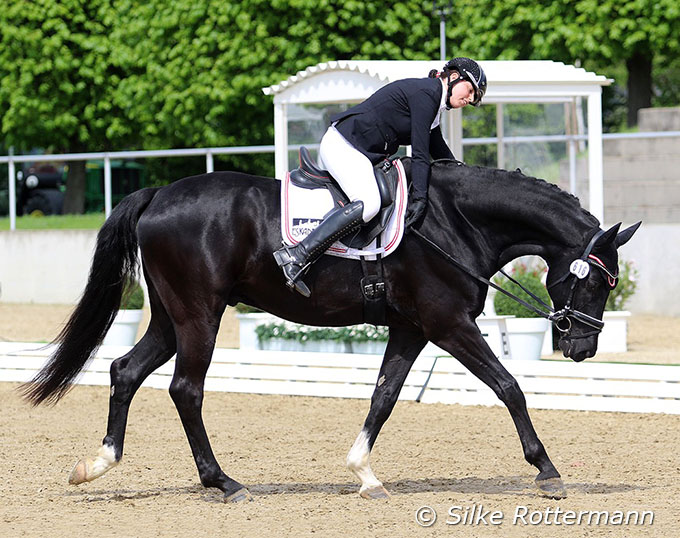 Of course some horses are more suitable than others and a just broken in horse like I had with Heini is a bit hard-core anyway. In general you are never allowed to forget that a horse is as sensitive as he is ridden. If I ride on refined aids, the horse will become more sensitive and more listening to the rider. For example with me I sit neutrally / straight, but if my horse should go more forward, I lean slightly forward and open the hips so that horse has space to stride forward and round the back. I learnt that quite late as a rider, to sit correctly in trot with open hips and not just to sit like in walk or canter. These are very refined aspects which a rider should pay attention to, disabled or not. Only that the able-bodied riders have the choice to also achieve this through sheer strength, which is an impossibility for us disabled riders.
ED: But how can a Grade I horse differ between intended aids and such which the rider gives without intention because of his disability?
JS: There is this saying "There is no bigger secret than the one between horse and rider" and this is very valid for Grade I. My horse and I, we know each other inside out. You really have to take care and spend a lot of time with your horse to achieve this and establish a very close relationships like this.  Heini is that clever he can exactly differ between my aids and a spasticity.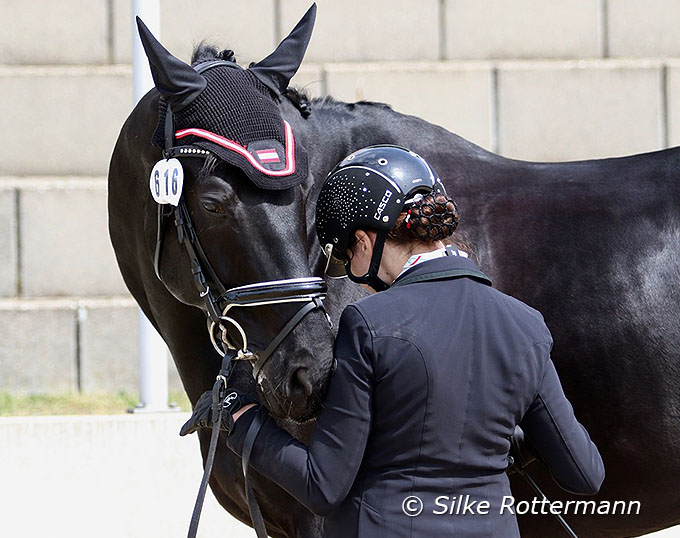 Then of course aids are always combined and so it is usually clear for the horse. The more complex a program is, the more precise the interaction of the aids needs to be, the easier it is for the para horse to differentiate. The horse simply has more indications what I ask him to do. I also ride him a lot by the energy I transfer to him. He also senses if I am nervous and knows then he has to listen even harder. In my case I ride with blunt spurs and I don't touch my horse in case I get a spasticity, but only if it is intended.
ED: This is an important remark because some people criticize that para riders who are not 100% in control of their legs wear spurs.
JS: Yes, but the legs do not reach the horse or they slide by. It is true that with some Grade I riders it looks like they poke with the spurs, but if you look closely the spurs slide past.
ED: You are probably the only professional Grade I rider of the para scene at the moment, this is something really special.
JS: Yes, because of my performances I have an unlimited contract with the Austrian Army. I get a monthly salary and all required insurances paid. And as long as I am doing well in my sport and ride internationally at top level, I am allowed to do my sport.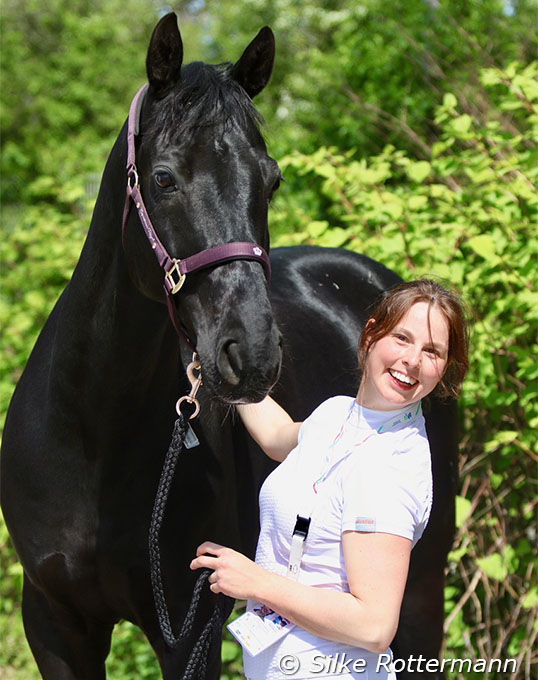 Because my sport is my job I need to be very disciplined. Due to my disability I am in the fitness studio several times a week. I have cerebral palsy with ataxia. I had a lack of oxygen at my birth, my mum and I closely escaping death. Because of the cerebral palsy the muscle control and that of my body are imprecise. The ataxia is dependent on my degree of excitement and causes my body to shake. This means it can be nothing at all, but develop into something hefty.  For that reason mental training is a very important part of my everyday life. I practice it 90 minutes every day. It also includes my training plans and reflexion. With my mental trainer, Christina Lechner, I do workshops on topics which are important for me. So, in the end, I train mentally as I train physically.
ED: Many para riders in the lower grades have trainers who work their horses. For some it might be a necessity, others prefer this way of training. How does your training look like?
JS: I ride Heini five times a week and one time I do ground-work. He is a horse who loves to work, but it is my job to keep him interested and motivated. You cannot ride him around the clock and you need to be very flexible. We do ground work, we jump smaller fences, go hacking, work over cavaletti and I can also ride him just with a neck ring. Heini lives in a super nice stable with a big paddock since we moved to Castle Hallegg Stud which is run by my new trainer, Christopher Erdmann. He goes out in the field and just lives a normal horse's life.
If I sense Heini has an off-day or I, I just do not ride him. For me it is useless to press him through a training, I cannot expect any performance then. On the other hand: If I myself am not feeing well at a show, Heini will always strut his stuff and go medium walk. I can always ride Grade I.
ED: Heinrich is now 11,  but are you looking for a successor?
The plan is that I get another 4-yea -old to build up in a few years. Petra (Kerschbaum) is already planning the breeding (laughs).
Text © Silke Rottermann for Eurodressage - Photos © Silke Rottermann - Tomas Holcbecher - private
Related Links
Scores: 2023 CPEDI Mannheim
2023 CPEDI Mannheim Welcomes Spring and Top Para Dressage Sport
An Afternoon at the 2022 CPEDI Mannheim
Spain, Norway, Finland, Austria, Switzerland Announce Riders for 2022 World Para Dressage Championships
2020 Paralympic Qualification Race Coming to a Close in Genemuiden
All Good Things Come in Threes at the 2018 CDI Fritzens
Three More Days to Go Until the 2016 CDI Fritzens