2023 European Children and Junior Riders Championships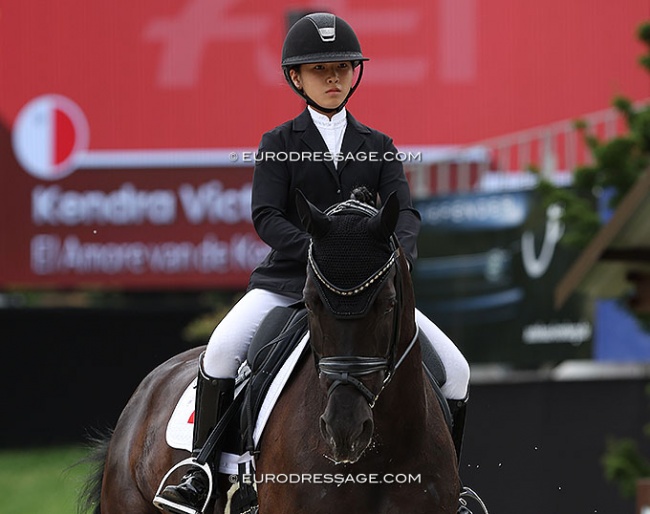 -- Schafhof press release, edited by Eurodressage­
Kendra Victoria Li celebrated a grandiose premiere at Schafhof in Kronberg as the first rider in international dressage history to compete for Malta at an FEI European Championship. The 14-year old Li rode the Belgian bred El Amore van de Kempenhoeve in the 2023 European Children Championship as an individual.
Excellent Run
On day one she rode a personal best score of 76.363% in the preliminary test and went on to finish 14th in the team test and 17th in the individual final on Sunday.
"We are top satisfied," said Li's trainer Fabian Scholz. "Kendra rode in a championship for the first time, she did great and we are very happy."
For Kendra herself, a childhood dream has come true, more precisely a 'princess dream'.
Globetrotter
The Li family is from Hong Kong, lives in Singapore and loves to travel to Europe.
"Once we visited Malta during our travels, we immediately fell in love," said dad Kenneth Benjamin Li. "Our whole family loves Malta, so a few years ago we decided to take up residence there and become Maltese citizens."
Kendra was fond of horses from the start
"All Kendra ever wanted to do was ride, from a very young age," Kenneth explained. "The trigger was Disney's princesses, who were always pictured riding horses - she wanted to be one of those princesses, too." The parents were not at all thrilled with the idea at first and stuck with 'no, no, no.' "But then we were going on a ski vacation and our dog got sick, so we couldn't go. Because the kids were very sad, Kendra still has two siblings, I asked what they wanted to do instead. And Kendra, of course, immediately said, 'horseback riding.' So we had no other choice."
Getting Started on Lilly
For a year, Kendra, then five years old, cleaned ponies and horses at a riding school in Singapore before she was finally allowed to start riding lessons. In 2020, the Li family bought the pony from the riding school that Kendra had been riding in lessons until then: 16-year-old Lilly. Kendra spent two years learning from and with Lilly, and she is now enjoying her retirement in a beautiful pasture in Germany.
"It was clear to us from the beginning that Lilly should retire at 18 and enjoy the rest of her life," Li explains. "That's why we brought her to Germany; the opportunities are simply better here." Now the Li family was looking for a horse for Kendra and came to Fabian Scholz via recommendation. There the family found what they were looking for.
In 2021, Kendra spent her summer vacations at the Scholz family's stable in Sassenberg, learning with her new horse. After that, the horse started its journey to Singapore. Since then, trainer Scholz regularly travels to Asia and supports the pair. Kendra's progress was tremendous and an idea, the EM idea, germinated cautiously.
El Amore van de Kempenhoeve
El Amore van de Kempenhoeve is a 2010 born SBS registered gelding by San Amour out of Bitte van de Kempenhoeve (by Florencio x Londonderry).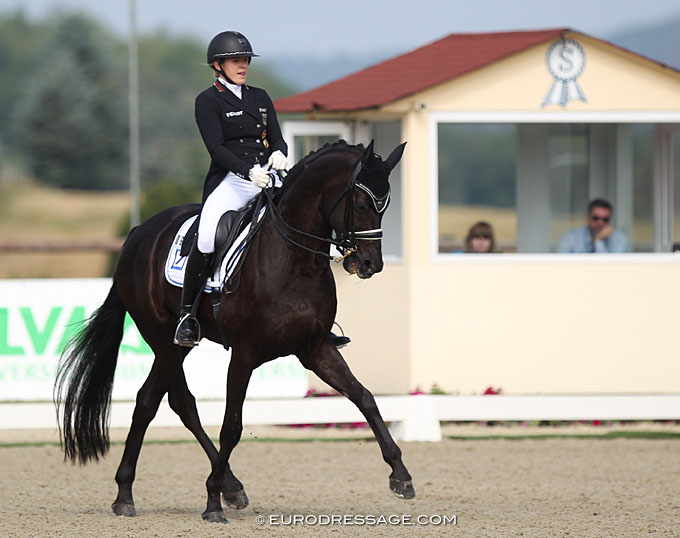 He is bred by Mark Dries in Belgium and was discovered by Heinrich Plaas-Beisemann at Dominque D'Hoore's stable in the Netherlands in April 2020, who recommended the horse to Germans Paula and Katharina Füßmann. They purchased the horse and Paula first competed him in 2020 at L-level and was trained by Anna Christina Abbelen, who then took over the ride and produced and showed the horse at small tour level. They rode in the 2020 CDI Hagen at Prix St Georges level. Through 2021 Abbelen and Füßmann alternated the ride on the elegant gelding. In October 2021 Paula moved to Florine Kienbaum and Olivier Oelrich with her horses and Paula competed El Amore last in October 2022 at M-level.
El Amore then sold from Oelrich's barn to the Li family as Kendra's children hopeful. 
"At the beginning of the year, the Li family bought 'Amore' from us, but the European Championship was still a very distant dream," Scholz says. "Piece by piece we moved closer to the goal and now we are here. That Kendra then turned such a great round today, that's the candy on top."
Commuter Rider
Like several other affluent riders competing at the European Children and Junior Riders Championships, Kendra kept her horse in Germany while commuting between her home base and the barn. 
Amore stayed in Sassenberg and continued to be trained by Carina Scholz.  Kendra comes to Germany every free school week accompanied by her mother or father and then trains with Amore with Fabian Scholz. Before the European Championships, Kendra spent seven weeks in Sassenberg and devoted herself entirely to preparing for her first championship.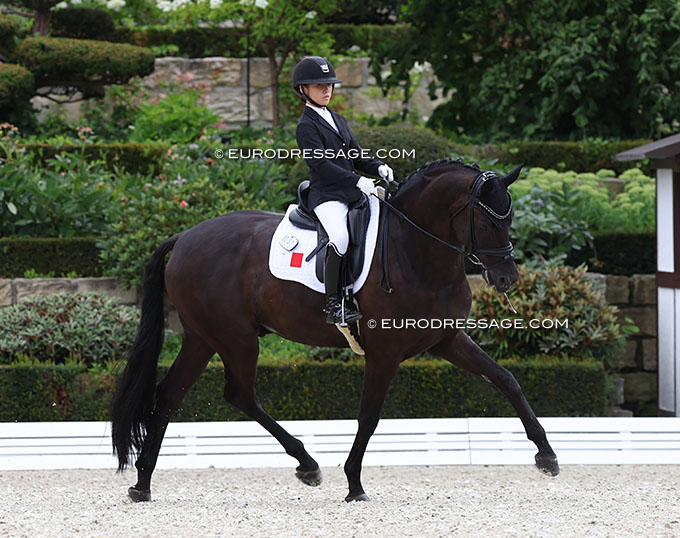 The pair made its CDI debut in Troisdorf in April 2023, where they finished third. They went to the CDI-CH in Hagen before premiering at the European Championships. 
Maltese Support
Exactly three riders are listed for Malta at the FEI international dressage 2023, including Kendra, but the country is looking to expand equestrian sport.
"We are getting really great support from the Maltese Federation," Kenneth Li points out. "We are in very close contact and feel very comfortable working with the federation."
Scholz added, "I have a tremendous respect for the effort that the Li family has put in to make this Maltese premiere possible. What's all behind it, this effort from the whole family, it's admirable."
Photos © Astrid Appels 
Eurodressage took photos of all competitors. If you are interested in photos for social media use, send us an email and you can BUY our photos 
Related Link
Eurodressage Coverage of the 2023 European Children / Junior Riders Championships