Malaysia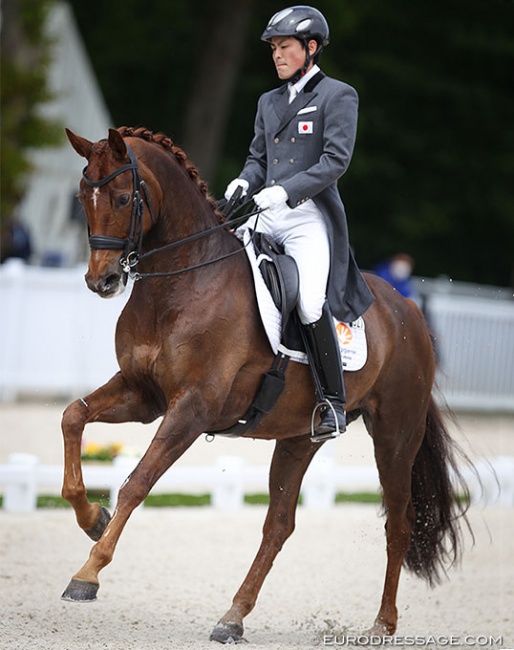 While the definite entry list for the 2023 Asian Games still has not been posted by the FEI one month after the due date, several countries have already announced changes in their team line-up.
Japan
The Japanese dressage team will only be fielding three riders to Hangzhou. The fourth qualified team member, Fumiyasu Nishiwaki and Dodge Raider, have been dropped as the pair did not achieve the required minimum average of 67% at the team qualifier. Only three riders who competed in the trials achieved this minimum requirement. 
The Japanese team will now be represented by Ryunosuke Kuroda (Belattre DES), Maria Takada (Britania), and Akane Kuroki (L'Esperado).
Malaysia
Malaysian Qabil Ambak was supposed to compete his 17-year old Hanoverian Rosenstolz (by Rotspon x De Niro) at the Asian Games but he has declared another horse.
Instead he will be riding Napoli TH, a 10-year old Swedish warmblood  by Floricello x Flemmingh, bred by Christian Hansson. Owned by Priess stutteri, Napoli was selected by Ambak's trainer Dennis Fisker as the second reserve for the Danish young riders team for the 2023 European YR Championships. He was shown by Pernille Korsgaard Madsen.
Rosenstolz was Ambak's 2018 Asian Games and 2017 South East Asian Games ride, with whom he won the individual gold in 2017 and individual silver in 2018. Ambak competed Rosenstolz only once in 2023 at the CDI Herning last March where they posted 66.088% in the Prix St Georges and retired from the Intermediaire I.
For Malaysia also Sue Yian Quek and Always Magic has been nominatively entered.  
Kyrgyzstan, Philippines, Palestine, Singapore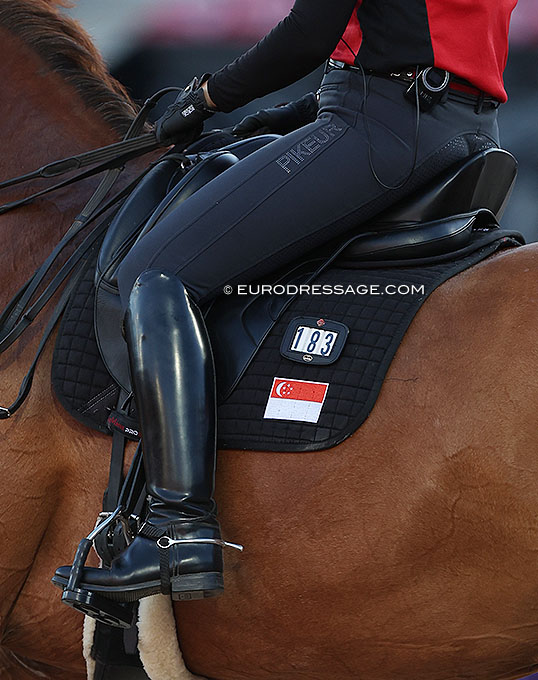 Kyrgyzstan, officially the Kyrgyz Republic, is a landlocked country in Central Asia, and has nominated three riders for a team.  They are Sergey Buikevich with two horses, Don Kamillo and Abu Dabi N, as well as Myrzat Sabitov on Azzaro and Ekaterina Karkavtseva on Botsman. 
Singapore nominated three riders for a team: Roshni Ranjani Pannirselvam (on Akeno), Zhi Xuan Alyssa Tan (on Frodo) and Tara Yen Wee (with three horses: Herve Leger, Indino, and Jorito). Only Pannirselvam competed in a CDI in 2023, in Troisdorf where she posted 61.569%.  Tan has never showed internationally while Yee competed one year internationally, in show jumping, in 2017.
One individual rider has been declared for the Philippines and that is Maria Antoinette Leviste aboard Donna Clara (by Don Crusador x Brentano II). She competed at the CDI's in Ornago and Achleiten this year after a four-year break from international competition.
For Palestine Shayne Allise Steyteyieh has been nominated on Frankie, although it seems uncertain she will compete. Her first, last and only international show was in 2012 as a young rider. 
Thailand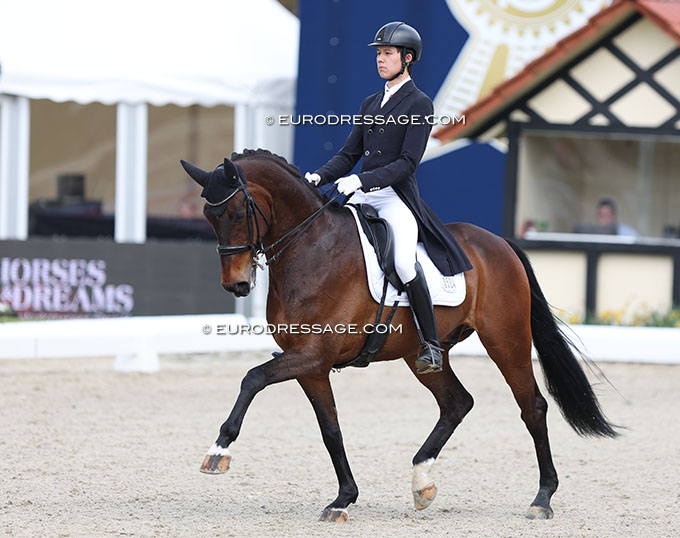 The nomination of the Thai team has been a complete mystery with Thai riders competing heavily in Europe throughout the spring and summer season and then hearing the team selection is based on scores achieved in the Prix St Georges at the CDI Kronberg in July. 
Furthermore, only three spots were available on the team, with one spot automatically reserved for HRH Princess Sirivannavari Mahidol, no matter her scores.
The rumoured Thai team, based on the highest scores in Kronberg, are HRH Princess Mahidol (Samba King or Dream Catcher), Supasin Kongpun (Belcanto), Pawarisa Thongpradup (Generaal), and Suphajit Vuntanadit (Wall Street JV). No reserve combinations have seemingly been named even though Thailand had several more long-listed riders in the running. 
The news section on the official website of the Thai Equestrian federation has not been updated since 2021. The last post on their instagram was almost a year ago.
Related Link
Eurodressage Coverage of the 2023 Asian Games