Portugal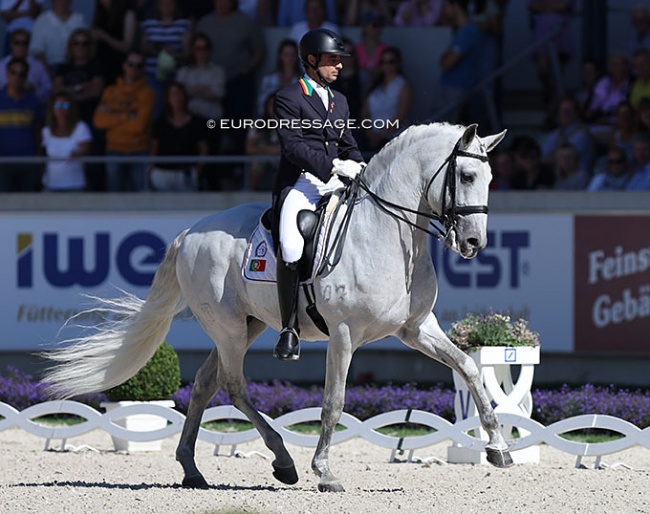 Portugal, the country known best for the Lusitano horse, will be announcing their European Championship team this week with the definite entry date on 25 August.
The short list of the Portuguese Equestrian Federation had a prominent Lusitano combination missing, which could have been reunited for Riesenbeck.
Reunion of Torres and Fogoso Campline?
Unfortunately absent from the Riesenbeck short list is also for instance, last year's Portuguese team member at the 2022 World Championship in Herning, Martim Meneres on Lusitano Equador. Team Campline was also surprised to see another popular pair - Rodrigo Moura Torres and Fogoso Campline - missing from that list.
Campline regrets Portugese selectors did not put them on the entry list as an iron in the fire. Torres and Fogoso Campline achieved their MER scores for Riesenbeck in 2022 after enthusing the crowds in the 2022 CDIO 5* Aachen Kur to Music. 
"As crowd favourites of the 2021 Tokyo Olympic freestyle finals, Torres and Fogoso Campline could have been the necessary back-up for Riesenbeck giving Lusitano flair to the Portuguese team," Campline stated.
European Championships and Pan American Games
Team Campline announced earlier this year that Fogoso would be the ride of Brazilian Renderson Oliveira with the 2024 Paris Olympics as the target.
Campline, the full owner of this stallion and the company which aims to blaze a new trail for Lusitano horse breeding and international dressage sport, stated, "our commitment to in-house production is focused on elevating the Lusitano breed. We are pushing full force towards the empowerment and continuation of the PSL lineage, the training, and their performance."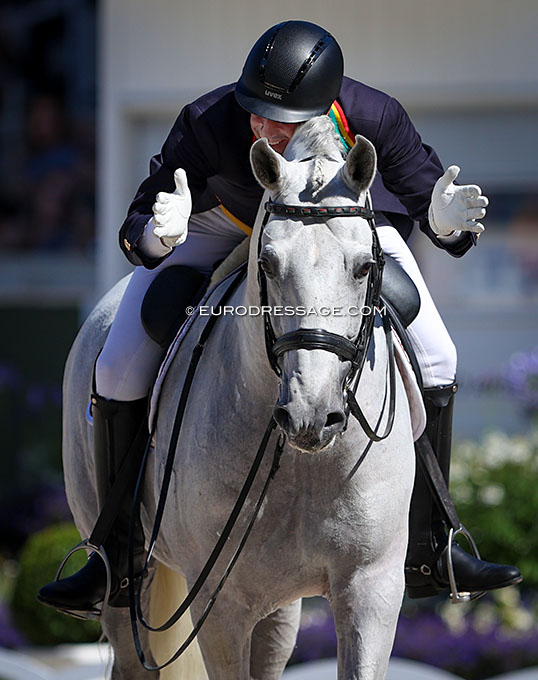 The Portuguese horse breeding company wonders why the Portuguese Equestrian Federation did not open a line of communication and include the pair as a last-minute option to put extra scoring power on the Portuguese team.
Olympic Team Ticket Up for Grabs
In Riesenbeck a 2024 Olympic team ticket is up for grabs. The three highest scoring nations, not yet qualified, will earn a berth in Paris, so it is in Portugal's best interest to select the fittest and strongest scoring combinations in the country.
"Fogoso Campline could be the Puro Sangue Lusitano with the MERS to participate in the European Championships under the Portuguese flag while also being qualified for the Pan American Games with his new Brazilian rider," said Campline. "The Portuguese equestrian federation should consider putting Fogoso on the definite entry list for Riesenbeck. What shall it be?"
FEI General Rules Article 116 about "Entries" reads "The definite entries may not exceed the number listed and must be chosen from the list of names on the nominated entries. After the definite entries have been sent in, substitutions of Athletes and/or Horses may only be made with the express permission of the OC."
Photos © Astrid Appels
Related Links
Eurodressage Coverage of the 2023 European Dressage Championships
Rodrigo Torres' Tokyo Olympic Sensation Fogoso to Compete for Brazil
Campline Acquires Hot Hit OLD to Compete under Portuguese Flag
Campline's Escorial and Fogoso Not to Stand at Stud in 2023
Horse Campline's 2021 CDI Abrantes: Tokyo MER Meeting Point for Torres and Oliva
Phenomenal Success for Campline Horses in First Year of Operation: Brazilian and Portuguese Olympic Records
Horse Campline Invests in Portuguese Team Horse Fogoso