Austria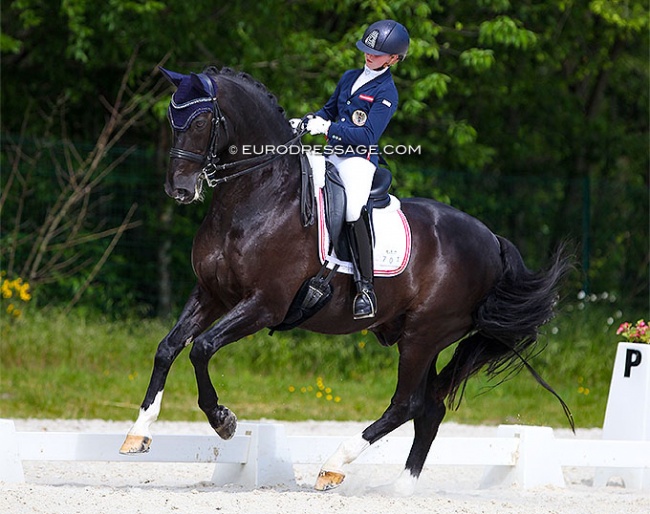 Coco Procol Harum, a long-time Austrian team horse that took three riders to five European Junior/Young Riders Championships, has been retired from sport.
Coco Procol Harum is an 18-year old Oldenburg by Cheenook out of Gaziona (by Carprilli x Schoner Abend). He is bred by Klaus and Dietrich Schrader. 
German Start
Named after the 1960s British rock band Procol Harum which contributed to the development of progressive rock, the black was first competed as a 4-year old by Michaela Riebe.
Shortly afterwards breeder Klaus Schrader took over the ride. In the summer Philupp Mücke began competing the horse at A and L-level before owner Constanze Rugheimer climbed aboard in 2011 and moved him up to S-level by the summer of 2012.
Florentina-Gisi Lorenz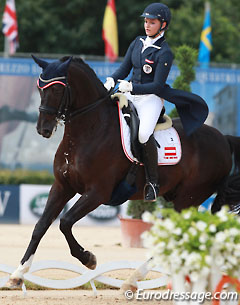 Coco Procol Harum sold to Austrian Florentina Gisi Lorenz in the autumn of 2012.
Florentina rode her last year on pony Golden Juicy FL in 2012 and moved into the junior ranks with Sir Anthony (by Aljano x Libertino) and Coco Procol Harum. The new pair made its international show debut in Nice in March 2013 and competed him at CDI's across Europe at junior level until 2016 and at young riders' level in 2017. 
They represented Austria at the 2014 European Junior Championships in Arezzo, where they were 16th in the Kur to Music. At the 2015 Europeans in Vidauban they were 20th in the individual test and at the 2016 Europeans in Oliva Nova, they placed 26th in the individual test. Their fourth, consecutive European Championships was in 2017 at Young Riders' level in Roosendaal, where they were 28th in the individual test. 
The Europeans in Roosendaal were the last CDI show of this pair, but also the last of Florentina-Gisi Lorenz who disappeared from the international show scene. 
At the Austrian Championships they won gold (2014 and 2016), silver (2017) and bronze (2015)
The Jöbstl Family
Coco Procol Harum sold to the Jöbstl family, who was then based in Switzerland.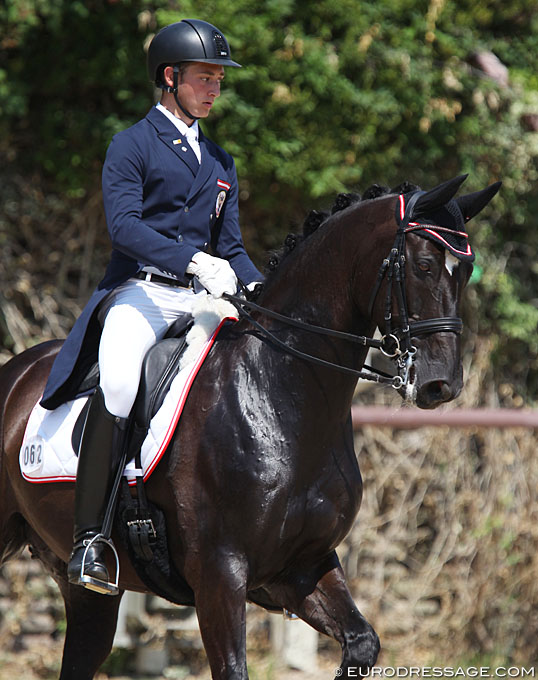 He was first allocated to Paul Jöbstl as his junior horse and they won bronze at the 2018 Austrian Championships before debuting internationally at the CDI Aachen Indoor in December 2018. In 2019 they campaigned at Ornago, Wiener Neustadt, Lipica, Achleiten before heading to the 2019 European Junior Riders Championships in San Giovanni, where they were 27th in the individual test.  In 2020 he rode a few more CDI's at junior level and the horse was nominated as a team reserve for the Europeans as Paul opted for Dunkelbunt. In October 2020 they moved up to young riders level.
In 2021 the ride was handed over to younger sister Florentina Jöbstl who competed him at international junior level for two years. They were 8th at the 2021 Austrian Junior Championships, but in 2021 Florentina chose to ride the European Pony Championships on Colourfull Cannonball and in 2022 she rode the European Junior Championships on Floortje with Coco being the reserve horse.
Retirement
Coco's last international show was the CDI Achleiten in June 2022. Nationally he did a few more shows and last weekend performed in his first young riders' test with Florentina, which also turned out to be the horse's last competition in his sport career.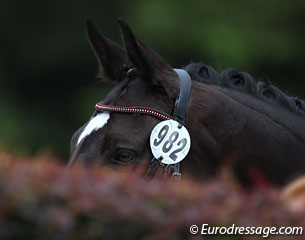 Coco Procol Harum has been retired from sport at age 18.
"Thank you Coco for being the best schoolmaster one could ever have," said Florentina. "I'm so happy that we could make the end of your competition carreer one to truly remember! My first Prix St. Georges and your last."
Photos © Astrid Appels - no reproduction allowed
Related Links
Eurodressage Photo Database: Coco Procol Harum
Austrian Teams Selected for 2022 European Junior/Young Riders Championships
Jöbstl, Abfalterer, Jöbstl, Hohenwarter, Porsche, Schumach Win 2021 Austrian Dressage Championships
Stallmeister, Ochsenhofer, Wurzinger, Pengg, Valenta, Weinbauer Win 2018 Austrian Dressage Championships
Hanoverian Stallion Bodyguard New Junior Ride for Paul Jöbstl
Austrian Riders Selected for 2017 European Junior/Young Riders Championships
Hohenwarter, Thonhauser, Wurzinger, Porsche, Gmoser, Valenta, Weinbauer Win 2017 Austrian Championships
Ahorner, Lorenz, Weinbauer Win 2016 Austrian Dressage Championships
Austrian Riders Selected for 2015 European Junior/Young Riders Championships
Ahorner, Wurzinger, Pointinger, Max-Theurer Win 2015 Austrian Dressage Championships
Ahorner, Lorenz, Pointinger, Max-Theurer Win 2014 Austrian Dressage Championships