Portugal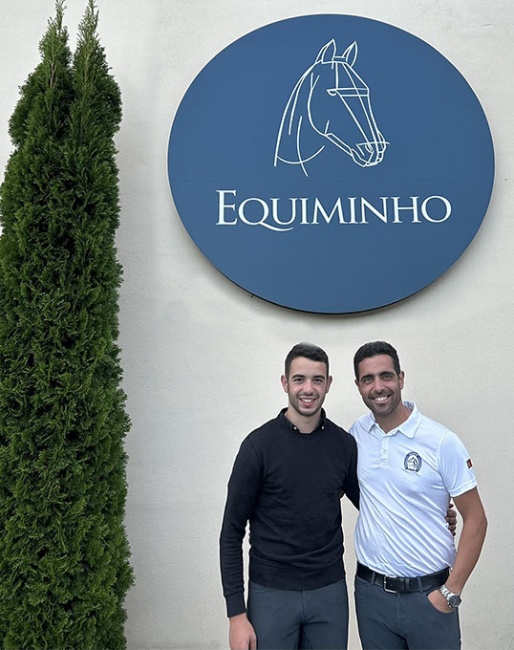 Portuguese Grand Prix rider Roberto Brasil has made the move to independence and set up his own business at the brand new facility, Equiminho, in Barcelos, Portugal. He is joined in this project by Portuguese aspiring young rider Tiago Andre Ferreira. 
In addition the 36-year old has signed with an exciting new sponsor which sparks his fire for the Olympics.
Transatlantic
Roberto established himself as a young dressage professional in the U.S.A., working there as a rider and trainer from 2014 till 2019. 
He made his international show debut in 2017 on Oldenburg mare Whoopie Gold (by Wolkentanz II x Romancier) in the medium tour and showed from young horse to Grand Prix at national level, earning his USDF Gold Medal. Aboard Furstin P he achieved 11 victories in a row in one year with scores over 80%.
In 2019 Brasil returned to his roots in Portugal and through the help of dressage judge and trainer Carlos Lopes he began riding for Brazilian-Portuguese Lusitano stud farm Coudelaria Vila de Sagres. This partnership yielded five productive years of training, learning, and producing exciting young prospects up the levels as well as earning mileage at international dressage shows in Portugal, Spain and north Europe. 
Roberto campaigned horses such as Grand Prix stallion Hercules d'Atela (by Soberano out of Vaqueja d'Atela) as well as Junior Rubi d'Ilheu (by Rubi AR x Oceano MBV). Most recently he represented Portugal with the 4-year old Van Sagres (by Vitalis x Franziskus) and 7-year old Westfalian Victory Prime (by Veneno) at the 2023 World Championships for young dressage horses in Ermelo (NED)
A New Chapter
After five years working for Coudelaria Vila de Sagres, Brasil has started a new chapter standing on his own two feet, although he will keep ties with that farm.
"I was very happy being in the stable of the Caetano family. It was the most productive period of my life, but it's more than time to be on my own now. I have produced enough horses to Grand Prix level that I feel safe to make this step," Brasil explained. "Together with my student Tiago Andre Ferreira we decided to open a business together. This is a 50/50 partnership between the two of us."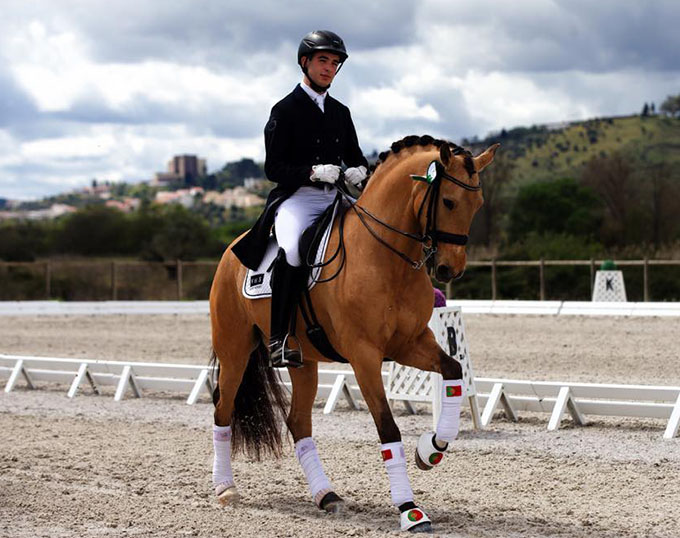 The 18-year old Tiago is an international junior rider who made his CDI debut in 2022 and straight away was listed as reserve for the Portuguese team for the European Junior Riders Championships.  He gained show mileage at the CDI's in Abrantes, Beloura, Alter do Chao, and Camarma de Esteruelas aboard the striking palomino Lusitano Jumbo Diamantes (by Xerife dos Diamantes).
Young at heart and passionate for the sport, Tiago feels a career in horses is the right step for him at this moment. He will be making the transition to Young Riders level in 2024.
"This project is about both of us," Roberto disclosed. "Tiago has the horses, he has the support behind him and he'll be aiming for Young Riders and even Under 25 if the horses are ready."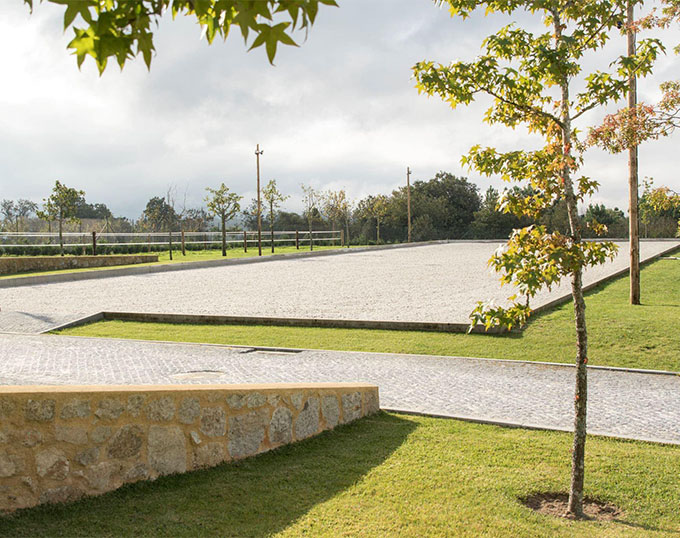 Roberto added, "my whole business will move to the north, where my heart is. It's a great area, close to the airport, close to the beach. In this area there is also no piroplasmosis, which is quite prevalent in the rest of Portugal, unfortunately, so it's better for the horses there."
Equiminho
He has found the perfect base at the brand new dressage stable Equiminho with its state of the art facilities. Its serene architecture blends in with the quiet, rural landscape and the facilities are made for top sport dressage. 
"We opened our doors at Equiminho on Monday and we are already fully booked. Only one stall is still free," said Roberto. "We plan to do a grand new opening in the autumn. We are fully managing the stable for the owner, the Pimenta family. This barn has all we need: the best footing, the safest stalls, everything is there."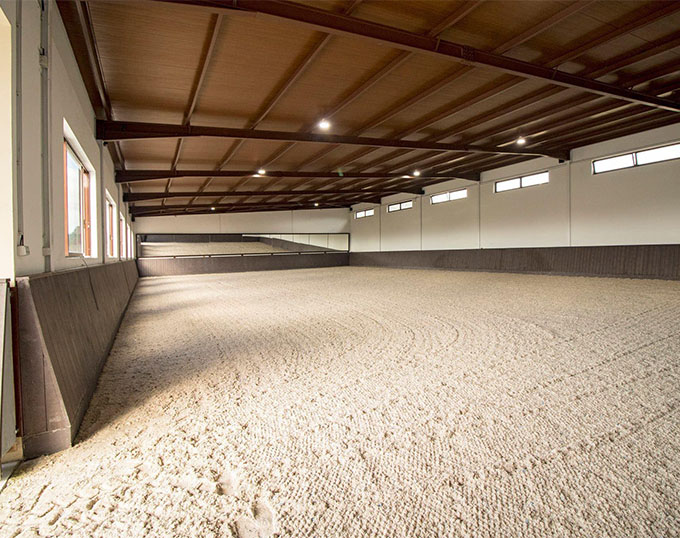 Roberto has retained the ride on Vila de Sagres' Hercules d'Atela and has taking his own and other clients' horses up north, including Van Sagres, Victory Prime, Junior Rubi d'Ilheu, and an exciting rising Grand Prix horse Manchete OC (by Totilas). The focus of his business is to produce horses from young horse level to Grand Prix and compete them at national and international shows.
"It's very rewarding for us to start a business with already a fully booked stable without having done any publicity," said a proud Roberto. "The entire barn is full with clients from abroad, so they have found their way to us and Portugal."
Brasil is also excited that a new big investor has agreed to support him in the coming years with fresh horses which fuels his Olympic fire.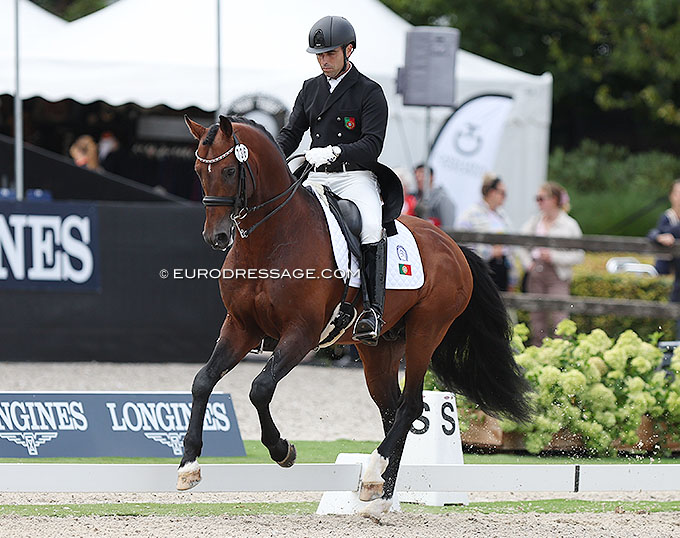 Photos © Astrid Appels - Carolina Duarte - private
Related Links
Portuguese Horses Selected for 2023 World Young Horse Championships
Vila de Sagres and Roberto Brasil Unite to Boost Brazilian Bred Lusitanos in Dressage
Vila de Sagres' Hercules d'Atela and Roberto Brasil Make Headway as Medium Tour Winners at CDI Las Cadenas
Vila de Sagres' Hercules d'Atela is the Nr 1 in Portuguese Medium Tour Ranking - Ready for CDI Grote Brogel
Piaffe Performance Is Winning Ribbons and Presenting Medals at 2017 Global Dressage Festival