2023 Swedish Warmblood Young Horse Championships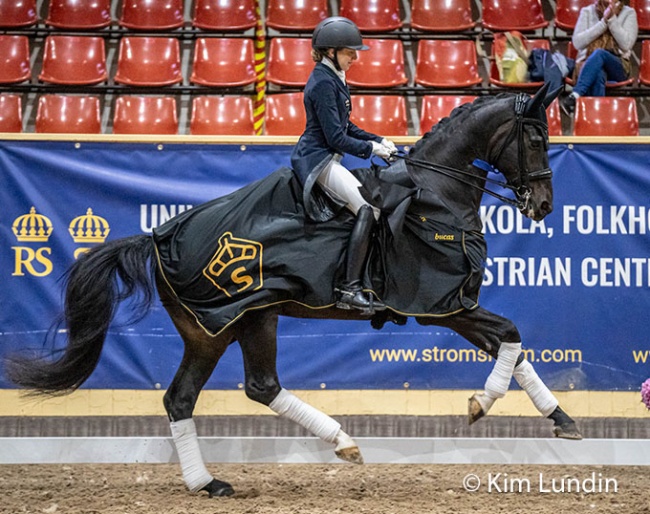 The 3-year old Quick Dream, the 4-year old Verdesse II VH, the 5-year old Vive la Reinne II VH, the 6-year old EmmyLou, and the 7-year old Diploid became the winners of the 2023 Swedish Warmblood Young Horse Championships held in Flyinge.
The annual SWB Young Horse Championships feature a packed programme of classes for dressage and show jumping horses spread out over two weeks, as well as a Swedish warmblood elite foal auction, which took place on 29 September 2023. Dressage took centre stage the first week  from 24 September - 1 October 2023. 
The 3-year old champion's title was won by Quick Dream, a gelding by Quaterhit x Benetton Dream, bred and owned by sisters Anita Hernodh Hassel and Anki Hernodh and presented by Camilla Axelsson. The dark bay was a league of his own, scoring 9.5 for trot, 8.8 for walk, 9.3 for canter, 8.8 for suppleness and 9.3 for general impression. With a total of 91.40 points he stayed well ahead of runner-up Devin Franco GJ (by Vivino x Bon Coeur) who scored 84.40 under Minna Telde. Axelsson also picked up bronze aboard Ninnis Seabank (by Springbank II x Zack).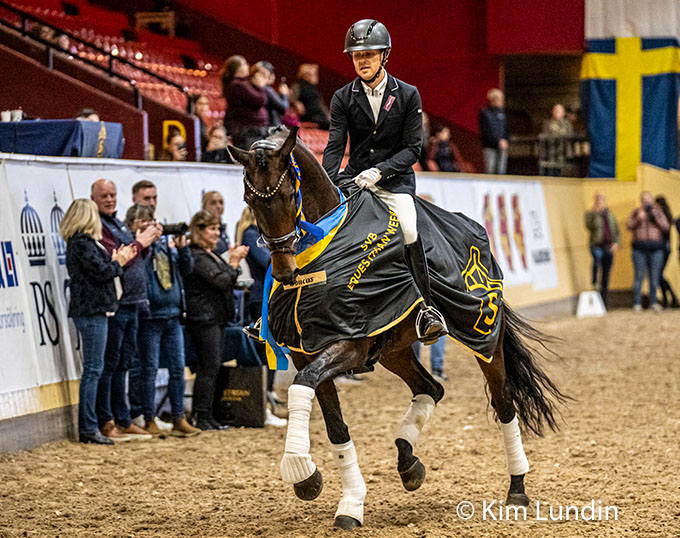 The highlight for the spectators is each year the 4-year old finals as a celebrity rider gets invited to test ride the youngsters. This year that was Benjamin Werndl who turned the finals into a masterclass. He chose the Vastra Hoby's mare Verdesse II (by Valverde x First Wish) as the winner. Under Jacob Norby Sorensen the mare was third in the first round with 86.60 points but was favoured by Werndl in the test rider finals with a 9.5 for rideability and 10 for potential.
The 5-, 6- and 7-year old finals followed the FEI format in which the "Finals Test" decided the winners. The 5-year old champion is Vive La Reinne II (by Revolution x De Niro), owned by Vastra Hoby and ridden by Danish Maria Anita Andersen. The bay mare got 8.8 for walk, 9 for trot, 9.3 for canter, 9 for submission and 9.5 for perspective. In the 6-year old finals Mikaela Alderin rode mare EmmyLou (by Furstenball x Emmerton) to the title with a 90.40 total. The mare got 8.5 for walk, 9.5 for trot, 9 for canter and submission and 9.2 for perspective. In the 7-year old finals Vendela Eriksdotter Rubin and her long-time partner Diploid (by Hesselhoj Donkey Boy x Topaasch) took their third, consecutive SWB Young Horse Champion's title. They scored a total of 79.429% for the victory.
Photos © Kim Lundin
See all results here. 
Results - 2023 Swedish Warmblood Young Horse Championships - Flyinge
3- year olds (top 15 out of 53)
Rider - Horse - trot walk canter balance/submission general impression - total
1. Camilla Axelsson  - Quick Dream (Quaterhit x Benetton Dream) -  9.5 8.8 9.3 8.8 9.3 ---  91.400  
2. Minna Telde  - Devin Franco GJ (Vivino x Bon Coeur) -  8.5 8.2 8.5 8.4 8.6 ---  84.400  
3. Camilla Axelsson  - Ninnis Seabank (Springbank II  x Blue Hors Zack) -  8.5 8.5 8.5 8.0 8.4 ---  83.800 
4. Olivia Gustavsson  - El Classico (Ironman H x Sandro's Adel)  -  8.2 8.0 9.0 8.2 8.4 ---  83.600 
5. Emma Evaldsson  - K. Xantorini (Vivaldon x Blue Hors Hertug)  -  8.4 8.5 8.2 8.0 8.4 ---  83.000 
6. Rianna Percy  - Morricello II VH (Morricone x Floricello)  - 8.3 8.0 8.2 8.0 8.3 ---  81.600  
6   Adam Pettersson J - anet Jackson GJ (Americano GJ  x Sezuan)  -  8.4 7.2 9.0 8.0 8.2 ---  81.600 
8. Alicia Ryan  - Uarda VII VH (Springbank II  x Akribori)  - 8.4 8.0 8.2 7.7 8.2 ---  81.000  
9 Jönköpings Fältrittklubb 27 Mikaela Alderin Emiliano (by Bon coeur x Emmerton) - 8.0 7.8 8.2 8.0 8.2 ---  80.400 
10.  Ella Åberg - Boron PS (Bon Coeur  x Zuidenwind) - 8.0 8.3 7.8 7.8 8.0 ---  79.800  
10. Ella Åberg  - Minttu (Hove's Terminator x Painted Black) -  8.3 7.2 8.4 7.8 8.2 ---  79.800 
12. Camilla Axelsson  - Viveur (Vivaldon x Sir Donnerhall I) -  8.4 7.2 8.4 7.8 8.0 ---  79.600  
12. Erik Magnusson  - Quarrington (Quaterhit x Briar)  - 8.3 7.8 8.0 7.5 8.2 ---  79.600  
14. Camilla Axelsson  - Infusion d'Amande (by Ferdades x Andretti)  -  7.8 8.0 7.8 7.8 8.2 ---  79.200  
14. Ida-Linn Lundholm  - VillD (Vivaldon x D-Day)  -  7.8 8.2 7.8 7.8 8.0 ---  79.200 
14. Jeanna Högberg  - BE Air Forze (Suarez x Sir Oldenburg) -  8.2 7.0 8.2 8.0 8.2 ---  79.200  
14. Frida Svensson  - Intill Sketch (Blue Hors St. Schufro x Blue Hors Zack) -  8.0 7.4 8.2 8.0 8.0 ---  79.200 
4-year olds
1.  Jacob Nörby Sörensen - Verdesse II VH (Valverde x First Wish)  - 86.600 - 97.500 ---  92.050 
2. Evelina Johannisson  - Intill Icicle (Ironman HDon Schufro)  - 84.200 - 95.000 ---  89.600 
3. Martin Ågevall  - Ze la vie (Gammelenggårds Zappa x Sir Bedo)  - 87.600 - 90.000 ---  88.800
4. Johanna DueBoje  - Ester (Total Hope x L'Acteur) - 83.400 - 90.000 ---  86.700 
5. Jeanna Högberg  - Severucci Ht (Secret x Rubinrot) -  86.200 - 85.000 ---  6 85.600 
6.  Yvonne Österholm  - Soretto (Blue Hors St. Schufro x Quaterback)  - 87.400 - 82.500 ---  7 84.950 
7.  Lovisa Hasselblad  - Särös Frances (Vitalis x Friendship)  - 81.600 - 87.500 ---  84.550 
8. Sofie Lexner -  Jiihous (Jovian x Johnson) -  81.600 - 82.500   ---  82.050
9. Hanna Walfridsson  - Torpagårdens Chiesa (Gammelenggårds Zappa x Lasandos)  - 80.600 - 80.000 ---  80.300
10. Amanda Molin Eriksson  - Skillinge Kilian (Springbank II  x Zambuka) - 80.000 - 75.000 ---  77.500
5-year olds
Rider - Horse - trot walk canter submission general impression - total
1. Maria Andersen - Vive la Reinne II VH (Revolution x De Niro) - 9.0 8.8 9.3 9.0 9.5 --- 91.200 
2. Anna Svanberg - Vidar (Total Hope x Dalwhinnie)  - 8.8 9.5 8.7 8.5 9.2 --- 89.400  
3. Felicia Olofsson - Francesca VH (Franklin x Floricello)  - 8.8 7.8 8.8 8.2 8.5 --- 84.200  
4. Ebba Wallin Ivarsson  - Fascinate KR (For Emotion x Don Schufro)  - 8.5 8.2 8.5 8.2 8.5--- 83.800  
5. Ida Küchenmeistern Nordenberg  - Qorruption (Görklintgårds Quinto x Rousseau)  - 8.8 8.0 8.0 7.8 8.5--- 82.200   
6. Jeanna Högberg  - Mae Freeman (Fürstenball x Jazz)  - 8.1 8.5 8.0 7.8 8.3 --- 81.400  
7. Martin Umaerus  - Oneofakind OM (Total Hope x Blue Hors Zack)  - 8.0 7.8 8.5 7.8 8.3 --- 80.800  
8. Nina Lilja  - Nirvana JAZ (Hesselhöj Donkey Boy x Don Schufro). - 7.5 9.5 7.8 7.3 8.0 --- 80.200  
9. Amanda Axtelius -  Brown Fellow (Franklin x Skovens Rafael)   - 7.8 7.5 8.5 8.0 8.2 --- 80.000  
10. Emma Byström  - Capriolo (Springbank II VH  x Bocelli )  - 7.8 8.5 7.8 7.5 8.0 --- 79.200  
11. Pernilla André Hokfelt  - Winnietou (Total Hope x Wladimir O.A.)  - 7.7 8.4 7.5 7.5 7.8 --- 77.800  
11. Lisa Munter -  Ingrozzo ASA (Gammelenggårds Zappa x Damino SD)  - 7.8 8.0 7.6 7.5 8.0--- 77.800  
13. Angelica Byström  - Sir Shaggy Tau (Secret x Münchhausen)  - 7.5 8.2 7.7 7.5 7.8 --- 77.400  
14. Maria von Essen  - Marie Curie (Revolution x Rubinrot)  - 8.5 6.2 8.0 7.5 7.4--- 75.200  
15.  Nicole Jacobs  - Despacitous (Hesselhöj Donkey Boy x Johnson)  - 8.0 3.5 7.0 4.0 6.0 --- 57.000  
6-year olds
Rider - Horse - trot walk canter submission general impression - total
1. Mikaela Alderin - Emmylou (Fürstenball x Emmerton ) -  9.5 8.5 9.0 9.0 9.2 --- 90.400
2. Jeanna Högberg -  BE Allex (Ampere x Dalwhinnie ) -  9.0 8.5 9.5 8.0 9.2 --- 88.400 
3.  Linnéa Holmgren  - Buskhagas Ramayana (Revolution x Del Piero) -  8.5 9.0 8.8 8.5 9.0 --- 87.600 
4. Jessie Johansson. - Flow (Mr Vain GJ  x Figaro R) - 8.0 8.0 8.4 8.5 8.5 --- 82.800 
5. Emma Jönsson  -Gosling (Gammelenggårds Zappa x Weltmeyer) -  8.5 7.3 8.0 7.8 8.5 --- 80.200 
6. Jeanna Högberg  - Adelinde (Dream Boy x Don Primero) -  8.5 7.2 8.0 8.0 8.2 --- 79.800 
7. Emelie Aldenfalk  -Raymond (Skovens Rafael x JJ RayBan) -  8.5 7.2 8.0 7.8 8.3 --- 79.600
8. Sara Perklev  - Mourinho (Bocelli  x Bellini) -  7.8 9.3 7.5 6.8 7.8 --- 78.400 
9. Ida-Linn Lundholm  - Reezling TH (Dragon Welt x Chirlon)  -  7.5 7.5 7.8 7.5 7.6 --- 75.800 
10. Yvonne Österholm  - Drumboy (Dream Boy x Don Schufro)  -  7.8 7.5 7.8 7.2 7.5 --- 75.600
11. Mathilda Månsson  - Förgätmigej (Fürstenball x Don PrimeroB)  -  7.5 7.0 7.5 7.2 7.5 --- 73.400 
12. Malin Hansson  - Masculin MHB (Dancier x Dream Boy) -7.6 6.3 7.5 7.5 7.2 --- 72.200 
13. Denise Ljungkvist - Bergsjöholms Barletta (For Romance II x Epson) -  8.0 5.0 7.8 7.2 6.9 --- 69.800 
14. Catarina Segerheim  - Ralf E (Skovens Rafael x Bayron )  -  6.0 6.0 7.8 7.0 6.8 --- 67.200 
15. Charlotta Lundblad  - Superstar E (Mr Vain GJ  x Heslegård's Rubin) -  8.3 4.0 7.5 5.0 6.5 --- 62.600
7-year olds
1. Vendela Eriksdotter Rubin - Diploid (Hesselhöj Donkey Boy x Topaasch) -  79.429 
2. Linnéa Holmgren  - Buskhagas Tsjai (Tailormade Temptation x Sandro Hit)  - 78.743
3. Yvonne Österholm  - Elva VS (48) (Eclectisch x Don Primero)  -  76.357
4. Rebecca Cohen -  Prince of Hope (Total Hope x Bellagio) - 75.186 
5. Anna Nilsson - Maracanã (Van Vivaldi x Calino)  -  75.157 
6. Matilda Aldrin  - Allanzo TH (Blue Hors Zack x Donnerhall)  -  72.800 
7. Susanne Oberlies-Gimre  - Tertius (Total Hope x Olivi)  - 72.229
8. Helena Gunnarsson  - Viva (Van Vivaldi x Don Schufro)  - 69.786
9. Sandra Dahlin  - Borichi (Van Vivaldi  x Bocelli )  -  69.615
10. Martina Åkesson  - Minion for U (Everdale x Bocelli )  - 66.343 
Related Links
Spumante VH, Skyline to B, Buskhagas Ramayana, Diploid, Fontanell Win 2022 Swedish Warmblood Young Horse Championships
Skyline To B, For Rose TS, Diploid, Benito SC, Springbank II Win 2021 Swedish Young Horse Championships
Bergsjoholms Barletta, Vancouver, Mr Grey VH, Springbank II, Shizeido GJ Win 2020 Swedish Warmblood Young Horse Championships
Vita, Mr Grey VH, Demand, HeideBlumen af JBP, Astoria Win 2019 Swedish Warmblood Young Horse Championships
Vesicula, Springbank II, Athena, Astoria, Simmebros Martell Win 2018 Swedish Warmblood Young Horse Championships
Springbank II, Skywalker, Astoria, Tiger G, Zidney Win 2017 Swedish Young Horse Championships
Florence VH, Dragon Welt, Macacho, Van Vivaldi, Quarton Win 2016 Swedish Warmblood Young Horse Championships
Dragon Welt, Final Countdown, Springbank VH, Quarton Win 2015 Swedish Young Horse Championships
Romeona, Frankie Boy, Scara Boena, Dan Brown Win the 2014 Swedish Young Horse Championships
Springbank, Revolution, Bilan, Rausing Win 2013 Swedish Young Horse Championships
Bonheur, Dunhill, Carlton Hill, JJ Rayban, Isac Win 2012 Swedish Young Horse Championships
Christo, Rausing, JJ Rayban, Isac and Hohenstaufen II Win 2011 Swedish Young Horse Championships
Sohn der Sonne, Bellagio, Isac, Jimmie Choo Win 2010 Swedish Young Horse Championships
Bellagio, Deja, Belamour and Paridon Magi Win 2009 Swedish Young Horse Championships
My Princess, Hohenstaufen II, Wladimir OA, and Yantuge win 2008 Swedish Young Horse Championships
First Wish, Excalibur of Avalon and Hermes, 2007 Swedish Young Horse Champions
Scores 2006 Swedish Young Horse Championships
Scores 2005 Swedish Young Horse Championships
Scores 2003 Swedish Young Horse Championships