Swedish warmblood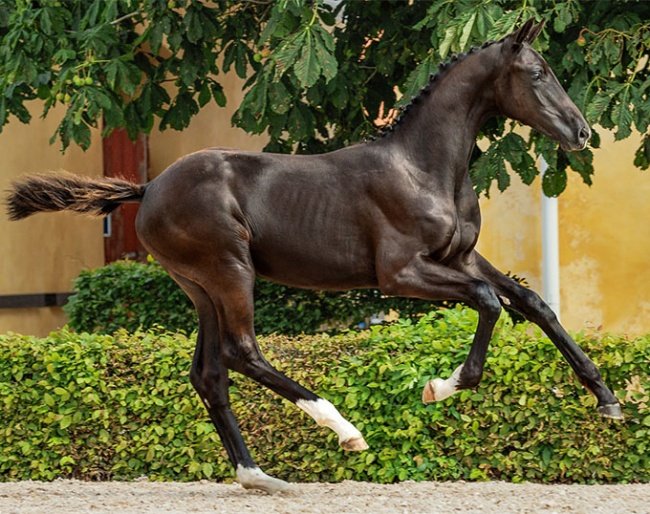 Midnight Sky to B, the full sister to the licensed breeding stallion Skyline to B, became the best selling foal of the 2023 Swedish Warmblood Elite Foal Auction in Flyinge on 29 September 2023. 
A collection of 25 foals was on offer at this auction held during the SWB Equestrian Days, the Swedish warmblood young horse championships. The auction took place online
Midnight Sky to B (by Blue Hors St Schufro x Ampere) was sold by auctioneer Frederick de Backer for 47,000 euro. He sold to a local bidding, who was bidding against a Swiss client online. The filly is bred by Maria Rasmussen.
The second most expensive foals sold for 32,000 euro and there were two:  BE Frankfurt (by Franklin x Dalwhinnie) and Yxebos Silver Sky (by Kjento x Don Juan de Hus). For BE Frankfurt a Swedish client was bidding against an American, but the Swede won.  Last year the full brother,  BE Florida,  sold for 22,500 euro to the United States.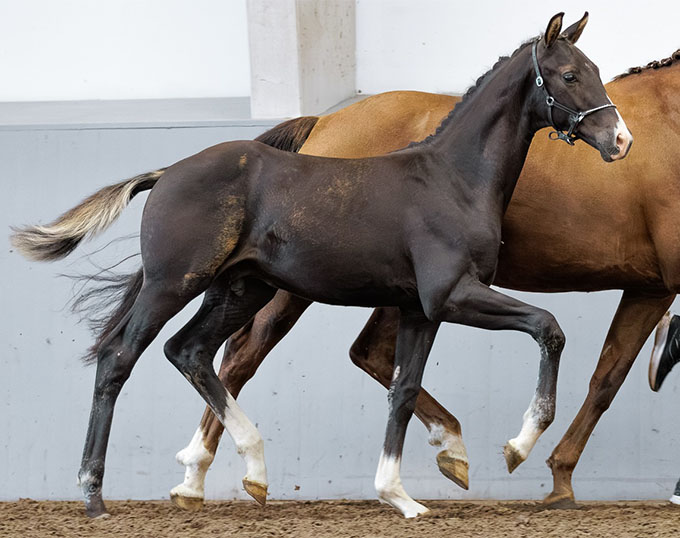 Filly Bee Nice SSL (by Be Sure x Suarez) sold for 31,000 euro, while Bright Diamond (by Be Sure x Amour) sold for 23,000 euro to Swedish young rider Blanca Bosson and Marie Johnson. Horsepartners Mr Glam (by Glamourdale x Van Vivaldi) had a highest bid of 20,000 euro.
Damourelle (by Glamourdale x De Niro) found a new owner in Norway for 15,000 euro, Frank VH (by Franklin x For Emotion) went for 14,000 euro, and Ventus QRE (by Blue Hor Viconte x Sir Fidergold) sold for 13,000 euro.
Delicious Diamond (by Hesselhoj Donkey Boy x Ampere) went for 12,000 euro, while Diron FJ (by Iron x Dream Boy) fetched 11,000 euro.
Don Saffron SSL (by Rosebank VH x Zafferano) sold for 7,500 euro to Swedish horse dealer Gunnarlunda. 
Related Links
Exciting Selections for 2023 SWB Elite Foal Auctions
Bijou, Price Highlight of the 2022 Swedish Warmblood Elite Foal Auction
Ebbot F, Price Highlight of the 2021 Swedish Warmblood Elite Foal Auction
Faithful YL, Top Seller of the 2019 Swedish Warmblood Elite Foal Auction
Prelude CML, Top Seller at 2018 Swedish Warmblood Elite Foal Auction
Radius, Best Seller at the 2017 Swedish Warmblood Elite Foal Auction
Fabulous M, Top Seller at the 2016 Swedish Warmblood Elite Foal Auction
Deorro Magi, Price Highlight of the 2015 Swedish Warmblood Elite Foal Auction
Kordoba For U, Price Highlight of the 2014 Swedish Elite Foal Auction
Donna Antique, Price Highlight of the 2013 Swedish Warmblood Elite Foal Auction
Swedes and Americans on Shopping Spree at 2020 Swedish Warmblood Elite Foal Auction