2023 Austrian Dressage Championships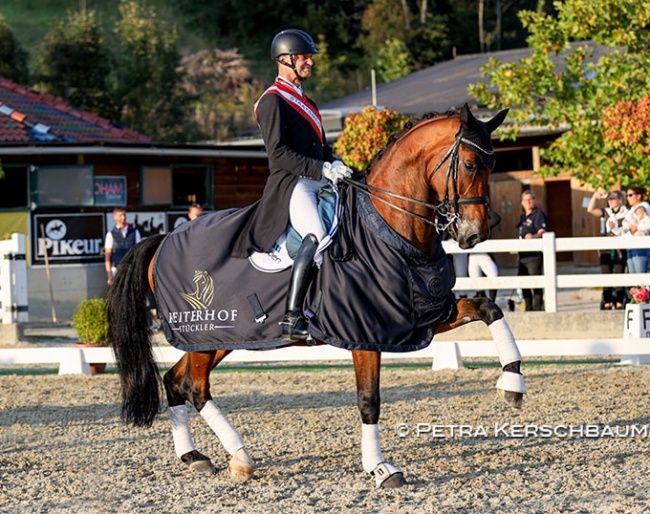 Children rider Anna Bruckberger, pony rider Selina Staufer, junior rider Fanny Jöbstl, young rider Felicitas Simoncic, Under 25 rider Fiona Spranz, and senior Grand Prix rider Peter Gmoser won the national titles in their respective divisions at the 2023 Austrian Dressage Championships.
The 2023 Austrian National Championships were hosted in sunny late summer temperatures at the equestrian yard of the Stückler family in St. Margarethen, the venue that will host the 2024 European Under 25 Championships July next year. Each division competed in two rounds to determine the medallists. 
In the "king's class" - the senior Grand prix tour - it was Peter Gmoser who landed the title aboard Marianne Jerich's 11-year old Oldenburg bred Foreman MJ (by Foundation x Danone) in the absence of the majority of Austria's elite squad riders (Max-Theurer, Bacher, Lehfellner, Schumach, Vogslang, Porsche, Haas, etc). For the 52-year old Gmoser it was his first time winning the Austrian Grand Prix Champion's title. He bested a field of 6 competitors with 69.780% int he Grand Prix and 74.780% in the Kur. 
The silver medal went to Isabella Willibald aboard Richerhof's Farbenfroh, a 10-year old Bavarian bred gelding by Fahrenheit. This pair scored 68.760% and 74.975%. The bronze was for Walter Seidl aboard the 10-year old Austrian warmblood by Dante Weltino. They got 65.880% and 71.810% to finish third overall.
Photos © Petra Kerschbaum
Results - 2023 Austrian Dressage Championships - St. Margarethen
Children
1. Beautiful Day - Bruckberger Anna  - 79.875 -  76.417 ----156.292
2. Annarella Di Villagana  - Birkmann Sophie Marie  -  72.875 - 77.472 ----150.347
3. Sirlano  - Kostelecky Anna  -  75.600 - 73.810 ----149.410 
4. Quiara  - Stache Florentina  -  71.650 - 74.542 ---- 146.192
5. Maximus  -  Dearing-schumach Hannah-katharina  - 74.075 -  64.940 ----139.015
6. Quinn Mb  - Benes Alice  -  64.775 - 64.681 ----129.456
7. Illinggut's Mariposa  - Brötzner Sabrina  - 62.050 - 59.912 ---- 121.962
Pony Riders
1. Pearcy Jackson - Staufer Selina - 69.487 -  69.146 ---- 138.633
2. Newmaxx Moon  - Michelfeit Carolin  - 68.333 - 69.390 ---- 137.723
3. Hektor B  - Holzmüller Markus  -  68.376 - 69.187 ---- 137.563
4. Double Enjoy  - Bruckberger Anna ( -  68.932 - 66.707 ---- 135.639
5. Antares  - Kellersperg Constanze Catharina  - 66.282 -  67.480 ---- 133.762
6. Flashback  - Herbst Eleonora  - 64.872 -  65.163 ---- 130.035
7. Baleno  - Jacoby Serafina  - 64.103 -  64.553 ---- 128.656
Junior Riders
1. Simsalabim  - Jöbstl Fanny -  73.108 -  72.588 ---- 145.696
2. Fidelio  - Zajic Katharina  - 70.045 -  71.667 ---- 141.712
3. Latino  - Riedler Mariella  -  69.189 - 70.044 ---- 139.233
4. Weena  - Brandstätter Emilia  - 69.279 - 69.474 ---- 138.753
5. Ramezani  - Jegel Lea-angelina  - 68.559 -  69.737 ---- 138.296
6. Diamond Max  -  Puchwald Lili  - 65.811 - 65.658 ---- 131.469
7. Van Persie  - Blasy Paula  -  64.685 - 63.728 ---- 128.413
Young Riders
1. Ivar  -  Simoncic Felicita -  74.123 -  74.649 ---- 148.772
2. Bodyguard  -  Jöbstl Florentina - 72.895 -  66.842 ---- 139.737
3. Cantano Tetti  - Stallmeister Pia  -  70.175 -  68.246 ---- 138.421
4. Korefan  - Friedl Valentina  - 68.640 -  69.605 ---- 138.245
5. Horizont  -  Lembacher Katja -  69.474 -  67.237 ---- 136.711
6. Sybelius  - Artner Felix  -  69.167 -  67.368 ---- 136.535
7. Bellagio  - Gebhard Corinna  -  65.877 -  69.605 ---- 135.482
8. Siesta Key  -  Ochsenhofer Oskar - 67.368 -  67.018 ---- 134.386
9. Boston's Junior  -  Illichmann Antonia - 66.667 -  63.596 ---- 130.263 
Senior Small Tour
1. Sapperlot Vmt  - Weinbauer Belinda  -  72.939 - 73.509 ---- 146.448
2. D Rex Rr  - Rhomberg-rochelt Teresa -   70.789 -  72.018 ---- 142.807
3. Danestos  -  Springhetti Manuel  -  71.491 -  71.272 ---- 142.763
4.  Black Pearl  -  Zach-valenta Timna  -  70.263 -  69.956 ---- 140.219
5. Fibi's Welt  - Kosak Karin  - 68.509 -  68.991 ---- 137.500
6. Doreen  -  Michelfeit Catherine  - 67.982 -  68.421 ---- 136.403
7. Jerome O - Christof Jeannine  -  67.851 -  67.368 ---- 135.219
8. Stalina S  - Trauner Eva-maria  - 66.974 -  66.886 ---- 133.860
9. Quantiliano  -  Vacek Gloria  -  66.360 -  67.412 ---- 133.772
10. Fasten Seat Belt  - Jan Anna-katharina  -  66.272 - 67.149 ---- 133.421
11. Eros Ramazzotti  - Ofenheimer Anna-leonie  - 66.228 -  64.167 ---- 130.395
12. Donatio Magnificus  - Berger Ute  - 65.702 - 64.167 ---- 129.869
13. Riviero B - Wratschgo Lena - 65.175 -  64.474 ---- 129.649
14. Bilan  -  Erdmann Christopher  - 63.684 -  64.035 ---- 127.719
15. Cascada Js  -  Semper Julia  -  64.518 - 63.114 ---- 127.632
16. Lezard  -  Pölz Katharina  -  63.070 -  62.982 ---- 126.052
Under 25
1. Santiago  - Spranz Fiona - 70.15 - 69.423 ---- 139.581
2. Gogogachetto  - Fuchs-benes Lukas  -  70.263 -  68.302 ---- 138.565
3. Juno  -  Frick Jonas  -  67.737 -  67.488 ---- 135.225
4. Designer  -  Brugger Kathrin  -  66.474 -  65.767 ---- 132.241
Senior Big Tour 
1. Foreman Mj  - Gmoser Peter  - 69.780 - 74.780 ---- 144.560
2. Richterhof's Farbenfroh - Willibald Isabella  - 68.760 -  74.975 ---- 143.735
3. Dante's Creek - Seidl Walter  - 65.880 - 71.810 ---- 137.690
4. Colourful Life  - Hartung Amanda  -  65.780 - 71.695 ---- 137.475
5. Boogie Woogie  - Reinwald Sabrina  - 64.900 - 71.070 ---- 135.970
6. Sange Du Coeur  -  Jaklic Jasmin - 64.420 -  69.825 ---- 134.245
Para Dressage
1. Sailor's Blue - Puch Pepo  - 79.015 - 86.667 ---- 165.682
2. Heinrich Iv  -  Sciancalepore Julia  -  78.661 - 84.501 ---- 163.162
3. Espalion  - Haller Thomas  - 70.883 -  80.000 ---- 150.883
4. Der Valentin  - Egger Maria  - 68.089 -  72.751 ---- 140.840
5. King Louis  - Öhner Katrin  -  67.858 -  69.251 ---- 137.109
6. Lavina Z  - Krammel Karin  - 67.206 - 7 68.917 ---- 136.123
7. Quarks to Quasar  -  Mazanek Mika  -  61.570bew.37 64.313 ---- 125.883
Related Links
No coverage in 2022
Jöbstl, Abfalterer, Jöbstl, Hohenwarter, Porsche, Schumach Win 2021 Austrian Dressage Championships
Simoncic, Ochsenhofer, Grabenwöger, Ahorner, Porsche, Bacher Win 2019 Austrian Dressage Championships
Stallmeister, Ochsenhofer, Wurzinger, Pengg, Valenta, Weinbauer Win 2018 Austrian Dressage Championships
Hohenwarter, Thonhauser, Wurzinger, Porsche, Gmoser, Valenta, Weinbauer Win 2017 Austrian Championships
Ahorner, Lorenz, Weinbauer Win 2016 Austrian Dressage Championships
Ahorner, Wurzinger, Pointinger, Max-Theurer Win 2015 Austrian Dressage Championships
Ahorner, Lorenz, Pointinger, Max-Theurer Win 2014 Austrian Dressage Championships
Max-Theurer Claims Eleventh Consecutive Title at 2013 Austrian Dressage Championships
Lorenz, Valenta, Zach, Max-Theurer Win 2012 Austrian Dressage Championships
Max-Theurer Untouched to Ninth Austrian Grand Prix Champion's Title
Max-Theurer Wields the Axe of Power at 2010 Austrian Championships
Scores: 2009 Austrian Dressage Championships
Fifth Consecutive Austrian Dressage Champion's Title for Max-Theurer
Victoria Max-Theurer, 2006 Austrian Dressage Champion