Canada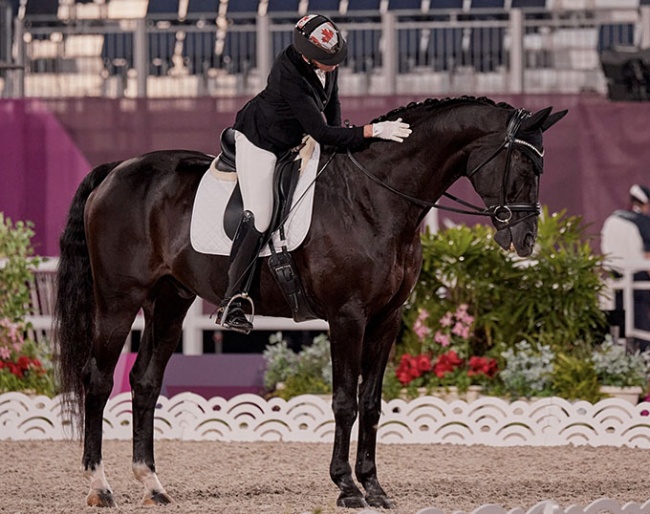 Onyx, a Canadian double Paralympic team horse with Lauren Barwick and Winona Hartvikson, has been retired from competition sport. 
Onyx is originally named Wolkenhall and is a 20-year old Hanoverian by Wolkentanz I out of Dancing Queen (by Don Bosco x Dream of Glory x Grand Ferdinand II). He is bred by Wilfried Fiedler in Germany 
Wolkenhall
The horse started his career in the spotlight as a young stallion getting approved for breeding at the 2005 Hanoverian Stallion Licensing. 
His sport career began in 2006 when he was 3 and ridden by Austrian Saskia Lieben-Seutter in a few riding horse tests through 2007.
In 2008 Simone Kinzinger got onboard, while in 2009 it was Leif Hamberger's turn. In 2010 the German based Finnish rider Julius Staff-Reitzenstein competed him at L-level until the summer of 2011. 
For three years the horse didn't show and in 2014 Wolkenhall resurfaced at one show under Claudia Arnold.
Lauren Barwick
Wolkenhall sold to the North America and was renamed Onyx. He made his show debut on U.S. soil in October 2015 under Canadian para dressage rider Lauren Barwick.  In 2015 first Barwick and then Equine Canada were listed as his owners. 
The pair made its CPEDI debut in Wellington in January 2016 and placed second in every class entered at the Global Dressage Festival that year. They were nominated for Canada to compete at the 2016 Paralymîcs in Rio, where they finished 7th in Grade II.
In 2017 the ownership in his FEI passport changed to Tiara Hecht. Onyx did not show internationally after Rio, but Traudel Bongers competed the horse lightly at national shows in the USA at small tour level in 2017.
Winona Hartvikson
In 2019 Onyx Canadian Grade I para dressage rider Winona Hartvikson took over the ride, first showing the horse for owner Hecht before purchasing him herself, and later on sharing ownership with Jane MacDonald. 
Hartvikson's CPEDI debut on Onyx was in Tryon in September 2019. In 2020 they showed at the Global Dressage Festival in January 2020. A 20-month break from CPEDI competitions followed, but the pair was selected to represent Canada at the 2021 Tokyo Paralympics, where they were 9th individually.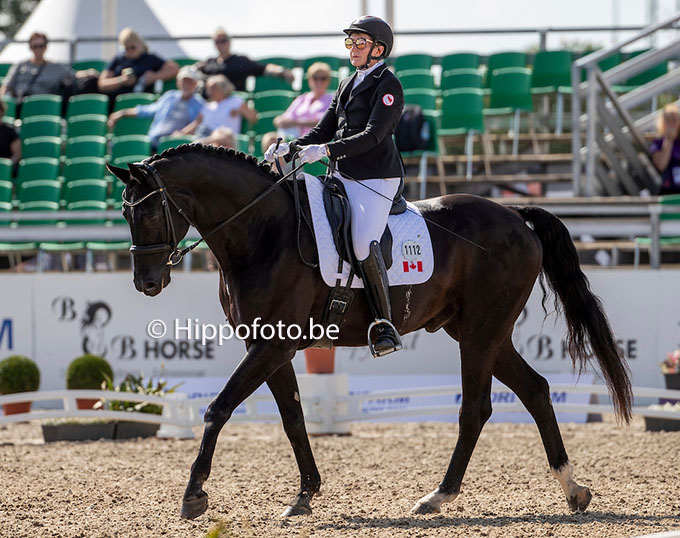 In 2022 they showed at the CPEDI's in Thermal, CA, and returned to Europe for the 2022 World Para Dressage Championships in Herning, where they were 8th in Grade I. It was Onyx' last international show. 
Retirement
Hartvikson has announced the retirement of Onyx at the end of the summer of 2023.
"My federation had wanted me to ship him a total of 10,000 km  this year to get team scores for Paris," Winona explained to Eurodressage. "With each of his long haul travels, I found that his health suffered more, and finally this fall I decided to formally retire him.
She added, "first and foremost a performance horse and definitely not to be toyed with, Onyx was a successful Para horse because he was very attached to his people. He continues his work as a schoolmaster and still demands his daily bananas."
The 64-year old Hartvikson has been competing the Holsteiner bred Cadanza (by Zhivago x Aljano) this year as her Paris Olympic hopeful. The horse is currently in Cologne (GER) getting trained by Volker Eubel as Noni recovers from a dislocated hip after a fall off another horse.
Photos © private - Hippofoto
Related Links
Canadian Para Rider Noni Hartvikson Injured in Riding Accident
Winona Hartvikson's 2018 WEG Para Team Ride Ultimo Passed Away
Bridging the Gap Training Bursary with Canadian Paralympian Lauren Barwick
No Time? No Problem for Lauren Barwick and Sandrino
Grade II: Naepel and Barwick Win Individual Gold Medals