2023 French Youth Riders Championships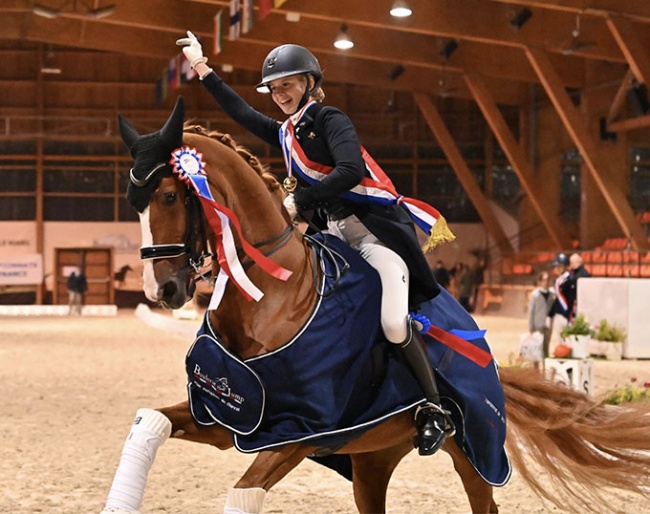 Children rider Paola Callet, junior rider Anna Dupuy Pelardy, young rider Mado Pinto, and Under 25 rider Ella Lostria became the winners of the 2023 French Youth Riders Championships held in Le Mans, France, on 26 - 29 October 2023. 
Six riders competed in the Children division and team rider Paola Callet ruled the roost aboard the 8-year old Hanoverian bred Quickly des Paluds (by Quaterback x Don Frederico). She stayed far ahead of the competition with three times scores over eighty: 82,893% in the preliminary test, 82,725% in the team test, and 86,352% in the individual test.
Junior rider Anna Dupuy Pelardy completed a stellar 2023 show season aboard the 9-yera old KWPN bred Jarina des Vallees (by Everdale x Sandro Hit). After being the French high scoring rider at the European Championships, Pelardy claimed the national junior title with scores of 72,676% in the team test, 71,132% in the individual test, and 75,695% in the freestyle.
Mado Pinto and her long-time partner, the 12-year old French bred Hanoverian Hot Bit de la Gesse (by Hofrat x Rubin Royal) ruled the Young Riders division and won the gold medal with solid seventy percentage scores. She bested the field in all three rounds with 70,441% in the team test, 70,206% in the individual test, and 75,855% in the Kur.
In the Under 25 division the gold medal went to Ella Lostria on the SBS registered Crymlyn (by Alabastro S Extra x Zortin). Lostria fended off Mado Pinto who was on her heels. With 65,677% in the Inter II, 67,769% in the short Grand Prix and 71,465% in the Kur, she became the French U25 number one and found a moment of happiness again, just one month after losing her father Bruno.
Results - 2023 French Youth Riders Championships
Children
1. Callet Paola - Quickly Des Paluds  - 82,893%  - 82,725%  - 86,352% --- 83,833% 
2. Volla Pelardy Baptiste  - Jeronimo De Massa  - 72,134%  - 72,225%. - 68,898% --- 71,235% 
3. Dupuy Pelardy Ninon  - Don Amour De Hus  - 68,929%  - 71,175%  - 73,061% --- 70,751% 
4. Bellier Marie Manon  - Athen'a  - 68,447%  - 69,200%  - 69,903% --- 69,078% 
5. Limermont Elyne  - Destinada De Manolo  - 66,920%  - 68,400%  - 70,014% --- 68,227% 
6. Chimot Lena  - Ds Chantilly  - 63,527%  - 60,825% - 59,130% --- 61,499% 
Junior Riders
1. Jarina Des Vallees  - Anna Dupuy Pelardy - 72,676% - 71,132% - 75,695% --- 73,097%
2. Fidertanz  - Ines De Koninck - 71,081%  - 71,447% - 76,135% --- 72,630%
3. Legend Dancarino  - Lou Eden Commenge -  68,324% - 69,289% - 70,925% --- 69,343%
4. Bellissima  - Elkie Angliviel - 66,054%  - 67,474% - 67,695% --- 66,929%
5. Quincy Jones Du Soleil  - Lucie Planchet  - 65,649%  - 64,658% - 69,895% --- 66,579%
6. Dubbusch  - Lily Marmonier - 63,784% -  65,973% - 69,125% --- 65,935%
7. Feuerglanz  - Clara Demarez  -  64,892%  - 65,289% - 68,055% --- 65,909%
Young Riders
1. Hot Bit De La Gesse  - Mado Pinto  - 70,441%  - 70,206% - 75,855% --- 71,921%
2. Doruto  - Alexandre Cheret  - 69,382%  - 69,324% - 71,910% --- 70,088%
3. Florida - Yoann Bourguine  - 68,912%  - 69,618% - 71,220% --- 69,773%
4. Skate Moss  - Emeline Schevingt  -  68,206%  - 67,941% - 69,055% --- 68,373%
5. Lion King  - Ella Lostria  - 67,735%  - 66,441% - 70,800% --- 68,241%
6. Sir Sandro - Jade Paillousse  - 64,941% - 64,853% - 66,990% --- 65,501%
Under 25
1. Crymlyn  - Ella Lostria - 65,677%  - 67,769% - 71,465% --- 67,928%
2. Sirano De Luxe -  Mado Pinto - 65,941%  - 66,103% - 72,275% --- 67,797%
3. Diablo De Saint Val  - Sarah Lopez  - 62,618% - 67,128% - 69,865% --- 65,977%
4. Eppo  - Carla Marie Dufil  -  65,530%  - 63,385% - 67,645% --- 65,521%
5. Bamona - Alexandre Cheret  -  61,735%  - 64,410% - 71,260% --- 65,221%
Related Links
Juglaret, Pinto, Lopez, Basquin Win 2022 French Dressage Championships
Planchet, Juglaret, Pinto Win 2021 French Youth Riders Championships
Weijkamp, Juglaret, Noel, Bravard Win 2020 French Youth Riders Championships
Anne-Sophie Serre Wins 2020 French Grand Prix Championships
Charlotte Chalvignac Wins 2019 French Grand Prix Championship
Charlotte Chalvignac Gets Ride on Brune's Lights of Londonderry
Morgan Barbançon Mestre Wins 2018 French Grand Prix Championship
Volla Wins 2017 French Grand Prix Championships, Takes Second Consecutive Title
Karen Tebar Wins 2015 French Grand Prix Championships
Catherine Henriquet Wins 2013 French Dressage Championship
Jessica Michel Wins 2012 French Grand Prix Championships
Arnaud Serre Renews Title at 2011 French Dressage Championships
Arnaud Serre Captures 2010 French Grand Prix Title on Corellou's Helio II
Siat and Collier Win at 2009 French Dressage Championships
Marc Boblet, 2008 French Dressage Champion
Karen Tebar Wins the 2006 French Dressage Championships
Hubert Perring, 2005 French Dressage Champion
Odile van Doorn Reconquers French National Dressage Title 
Scores 2003 French Dressage Championships 
Van Doorn and Parodie van de Wateringhoeve, 2002 French Dressage Champions
Marietta Almasy, 2001 French Dressage Champion