Oldenburg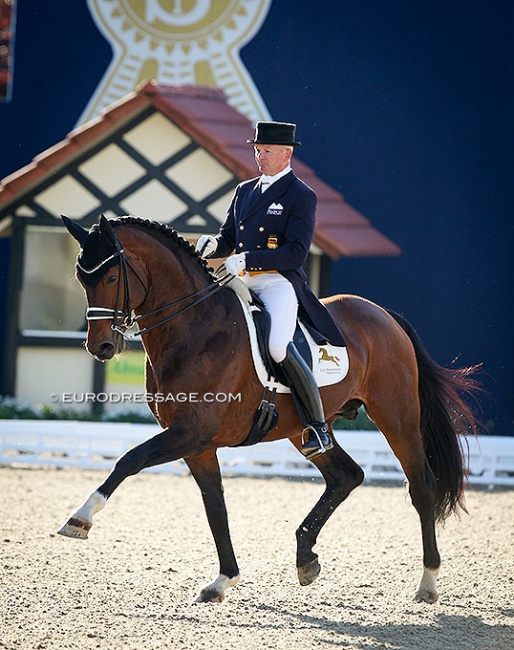 The German Oldenburg Breeding Society (GOV) has selected the colts for the 2024 Oldenburg Stallion Licensing, which will take place in Ankum as the Oldenburg center in Vechta is undergoing renovations. 
The licensing will be on 20 - 21 January 2024. 
A collection of 170 colts was entered for the pre-selection, which took place in the second indoor arena in Vechta
Forty-seven colts received the green light and are allowed to appear at the licensing. 
Not one sire truly stands out with a larger group of sons selected. Three stallions have three sons selected: Escolar, So Perfect and Vitalis. Remarkably the former Oldenburg Licensing Champions Bellany and Global Player each only got one son through.
No less than 8 are bred in The Netherlands.
They are:
Bellany x Finest x Londonderry) - Breeder: ZG Stickamp & Drüe 
Bon Courage x Quaterback x Donnerhall) - Breeder: Dr.med. Roland Wuenschel 
Bon Vivaldi x De Niro x Weltmeyer) - Breeder: Manfred Vog 
Rendez Vous (by Bordeaux x Galaxie x Vivaldi) - Breeder: L. van der Graaf & Y. van Vliet - NED
Danciero x Londontime x Danone) - Breeder: Arndt Schwierking
Dante Weltino x Don Schufro x Sevillano xx) - Breeder: Franz Albers 
Real Legend (by Desperado x El Capone x Rousseau) - Breeder: Van Bockxgrave Horses - NED
Diamond First x Veneziano x Stedinger) - Breeder: Helmut Osterkamp
Dimaggio Black x Daily Deal  x Status Quo) - Breeder: Hermann Luttmann Jr 
Dynamic Dream x Bordeaux x Fürst Piccolo) - Breeder: Arndt Schwierking
Dynamic Dream x Fürstenball x Londonderry) - Breeder: Arndt Schwierking 
Escolar x Ampère x Stedinger) - Breeder: Rainer Lechl
Escolar x Fürst Heinrich x Figaro) - Breeder: Maria-Antonia Burczyk
Escolar x  San Amour x  Regazzoni) - Breeder: Burkhard Hemmen 
For Romance x  Depardieu x Fürst Heinrich) - Breeder: Werner Meyer 
HP For Magic (by For Romance x Desperado x Sandro Hit ) - Breeder: Lone Boegh Henriksen - DEN
Franklin´s Love PS x Zonik x Stedinger) - Breeder: Harm Oncken 
Renoir SB (by Friedrich der Große x Ampère x Zuidenwind) - Breeder: Stal Zwaansbroek - NED
RevelatioN SPB (by Fürst Dior x Florencio x  Farrington) - Breeder: S. Pruis - NED
Glamourdale x Fidertanz x Sir Donnerhall) - Breeder: Carl Louis Ferdinand 
Ravelon (by Glamourdale x Governor x Krack) - Breeder: C J. van den Heuvel L. Bos - NED
Global Player x Fürstenball x Sandro Hit) - Breeder: Britta Budeus-Wiegert
Rico (by Ibiza x Apache x Royal Bravour) - Breeder: M. van Grinsven - NED
In My Mind x Exclusiv/T. x Freudenfest/T.) - Breeder: Bernhard Langels 
Iron x Sarkozy x De Niro) - Breeder: Sebastian Kriebitzsch 
Jovian x Cennin  x Sir Donnerhall) - Breeder: Valeriya Ephrati - SUI
Los Angeles (by Las Vegas x Feinrich x De Niro) - Breeder: Eva Krijnen
Le Formidable x Ampère  x Weltruhm) - Breeder: Christine Arns-Krogmann 
Lord Europe x United  x Vasco ) - Breeder: Gestüt von Bellin  
Morricone I x Diamond Hit x Florestan) - Breeder: Andreas Klinker 
Raven x  Van Vivaldi x Florencio) - Breeder: Gut Schönweide 
Raoul (by Secret x Negro x Donnerhall) - Breeder: L. Bos & P. Wetzelaer
Sezuan x Fürst Romancier x De Niro) - Breeder: Wilfried Fleming 
So Perfect x Benicio x Florencio ) - Breeder: I Bernhard Sieverding 
So Perfect x Rubin-Royal x Freiherr) - Breeder: ZG Schomaker 
So Perfect x De Niro x xSandro Hit) - Breeder: Jutta Kelle
Titan Caledonia (by Totilas x Sir Donnerhall I x Don Schufro) - Breeder: Reay Campbell - GBR
Va' Pensiero x Fidertanz x De Niro) - Breeder: Klosterhof Medingen 
Rollercoaster LH (by Valverde x  Fürst Romancier  x Sandro Hit) - Breeder: M. Marcelissen - NED
HP Valparadiso (by Vitalis x Bonds x  San Amour) - Breeder: Lone Boegh Henriksen - DEN
Vitalis x Fürstenball x Donnerhall) - Breeder: Dr. Rolf-Peter Schulze 
Red Velvet (by Vitalis  x El Capone x Rousseau) - Breeder: Van Bockxgrave Horses - NED
Viva Gold x Florencio I x Sandro Hit) - Breeder: Dieter Erdmann 
Viva Gold x Totilas x De Niro) - Breeder: Christine Arns-Krogmann
Von Und Zu x Dancier x St. Moritz) - Breeder: Monika Rösemeier-Harms 
Zack x  Fürst Romancier x Stedinger) - Breeder: Dr. Sorreen Wemhoener-Budde
Zack  x De Niro x Sandro Hit) - Breeder: Alfons Kramer 
Related Links
2024 Oldenburg Stallion Licensing in Ankum Instead of Vechta
Bon Esprit, Champion of the 2023 Oldenburg Stallion Licensing
Incredible, Champion of the 2021 Oldenburg Stallion Licensing
Fortunate, Champion of the 2020 Oldenburg Stallion Licensing
Bellany Named Champion of the 2019 Oldenburg Stallion Licensing
Global Player, Champion of the 2018 Oldenburg Stallion Licensing
Benefit, Champion of the 2017 Oldenburg Stallion Licensing
Furst Fabrice, Champion of the 2016 Oldenburg Stallion Licensing 
Bonds, Champion of the 2015 Oldenburg Stallion Licensing
Morricone, Champion of the 2014 Oldenburg Stallion Licensing
Don Deluxe, Champion of the 2013 Oldenburg Stallion
Follow Me, Champion of the 2012 Oldenburg Stallion Licensing
For Romance 2011 Oldenburg Licensing Champion, Tight Junction Steals the Show
De Martino Captures Champion's Title at 2010 Oldenburg Stallion Licensing
Fairbanks, Champion of the 2009 Oldenburg Licensing
Furstenball, Champion of the 2008 Oldenburg Stallion Licensing
Sieger Hit, Champion of the 2007 Oldenburg Stallion Licensing
Sandro Hit Euphoria At 2006 Oldenburg Stallion Licensing
Marketing Above Quality at the 2005 Oldenburg Stallion Licensing
Furst Heinrich Fledglings Fly High at 2004 Oldenburg Stallion Licensing
Don Kennedy, Champion of the 2003 Oldenburg Stallion Licensing